Finals day at the National Basketball Performance Centre was a huge hit.
Twelve teams had booked their places in the showpiece games on day one of the NBL Junior Final Fours, setting up some blockbuster action to end the regular season.
Six champions were crowned across the U18, U16 and U14 categories, with third and fourth place games also taking place following Saturday's semi-finals.
In the U14s Manchester Magic beat London Warriors 72-69 in the boys' competition and Richmond Knights topped Manchester Mystics 96-61 in the girls'.
In the U16s, the boys' final went the way of London Baltic Stars as they knocked off Sussex Storm 94-72 and the girls' game saw Manchester Mystics edge past Richmond 59-54.
And in the U18s section, Manchester Magic completed a perfect season by beating London Elite 98-86, and Ipswich got the best of CoLA Southwark Pride 75-72.
We've got the livestreams, scores, recaps, and reaction for all the games below, plus a gallery of images at the foot of this article. 
Click each game to view Live Stats.
.
U14 Finals
Manchester Magic managed to avenge a loss in last year's U14 final, going one better as they edged past London Warriors 72-69.
Magic led by as many as 13 points with just 2:27 remaining but the Warriors showed incredible fight to attempt a late comeback, falling just short as they ran out of time needing just one more basket.
MVP honours went to Magic's David Akhidime following his 20-point, 15-rebound effort, adding five steals, three assists and a two blocks for a great day at the office.
Akhidime's efforts were needed to fend off 21 points apiece from London's Jeremi Dutka and Eugen Tatunciac, with the latter adding 11 boards for the double-double.
3rd/4th place game: London Elite 70-73 London Baltic Stars
Richmond grabbed some payback for a loss in last year's final as the Knights got the best of Manchester Mystics 96-61.
The Mystics claimed the U14 title a year ago 58-51 but there was no thoughts of a potential repeat after a 25-17 opening quarter that stretched to a 46-30 Richmond advantage by the half.
The Knights shot an impressive 51% from the floor across the contest, thanks in part to an MVP performance from Neve Rugette. The young guard shot 10/13 for a game-high 21 points, also pulling down seven boards, dishing six assists and nabbing five steals.
Precious Godwin added 20 more for the Knights, with Mojan Malek (19pts, 7reb) and Anya Williams (15pts) both doing well for the Mystics.
3rd/4th place game: Sheffield Hatters 68-49 Milton Keynes Breakers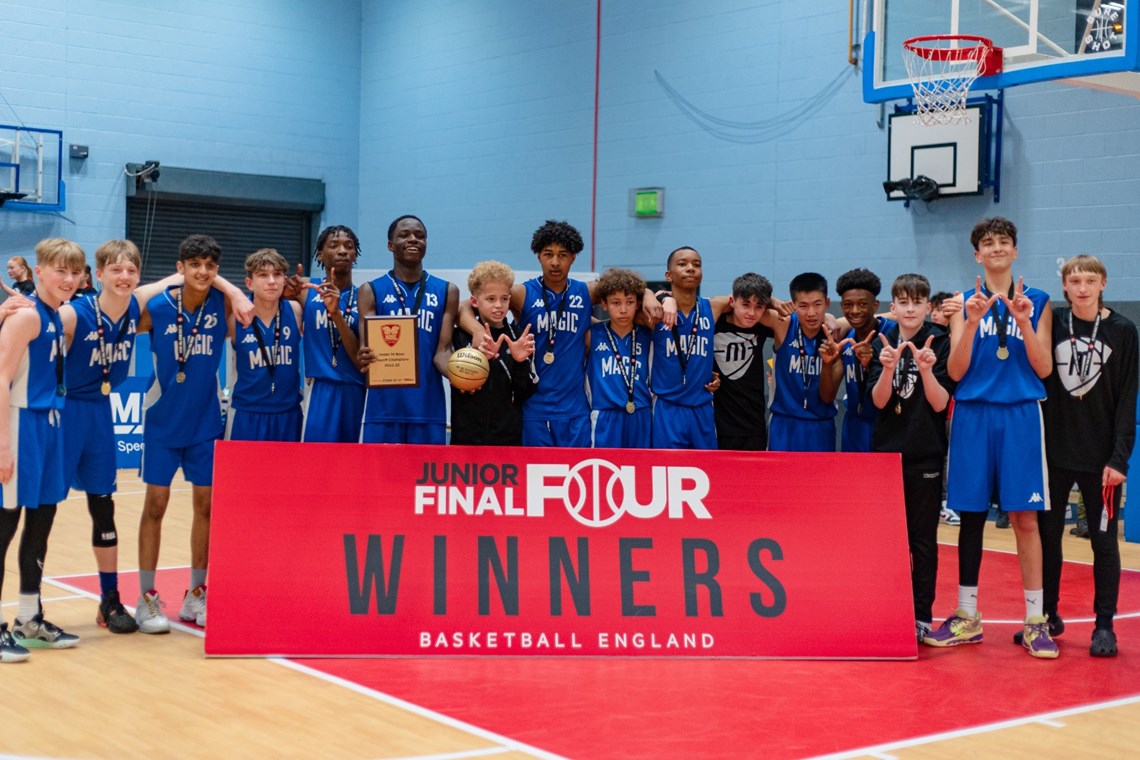 .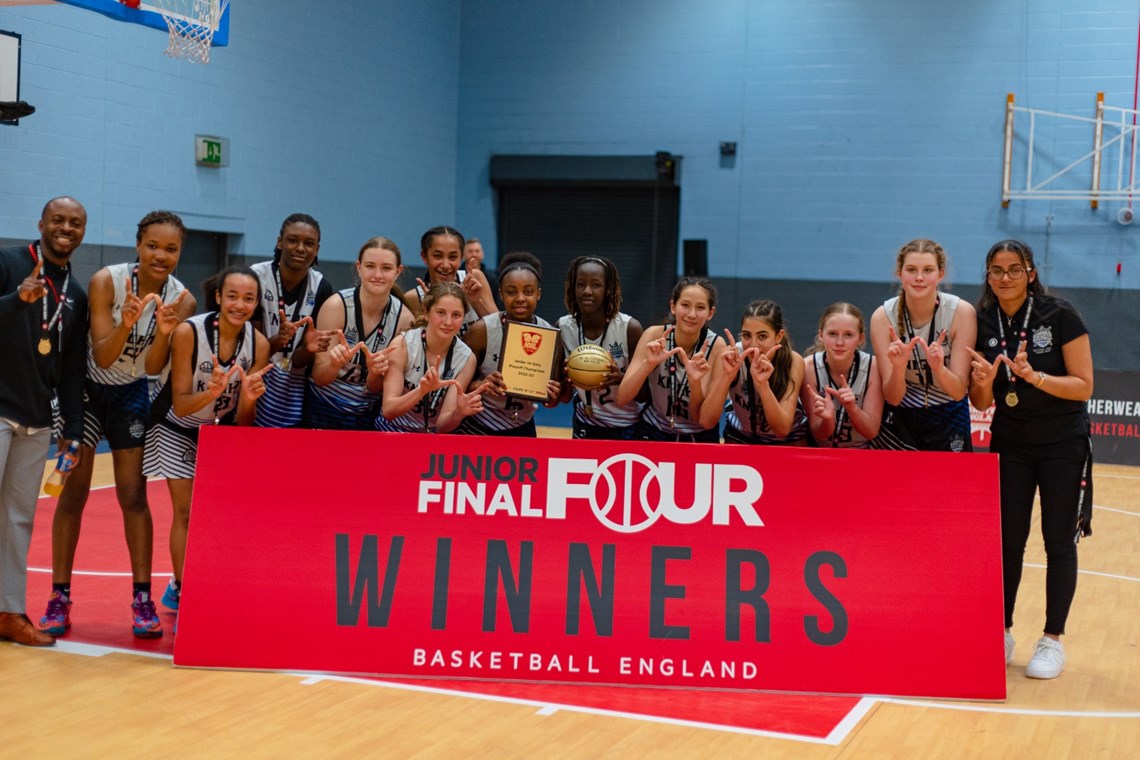 U16 Finals
London Baltic Stars used a commanding performance to see off Sussex Storm, sealing a comfortable 94-72 victory.
Steered by an MVP performance from Simas Kondzeliauskas, Stars used their height and size to drop 82 of their points in the paint, winning the rebounding battle 51-39 and the assist total 25-17.
Kondzeliauskas was a unanimous MVP choice for his performance, with the talented young guard shooting a perfect 11/11 from the floor to close with 25 points, adding 16 boards, three assists and three steals for good measure. His final efficiency rating of 43 showed just much of an impact he had on the game.
Nojus Zajankauskas (26pts, 6ast, 4stl) and Kajus Sinkevicius (10pts, 9reb, 5ast, 5stl) both provided good support for the Londoners to cancel out 16 points off the bench from Sussex's Ancel-Gerrard Torres.
INTERVIEW - Baltic Stars MVP Simas Kondzeliauskas on his performance "Thank you for the opportunity" - WATCH IT HERE: https://twitter.com/NBLengland/status/1652674008020557829 
3rd/4th place game: Manchester Giants 74-81 London Lions
Manchester Mystics defended their U16 Girls playoff title as they once again saw off Richmond Knights, winning 59-54.
In a repeat of last year's final, the Knights trailed for most of the contest but sniffed revenge as they eventually drew level at 48-48 early in the fourth.
Manchester showed the resolve needed to regroup and go again however, putting together a 7-0 run that would prove pivotal once the final buzzer sounded.
Manchester's MVP Irene Oboavwoduo came on strong during the final frame, taking on a prominent role as she closed with 16 points, 14 rebounds, three assists and a pair of blocks.
Oboavwoduo was quiet in the first half as team mate Sara Blake-Smith (12pts, 15reb) instead went to work, and her battle with Richmond forward Chloe Vella (12pts, 15reb) was a highlight that continued throughout the final.
Carman Price (16pts, 11reb) also had a double-double in the loss.
INTERVIEW - Mystics' assistant coaches Hannah Alty and Natalie Feurtado "Proud of fast tempo" - WATCH IT HERE: https://twitter.com/NBLengland/status/1652640515106455554 
3rd/4th place game: CoLA Southwark Pride 47-53 Ipswich Basketball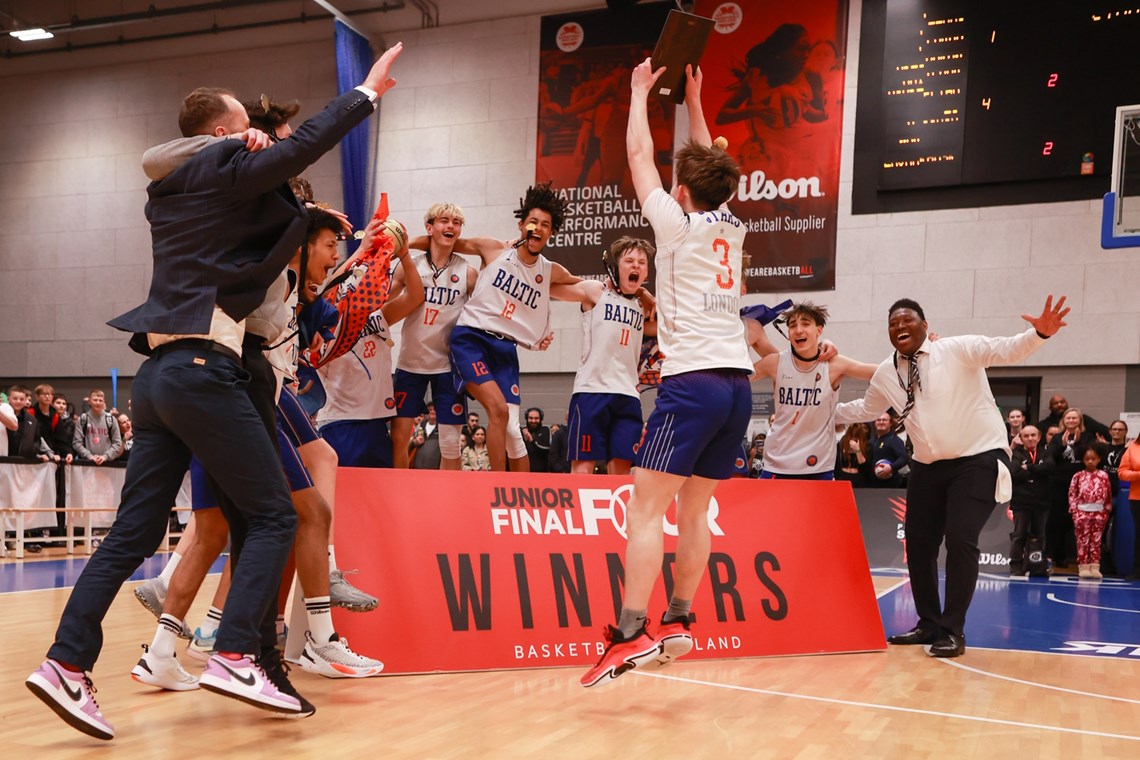 .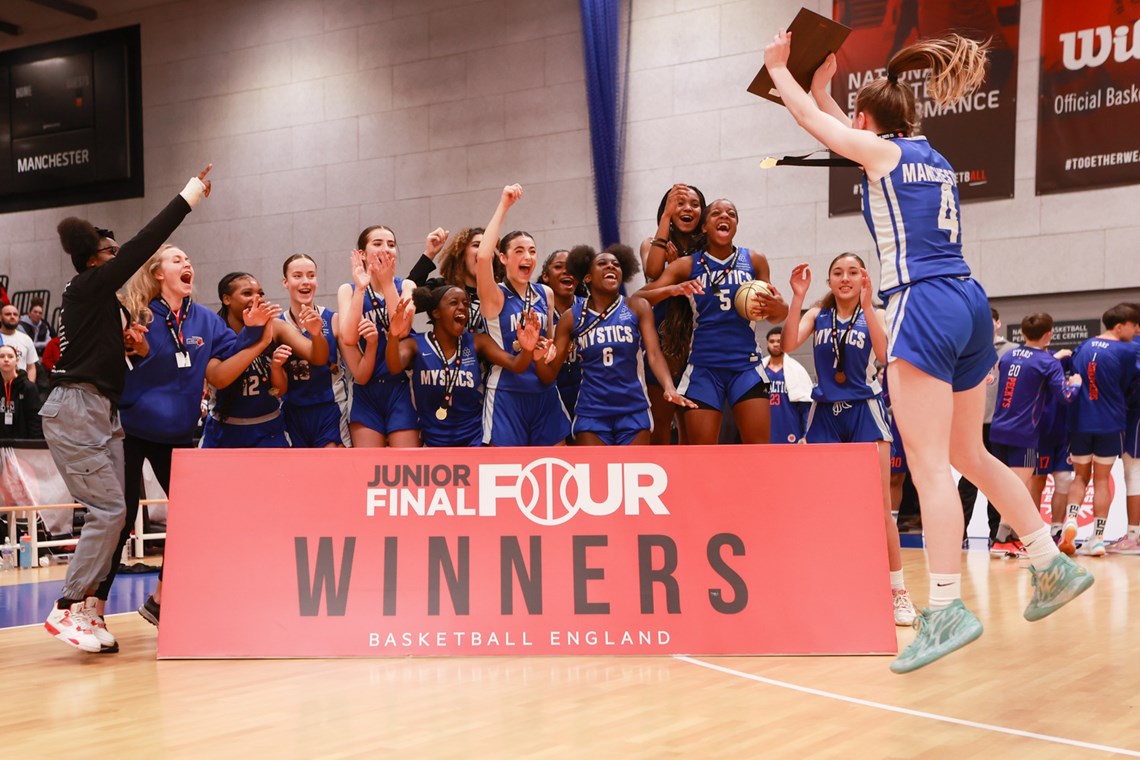 U18 Finals
Manchester Magic completed their perfect season as they beat London Elite 98-86 to seal the U18 Men's playoff title.
Leading by double digits early in the second, London went off the boil from there and a 26-11 second frame pushed the Magic into an advantage they'd never relinquish.
Elite did get their deficit down to three points with 2:32 remaining, but Magic would then pull away once again to complete their unbeaten campaign.
The MVP award went to Manchester's Matt Goodwin, who knocked down five triples on his way to a game-high 34 points. Goodwin was the MVP of the U16 final last year, showing he clearly relishes the big stage in the North West.
Shaquille Furlonge (17pts, 16reb) and Joe Buchanan (19pts, 10reb) both put together double-doubles to push Manchester to the win, Liam Campbell led Elite with 23 points.
INTERVIEW - Manchester's MVP Matt Goodwin on the game "I feel I do well in finals. That's just how I roll" - WATCH IT HERE: https://twitter.com/NBLengland/status/1652745793802055681 
3rd/4th place game: Haringey Hawks 70-83 CoLA Southwark Pride
In one of the games of the weekend, Ipswich ended CoLA's dominance of the U18 Women's competition with a 75-72 win.
The Londoners were seeking a sixth-straight title but it wasn't to be in a rematch of last year's final, though it was neck-and-neck the whole way.
Neither side was able to lead by more than five for the duration of the second half, trading key plays and huge baskets as the finish line came into sight.
It was the Suffolk side who just did enough though, adding a playoff title to January's U18 National Cup success for a memorable double.
MVP honours went to Ipswich's Liv Forster on her 18th birthday, she dropped 30 points that included some big fourth quarter baskets to go with nine steals, four rebounds and three assists
Team-mates Yazmin Edwards (20pts, 15reb) and Christabel Osarobo (12pts, 13reb) both had double-doubles, with Violet Stutz leading the way for CoLA on 24 points.
INTERVIEW - Ipswich head coach Nick Drane talks about what the win means to his team - WATCH IT HERE: https://twitter.com/NBLengland/status/1652714445741731840 
3rd/4th place game: Manchester Mystics 69-43 City of Birmingham Rockets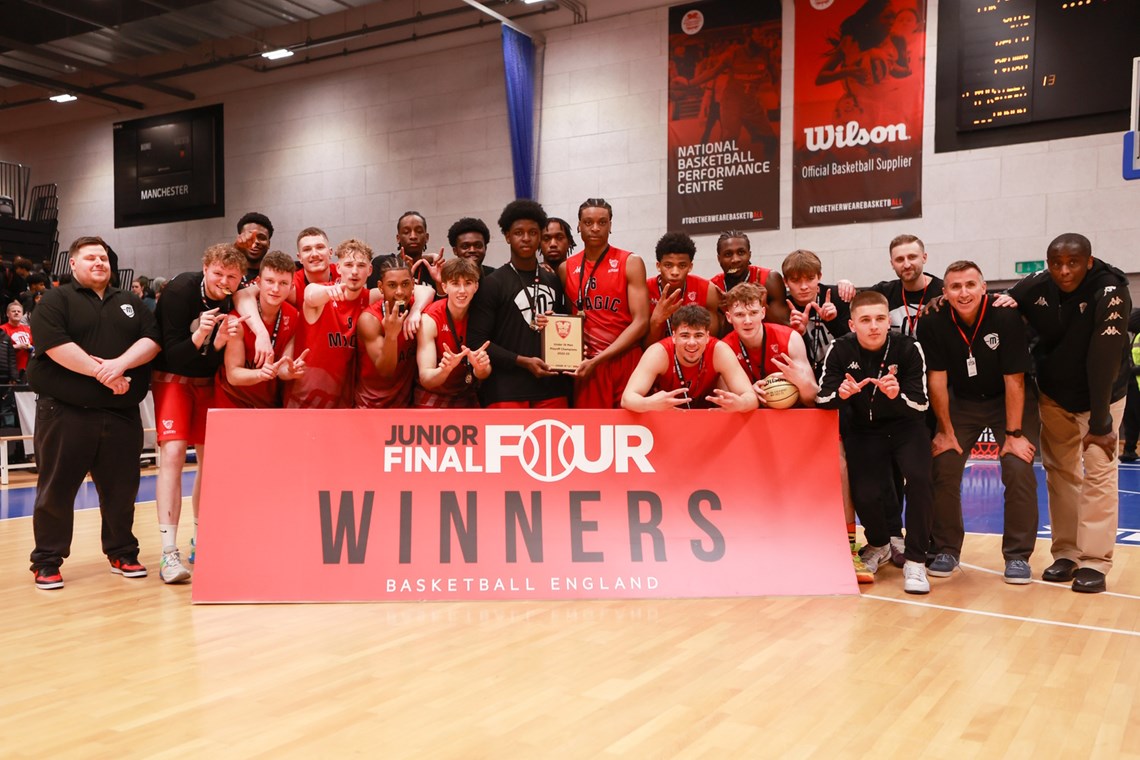 .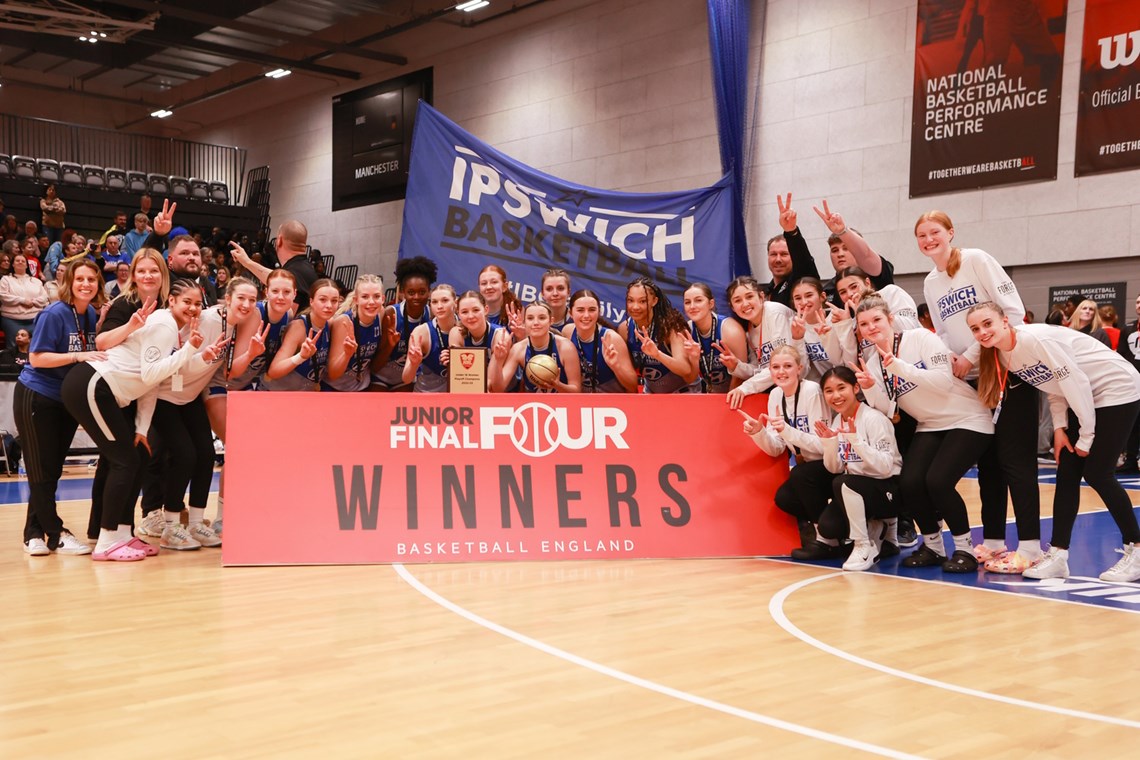 See a gallery of finals images below