It's top versus second in the battle for the KitKing Trophy on Saturday.
Leaders Hemel Storm and the chasing Worthing Thunder put the NBL1 title contest on hold for the weekend to do battle for the second piece of silverware of the season.
Hemel already have the National Cup in the bag - who will come out on top at Surrey Sports Park?
The game, organised in partnership between the NBL Division One Men's clubs, Surrey Sports Park and Basketball England, tips at 2pm.
See below for our full preview, with interviews from both camps, plus live stream and live stats details.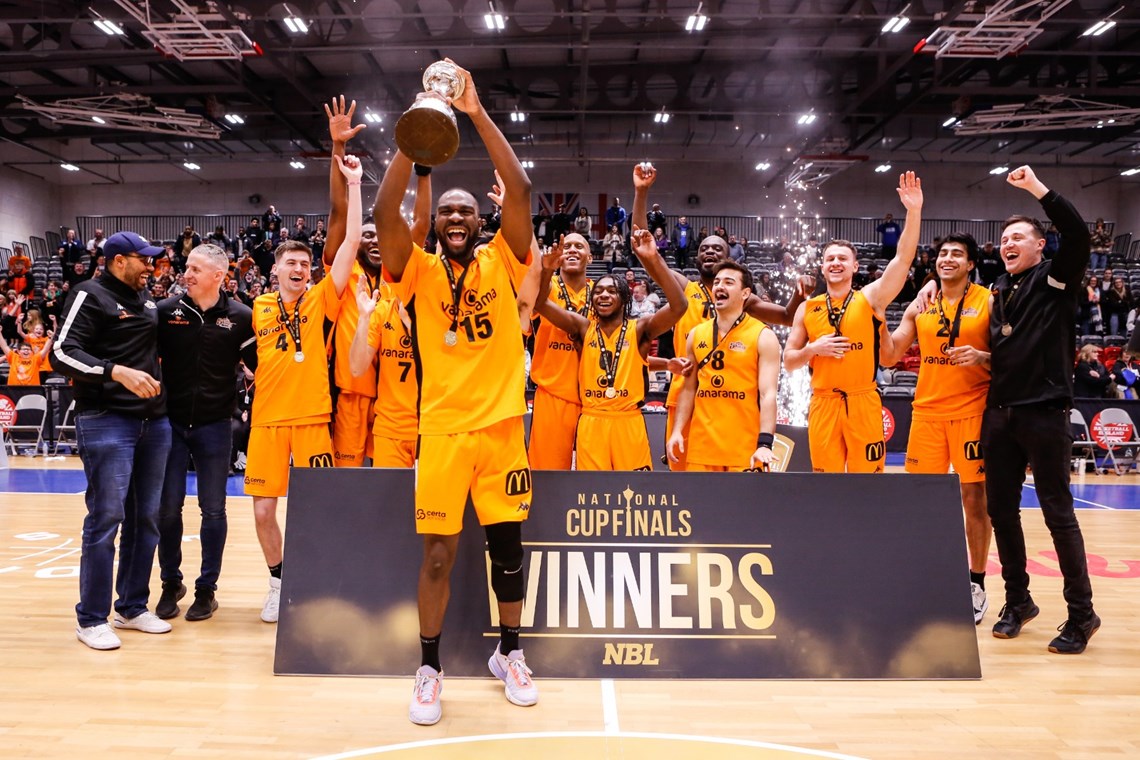 Hemel Storm
Storm go into the KitKing Trophy final looking to claim their second trophy of the season.
Standing between them and a second piece of silverware are rivals Worthing Thunder, who pushed Hemel to their limit in December, but the Storm ended up with a 100-95 win. 
"Our players have shown this year all the qualities needed to get to this game and win it," Storm assistant coach Tom Fredrick said.
"The team has come together for a cause much bigger than any individual."  
Sitting on a perfect 22-0 league record this season, Hemel has deservedly earned their place at the NBL1 summit by showing an exceptional ability to shoot the ball accurately and defend resiliently even when momentum is with the opposition.  
Most importantly, head coach Dru Spinks and his talented roster have shown character and determination to be in this position and have the opportunity to produce in front of the team's loyal fanbase. 
The coaching at Storm has been crucial to their success, with Spinks and his assistants, Michael Darlow and Frederick masterminding the impressive display so far this season.  
Their high-intensity approach has proved decisive, scoring over 100 points in most of the campaign and restricting opponents to a manageable amount of points.  
'Proud of the will to work'
"One of the proudest things I have seen in the team this year has been their eagerness to do the work, the really hard, tough work," Fredrick said.  
"It's an everytime thing, and with that, we have been improving; that's all we can ask for as coaches. 
"We, of course, know that Worthing are coming with all they have. We had a tough game away to them earlier this season. We managed to get out of there with the win.  
"It was not easy, and we know they will come even harder this time. They have grown throughout the season, too, the final will be a battle, and it's one we are looking forward to." 
A considerable part of that success is National Cup finals MVP Taylor Johnson, who, along with fellow standout Aaryn Rai, has tormented defences this season. 
Johnson is averaging 21.3 points this season, with Rai leading NBL1 with 24.0, and both are looking to continue their personal onslaught in Saturday's KitKing Trophy final.  
"We have a strong team," Johnson said. "Everyone is contributing, and we're finding a way to win.  We're ready to try our hand at another final." 
Words: Ollie Heathcote 
.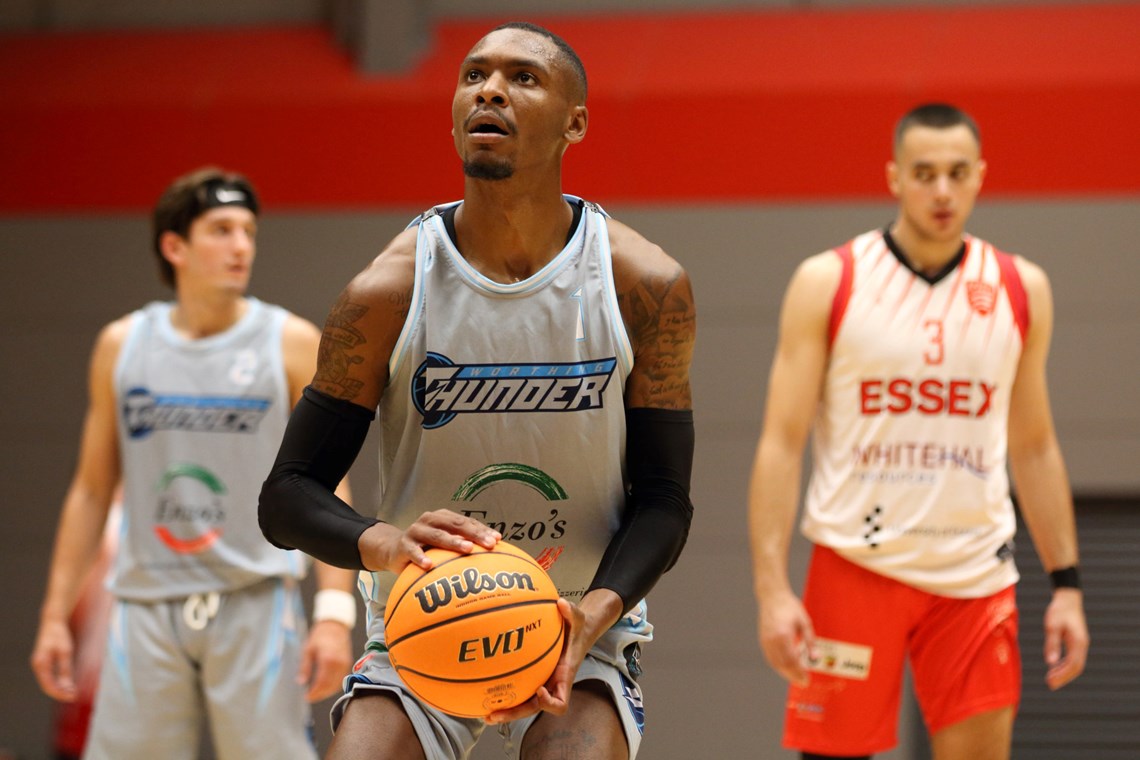 Worthing Thunder
Ronald Blain and David Moya are ready for round two against Hemel on Saturday.
Undefeated NBL1 leaders Storm came from 11 points down but left Worthing with a narrow 100-95 victory in December. 
However, they needed vital free throws from Sam Newman and a game-winning block at the rim by Charles Acquah-Davis to keep their unbeaten run going. 
For Blain, the man denied by Acquah-Davis, it's a shot at redemption. 
"It kind of is," Blain said. "It was a tough night, and we were in a position to win that game, and it slipped out of our hands but credit to Hemel on that night."
It proved to be Worthing's first loss of the league season, and further losses to Solent Kestrels and Reading Rockets have seen the south coast outfit lose ground on Hemel at the top of the NBL1 table. 
They have turned their fortunes around, though, going unbeaten in February, winning their last six games to consolidate second place. 
Meanwhile, Hemel has gone from strength to strength by winning the National Cup in January and continuing their winning run in the league, where they are 20-0. 
"Hemel's a great team; we've paid close attention to them all season," said Blain.
"They're well coached; they have a lot of intelligent players; Taylor Johnson is unstoppable when he gets into that mode, complemented by Sam Newman, who is an excellent ball handler, doesn't turn it over a lot and possibly one of the best rebounders I've ever faced in Hakeem Sylla. 
"Across the board, they have weapons at every position, but so are we. We're looking forward to the challenge. We've played them once already, it was a close game, but they took home court away from us. 
"We're ready for round two, though, let's just say that, and It'll be a great day with tremendous fans on both sides making it all the more special." 
In his first season, Blain has undoubtedly proven to be one of the vocal leaders for the Thunder, both on the court and in training. This season, he has averaged 14.8 points, 7.4 rebounds, and 4.1 assists a game. 
For Blain, Naz Abu-Ramadan and Moya, it's not only round two against Hemel but a second KitKing Trophy final for the trio. 
They were part of the Team Newcastle side that lost last season's showcase against Derby Trailblazers at Ponds Forge in Sheffield. 
'We want it for the fans'
However, Moya isn't a player who dwells on the past but instead focuses on the present day and the task in Guildford on Saturday. 
"To be honest, I try not to put too much pressure on myself, especially in championship games," Moya said.
"For us, it didn't go our way that day. But for me, I'm a player that wants to find ways to impact the game, and if I'm not scoring well, I want to influence the game in other ways. 
"That's what I've done here at Worthing, too, and I'm looking forward to another final and representing this great basketball club, and we want to bring a trophy home for the fans." 
The relaxed demeanour that Moya shows certainly works as the American averages 13.3 points and leads the team in assists (5.9) along with steals (3.2) this season, plus he plays more minutes than any Worthing player on the roster at 31 minutes a game. 
And Zaire Taylor's Thunder revolution will need to be at their very best on Saturday. 
Words: John Hobbs  
.
System.NullReferenceException: Object reference not set to an instance of an object.
   at Umbraco.Web.PublishedContentExtensions.Value[T](IPublishedContent content, String alias, String culture, String segment, Fallback fallback, T defaultValue) in D:\a\1\s\src\Umbraco.Web\PublishedContentExtensions.cs:line 165
   at ASP._Page_Views_Partials_grid_editors_mosquito_Media_cshtml.Execute() in E:\webs\basketballengland.co.uk\htdocs\Views\Partials\grid\editors\mosquito\Media.cshtml:line 7
   at System.Web.WebPages.WebPageBase.ExecutePageHierarchy()
   at System.Web.Mvc.WebViewPage.ExecutePageHierarchy()
   at System.Web.WebPages.WebPageBase.ExecutePageHierarchy(WebPageContext pageContext, TextWriter writer, WebPageRenderingBase startPage)
   at Umbraco.Web.Mvc.ProfilingView.Render(ViewContext viewContext, TextWriter writer) in D:\a\1\s\src\Umbraco.Web\Mvc\ProfilingView.cs:line 25
   at System.Web.Mvc.Html.PartialExtensions.Partial(HtmlHelper htmlHelper, String partialViewName, Object model, ViewDataDictionary viewData)
   at ASP._Page_Views_Partials_grid_editors_mosquito_Base_cshtml.Execute() in E:\webs\basketballengland.co.uk\htdocs\Views\Partials\grid\editors\mosquito\Base.cshtml:line 19
Join Basketball England for free.
Whether you have a Supporter Account as a fan, follower, enthusiast or advocate, or a Full Account and have paid for a licence to play, coach or officiate in competition, you can be part of the basketball family.
Basketball has the power to change lives. Our #GameTime campaign aims to raise awareness of the positive impact that basketball can have on people no matter who they are or where they are from.