Lee Linton-Hodges' swansong produced a stat line that might have begged the question of why retire when you can still play like that.
But despite a colossal double-double of 20 points, 18 rebounds, and a career-high six assists in Essex Rebels' 93-85 overtime win over Manchester Magic at home, the seven-footer is adamant.
"Yeah, I think so, for National league level especially," Linton-Hodges says.
"The commitment to playing NBL1, not just for games but for training and other things regarding games during the week requires a lot, and I just can't commit to it now with work and a baby on the way.
"I need my Tuesdays, Thursdays and sometimes Mondays at training as well as weekends that include double-headers back, to be there for my family and work."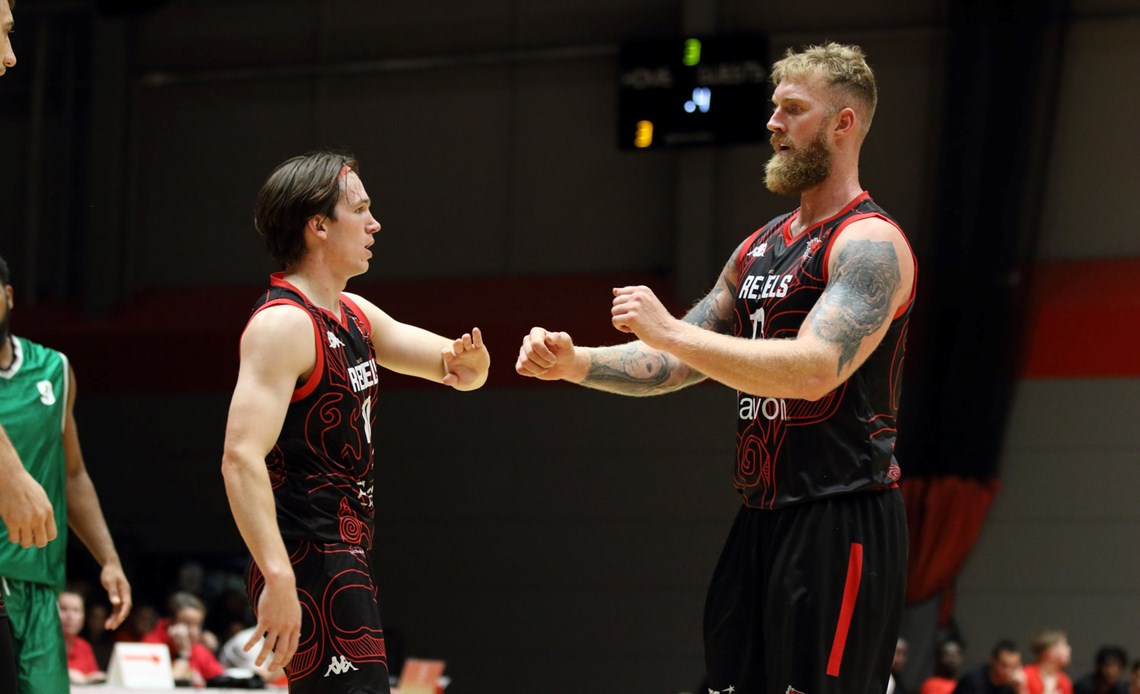 Linton-Hodges' final season in NBL1 saw him average 11 points and seven rebounds a game, shooting a respectable 57% from the field.
However, it's no secret that mixing basketball with a full-time job presents many challenges as Linton-Hodges calls time on a career that has seen him represent England at junior level and play for the London Leopards and Hemel Storm in a period that all began in 2005.
And in those 18 years, Linton-Hodges won the BBC Young Personality of the Year Award in 2007, and he captured the National Cup in 2018 with the Storm, averaging 10 points and six rebounds in that season.
Looking back, though, Linton-Hodges' time at Ipswich stands out as most memorable. Playing for the club as a junior, the 33-year-old spent six seasons there as a senior player.
He helped the club win promotion to NBL2 in 2013 while posting near double-doubles in the six seasons he was there, an average of 19.4 points and 10.7 rebounds while shooting 67% from the field in the 2016/17 season, a particular standout.
What made Ipswich so special for Linton-Hodges was the community, family-friendly atmosphere and the support of one particular individual.
"It's such a family run and feel kind of club, but for me when I was growing up, Nick Drane was not only my coach, but he was also a positive role model as well that I needed and has continued to be throughout my life," Linton-Hodges recalls with fondness.
"That's what separates Ipswich from other clubs for me. The draw to play for Nick, people love to play for Nick; I don't know how he does it or what his magic is. 
"We play for Ipswich though because we enjoy it, and he gives you that joyous feeling of being there, enjoyment of being around the people, the volunteers, the little gym of Copleston that they fill every home game, and it's just a very nice environment."

It was also at Ipswich where Linton-Hodges would meet Amy Linton, a fellow player and junior coach at the club. After a few dates, they became a couple.
"At Ipswich, the men are always encouraged to watch the women play, and visa versa, and that's how me and Amy met," Linton-Hodges recalls.
"Of course, she was playing for the women although she was scared of me, so I had to make the first move, her words, I promise, and I didn't get it, as I'm a friendly giant, but because of Ipswich, we met."
In one of the more emotional moments in their relationship, they both won the National Cup in 2018 as Lee's success with Hemel was matched by Amy's win in the Women's final as Ipswich – then a WNBL2 side – upset the heavily favoured WNBL1 juggernaut, Essex Blades.

Their relationship was solidified in August 2022, as Lee and Amy would marry with Drane – who had been heavily involved in both their lives – at their wedding.
However, the two still hope to keep their love of basketball going and hold that as a reminder of how they first met.
And as a fitting tribute to the impact Linton-Hodges had at Ipswich, the club will name their end-of-season Player of the Year award after him and in time, both Lee and Amy will aim to give back to the community that meant so much to both of them.
"In the future, we both hope to have some sort of role with Ipswich once we have a bit of time," he said. "I'll still be going to Essex Rebels games as well to show my support because alongside Ipswich, Essex has been amazing to me, and my time there was brilliant."
As Linton-Hodges' career ends, though, he will begin a new chapter of his life that will unquestionably bring him the most immense joy of all: fatherhood.
Words by John Hobbs
Main image credit - Nick Winter
.

Join Basketball England for free. Whether you have a Supporter Account as a fan, follower, enthusiast or advocate, or a Full Account and have paid for a licence to play, coach or officiate in competition, you can be part of the basketball family.
Basketball has the power to change lives. Our #GameTime campaign aims to raise awareness of the positive impact that basketball can have on people no matter who they are or where they are from.
.