All NBL and WNBL competitions have confirmed playoff finalists following an exciting weekend of semi-final basketball.
Hemel Storm will face Worthing Thunder in the Division One Men's final, with the latter determined to stop the former's clean sweep mission at the last hurdle.
CoLA Southwark Pride and Team Solent Kestrels meet in the Division One Women's Final in a rematch of the last year's showpiece which the Londoners claimed.
In Division Two, the Men's Final will be contested by #1 seeds COB Rockets and #3 seeds St Helens Saints, while the Rockets will also be represented in the D2W final where they will face Sunday victors Sheffield Hatters II.
In D3M, East Conference champs Milton Keynes Breakers continued their unbeaten league and playoff run against Cardiff Met Archers. They will face UEL London Lions, who sealed their place on Sunday.   
We take a look at all this weekend's contests with the updated brackets for each competition, as well as a look ahead to the finals on tap for next weekend. Reports and brackets will be be updated after Sunday's play. 
NBL Division One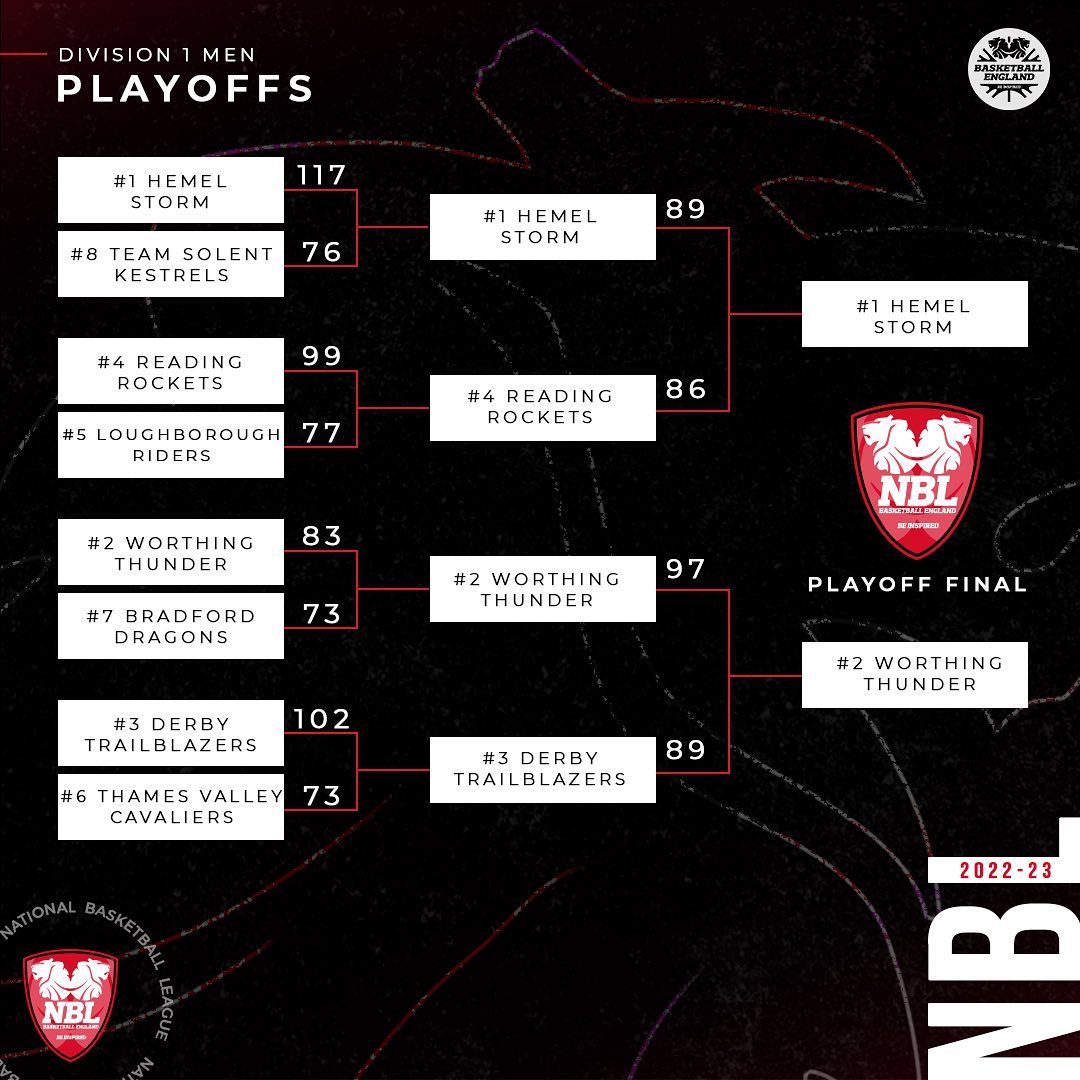 Hemel Storm were pushed as close to their limit as they squeezed past #4 seeds Reading Rockets at home 89-86.
Jermiah Jenkins' last-gasp three-point effort would have sent the game into overtime but it was not to be for plucky Reading as the Storm extended their unbeaten run by another game and claimed a place in the final.
Taylor Johnson led the Storm scoring with 26 points while Hakeem Sylla had 17 and eight boards.
Reading guard Troy Cracknell took the fight to Storm with 25 points and eight rebounds.
#2 Worthing Thunder joined Hemel in the final with a 97-89 home win over #3 rivals Derby Trailblazers.
Andre Arissol (27pts) and Orlan Jackman (22pts, 11reb) combined for 49 points to get the job done for Thunder, while Malcolm Smith's game-high 38 points was a valiant effort for Derby.
The top two seeds are now set for their fourth meeting of the campaign, with Hemel taking both regular season match ups plus the final of the KitKing Trophy.
A fourth win this coming weekend would also see Hemel book their place in the NBL's record books as only the second team ever to complete a perfect season and win four trophies.
WNBL Division One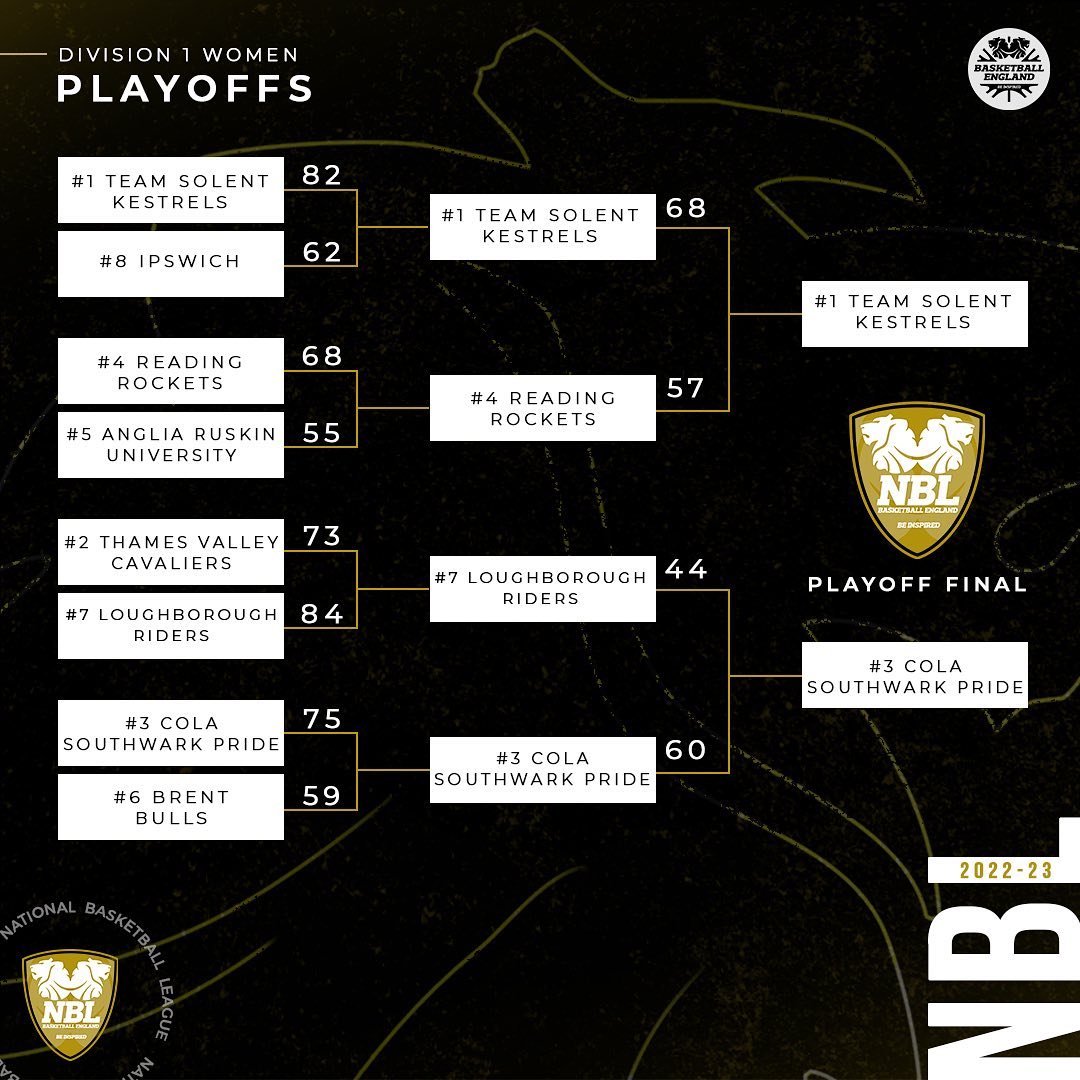 Regular-season champs Solent Kestrels gave themselves another shot at CoLA in the final by seeing off Reading Rockets 68-57 in the semis.
Young guard Faye Endean led the Kestrels with 23 points and five assists while Krisztina Velkey-Cleeve had a double-double of 14 points and 11 boards and Anna Nevison chipped in 14 more.
Lindsey Cleary was Reading's standout with 22 points and 12 rebounds, with the Rockets in touch at 41-38 going into the last 10 minutes before a 27-19 final frame ended their season.
CoLA return to defend their title after beating Loughborough Riders 60-44 behind 16 points and nine boards from Blanche Toualeu and 13 points from Ebere Egbirika.
Alia El Shabrawy was the Riders' main contributor with 12 points and seven rebounds.
The finalists have split their regular season contests this year, with the home side winning on both occasions to set up what should be a thrilling third and final instalment for 2022/23.
NBL Division Two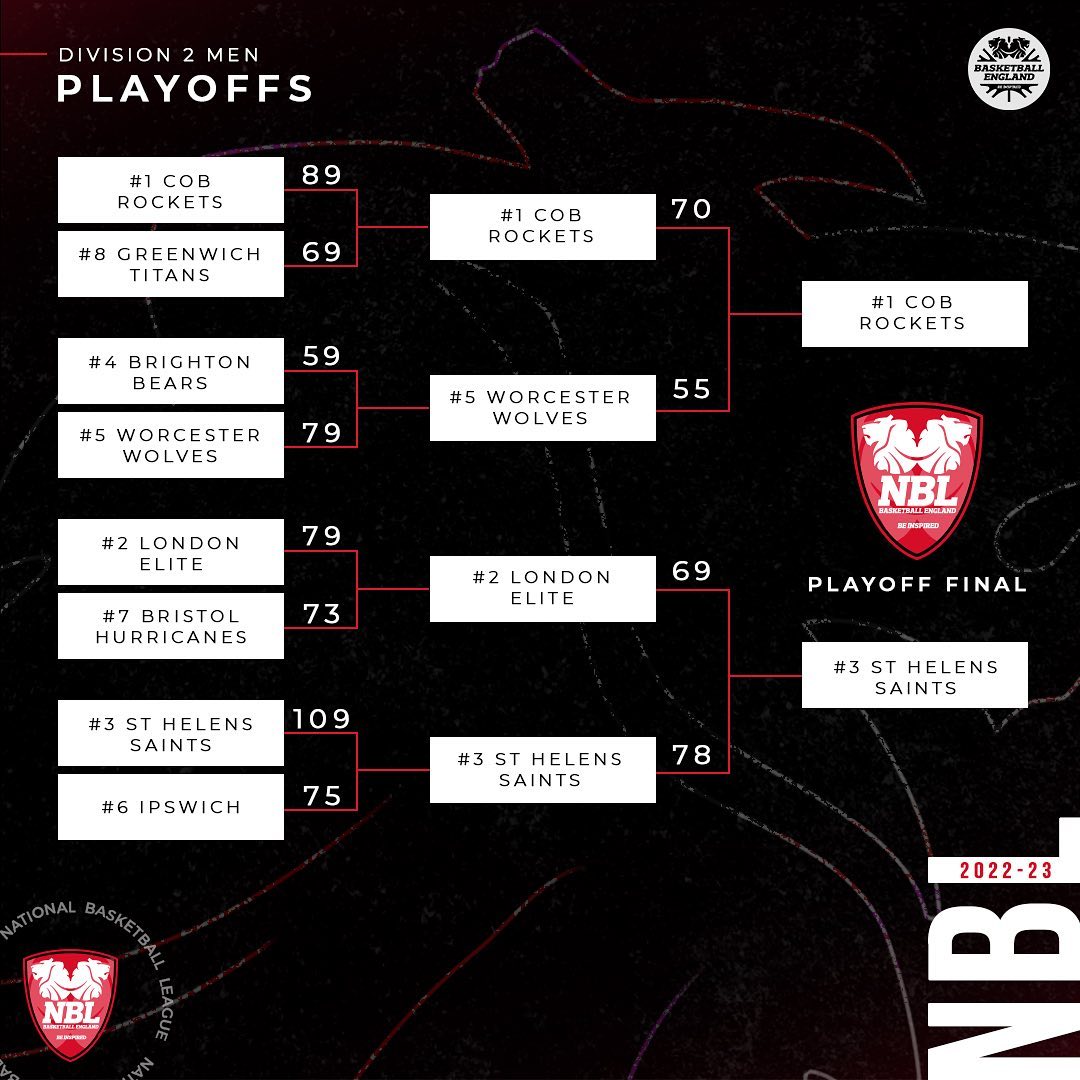 COB Rockets continued their impressive season by brushing aside Worcester Wolves 70-55.
The North champs were steered home by Ronald Oberia (21pts, 6rbs) and Sam Toluwase (16pts, 11rbs), while Lucas McGregor had 22 points and nine boards for the Wolves.
St Helens will join them in the final after sweeping past South conference winners London Elite 78-69 behind 22 points from former BBL man Connor Murtagh.
Liam Campbell had 11 points and 11 rebounds for Elite, while Afrasyab Khalil also had 11.
The weekend's result set up an all-Northern conference playoff final, with COB Rockets no doubt feeling they hold the upper hand after beating Saints both home and away during the season.
WNBL Division Two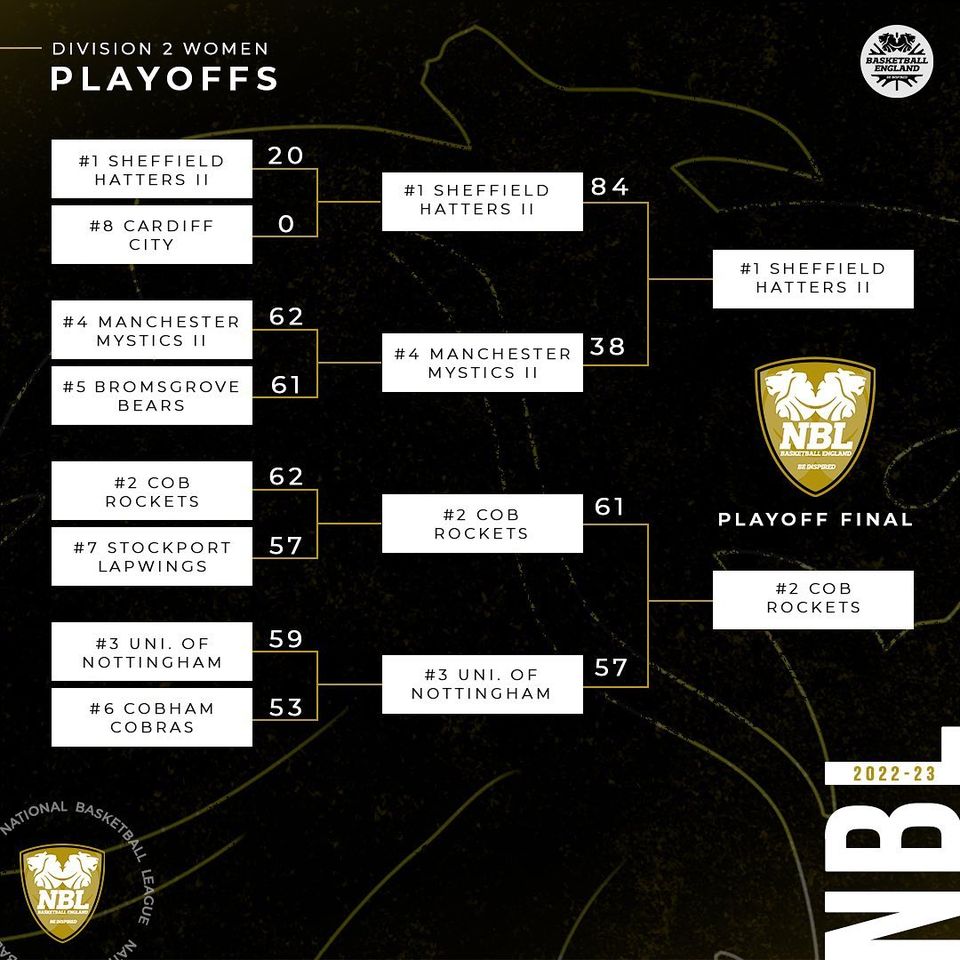 COB Rockets claimed a second final spot by beating Nottingham University Wildcats 61-57 behind 19 points from Fabienne Zere.
They will face Sheffield Hatters II, who used their experience to inflict a 84-38 defeat on a young Manchester Mystics II on Sunday.
The D2 playoff final now pits two strong outfits who both claimed their respective pools, dropping just one game between them during the regular season.
The Hatters went 12-0 in Pool 1, and the Rockets went 11-1 in Pool 2, but only one side can win this weekend.
NBL Division Three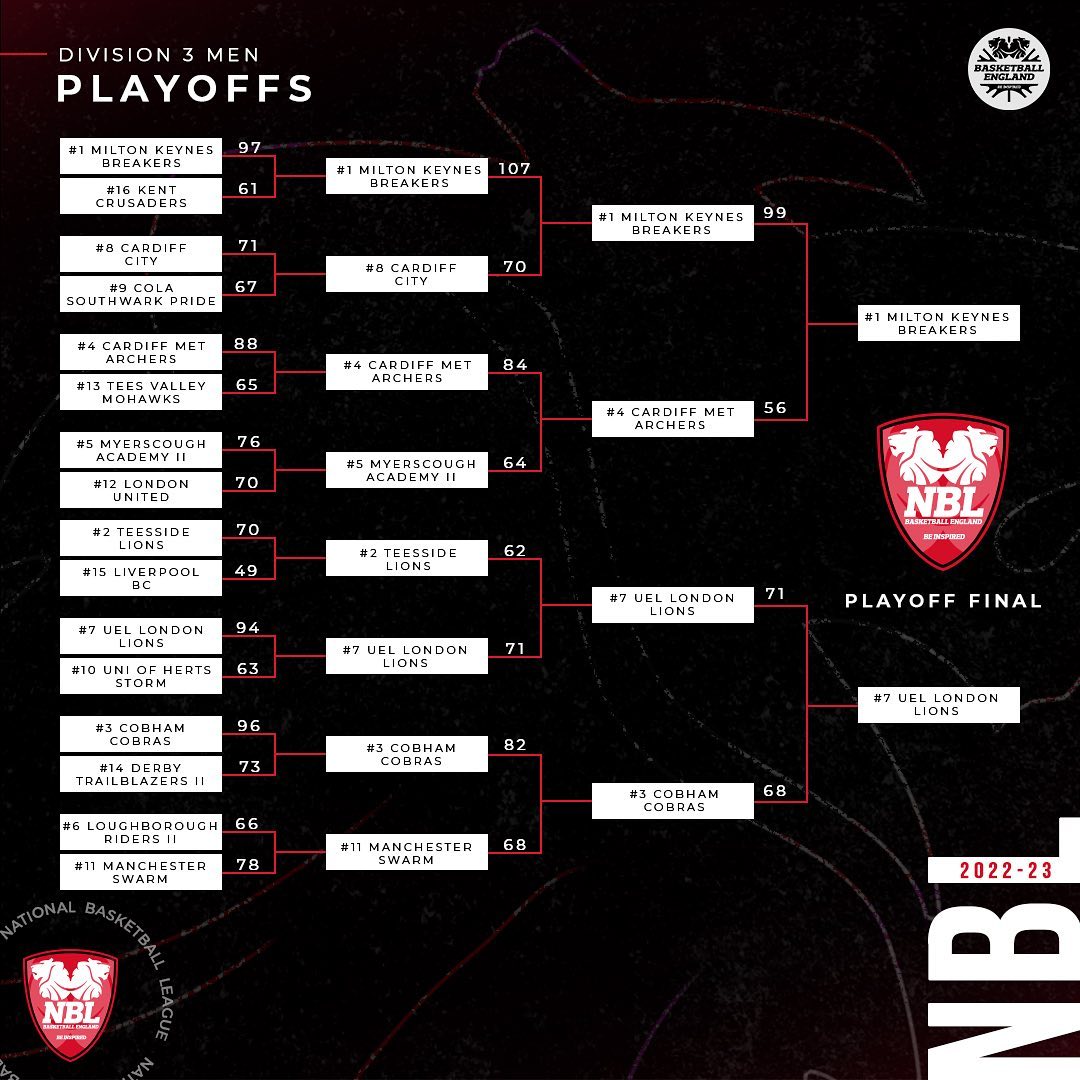 East Conference champs Milton Keynes Breakers continued their unbeaten league and playoff run against Cardiff Met Archers with a comprehensive 99-56 win. Dante Langley (23) and Blayne Freckleton (21) were the chief scorers.
They will face UEL London Lions, who upset #3 seeds Cobham Cobras 71-68 on Sunday, making it back to back road wins following an upset of #2 seeds Teesside Lions a week ago.
The Finals
Next weekend's Senior Playoff Finals take place at at the National Basketball Performance Centre in Manchester on 22/23 April.
Tickets for that event are now on sale from the BE shop, which can be accessed using the button below.
.

Join Basketball England for free. Whether you have a Supporter Account as a fan, follower, enthusiast or advocate, or a Full Account and have paid for a licence to play, coach or officiate in competition, you can be part of the basketball family.
Basketball has the power to change lives. Our #GameTime campaign aims to raise awareness of the positive impact that basketball can have on people no matter who they are or where they are from.
.