Regular seasons across the NBL and WNBL have come to an end, with last weekend also hosting the first round of the D3 playoffs.
Teams across the structure now know their opponents for this weekend, starting a mad dash across the next few weeks for a spot in this month's Playoff Finals at Manchester's National Basketball Performance Centre.
We take a look ahead to this weekend's contest with the brackets for each competition, as well as a look back at the D3 action from the last time out.
NBL Division One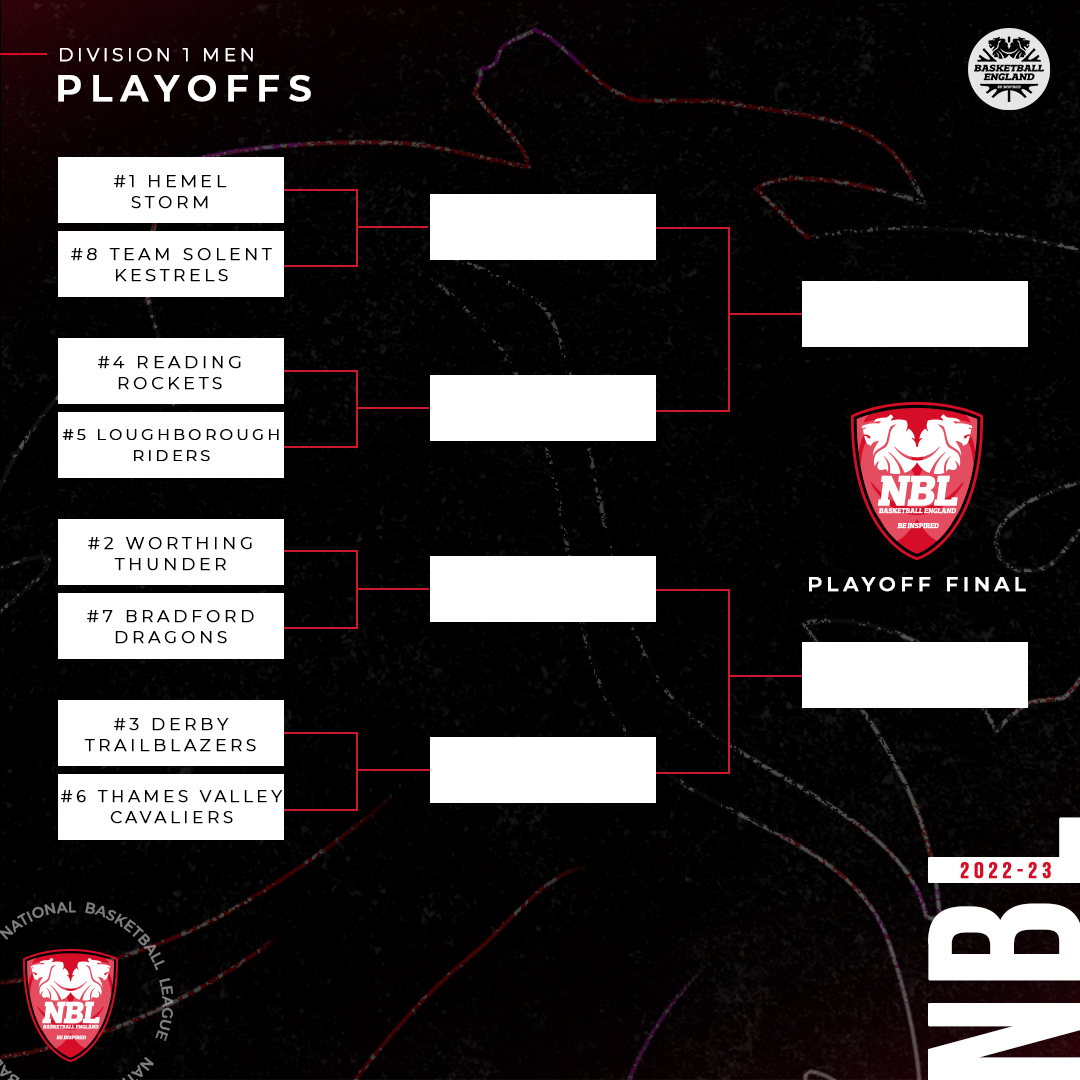 Regular-season winners Hemel Storm enter the post-season as heavy favourites after their 26-0 campaign, and will open their playoff journey with a home tie against #8 seeds and defending champs Team Solent Kestrels.
Interestingly, those two sides met this past Saturday, with Hemel coming through as 88-80 winners, though Solent led 49-43 at the half and 66-59 after three quarters. Replicating that effort into an upset would still be a huge ask, however.
League runners up and #2 seeds Worthing Thunder need to bounce back from their heavy 126-73 defeat by Hemel last time out as they host D1M scoring champ Justin Williams (24.2PPG) and #7 seeds Bradford Dragons.
#3 seeds Derby Trailblazers suffered back-to-back losses to rivals Loughborough last weekend, they'll entertain a Thames Valley Cavaliers side who they beat in both meetings during the regular season.
That said, the Cavs enter the playoffs as one of the league's form teams, riding a 6-1 streak across their last seven games of the regular season.
#4 Reading Rockets round out next weekend's fixtures, they take on #5 seeds Loughborough Riders. The teams played this same fixture about a month ago in Berkshire, with the Riders pulling off the road win 86-80.
Reading's Troy Cracknell was held in check during that clash, with 14 points and seven boards. The American combined for 50 points and 20 rebounds across two games last weekend, suggesting he's hitting form at just the right time for the Rockets.
WNBL Division One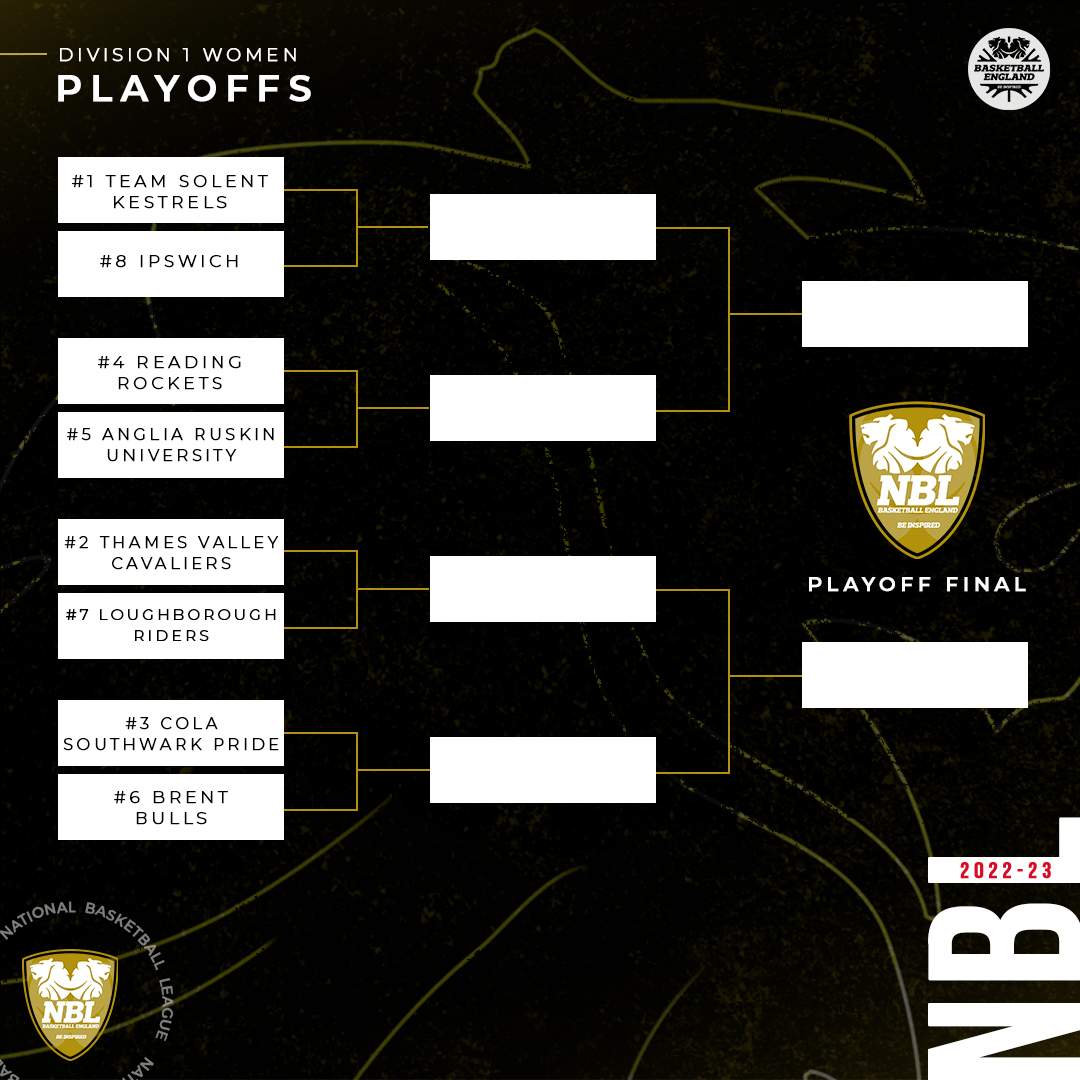 Team Solent Kestrels enjoyed a run to last year's finals before defeat by CoLA Southwark Pride. The top dogs won their first league title since 2016/17 earlier this month, and the #1 seeds start their playoff run at home to 2020/21 champs Ipswich.
League runners up Thames Valley Cavaliers had a solid chance of winning a maiden league title before their hopes were dashed a few weeks ago. The playoff crown is still firmly within their grasp however, assuming they can see off #7 Loughborough Riders to get themselves underway.
Defending champs CoLA Southwark Pride enter the post season as the #3 seeds and entertain Brent Bulls, who finished sixth in their first D1W season, quite the achievement after promotion a year ago.
That leaves #4 Reading Rockets to try and avenge their WNBL National Cup final loss with success in the playoffs. The Rockets host #5 Anglia Ruskin University, with the teams splitting their two regular season meetings 64-52, with the home team coming out on top on both occasions.
NBL Division Two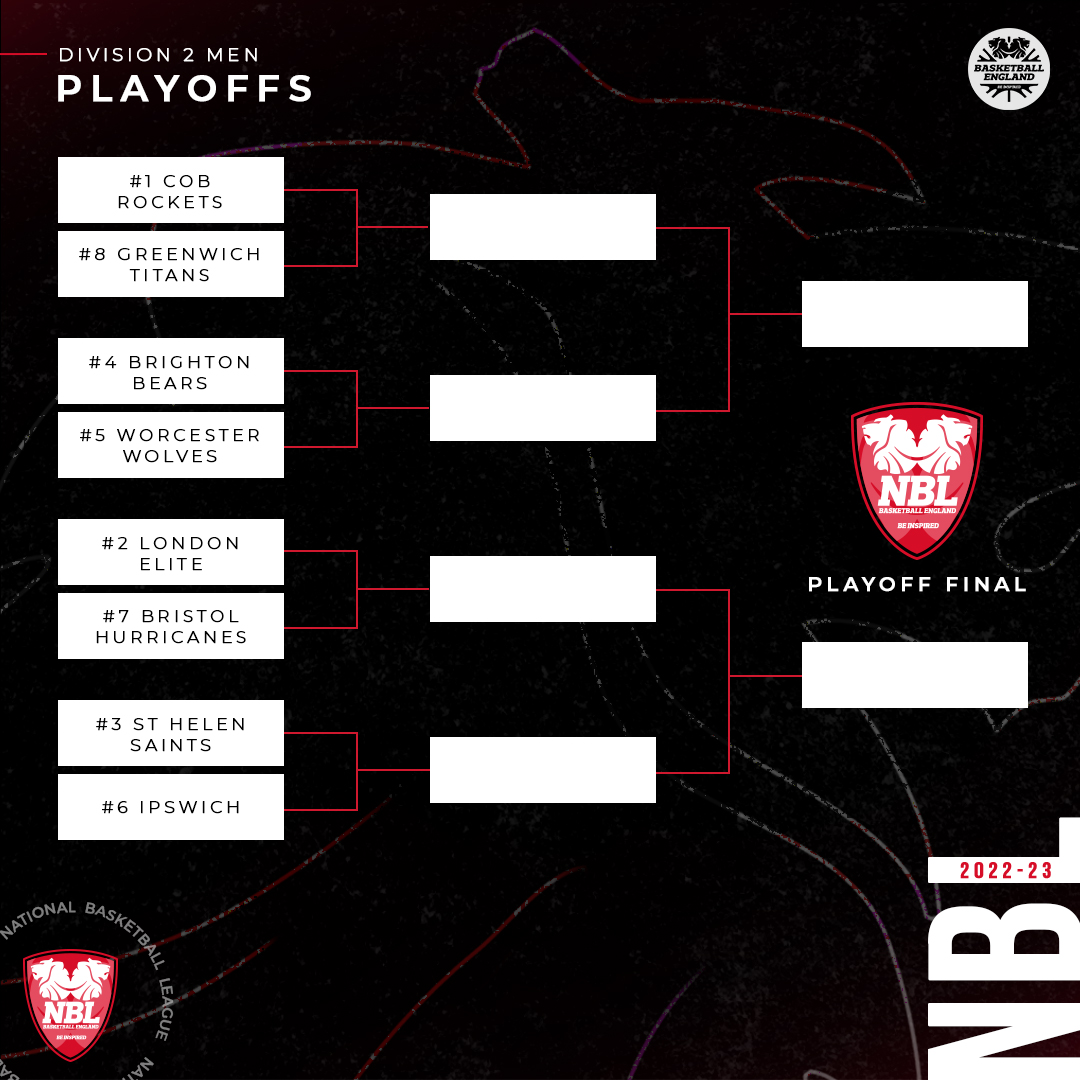 Top seeds City of Birmingham Rockets were close to perfection in the regular season, suffering their first and only defeat in the penultimate game of their schedule.
They'll begin their playoffs with a home tie against #8 seeds Greenwich Titans, who went 14-8 this year.
South Conference winners London Elite secured the #2 seed, and they'll host North conference side Bristol Hurricanes.
St Helens Saints will no doubt be gutted their 20-2 record wasn't enough to secure a conference win, but the former D3 winners have still claimed a home start to their playoff campaign as they entertain #6 seeds Ipswich.
Finally, Brighton Bears welcome last season's D3 playoff finalists Worcester Wolves, with the West Midlands side now enjoying life in D2 North. The Bears closed the season just behind London Elite on 16-6, whilst the Wolves went 15-7.
WNBL Division Two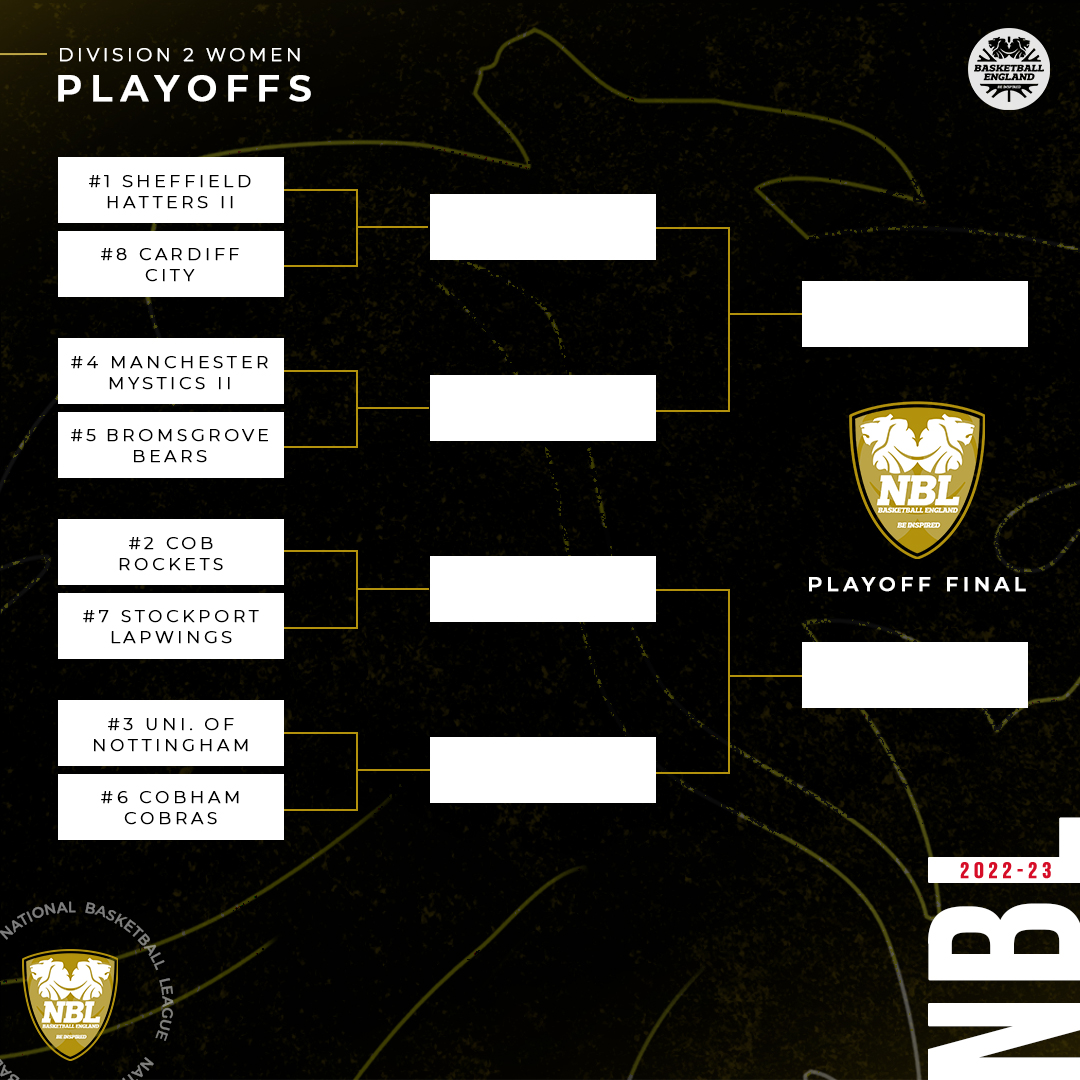 Sheffield Hatters II have secured the #1 seed in the D2W playoffs, and following their perfect 12-0 Pool 1 record, the defending champs will fancy their chances at home to #8 seeds Cardiff City.
City of Birmingham Rockets took Pool 2 at 11-1, they'll host #7 seeds Stockport Lapwings, who have plenty of big game pedigree after winning last season's WNBL National Cup.
Pool 3 was topped by University of Nottingham Wildcats with a 7-2 record. That is good for the #3 seed and a home tie with fellow Pool 3 running mates Cobham Cobras. The teams split their two games this season (with a 20-0 to Cobham in the third meeting), so that's sure to be a highly-competitive tie.
The only non-pool winner with a home game are Manchester Mystics II, who came runners up in Pool 1 behind Sheffield. With an impressive 9-3 record, they'll host Bromsgrove Bears, who went 8-4 in Pool 2.
NBL Division Three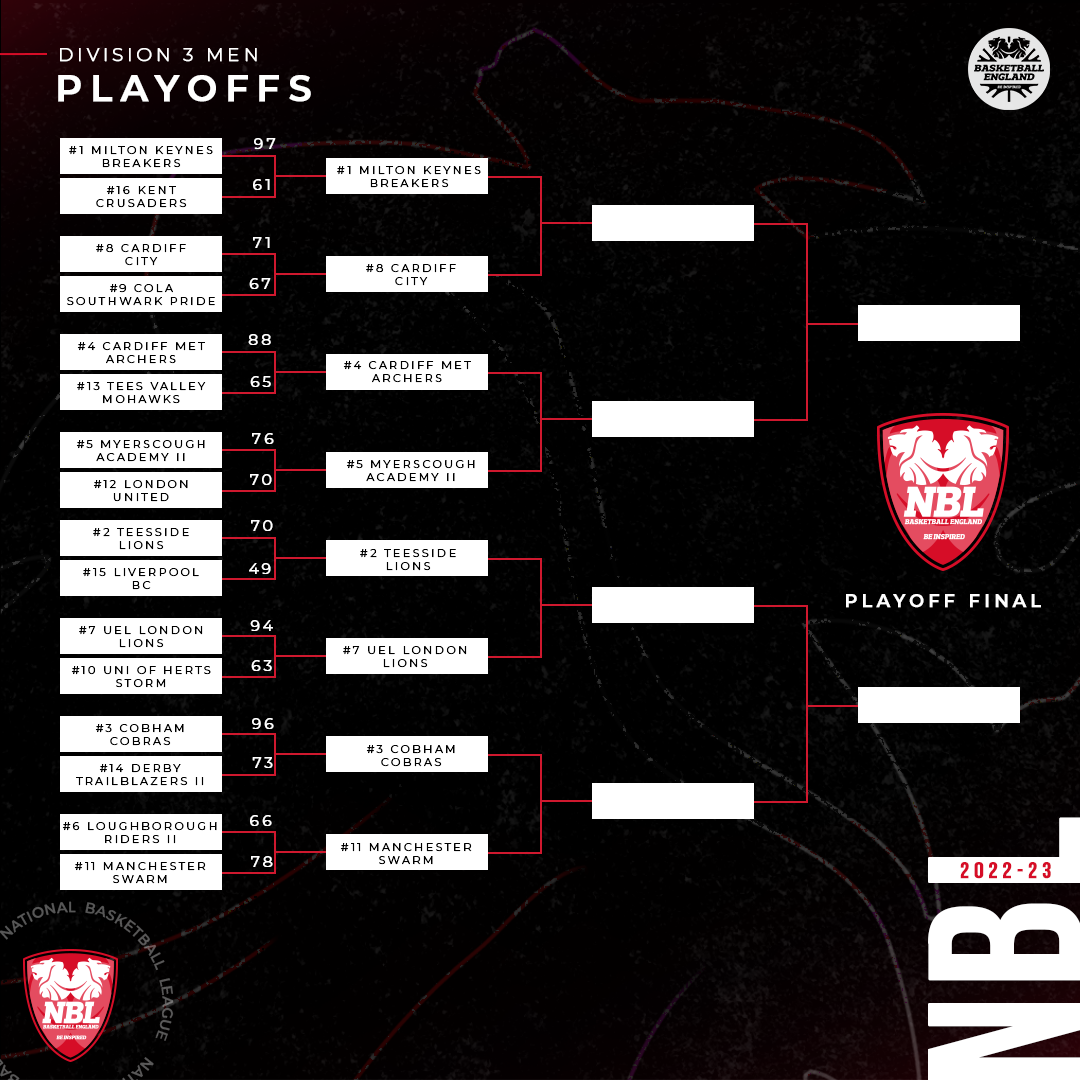 Top seeds Milton Keynes Breakers are safely through to the next round after a comfortable 97-61 victory over Kent Crusaders, whilst #2 seeds Teesside Lions are also through, beating Liverpool BC 70-49.
#3 seeds Cobham Cobras dispatched Derby Trailblazers 96-73 and they'll move on to face #11 Manchester Swarm after the North West side upset #6 Loughborough Riders II 78-66.
Tees Valley Mohawks long trip to South Wales was in vain as #4 seeds Cardiff Met Archers triumphed 88-65, setting up a clash with #5 Myerscough Academy II after their 76-70 W over London United.
Cardiff City's reward for a 71-67 victory against CoLA Southwark Pride is the unenviable task of a trip to top dogs Milton Keynes, and UEL London Lions saw off University of Hertfordshire Storm 94-63.
That brings the D3 playoff field down to eight teams and in line with the rest of the senior structure, with the last four games set to get underway this weekend.
Milton Keynes are at home to Cardiff City, a tough road trip for one of the two remaining non-conference winners.
Fellow Welsh outfit Cardiff Met Archers will face a visit from Myerscough Academy II in a #4 vs #5 contest.
Defending playoff champs Teesside Lions continue their run with a home tie against #7 UEL London Lions, and #3 Cobham Cobras will try to fend off another upset from #11 seeds Manchester Swarm.
All paths lead to the Senior Playoff Finals at the National Basketball Performance Centre in Manchester on 22/23 April.
Tickets for that event are now on sale from the BE shop, which can be accessed using the button below.
.

Join Basketball England for free. Whether you have a Supporter Account as a fan, follower, enthusiast or advocate, or a Full Account and have paid for a licence to play, coach or officiate in competition, you can be part of the basketball family.
Basketball has the power to change lives. Our #GameTime campaign aims to raise awareness of the positive impact that basketball can have on people no matter who they are or where they are from.
.