Rebound's Chris Hughes has named his final player and team of the week of the 2022/23 NBL1 regular season.
Chris, the All-Star organiser, content producer, YouTube host and producer, commentator and social media observer, had eight games to sift through, including Hemel's win away to Newcastle as Storm sealed the D1M regular-season title.
Have your say on this week's choices and give a shout-out to the players you think deserve one using the hashtag #NBL2223 and #ReboundTOTW. Don't forget to tag us!    
Twitter:  @NBLengland / @Rebound__  
Facebook:  @NBLengland  / @ReboundNBL  
Instagram:  @nblengland / @reboundnbl  
How it works 
Chris will pick a Player of the Week and four other selections to round out his Team of the Week, paying attention to the following criteria:
Efficiency  
Stats  
Team and opposition strength  
Periods of influence in the game 
Being on a winning team (exceptional performances from players on losing teams will be considered for TOTW)
Other players will also receive a shout out as honourable mentions at the bottom of the piece.
The Rebound Team of the Week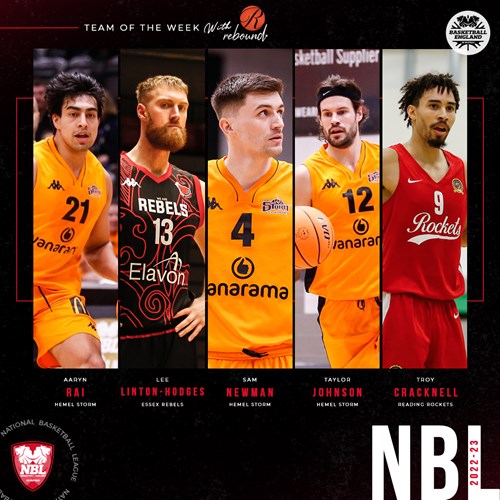 PLAYER OF THE WEEK 
Aaryn Rai - Hemel Storm, forward 
22PTS/10REB/2AST/1STL/1BLK/25EFF V TSK 
30PTS/16REB/7AST/1STL/2BLK/51EFF V WOR 
If there was any doubt who should be the regular-season MVP, Aaryn Rai did everything he could do remove it with an astronomical 51 efficiency game against Worthing. 
The Dartmouth point-forward was too tough for Solent as well in a double-header winning weekend, securing an unbeaten regular-season for Storm and earning an eighth Player of the Week crown.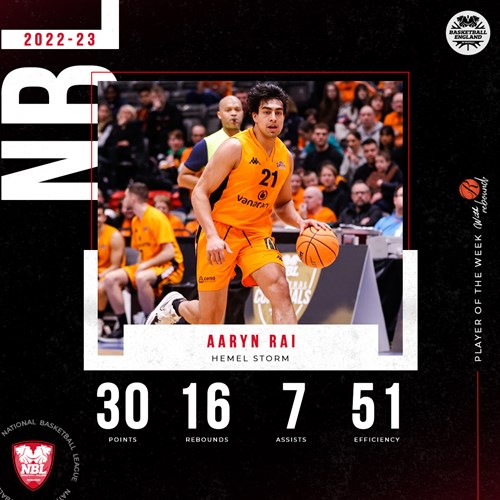 Lee Linton-Hodges – Essex Rebels, forward 
20PTS(7-11FGM/1-1 3PM/5-6FTM)/18REB/6AST/1STL/3BLK/40EFF 
Linton-Hodges put on a show of the highest order, worthy of a Player of the Week award in almost any other week. It was the perfect performance to sign off from NBL action, with the Essex star helping the franchise to an 8-point win with an ultra-efficient 20 and 18 double-double before his retirement.  
Manchester really couldn't stop the big putting on a show as he hit the target with his only three-point attempt and sank five from six free-throw attempts.
Sam Newman – Hemel Storm, guard 
32PTS(11-14FGM/10-13 3PM)/1REB/9AST/2STL/38EFF V WOR 
Newman put in a mind-blowing performance versus Worthing. 
He kept to his shooting to a minimum against Solent on Saturday with just a pair of scoreless efforts but dished out nine assists. 
Against Worthing the following day, the elite facilitator dished out the same number of dimes but went off for 32 points as well as hitting 10/13 from downtown in a 53-point statement win. 
Taylor Johnson – Hemel Storm, guard 
32PTS/5REB/3AST/1BLK/31EFF 
19PTS/6REB/6AST/1BLK/22EFF 
In a tough single-digit win versus Solent, in which Hemel were on the ropes at times, Taylor Johnson was not to be stopped. 
The former Dartmouth guard showed Ivy league finesse to school the eighth seeds and was also part of a team performance that put in a 53-point hammer down on second seeds Worthing 24 hours later.
Troy Cracknell – Reading Rockets, guard 
24PTS/12REB/1AST/1STL/30EFF @ TVC 
26PTS/8REB/3AST/1STL/1BLK/30EFF V TSK 
Cracknell recorded back-to-back 30 efficiency games to make 'Team of the Week' again with two dominant performances across a winning weekend. 
The former Augusta University star led his team in points in both games and was Mr Reliable from the line, making 17 of his 21 attempts. 
Team basketball
LOUGHBOROUGH ARE PLAY-OFF READY WITH 8-1 RUN! 
Loughborough took big back-to-back psychological wins against the third seeds Derby ahead of next weekend's play-offs. It makes Riders not so dark horses in the post-season, and they'll be a dangerous team with momentum on their side.
Loughborough shot a 48% team field goal rate and out-rebounded the Trailblazers in both games. 
Honourable mention to Conroy Hayden for making the winning bucket on Sunday. 
Honourable mentions 
Zack Powell (REA) – 13P/1A/1S/10EFF @TVC & 22P(8-10FGM)/8R/7A/3S/1B/38EFF vs TSK
Elijah Bailey (LOU) - 21P/5R/1A/1S/18EFF @DTB & 28P/4R/3A/24EFF vs DTB 
Ricky Madison (TSK) – 22P/12R/1A/2S/23EFF @HEM & 20P/10R/1A/18EFF @REA 
Micah Savery-Richards (BRA) - 29P/6R/2A/1S/33EFF 
Hakeem Sylla (HEM) - 16P/7R/1S/5B/25EFF vs TSK & 16P/9R/2A/3S/1B/21EFF vs WOR 
.

Join Basketball England for free. Whether you have a Supporter Account as a fan, follower, enthusiast or advocate, or a Full Account and have paid for a licence to play, coach or officiate in competition, you can be part of the basketball family.
Basketball has the power to change lives. Our #GameTime campaign aims to raise awareness of the positive impact that basketball can have on people no matter who they are or where they are from.
.