All five top seeds progressed this weekend, setting up some mouth-watering semi-final ties.
The same couldn't be said for #2 seeds, however, with WNBL1's Thames Valley and NBL3's Teesside Lions both bowing out after upset home losses.
We take a look at all this weekend's contests with the updated brackets for each competition, as well as a look ahead to the contests on tap for next weekend.
NBL Division One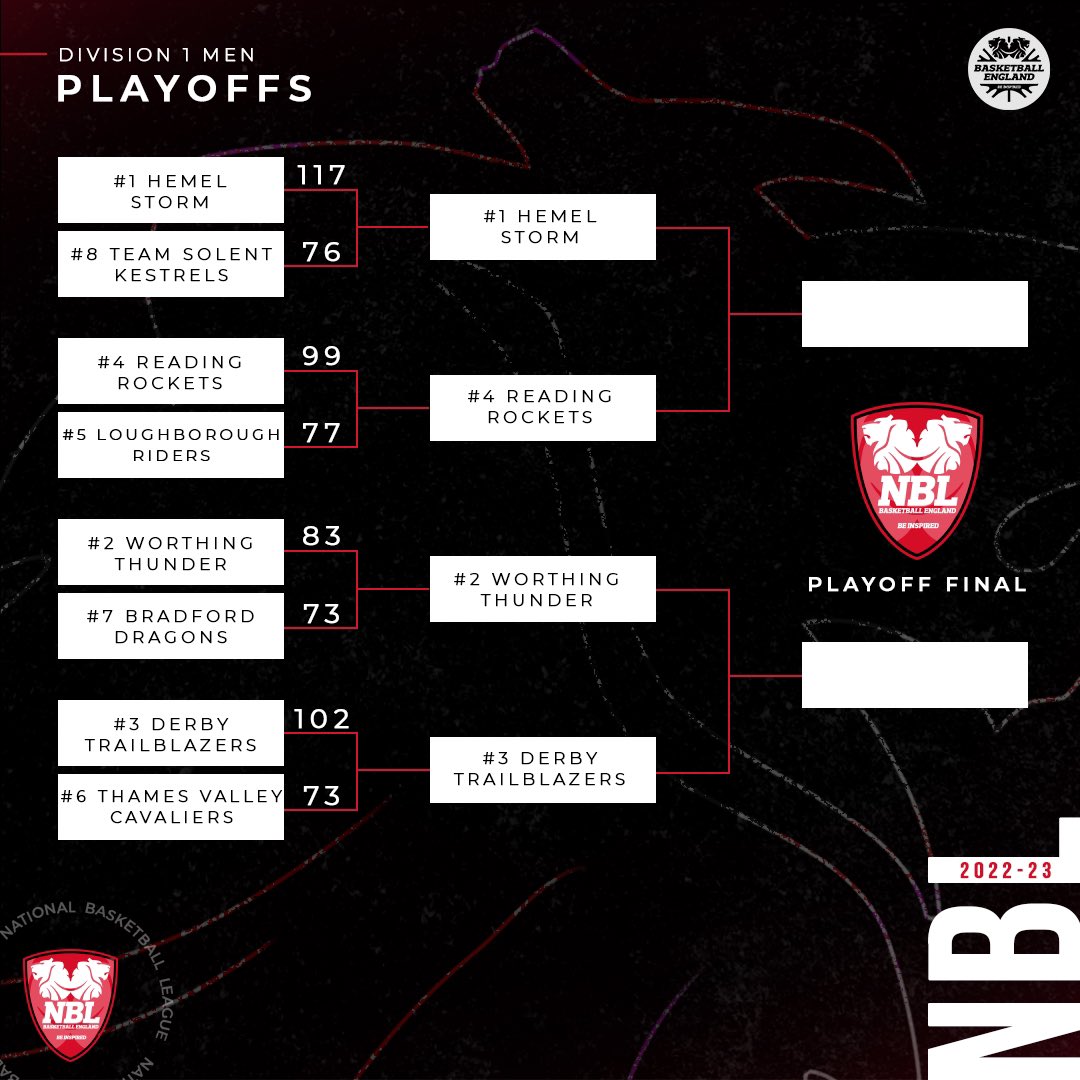 Hemel Storm's Aaryn Rai started the playoffs as he finished the regular season, playing some phenomenal basketball to dispatch an unfortunate foe.
This weekend it was #8 seeds Team Solent Kestrels on the receiving end of a 40-pooint, 16-rebound, seven-assist, 60-efficiency performance (not a typo), for a 117-76 final score.
#2 seeds Worthing Thunder are also safely through, they overcame a game-high 25 points from Bradford Dragons' Justin Williams for an 83-73 win, with the hosts enjoying 21 points and three boards from Ronald Blain.
Thunder will face #3 seeds Derby Trailblazers in the next round after Coach Shaw's team beat Thames Valley Cavaliers 102-73. Twenty three points from Raheem May-Thompson and a near triple-double from Ryan Bruggeman (18pts, 9reb, 6ast) were enough to get Derby over the line.
Reading Rockets make up the final four group as they saw off Loughborough Riders 99-77.
Jermiah Jenkins (17pts), Finleigh Porter (16pts) and Lewis Champion (15pts) all contributed for the Rockets, ensuring 21 points from Riders' Elijah Bailey would be in vain.
#1 seeds Hemel now have a home tie with Reading, making them the latest side to try and stop Aaryn Rai, whilst Worthing will be at home to Derby, a contest Thunder won 107-83 during the regular season.
WNBL Division One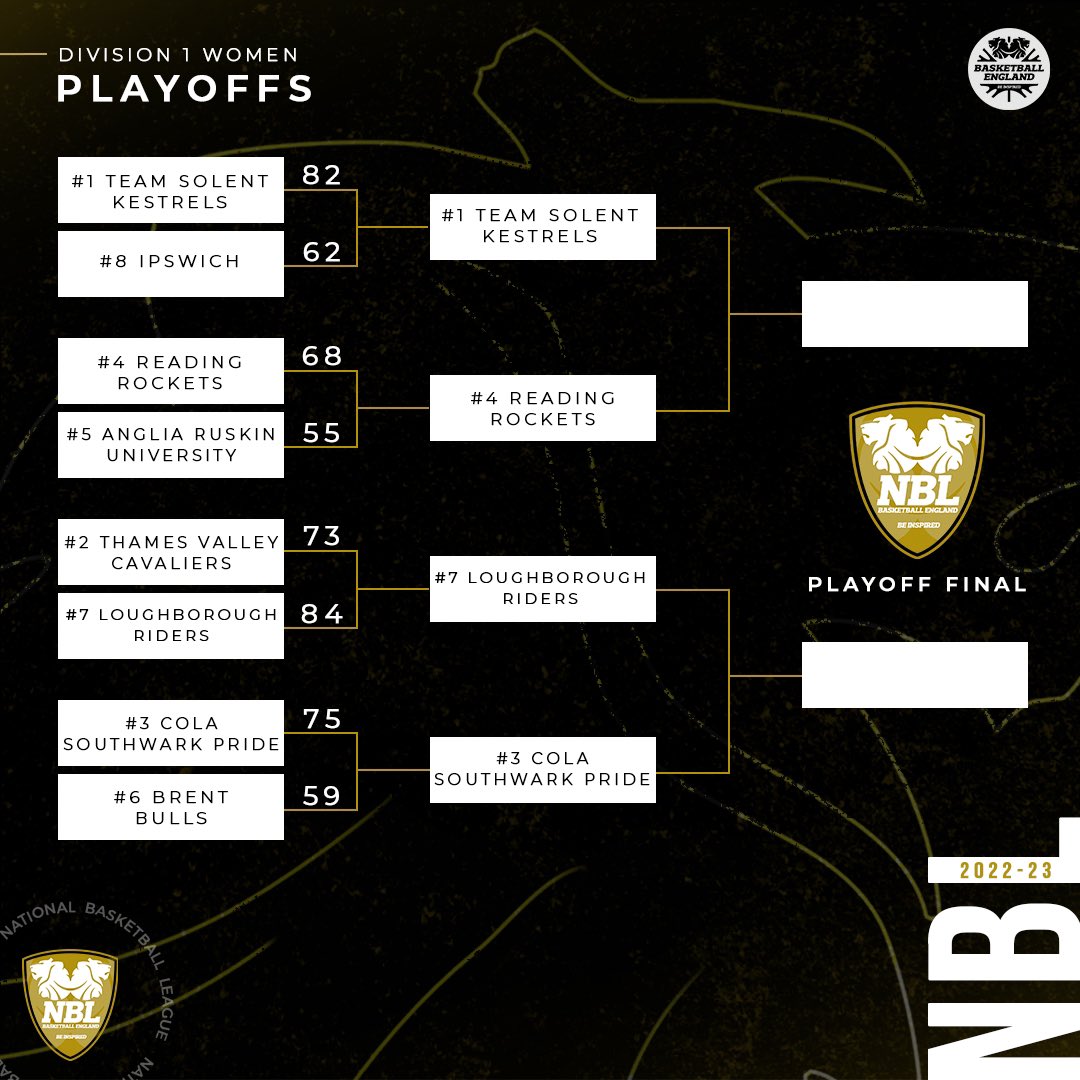 Team Solent Kestrels ended the season of #8 seeds Ipswich following an 82-62 victory, with Faye Endean (20pts, 14reb, 9ast) and Krisztina Velkey-Cleeve (16pts, 9reb, 8ast) both narrowly missing out on triple-doubles.
The upset of the round belonged to #7 seeds Loughborough Riders who shocked regular-season runners up Thames Valley Cavaliers 84-73.
Another player flirting with a triple-double was Riders' standout Alia El Shabrawy (25pts, 11reb, 8ast), who cancelled out 19 points and nine boards from Ezekiela Lisk.
CoLA Southwark Pride's title defence is still on track after they beat Brent Bulls 75-59.
A double-double from Felicia Jacobs-Abiola (13pts, 15reb) plus a game-high 15 points from Ebere Egbirika put CoLA into the next round, with Jess Davies (10pts) the only Bulls player to make it to double-digits.
#4 seeds Reading Rockets also progressed, erasing a ten-point half-time deficit to beat Anglia Ruskin University 68-55.
Eighteen points apiece from Lindsey Cleary and Saioa San Francisco did the damage for the hosts, with a 14-point, 10-rebound double-double from Courtney Gray forming the bulk of ARU's resistance.
That leaves Team Solent Kestrels to entertain Reading next weekend, whilst Loughborough will travel to CoLA, with higher seeds retaining home court advantage in all post-season games.
NBL Division Two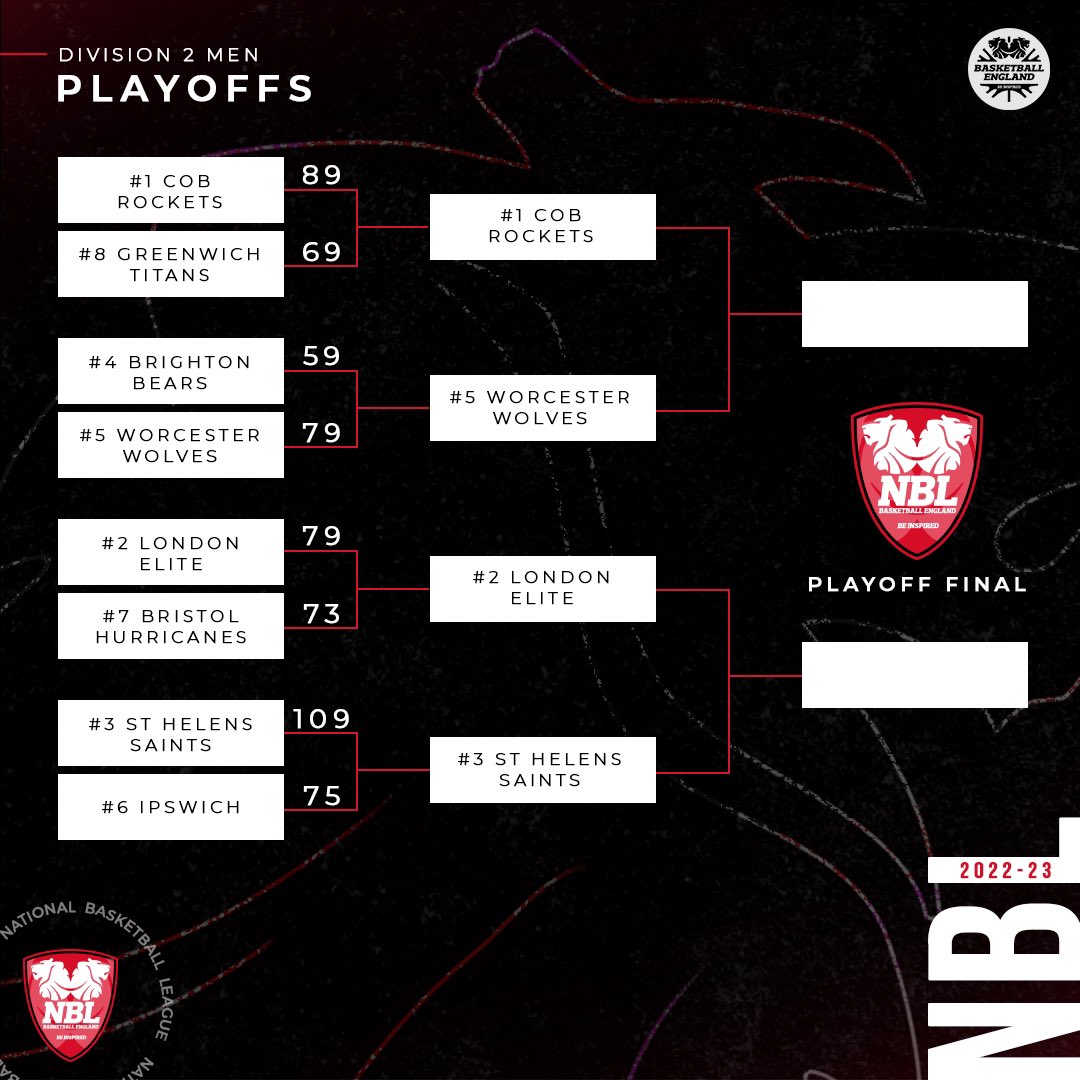 Both the North and South league winners are into the semi-finals, with City of Birmingham Rockets and London Elite collecting wins.
CoB beat #8 seeds Greenwich Titans 89-69 thanks to 22 points from Martyn Gayle, and Elite knocked out Bristol Hurricanes 79-73, with Ray Akpofure (14pts, 11reb) and Korry Callum (13pts, 10reb) both recording double-doubles.
North conference runners-up St Helens Saints eased past Ipswich, with a 109-75 final score. Connor Murtagh dropped 22 points for the hosts, with Joe Lister adding 19 more off the bench. Rio Murray was the standout for Ipswich, he had 23 points and 14 rebounds.
#5 seeds Worcester Wolves provided the only shock of the round as they beat Brighton Bears 79-75.
Twenty-eight points from Lucas McGregor and 27 more from Ian Vivero Rodriguez powered the road win as the Wolves look to book a second playoff final appearance in as many years.
To do just that they'll have to travel to top seeds City of Birmingham Rockets, with an exciting tie between London Elite and St Helens Saints also on the cards.
WNBL Division Two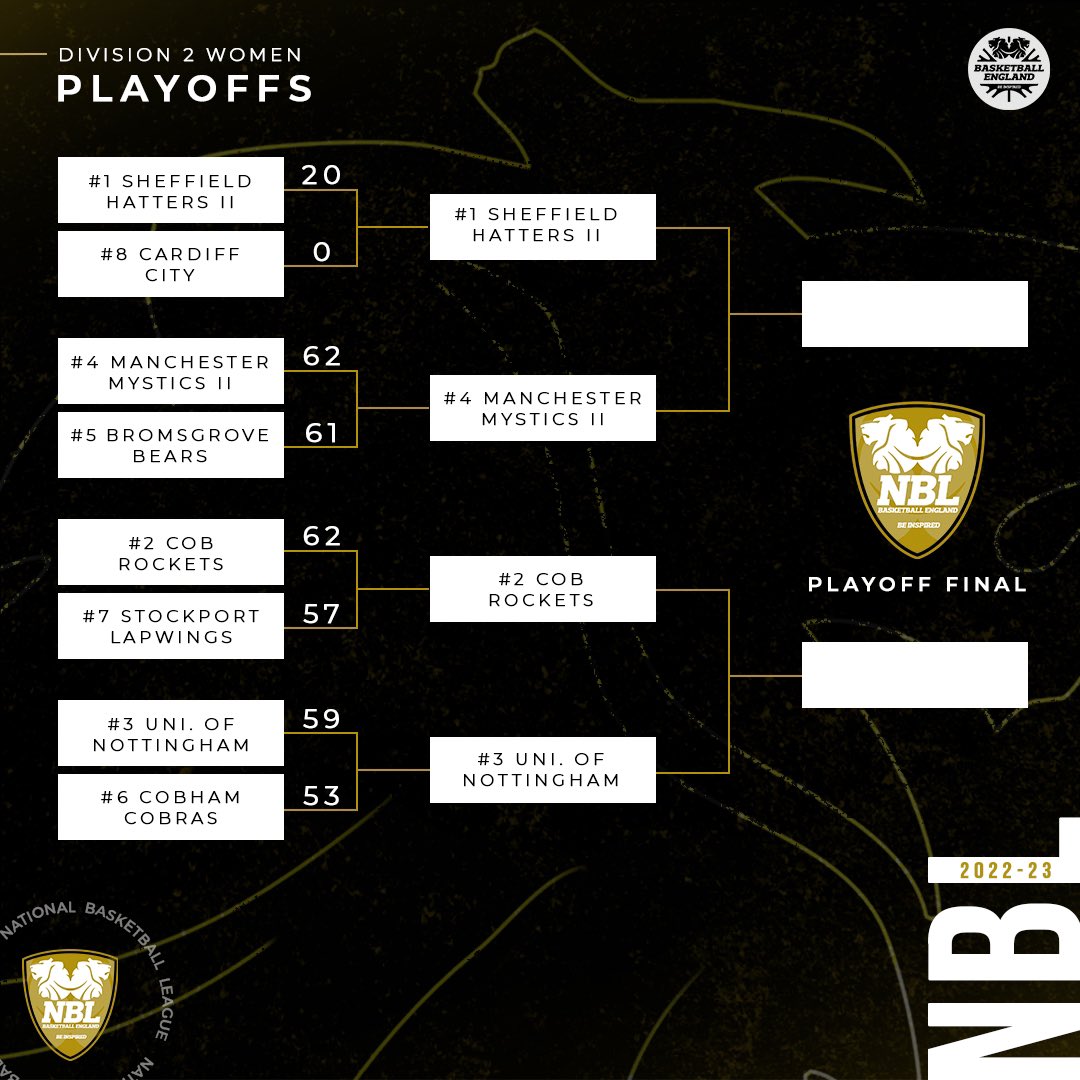 There were three stunning contests in D2W this weekend, with each one settled by single digits.
The closest was Manchester Mystics II squeezing past Bromsgrove Bears 62-61, whilst #2 seeds City of Birmingham Rockets defeated Stockport Lapwings 62-57.
University of Nottingham Wildcats also moved on, they managed to beat Cobham Cobras 59-53.
Sheffield Hatters II received a 20-0 forfeit from Cardiff City.
It means Hatters II will now host Manchester Mystics II in a Roses clash next weekend, and CoB will welcome Nottingham.
NBL Division Three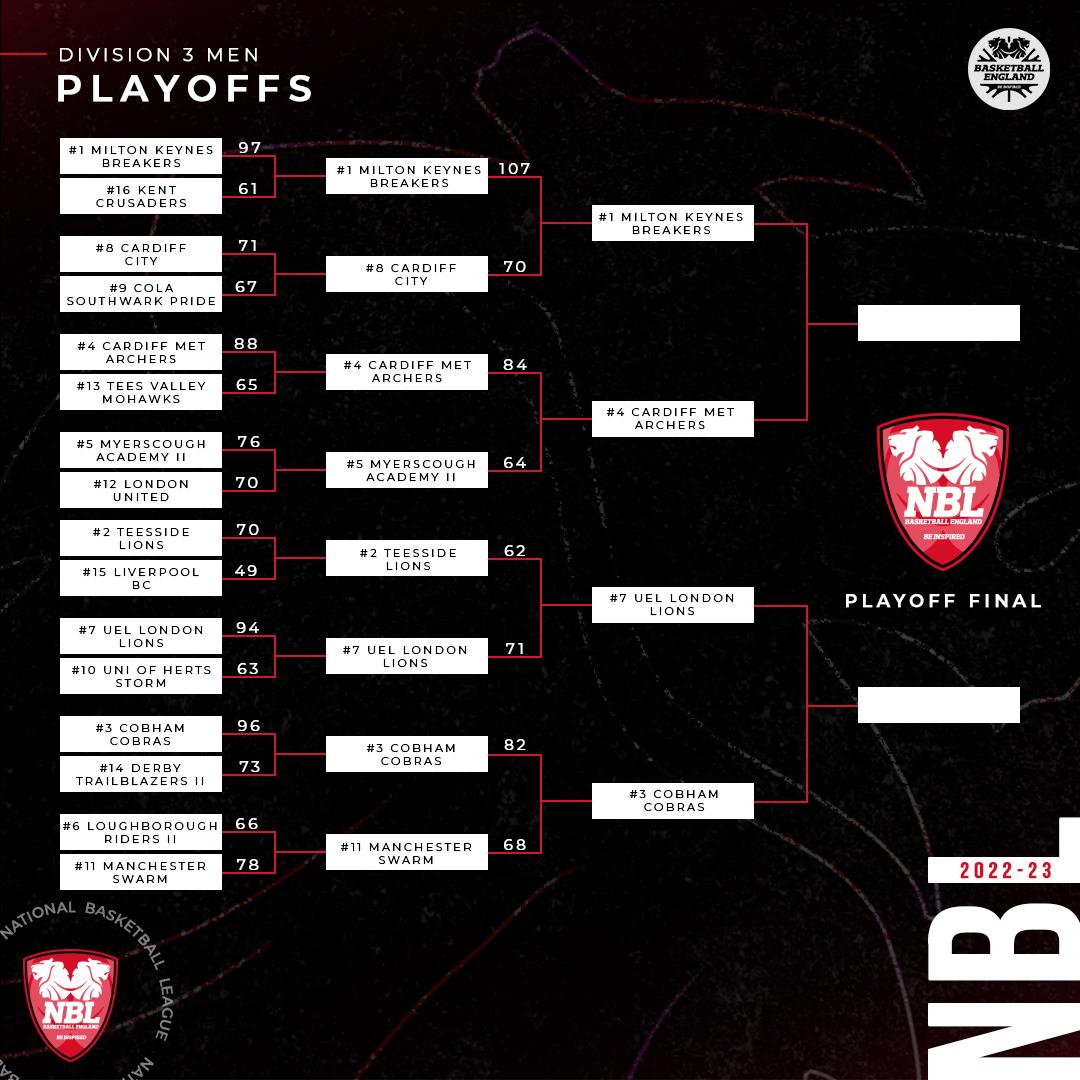 #2 seeds Teesside Lions were the big casualties of the weekend as they lost 71-62 against UEL London Lions.
The Lions' defence of their D3 crown is now over, but #1 seeds Milton Keynes Breakers are still alive as they beat Cardiff City 107-70 thanks to 33 points from Dante Langley.
The Breakers will have their sights set on another Welsh side next weekend after Cardiff Met Archers overcame Myerscough Academy II 84-64.
#11 seeds Manchester Swarm upset Loughborough last weekend, but there would be no repeat sting in the tail here as Cobham Cobras booked their spot in the semi-finals with an 82-68 final score.
That means next weekend's line up involves Milton Keynes at home to Cardiff Met Archers, whilst UEL London Lions will travel to Cobham Cobras, with higher seeds retaining home court advantage in all post-season games.
Next weekend's winners will all book a spot in the Senior Playoff Finals at the National Basketball Performance Centre in Manchester on 22/23 April.
Tickets for that event are now on sale from the BE shop, which can be accessed using the button below.
.

Join Basketball England for free. Whether you have a Supporter Account as a fan, follower, enthusiast or advocate, or a Full Account and have paid for a licence to play, coach or officiate in competition, you can be part of the basketball family.
Basketball has the power to change lives. Our #GameTime campaign aims to raise awareness of the positive impact that basketball can have on people no matter who they are or where they are from.
.