Day one of the Senior Playoff Finals is in the books, with Milton Keynes, Sheffield and City of Birmingham all sealing titles.
The Breakers completed their perfect season by beating UEL London Lions 113-67, before Sheffield Hatters II knocked off City of Birmingham Rockets 77-57 for the WNBL Division Two title.
The day ended with a high-quality clash between City of Birmingham Rockets and St Helens Saints for the NBL Division Two title, with the Rockets eventually coming through 80-72.
Recaps for all three games are below, with a gallery of images at the foot of this article. Click the red game titles for Live Stats.
Milton Keynes capped an unbeaten debut season in the NBL with a 113-67 Playoff Final victory over UEL London Lions.
After a relatively even opening quarter, the East Conference champs stepped up their game and a 28-9 second frame created a gap between the sides that would only grow as the final wore on.
D3 East Player of the Year Jordan Spencer (11pts, 16reb, 12ast) grabbed a triple-double despite appearing to be slowed by an ankle injury, whilst the Breakers showed their depth as Mike New Jr (21pts, 9reb), Dante Langley (20pts) and Luke Gregory (13pts, 7reb) all stepped up to push MK past the century mark for the 13th time in all competitions this season.
The MVP award was a straightforward decision as former D1M standout Blayne Freckleton went off for 39 points, hitting 10/20 from beyond the arc to go with seven boards and two assists.
Freckleton put the exclamation point on a stunning performance by launching a fourth-quarter triple from a good three yards behind the arc, hitting it, as he did with most of his efforts on a truly impressive afternoon.
A young Lions team fought valiantly to get back into the game but were outmatched by MK, and were unable to reduce their deficit despite solid performances from Daniel Delgado (16pts, 8reb) and Travis Edwards (13pts, 5reb).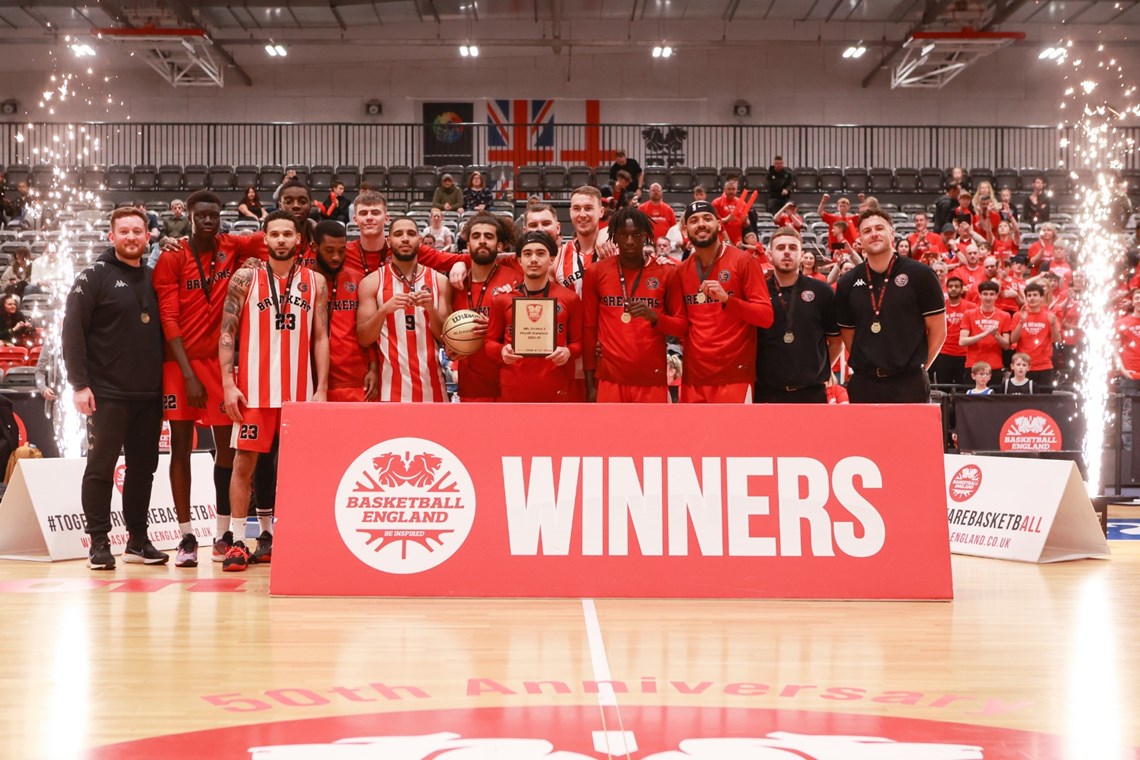 Sheffield Hatters II claimed their second D2W playoff crown in as many years as they defeated City of Birmingham Rockets 77-57, sealing an undefeated season in the process.
The defending champs used their experience to put together a complete performance, leading from tip to buzzer and building an advantage that went as high as 27 points early in the second half.
Forcing Birmingham into 28 turnovers, Sheffield were in control for the majority of the contest bar a late push from the Rockets at the end of the third.
Part of the reason for Sheffield's dominance was an MVP performance from Sarah Cooney, who excelled at both ends of the court for her team.
Closing with 36 points, 11 rebounds, eight steals and seven assists, only foul trouble could slow down the Hatters' standout. The veteran scorer went to the bench in the third after her fourth foul, allowing the Rockets a glimmer of hope as they rallied to close within 12.
That charge was halted as Cooney returned to the ball game, settling her side and allowing the likes of Steph Gandy (15pts, 8reb, 5ast) and Lisa Riches (10pts, 6reb, 6ast, 6stl) to put the finishing touches on impressive outings.
Catarina Seixas (16pts) and Fabienne Zere (13pts, 13reb) led the way for the Rockets, with Pool 2 Player of the Year Michelle Turner enduring a tough day at the office as she shot 3/12 to close on nine points.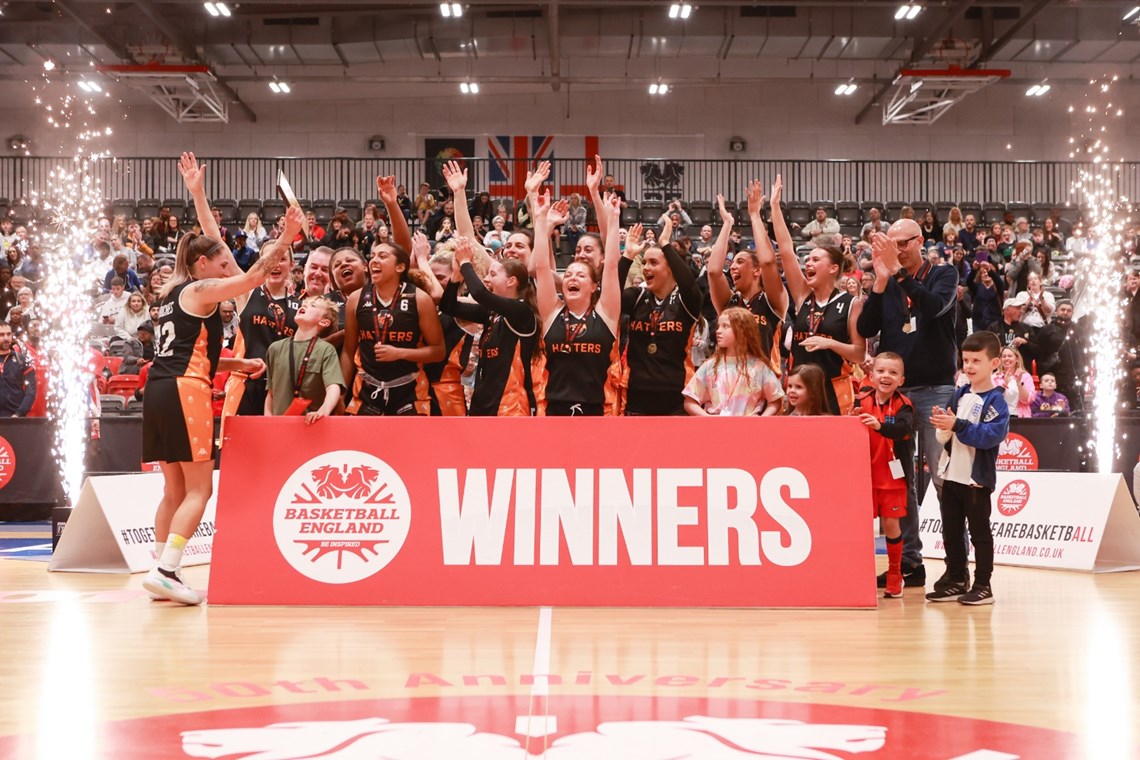 Day one of the Senior Playoff Finals ended with a truly enthralling D2M Playoff Final as City of Birmingham Rockets completed a trio of wins on the season against St Helens to take the title 80-72.
In a contest that a packed NBPC couldn't take their collective eyes off, fans and players alike were left guessing as to which of these two standout sides would be ahead once the final buzzer sounded.
With multiple lead changes throughout, neither side was able to lead by double digits, CoB did just enough across the second half to edge the contest.
In a high-quality game littered with standout performances picking an MVP was a tough task, but CoB's player/coach Martyn Gayle earned the accolade after a 20-point, 10-rebound double-double.
Ronald Oberia (18pts, 7reb), Kayne King (12pts, 7reb, 7ast) and Luke Okosieme (11pts, 9reb) were all in the running for the award, but no doubt won't feel too disappointed to have missed out given the eventual final score.
Understandable frustration was etched on the faces of Saints' players come the buzzer, no doubt devastated to have fought so hard to still come up short.
The North West side were led by 16 points and eight boards from Connor Murtagh, whilst Momcilo Latinovic added 15 points off the bench that included four triples.
In a great advert for the NBL and the sport as a whole, the D2M final was a fitting way to end day one of the Senior Playoff finals.