The final day of NBL Awards Week is upon us, wrapping a fantastic five days of recognition.
Beginning with Monday's NBL Division Three honours, Tuesday's WNBL Division Two awards and Wednesday's NBL Division Two selections, WNBL Division One's standouts were in the spotlight yesterday.
Based on performances across the regular season, we're now at the finish line with NBL Division One, setting the scene perfectly for this weekend's Senior Playoff Finals at Manchester's National Basketball Performance Centre.
Wilson Player of the Year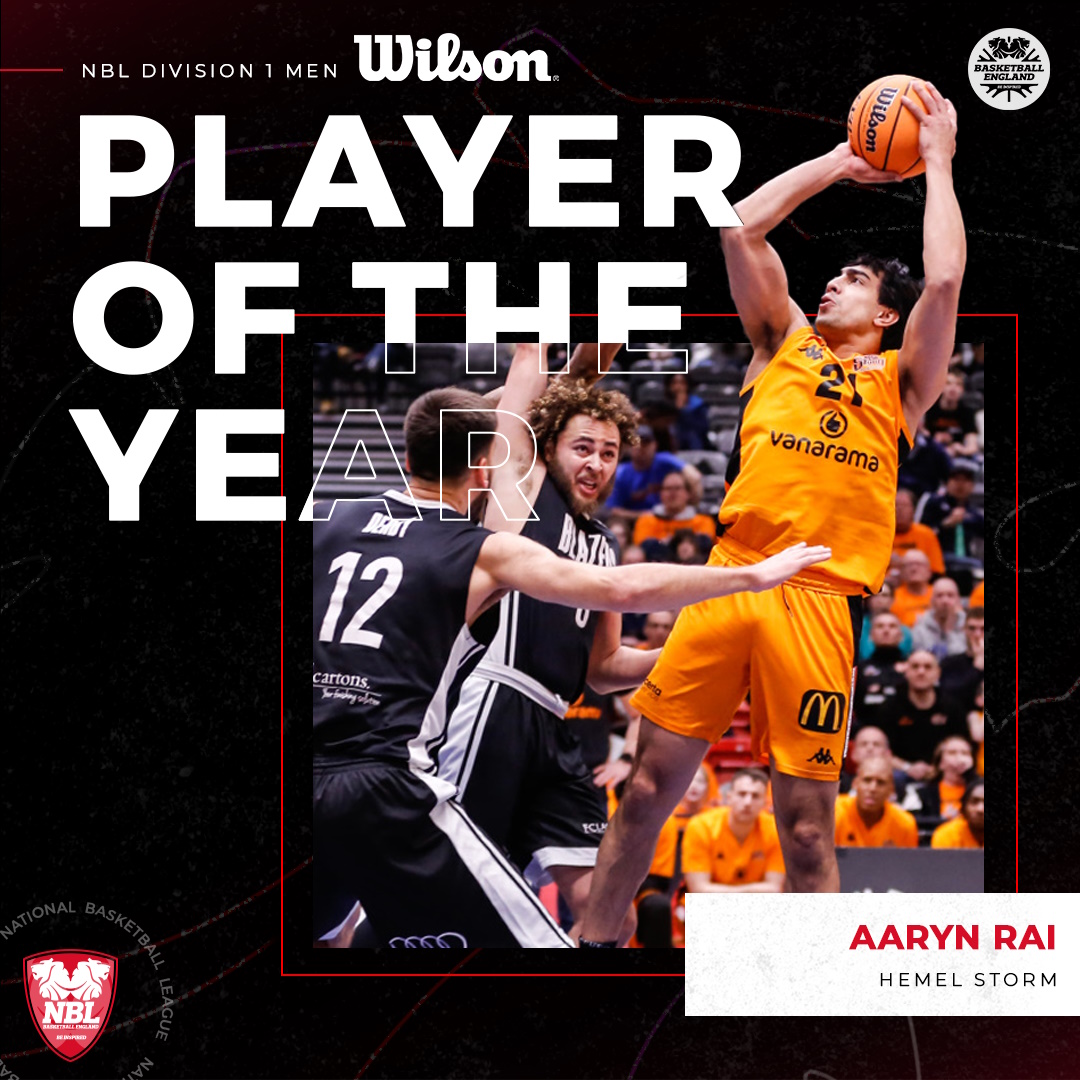 In perhaps one of the least surprising moves of the week, Hemel Storm's Aaryn Rai is this year's D1M Wilson Player of the Year.
Taking over the league in his debut season, Rai recorded some outlandish numbers for one of the most impressive campaigns in recent memory.
The talented forward closed with regular-season stats of 24.0PPG, 10.8RPG, 5.5APG, also shooting a solid 64.5% from the floor and 45.9% from long range.
Rai led the league for efficiency and rebounding, placing second for scoring and fifth for assists per outing, showcasing his dominance.
It's no surprise that Hemel managed to eventually go the full season unbeaten, and a reasonable part of their 26-0 record can certainly be linked to Rai's unstoppable play.
Wilson Coach of the Year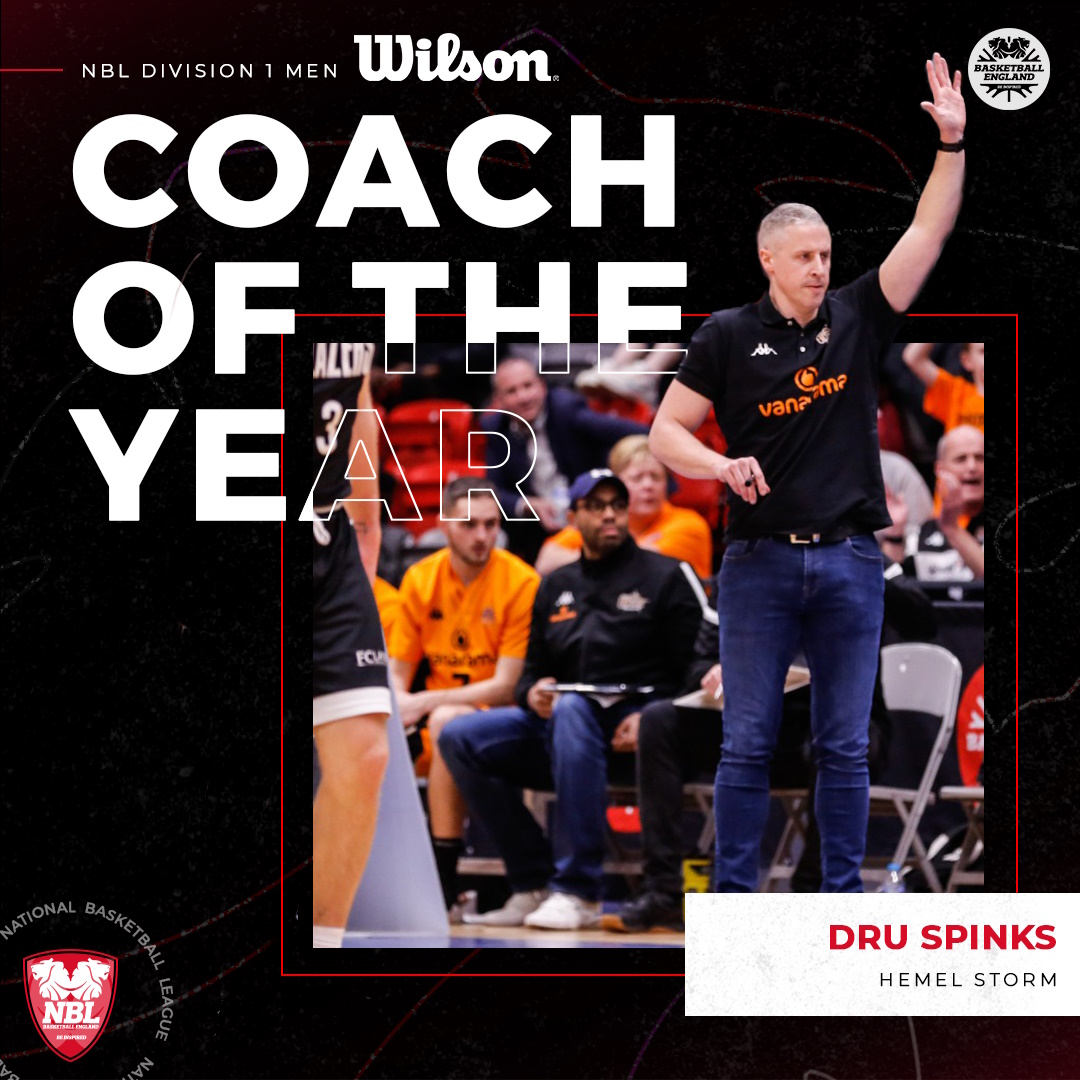 After going the full season unbeaten, it's also no shock to see Hemel Storm's Dru Spinks pick up the league's Coach of the Year accolade.
Hemel became the first D1M side to go the season without being defeated since Team Solent Kestrels in 2019/20, setting up the chance to join a very elite club in the NBL's storied history.
There's no doubt as to the level of talent on Hemel's roster this season, but Spinks has cleared earned the respect of fellow coaches across the league with the way he's managed his troops, bringing the best out of the likes of Rai, Taylor Johnson, Hakeem Sylla and others.
D1M Team of the Year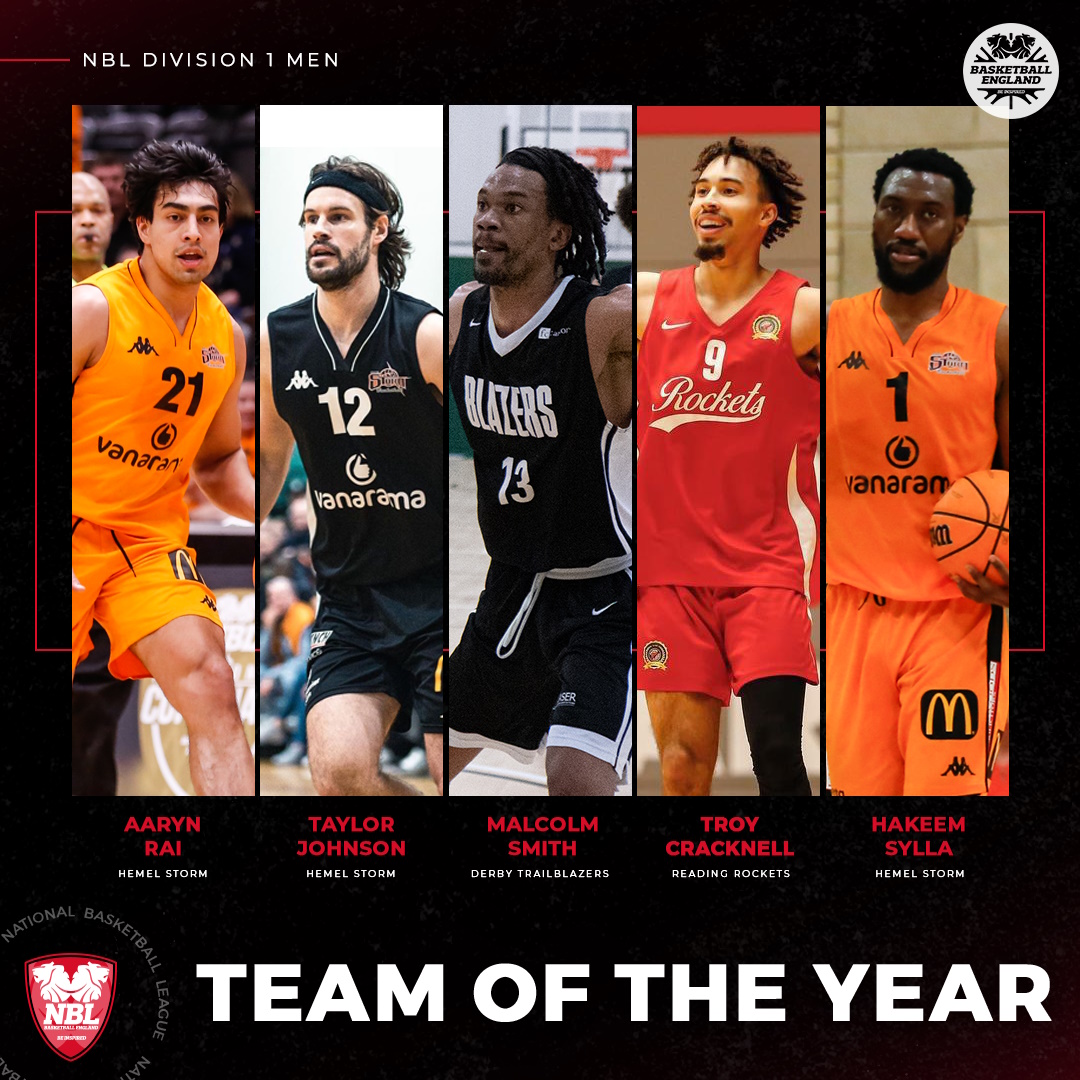 POTY Rai automatically slots into the D1M Team of the Year, and he's joined by not one but two other Storm team-mates.
American Taylor Johnson makes it back-to-back selections to this side after his inclusion a year ago, and it's no shock given his 22.1PPG, 6.0RPG, 4.0APG stat line.
Hakeem Sylla also makes the cut, with the Hemel forward continuing his run as one of the league's top forwards. The Storm standout coupled 17.1PPG with 10.2RPG, hitting 68.3% of his shots this year as one of only three players to average a double-double across the campaign.
The Hemel stranglehold is broken by Derby's Malcolm Smith (21.3PPG, 6.7RPG) after the American helped Derby to a second straight third place finish, whilst Reading's Troy Cracknell rounds out the five, marking his debut NBL season with impressive 20.4PPG and 8.3RPG numbers.
British Team of the Year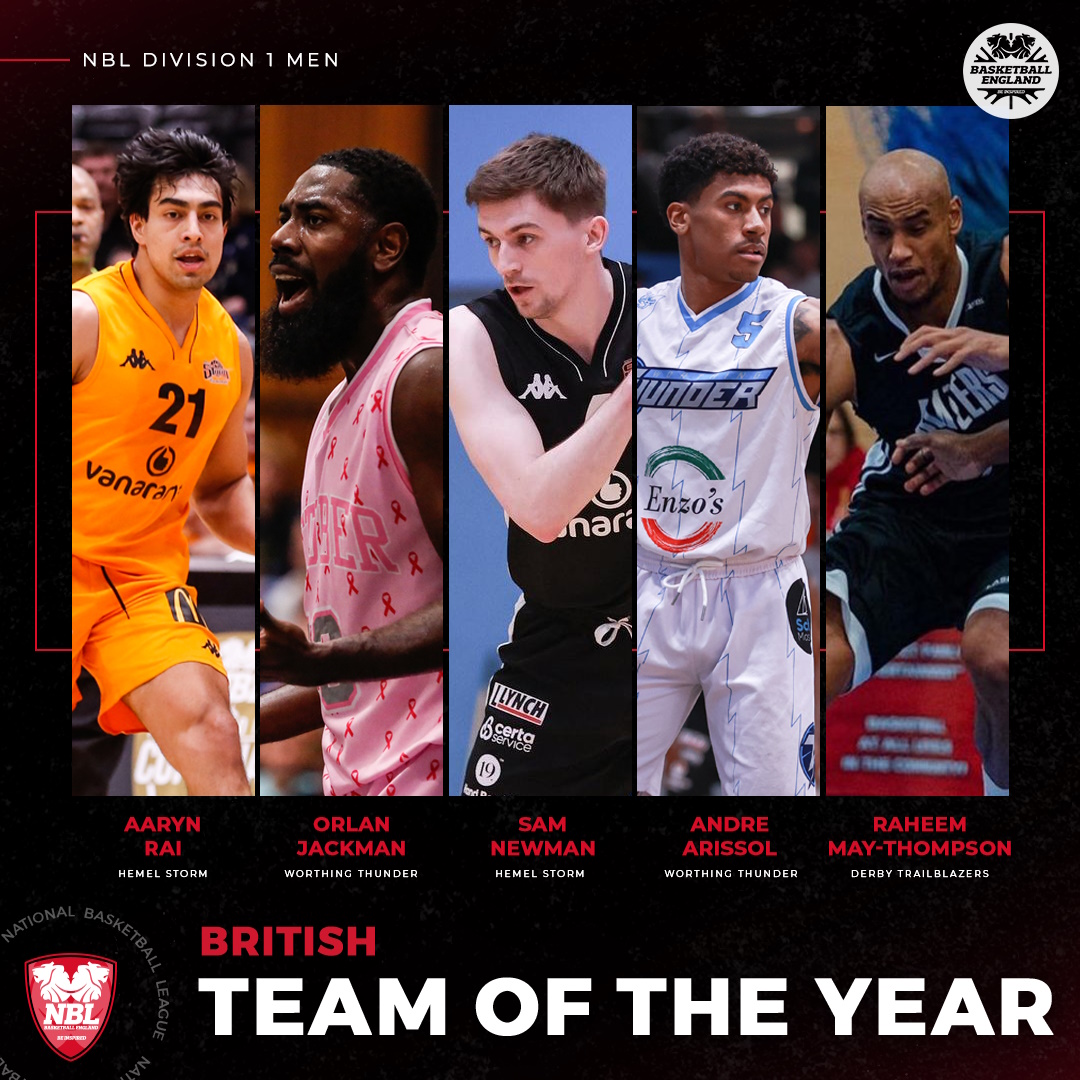 Rai retains his spot in the British Team of the Year, being joined by four new faces, including another Hemel team-mate.
Sam Newman is Storm's next recipient for an accolade, with the talented shooter enjoying 12.5PPG along with a league-best 7.6APG and 2.3SPG, shooting 45.6% from beyond the arc for good measure.
Commonwealth Games gold medallist Orlan Jackman (15.9PPG, 8.9RPG, 1.9SPG) was a standout for runners-up Worthing Thunder this year to earn his spot in this team for a second straight season, whilst Thunder team-mate Andre Arissol (13.0PPG, 4.4APG, 2.4SPG) is also included.
Derby's imposing forward Raheem May-Thompson (15.6PPG, 7.1RPG, 1.5SPG, 1.9BPG) snags the final spot available, further solidifying the former-BBL man's prowess as a great two-way asset, leading D1M in blocks this season whilst still contributing over 15 points per game.
Defensive Player of the Year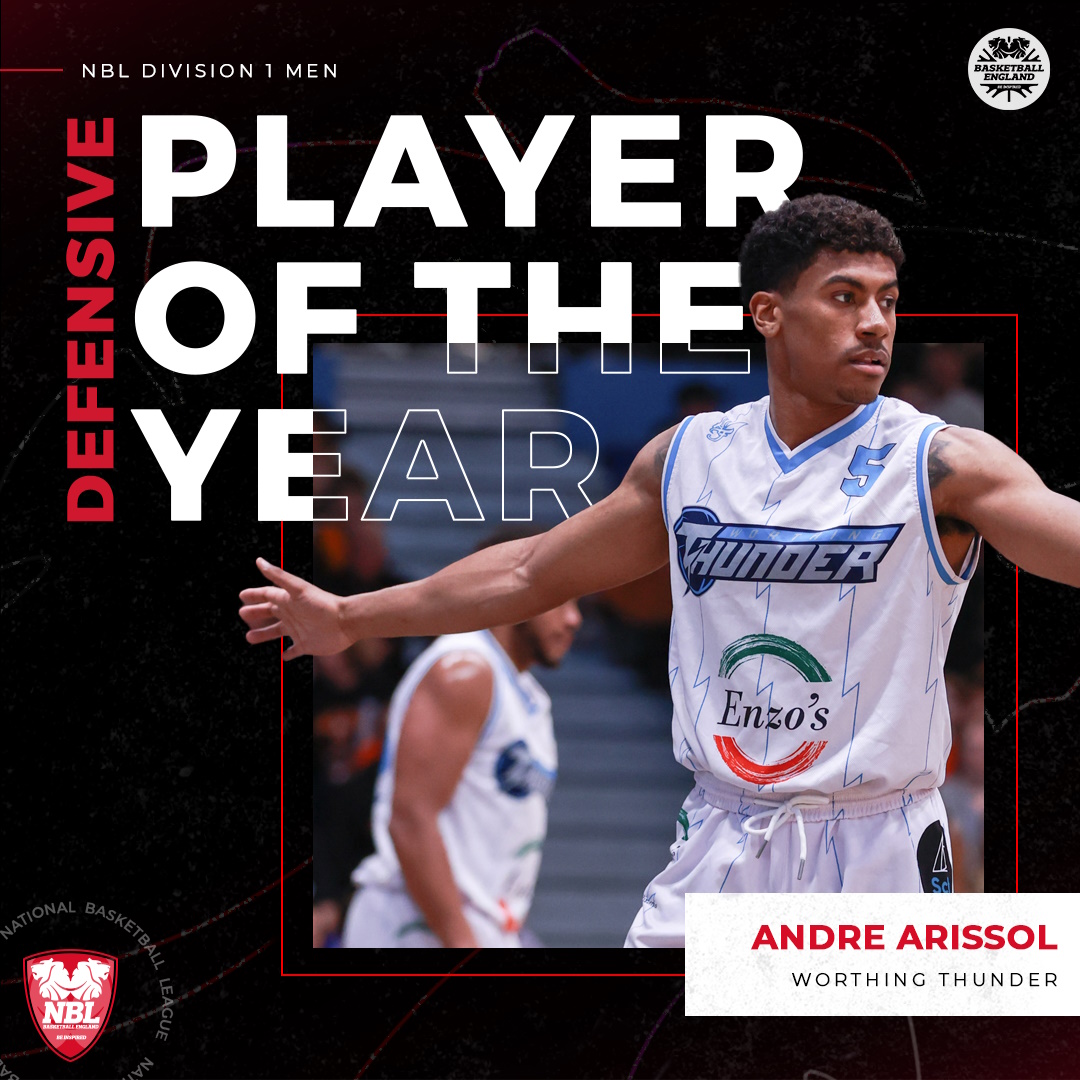 Worthing Andre Arissol makes his return as D1M's Defensive Player of the Season.
The Thunder standout was a tough customer for opposition offenses this season, constantly jumping passing lanes and picking pockets to the tune of 2.4SPG, third-best in the league.
2020/21 DPOY Arissol did his bit to anchor D1M's tightest defence, with Worthing allowing just 79.3PPG. 
Young Player of the Year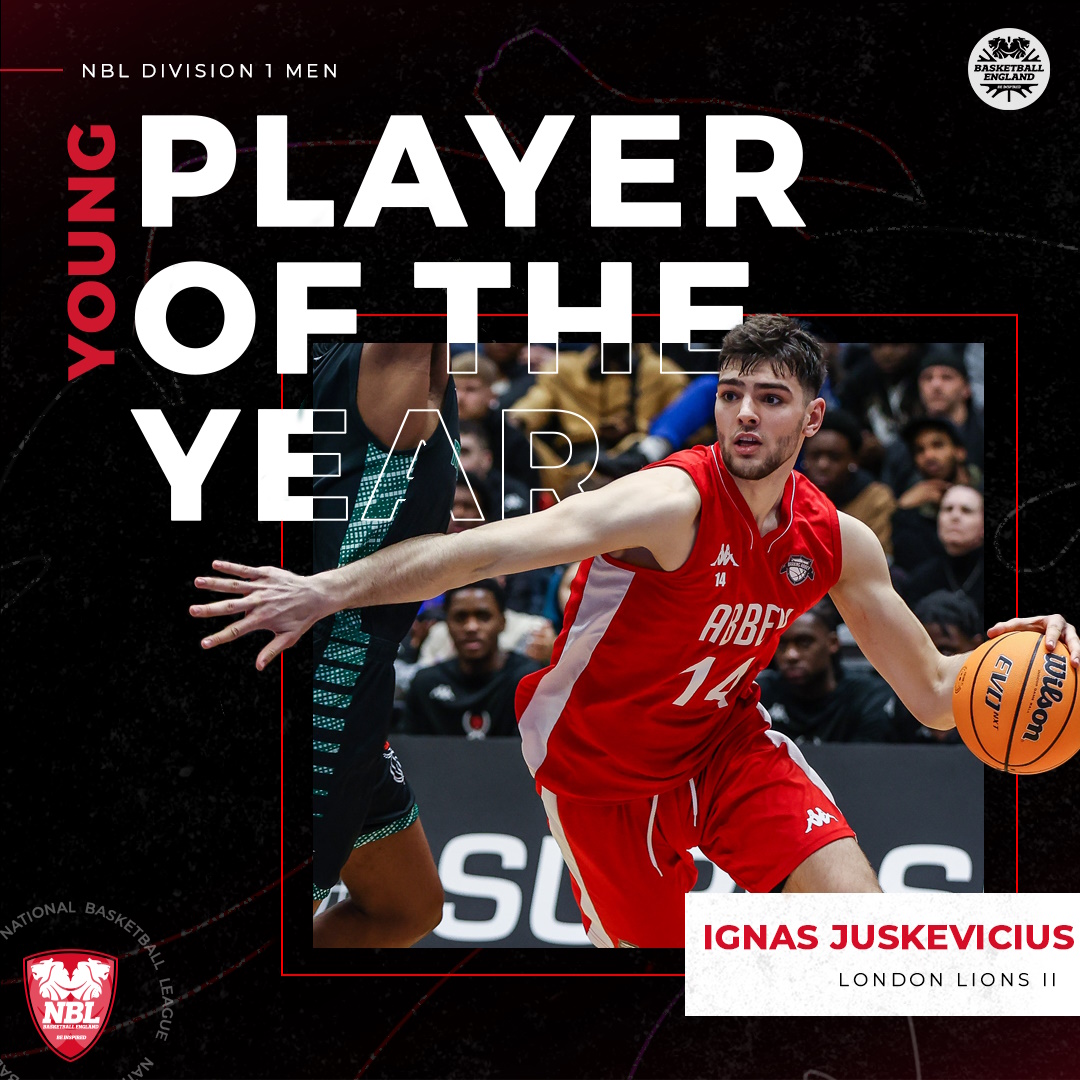 London Lions II's Ignas Juskevicius has been singled out as the league's Young Player of the Season.
The Lions have claimed this award for the second year in a row, with Brandon Tchouya taking the honour in 2021/22, showing that Barking Abbey continues to be one of the hottest producers of basketball prospects in the country.
The young forward averaged 8.0PPG this season to go with 5.5RPG, shooting a solid 56.6% from the field this season to impress players and coaches alike across D1M.
Best Game Day Experience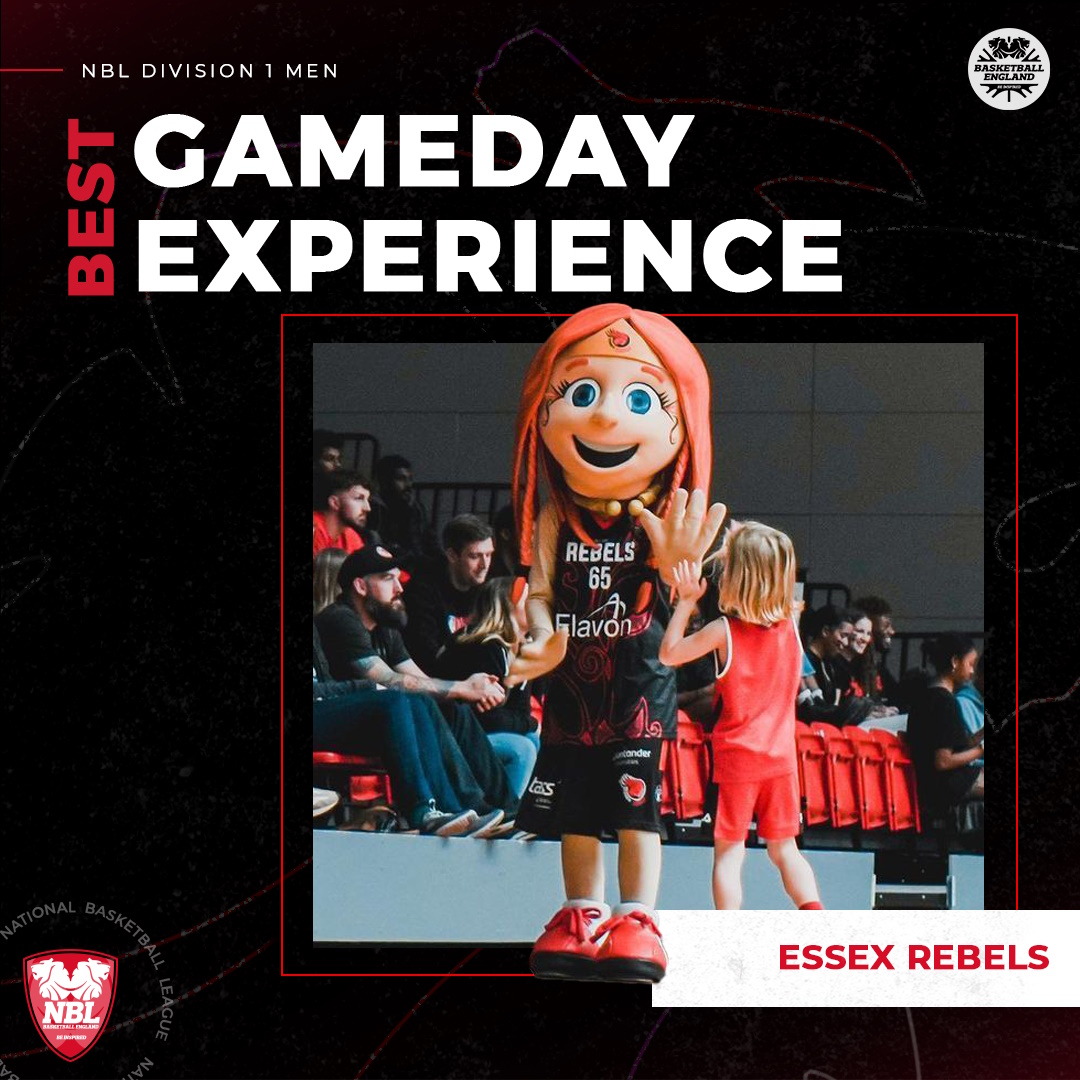 Essex Rebels have claimed D1M's Best Game Day Experience award for 2022/23.
Wrestling the honour from Hemel Storm who claimed it last year, the Rebels have consistently created a great atmosphere for fans to enjoy, showcasing the game at it's finest for all those in attendance.
Each match day features a range of performances and activities to keep the whole family entertained throughout their visit, and the range of hot and cold food (plus a licenced bar) at Essex Sports Arena has also made the venue a hit across the league.
Process
As with the awards from previous seasons, each head coach from across the league was invited to nominate a selection of their own players that they considered in the running for each accolade.
Each shortlist was then compiled centrally and sent back to the club's involved, and each head coach was given three votes to allocate across this year's shortlist (with teams unable to vote for their own players).
A first place vote was worth three points, a second place vote was worth two points, and a third place vote was worth one point, and the recipient with the highest number of points was the winner.
For Player of the Year, Team of the Year and British Team of the Year, coaches were given five votes to distribute rather than just three.
Senior Playoff Finals
Today's awards mark the conclusion of our week of NBL and WNBL end of season honours in the lead up to this weekend's senior playoff finals at the National Basketball Performance Centre in Manchester.
To purchase tickets for the event, please click the button below. Coverage of the event will be available through our NBL social channels, as will the remaining awards from the rest of this week.
.

Join Basketball England for free. Whether you have a Supporter Account as a fan, follower, enthusiast or advocate, or a Full Account and have paid for a licence to play, coach or officiate in competition, you can be part of the basketball family.
Basketball has the power to change lives. Our #GameTime campaign aims to raise awareness of the positive impact that basketball can have on people no matter who they are or where they are from.
.