The final event of the 2022/23 NBL season is upon us, with the Junior Final Fours all set for this weekend.
With 24 teams heading to Manchester's National Basketball Performance Centre, two days of intense action will leave just six sides as worthy champions for the current campaign.
We've got a preview of all six age groups below, and live stats links are available HERE. All of Sunday's finals will be live streamed on the BE YouTube channel.
Schedule
Semi-Finals 
Saturday 29 April 2023 
 

Court 1  

Court 2 

Court 3 

10am   

 

Under-16 Girls:
Manchester Mystics v CoLA Southwark Pride 

Under:16 Girls:
Ipswich v Richmond Knights  

Under-14 Boys:
Manchester Magic v London Elite 

12pm    

Under-16 Boys:
Manchester Giants v Baltic Stars I   

Under-16 Boys:
Sussex Storm v London Lions 

Under-14 Girls:
Manchester Mystics v Sheffield Hatters  

2pm 

Under-18 Women:
Manchester Mystics v Ipswich 

Under-18 Women:
CoLA Southwark Pride v City of Birmingham Rockets  

Under-14 Boys:
Baltic Stars I v London Warriors  

4pm

 

Under-18 Men:
Manchester Magic v Haringey Hawks 

Under-18 Men:
CoLA Southwark Pride v London Elite 

Under-14 Girls:
Milton Keynes Breakers v Richmond Knights  
U18 Men
The U18 Men's competition contains three Premier conference winners with strong records, plus a Haringey programme that knows how to win the big games.
Saturday's matchups pit Northern Premier winners Manchester Magic against Haringey Hawks in a North vs South battle, whilst there's an all-London affair in the other semi-final between CoLA Southwark Pride and London Elite.
With defending champs London Westside Rangers failing to make the post-season, there will be a different name on the U18s trophy for 2022/23, though who that team could be will need two days of high-quality basketball action to resolve.
Magic went through the regular season with a spotless 21-0 record, whilst Haringey went 18-4 in the Eastern Prem, finishing just behind CoLA at 20-2.
That left London Elite to take the Western Prem at 19-2, with all four regular season records showing the quality that these teams possess.
Manchester will want to go one better than last year, losing out in the Final 73-66 to the Rangers, whilst CoLA also made the Final Fours before a Saturday defeat against Magic.
Haringey didn't make a Final Fours trip to the Performance Centre in 2021/22 but were finalists in 2018/19 before the various COVID-19 lockdowns and interruptions. They beat Manchester 82-47 in the semi-finals on that occasion, creating an extra storyline for Saturday's action.
London Elite will be looking to add further silverware to an already successful season after claiming the U18 Sure Shot National Cup back in January with a 70-53 victory over London Legends.
Rising star Liam Campbell picked up MVP honours after registering a 17-point, 13-rebound and six assist effort that day, he'll be hoping for more of the same this weekend to secure his team further glory.
U18 Women
Two wins stand between CoLA Southwark Pride and claiming an incredible sixth straight U18 Women's title in Manchester this weekend.
The London programme claimed four straight victories between 2015/16 and 2018/19, plus the 2021/22 crown once the sport returned from the COVID-19 lockdowns.
It's been an unprecedented level of success for coach Gibbons' teams, but this year the competition will be as stiff as ever, with Manchester Mystics, Ipswich and City of Birmingham Rockets all looking to take the champions down.
CoLA's Saturday opponents will be the Rockets, with the West Midlands side finishing as runners up in the Northern Premier division with an 11-4 record.
CoB have been on a tear as a club this year, with their senior teams both making a trip to Manchester for last weekend's Senior Playoff Finals so it's no surprise to see the club's junior section following suit.
The other semi-final sees the hometown Mystics putting their perfect season on the line against Ipswich, who went 7-3 in the South. Manchester reeled off 15 straight wins in the regular season, plus a 75-41 success over Reading to reach the Final Fours.
Despite going 10-0 in the South this season, it hasn't all been plain sailing for CoLA this year. They lost the U18 Sure Shot National Cup back in January, with Ipswich coming through as 83-54 winners. If those two sides can enjoy a rematch on Sunday remains to be seen, but this is an U18 Women's field packed full of quality.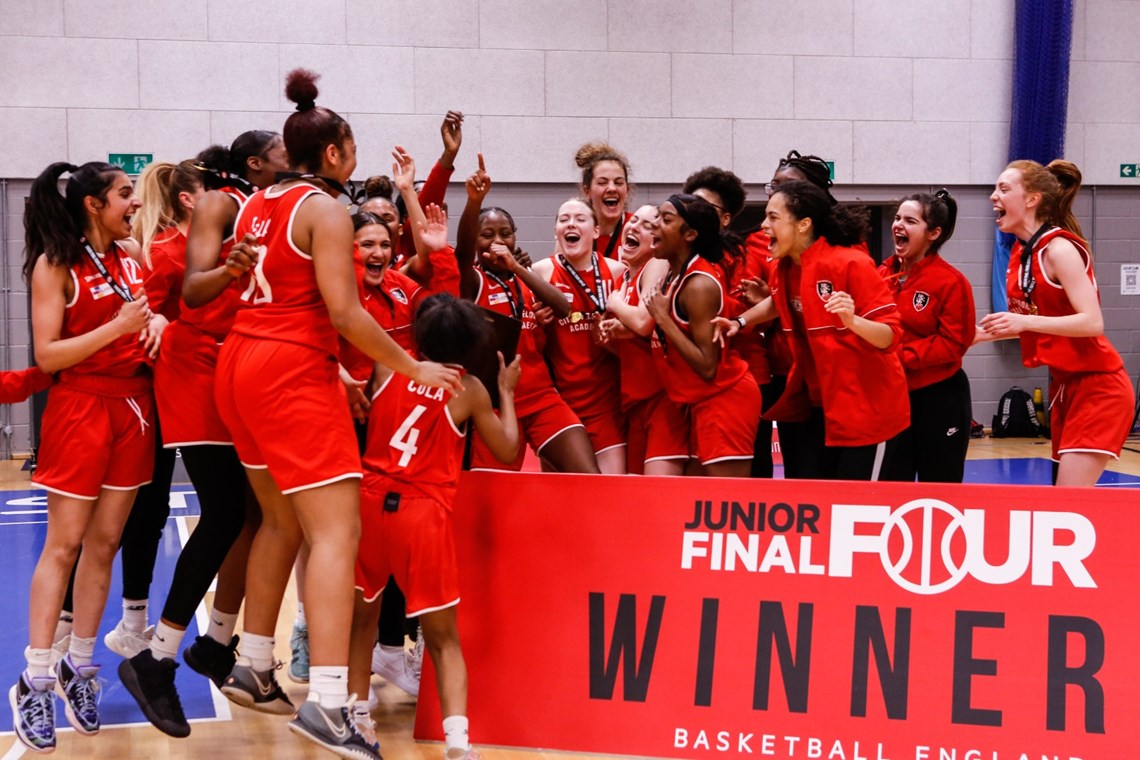 U16 Boys
The U16 boys competition is a mostly Southern affair this year, with London Lions, Sussex Storm Blue and London Baltic Stars all making a trip to the North West to face the Manchester Giants.
Defending champions Manchester Magic crashed out of the post-season after winning the Northern Premier, with Giants getting one over on their cross-town rivals after a thrilling 95-93 OT win.
To go one better than their semi-final loss a year ago the Giants will need to find their way past London Baltic Stars, who went 20-2 in the Eastern Premier, eventually coming in second spot on the head-to-head tiebreaker with London Lions.
That means the Lions entered the playoffs as league winners and they've advanced to the National Basketball Performance Centre to face Western Premier champs Sussex Storm, who also went 20-2 this season.
The Lions lost to Magic in January's U16 Sure Shot National Cup final, but with the Manchester side now out of the way the Londoners will no doubt be hoping for big things from their weekend.
That won't be easy against the 2018/19 champs, who were led to glory that day by none other than NCAA star Cameron Hildreth. The rising star may have moved on to pastures new in recent years but a winning legacy remains that Storm would love to extend.
If some partisan support can carry the 15-5 Giants to a title will no doubt be one to watch, if not the U16 title will be heading back down South come Sunday evening.
U16 Girls
The U16 Girls competition mirrors the formation of their male counterparts this season, with three Southern teams all making it to Manchester alongside another hometown side.
This time the North West is represented by the Mystics, and Ipswich, CoLA Southwark Pride and Richmond Knights have all progressed from the Southern Premier after a highly-competitive regular season.
Ipswich eventually ran out as winners with a 17-3 record, with CoLA needing a head-to-head tiebreaker to pip Richmond as both teams finished at 16-4.
That suggests all three sides are pretty evenly matched, though how defending champions Manchester will stack up against that trio following their perfect 16-0 campaign will probably determine this season's eventual winners.
The Mystics will get their title defence underway against CoLA on Saturday, no doubt eager to draw upon plenty of fond memories at the National Basketball Performance Centre following their U16 Sure Shot National Cup win in the same venue last January.
The Mystics beat Ipswich 93-66 on that occasion, offering a possible insight into their credentials for success this weekend, though plenty of basketball has been played between mid-January and this weekend.
In the other semi-final Ipswich will take on Richmond, who Mystics overcame 58-51 in last year's final.
Both teams won their home tie during the regular season to leave their season series evenly poised. The Suffolk programme prevailed 70-67 on the opening day of the season way back on October 1, whilst the Knights won 82-58 on the last day of the season.
Can any of the South's finest knock the Mystics off course from what would be a perfect season?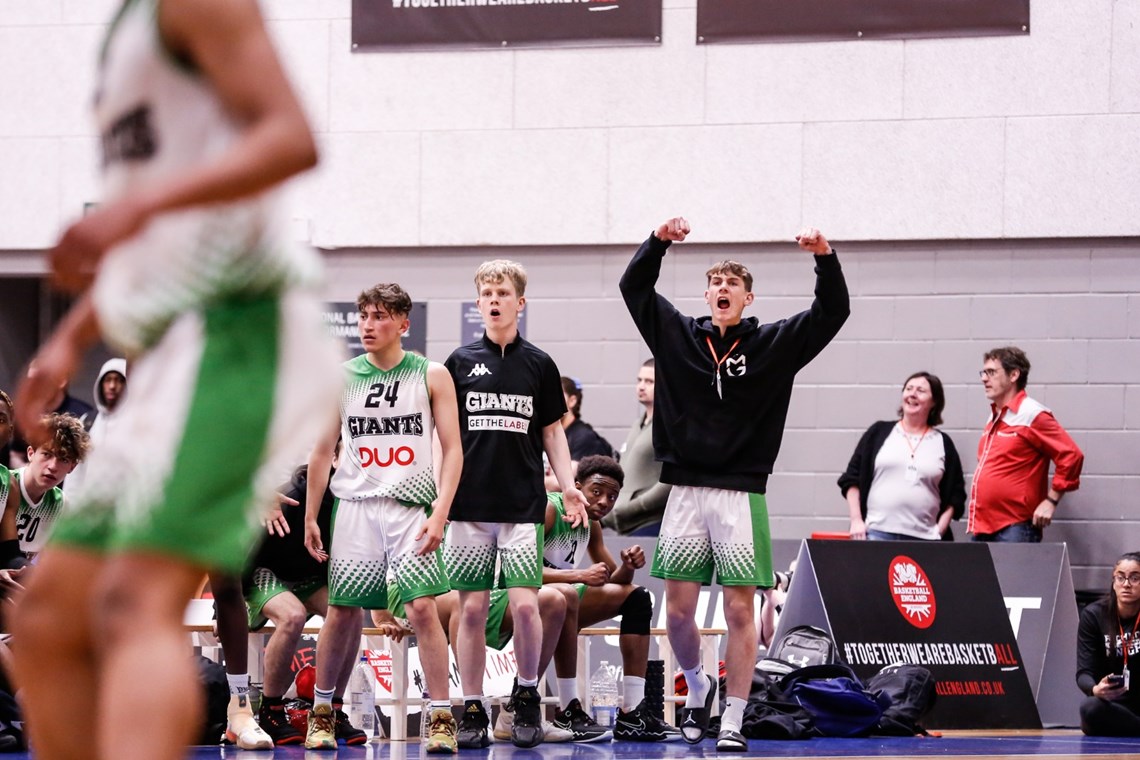 U14 Boys
The cream of the crop in the U14 Boys competition will do battle this weekend for the honour of being named playoff champions.
For team, Manchester Magic, London Elite, London Baltic Stars and London Warriors are all the mix and know that just two good performances stand between them and the season's ultimate prize.
Defending champions Richmond Knights are out of the competition after Baltic Stars defeated them 75-68 in the opening round of the playoffs, revenge for last season's Final Fours when the Knights beat the Stars at the semi-final stage.
Manchester Magic also made it to this stage last season before being bested by the Knights, like their London rivals they'll no doubt be hoping for a better fate this time around.
The Saturday line up sees the Magic taking on London Elite, whilst London Baltic Stars face off with London Warriors in South vs South clash.
Magic come into this weekend riding a 15 game win streak, closing the regular season at 14-0 before a narrow 58-54 playoff success against Ipswich two weeks ago.
Elite were no pushovers, going an impressive 18-3 and only trailing eventual South West Premier champs London Warriors (19-3) by a three points.
That leaves London Baltic Stars as the lone representatives from the South East Premier, a league they won with a near-spotless 15-1 record before that statement win against Richmond.
NBPC's back hall is sure to be rocking once again this year, but who will be able to conquer that atmosphere to grab a playoff title?
U14 Girls
In what might be the most loaded field of any age group in Manchester this weekend, the U14 Girls look set for an incredibly competitive two days of basketball.
The semi-final line up sees Manchester Mystics take on Roses rivals Sheffield Hatters in a cross-Pennines battle, and Milton Keynes Breakers taking on the Richmond Knights.
None of the four teams fighting it out this weekend has a loss to their name this season, with all four sides heading to Manchester off the back of perfect regular seasons.
Milton Keynes won the East 1 conference with a 14-0 record, whilst Manchester conquered the North 1 standings at 18-0.
The Hatters also dominated, claiming the North 2 division with a 16-0 record. That left Richmond to take on all comers in South 1, coming out on top with 10 wins to their name.
How you try and pick out a favourite from four teams who haven't lost all season is quite the task, though Manchester Mystics may have the edge if history is anything to go by.
The North West programme beat Richmond 58-51 in last year's final, and success this weekend would make it three in a row after previous success in 2018/19.
With players coming and going and moving through the age groups each year though, past success doesn't always count for much in junior basketball. One thing is for certain though, someone is going to cap a perfect season with a win on Sunday afternoon, and three teams are going to taste defeat for the first time in quite a while.
.
.

Join Basketball England for free. Whether you have a Supporter Account as a fan, follower, enthusiast or advocate, or a Full Account and have paid for a licence to play, coach or officiate in competition, you can be part of the basketball family.
Basketball has the power to change lives. Our #GameTime campaign aims to raise awareness of the positive impact that basketball can have on people no matter who they are or where they are from.
.