The KitKing Trophy Group stage is now over and Rebound's Chris Hughes was on hand to watch it all unfold.
Chris, the All-Star organiser, content producer, YouTube host and producer, commentator and social media observer, had an impressive 13 games to sift through, but with some live stats issues, there were some gaps in the information available to him.
Have your say on this week's choices and give a shout-out to the players you think deserve one using the hashtag #NBL2324 and #ReboundTOTW. Don't forget to tag us!    
X:  @NBLengland / @Rebound__  
Facebook:  @NBLengland  / @ReboundNBL  
Instagram:  @nblengland / @reboundnbl  
How it works 
Chris will pick a Player of the Week and four other selections to round out his Team of the Week, paying attention to the following criteria:
Efficiency  
Stats  
Team and opposition strength  
Periods of influence in the game 
Being on a winning team (exceptional performances from players on losing teams will be considered for TOTW)
Other players will also receive a shout out as honourable mentions at the bottom of the piece.
The Rebound Team of the Week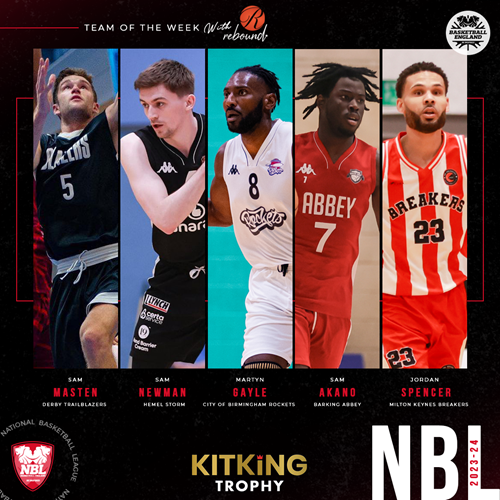 PLAYER OF THE WEEK 
Sam Masten - Derby Trailblazers, guard
24pts/9reb/5ast/2stl/30eff @NEW




16pts vs BRA
Masten was a driving force for Derby this weekend as they claimed a pair of wins and top spot in their group.
Rock Canyon's all-time leading scorer and rebounder led all players in the fourth quarter with 10 points in Saturday's narrow 81-78 win over Newcastle, including perfect back-to-back trips to the line to close out the road trip dub.
He added another 16 points to round off the weekend in DTB's 93-76 victory over Bradford, a result that would seal top spot in Group 4 and further enhance the guard's claim for my POTW award.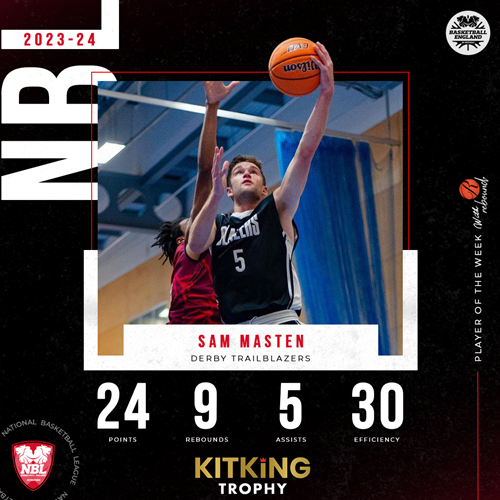 Sam Newman – Hemel Storm, guard
23pts/6reb/7ast/3stl/26eff vs LON
12pts/6reb/13ast/1stl/20eff @TVC
Newman put on another passing masterclass this weekend, dishing out 20 assists as the guard was once again an important player as Hemel finished the group phase 3-0.
In Saturday's win, Newman contributed an efficient seven points in the final moments to secure the 11-point W over London Elite.
Martyn Gayle – City of Birmingham Rockets, guard
25pts/7reb/3ast/2stl/30eff
In Saturday's spectacle between two talented sides, Captain Gayle put on a performance worthy of POTW honours. The COB man put in a lights-out shooting show from beyond the arc in an ultra-efficient performance, going 4/5 from long-range and 8/13 overall as the Rockets downed Milton Keynes 97-86.
Gayle's 13-point and two assists contributed to a high scoring 38-point second quarter performance to give the Rockets a dominant 27-point half time lead.
Sam Akano – Barking Abbey, guard 
19pts/3reb/1ast/4stl/17eff
The former Myerscough guard put in a great two-way performance in the solid road-trip win over Reading, one that would ultimately seal BA a spot in the quarter-finals
Akano recorded four steals and was crucial in transition at both ends of the court. To top it off, the electric quick guard went on a 4-0 clutch run as Barking came away with a four-point win.
Jordan Spencer – Milton Keynes Breakers, guard
18pts/2reb/9ast/1stl/23eff @COB
25pts/5reb/7ast/3stl/+/-23/28eff @LOU
It was another strong performance from the MK captain who in both games this weekend flirted with a points and assist double-double.
Spencer was the most influential player on the floor on Sunday against Loughborough and makes this week's team despite a 11-point loss on Saturday.
Team basketball 
barking advance after downing rockets
Barking once again put in an impressive performance to advance to the quarter-finals from Group 1.
Every individual in the 10-man rotation contributed with scoring, alongside four of the starters making double-digits.
Honourable mention to Juan Manning on an all-round 15p/7r/4a/2s/1b which typified the nature of the team win, with every player making meaningful contributions at both ends.
Honourable mentions 
Landon Taliaferro (NOT) – 31P/4R/2A/1S/25EFF
Bode Adeluola (TVC) - 19P/7R/7A/1S/15EFF @ESS & 18P/5R/7A/1S/21EFF VS HEM
Trey Chapman (ESS) – 13P/5R/1B/6EFF
Logan Rooney (NEW) - 23P/6R/3A/1S/26EFF
Elijah Maynard (REA) - 19P/11R/2A/1S/1B/26EFF @BRI & 10P/7R/2B/14EFF VS BA
.
.