Great Britain have been drawn in Group D with Sweden, Denmark and Estonia for the FIBA Women's EuroBasket 2025 Qualifiers.
The first matches for the GB team, who are currently ranked tenth in Europe, will be at home to Sweden (currently ranked 15th in Europe) and away to Estonia (currently ranked 32nd in Europe). These matches will take place at the beginning of November.
The draw took place in Mies, Switzerland today (Tuesday 19 September) with the four co-hosts placed in the same group while the remaining 32 countries were drawn into eight groups of four teams to compete for the 12 remaining final round places. 
The groups are:
Group A: Spain, Croatia, Netherlands, Austria
Group B: Hungary, Slovenia, Bulgaria, Finland
Group C: Belgium, Poland, Lithuania, Azerbaijan
Group D: Great Britain, Sweden, Denmark, Estonia
Group E: France, Latvia, Israel, Ireland
Group F: Turkey, Slovakia, Romania, Iceland
Group G: Serbia, North Macedonia, Ukraine, Portugal
Group H: Bosnia and Herzegovina, Montenegro, Switzerland, Luxembourg
Group I: Italy, Czech Republic, Germany, Greece (host nations)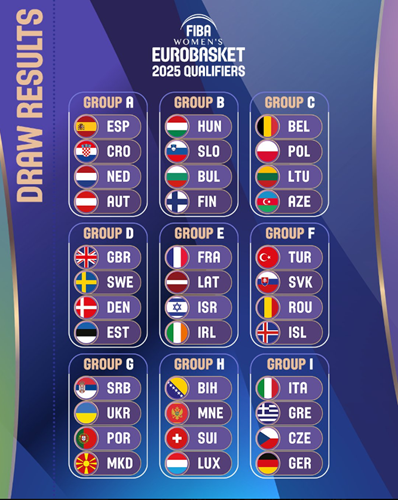 Chema Buceta, the GB senior women's head coach, said:
"Considering the system for this competition, with the first team of each group and four best second place teams qualifying, we must finish first in our group or, if second, get five wins. This is our big challenge and we will start strong in November against Sweden and Estonia. These two games will be key to help us qualify for EuroBasket.
"As always in this competition, we will have just a few days to prepare, but if we use them wisely we will be ready.
"I hope we will have the support of our fans in Manchester on 9 November against Sweden, as this will be very important. The GB team is the team of ALL British basketball. If we work together, I'm sure we can do it."
Seedings for the draw were assigned in accordance with the FIBA World Rankings. Teams from seed one were drawn with teams from seed four, seed five and seed eight into groups A, C, E and G, while teams from seed two (which included Great Britain) were drawn with teams from seed three, seed six and seed seven into the remaining groups B, D, F and H.
All eight group winners will qualify for Eurobasket 2025 alongside the best four second-placed teams.
The FIBA Women's EuroBasket 2025 qualifiers will be played across three windows, with games scheduled for 9 and 12 November 2023, 7 and 10 November 2024, and 6 and 9 February 2025, after which the Final Round field will be confirmed.
More details about the home fixture against Sweden on 9 November in Manchester, including information about how to purchase tickets, will be available soon. 
.
.