Rebound's Chris Hughes is back once again with his latest NBL1 Player and Team of the Week line-up.
Chris, the All-Star organiser, content producer, YouTube host and producer, commentator and social media observer, had incredible performances wherever he looked this weekend, with four games decided by four points or less and six 100+ point team outputs.
Have your say on this week's choices and give a shout-out to the players you think deserve one using the hashtag #NBL2223 and #ReboundTOTW. Don't forget to tag us!    
Twitter:  @NBLengland / @Rebound__  
Facebook:  @NBLengland  / @ReboundNBL  
Instagram:  @nblengland / @reboundnbl  
How it works 
Chris will pick a Player of the Week and four other selections to round out his Team of the Week, paying attention to the following criteria:
Efficiency  
Stats  
Team and opposition strength  
Periods of influence in the game 
Being on a winning team (exceptional performances from players on losing teams will be considered for TOTW)
Other players will also receive a shout out as honourable mentions at the bottom of the piece.
The Rebound Team of the Week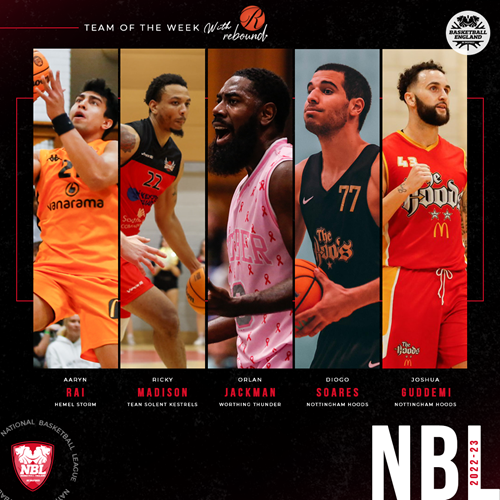 Player of the week
Aaryn Rai – Hemel Storm, forward 
26PTS (9-13FGM/8-8FTM)/17REB/7A/6TO/1S/4B/45EFF  
Rai's 20 first-half points with numerous 'and-one' plays earns him this week's honours.  
A strong performance under the basket at both ends ensured it was smooth sailing for Hemel, who went in at the break with a 32-point lead. 
The point-forward flirted with a triple double, ending only three dimes shy. Rai's four blocks also contributed to Hemel keeping Manchester to around 60 points. 
Ricky Madison – Team Solent Kestrels, forward 
28PTS (13-22FGM)/15REB/2AST/3TO/1STL/32EFF @LOU 
21PTS(9-19FGM)/7REB/5AST/1TO/1STL/19EFF V REA 
In a double-header we saw a routine Madison masterclass to help his side finish a tough weekend as the fourth seeds. The forward is a tough guard in the low post using trickery to spin away from his defender multiple times as both Loughborough and Reading found to their disadvantage. 
Sunday's clash was a three-point mismatch on paper (Reading third from 3P%, Solent 13th), but Madison, as part of a team effort, executed the gameplan through-out, ensuring Solent out-rebounded Reading and played a strong transition game. 
Madison was committed to the cause even in the final few minutes, noticeably hobbling up and down the court. 
Orlan Jackman– Worthing Thunder, forward 
15PTS @ ESSEX 
30PTS (10-12FGM/5-5 3PM/5-5FTM)/6REB/4AST/2TO/3STL/39EFF V TVC 
Jackman is very unfortunate not to be this week's Player of the Week after hitting a perfect five from beyond the arc against Thames Valley on Sunday. 
His first quarter contribution, with multiple three-point plays, helped give Worthing a 23-point lead and set the tone to ensure the win came by 18 points despite each quarter being relatively close. 
Jackman was one of the main contributors to the scoring as Worthing recorded a double-header win. 
Diogo Soares – Nottingham Hoods, guard 
10PTS (5-7FGM)/2REB/1AST/0TO/1STL/12EFF @TVC  
27PTS (10-11FGM/5-6 3PM/2-3FTM)/6REB/4AST/0TO/4STL/1BLK/40EFF V LLII 
In Sunday's win, Soares put in a masterclass from the bench, shooting the lights out and missing only one of his 11 field goal attempts. Nottingham relied on Soares' shooting to give them the edge, and even with both teams shooting efficiently no one shot close to Diogo's 90FG%. 
The guard made an impact on Saturday too with his two-way playmaking performance seeing him register four assists and steals with no turnovers. 
Joshua Guddemi – Nottingham Hoods, forward 
23PTS(8-20FGM)/11REB/2AST/21EFF @ TVC 
31PTS (9-15FGM/2-5 3PM/11-17FTM)/9REB/2AST/6TO/1STL/26EFF VLLII 
In Saturday's five-point loss, Guddemi's 12-point contribution in the first set the Hoods on a promising start, leading to the former Derby star averaging an impressive 27p/10r/2a over a busy weekend. 
In Sunday's win versus a young Lions, he led all scorers, shooting efficiently even under intense pressure as he was sent to the line in a game high of 17 times 
Team basketball 
THUNDER STORM TOO MUCH FOR CAVS 
Worthing completed a double-header win to continue their charge up the NBL. In Sunday's game , they shot an amazing 61FG% and 52 3P%. The starting five contributed heavily and honourable mention goes to Andre Arissol with nine assists. 
SOLENT TOUGH IT INTO FOURTH 
The Kestrels put in a strong performance on the road, keeping up the tempo to ensure they were in position for Sam Akano to speed past the defence to net the winning shot on the road at Loughborough. 
On Sunday, Solent managed the game well, especially knowing that, as a team, Reading would shoot the three at a higher rate. Solent out-rebounded Reading for most of the game at a rate of two to one to give them the advantage on second-chance opportunities both ends.  
Honourable mentions 
TAYLOR JOHNSON (HEM) – 28P/5R/3A/3S/31EFF 
JOSH MOORE (TNU) – 20P/10R/4A/2S/1B/18EFF  
ELIJAH BAILEY (LOU) – 30P/2R/2A/1S/28EFF V TSK & 21P/8R/2A/1B/23EFF 
RICKY FETSKE (BRA) – 12P/16R/1A/1S/23EFF V WW & 12P NO STATS @ LLII 
JORDAN WHELAN (BRA) - 33P/5R/1A/3S/1B/23EFF V RR & 22P NO STATS @ LLII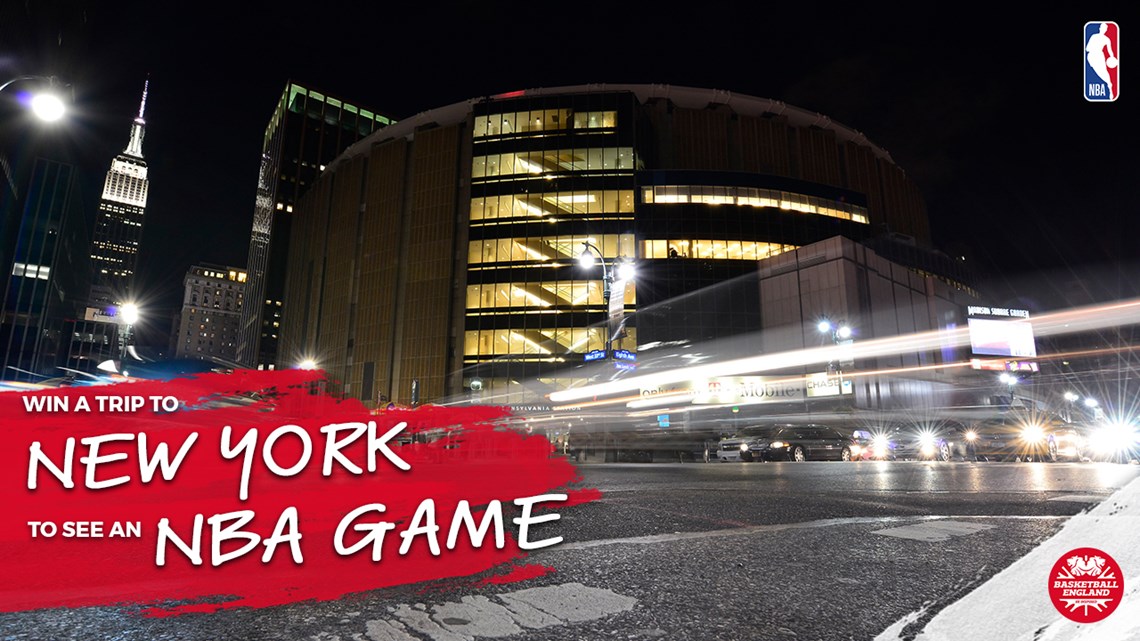 Join Basketball England for free and win a trip to New York City, courtesy of the NBA.
Whether you have a Supporter Account as a fan, follower, enthusiast or advocate, or a Full Account and have paid for a licence to play, coach or officiate in competition, you can enter our prize draw.
Basketball has the power to change lives. Our #GameTime campaign aims to raise awareness of the positive impact that basketball can have on people no matter who they are or where they are from.
.
.