Basketball England is joining in with FIBA's 'Her World, Her Rules' (#HWHR) campaign in March to celebrate International Women's Day.  
BE will be hosting two closed events in Birmingham and London to engage inactive girls – a target audience for the campaign, which is designed to unite women and girls through basketball and help define grassroots projects, targeting schoolgirls aged between 6 and 15. 
Taking place across March and April, the events will consist of coached activity sessions, 3x3 tournaments and guest speakers from the women's game to inspire and motivate a new generation of girls to play basketball.  
Events
In collaboration with Cherished – a charity that provide trauma support for children and young people in primary and secondary schools across Birmingham – this event will see 40 children receive morning and afternoon basketball sessions lead by Bromsgrove Bears' U14s and U16s Girls Head Coach Gemma Salmon, as well as leadership, teamwork and self-esteem delivered by Cherished.  
Working with Khawlah's Warriors, 30 participants will participate in an introduction to basketball session, with coaches teaching the fundamentals of the game. There will also be guest speakers and a 3x3 tournament.  
The Warriors were started by basketball players Roughie Khanom, Rukiyah Khatun and Saredo Ibrabim in Bow, East London to give Muslim women and girls access to safe and inclusive basketball environments.  
Basketball England Participation Project Officer Chloe Burdett said: 
"We are passionate about increasing opportunities for female participation in basketball and the positive benefits it brings to girls' lives, such as improved self-esteem and communication skills, motivation, understanding teamwork and resilience.  
"As part of joining in with #HWHR and our International Women's Day celebrations, we have approached community groups, organisations and charities who are dedicated to improving the lives of girls. And these fun, positive and female empowering events will hopefully encourage more girls to get involved with basketball in school or at their local club."  
A series of Instagram Lives will also be taking place on BE's IG channel on the lead up to IWD2023, with Chloe Burdett set to interview key guests from the events.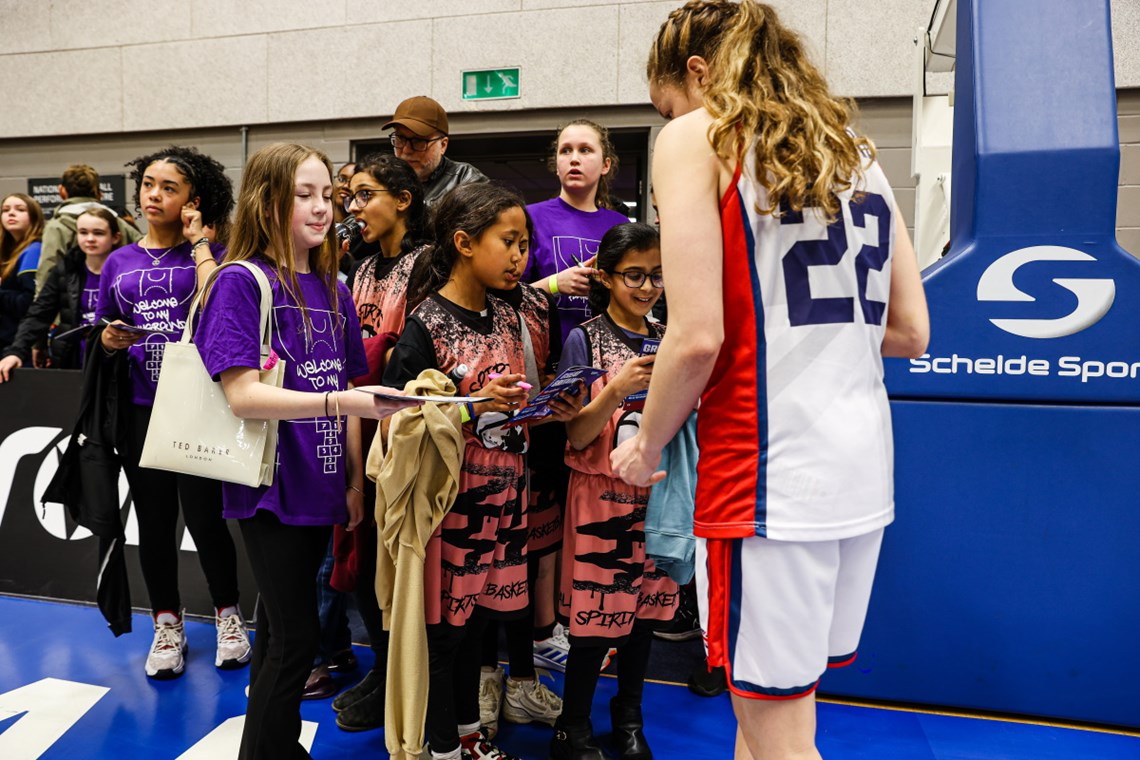 Her World Her Rules x Aspire x GB
A group of young female players from Basketball England's Aspire Programme attended a Her World Her Rules coaching session at the National Basketball Performance Centre ahead of Great Britain's historic win over Portugal on Sunday.
The players received coaching in shooting and other disciplines from veteran coach Jeff Jones and Aspire coach Rheanne Bailey. They then watched the GB team secured their place at the FIBA Women's EuroBasket 2023 Finals, meeting their roles models to get and get autographs after the game.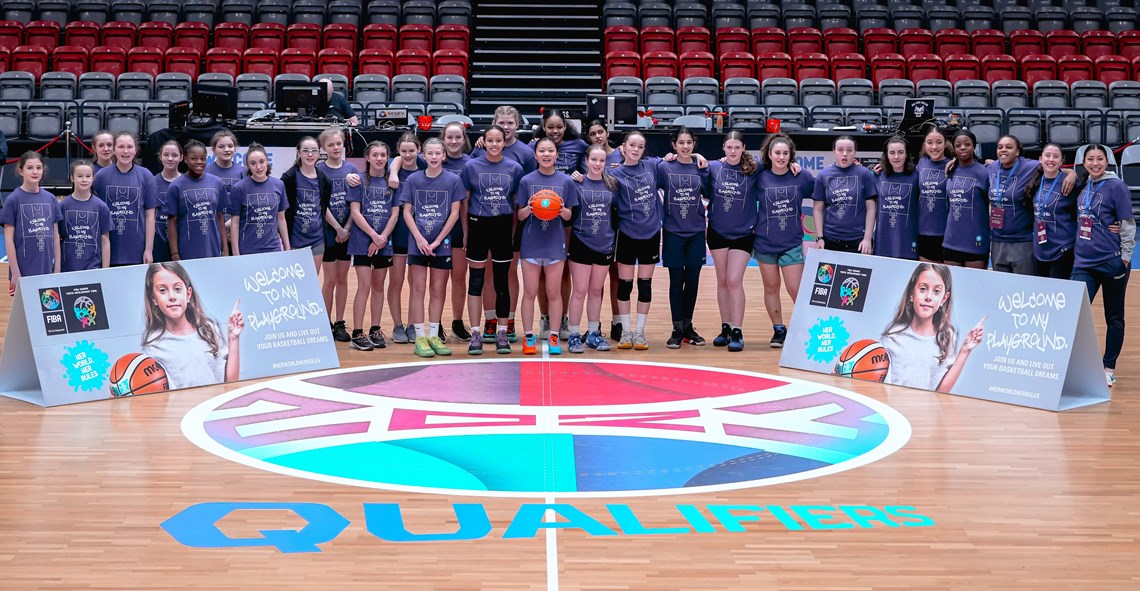 Empowering women and girls across the world 
Sport England's recent Children and Young People Active Lives Survey showed that nearly 400,000 girls played basketball on a weekly basis in 2021/22, a 2.4% uplift on the pandemic year of 2020/21.
International Women's Day celebrates the social, economic, cultural, and political achievements of women and this year the campaign will focus on how technology and education in the digital age can help the empowerment of women and girls across the world. It will also explore how to protect the rights of women and girls in digital spaces and how to combat online gender-based violence.  
#HWHR is one of FIBA's most recognised initiatives that aims to promote women's and girls' basketball across the globe through various activities delivered in partnership with national federations.  
.
.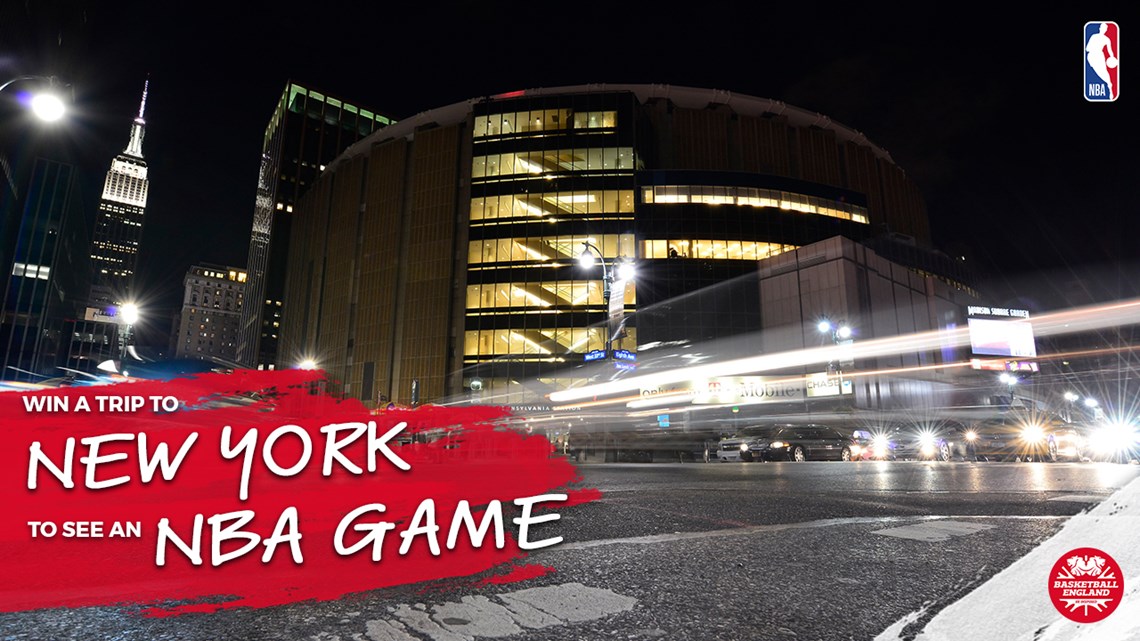 Join Basketball England for free and win a trip to New York City, courtesy of the NBA.
Whether you have a Supporter Account as a fan, follower, enthusiast or advocate, or a Full Account and have paid for a licence to play, coach or officiate in competition, you can enter our prize draw.
Basketball has the power to change lives. Our #GameTime campaign aims to raise awareness of the positive impact that basketball can have on people no matter who they are or where they are from.
.
.