Rebound's Chris Hughes had plenty of quality performances to choose from in a busy weekend of NBL basketball.
Chris, the All-Star organiser, content producer, YouTube host and producer, commentator and social media observer, had seven games to look over including Reading's upset win over Derby and a high-scoring clash between Hemel and Bradford, as he went about singling out his Player and Team of the Week selections.
Have your say on this week's choices and give a shout-out to the players you think deserve one using the hashtag #NBL2223 and #ReboundTOTW. Don't forget to tag us!    
Twitter:  @NBLengland / @Rebound__  
Facebook:  @NBLengland  / @ReboundNBL  
Instagram:  @nblengland / @reboundnbl  
How it works 
Chris will pick a Player of the Week and four other selections to round out his Team of the Week, paying attention to the following criteria:
Efficiency  
Stats  
Team and opposition strength  
Periods of influence in the game 
Being on a winning team (exceptional performances from players on losing teams will be considered for TOTW)
Other players will also receive a shout out as honourable mentions at the bottom of the piece.
The Rebound Team of the Week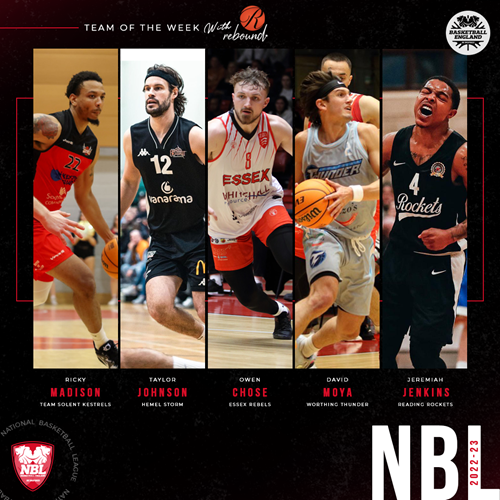 Player of the week
Ricky Madison – Team Solent Kestrels, forward 
24PTS/12REB/2AST/4STL/+-22/35EFF  
Madison is this week's 'Player of the Week' with a winning double-double performance in which he wreaked havoc from the get-go. 
Madison caused Team Newcastle University to call two quick time-outs following an early 17-2 burst in which he collected seven points and three rebounds.  
He exerted his influence throughout with a game leading +/- of 22 in the 17-point win with a great two-way performance that utilised his skill to get his shot off under considerable contact. 
The former High Point University forward was unstoppable as Newcastle tried to pull out all the stops, sending the big man to the line to net all but one freebie as the 10th placed Kestrels defeated the sixth seeded Newcastle.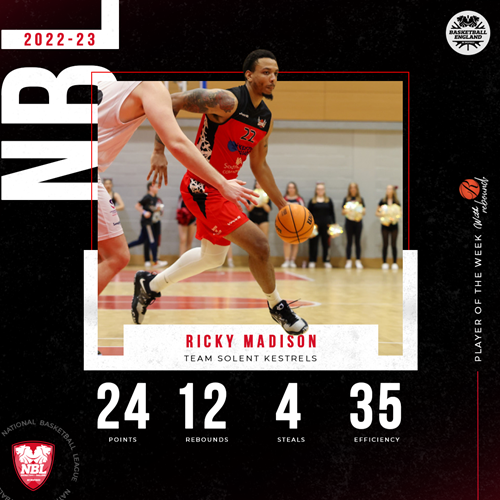 Taylor Johnson – Hemel Storm, guard 
25PTS (9-12FGM/6-8 3PM)/4REB/4AST/3STL/31EFF 
Johnson produced a phenomenal personal 15-3 run in the final four minutes of the first half to further the damage in a comprehensive blow-out win of Bradford. 
It ensured Hemel went into the break with a 33-point lead, up 74-41 on the road. 
Johnson's shooting from beyond the arc and the threat of the ball going to him heavily impacted Hemel's 29-43 3PM. 
Owen Chose – Essex Rebels, guard 
40PTS/5REB/1AST/1STL/1BLK/34EFF  
Chose once again makes 'Team of The Week' honours with a 40-piece to catapult the Rebels up to sixth place with a sharp shooting display on the road at basement side Westminster. 
Hitting 14 of his 22 attempts, including six of 13 from three point range and six of seven from the charity stripe, allowed Chose to pace the Rebels to another important win.
David Moya – Worthing Thunder, guard 
23PTS/4REB/8AST/1TUR/2STL/33EFF  
Moya makes back-to-back entries in the 'Team of The Week' with an elite playmaking display that included just one turnover. 
As a pass-first guard, Moya sometimes goes under the radar as a shooter but, boy can he shoot.  
It was an efficient night for the former Newcastle guard who contributed to just under a third of his side's total threes against his former team. 
Jeremiah Jenkins – Reading Rockets, guard 
20PTS/6REB/5AST/1STL/17EFF  
Jenkins' fourth-quarter display provided the rocket fuel to ensure his side fired up a shock win versus third seeds Derby.  
He netted eight points alongside a stat line of 3r/1a/1s was a catalyst in salvaging a one-point win after the Blazers reduced a seven-point first-half deficit.  
Jenkins' form from beyond the arc was to behold on what was a tough night from downtown for the Rockets, with the America's his five threes contributed to over half of the Rockets' tally. 
Team basketball 
HEMEL STORM 'THREEZE' past A FIREY BRADFORD 
Hemel must have seen what I wrote about Reading last week when I said 'Rockets shot an amazing 56 2P%/57 3P%/88 FT% in the 124-102 win' against Bradford. 
Topping that output with a stunning line of 65FG%/61 2P%/67 3P%/66FT%, Storm's starters also shared 24 assists proving it was not only the shooting that was on fire in the 38-point win. 
NOTTINGHAM TAKE LOCAL BRAGGING RIGHTS 
Nottingham put in a big performance against a tough Loughborough side who were on a strong 7-2 run heading into this one. 
They did enough to get the win by working as a team to out-shoot, out-rebound and out-pass Loughborough on their home court. Honourable mention to Johde Campbell who flirted with a quadruple-double with a 12p/8r/6a/5s stat line 
Honourable mentions 
Johde Campbell (NOT) – 12P/8R/6A/7TO/5S/15EFF 
Seth Swalve (HEM) – 28P(7-8 3PM)/1R/7A/2S/31EFF  
Aaryn Rai (HEM) – 11P/12R/7A/3TO/2B/24EFF 
Malcolm Smith (DTB) – 33P/9R/1A/1S/22EFF  
Justin Hedley (LOU) - 16P/13R/8A/5TO/1S/27EFF 
.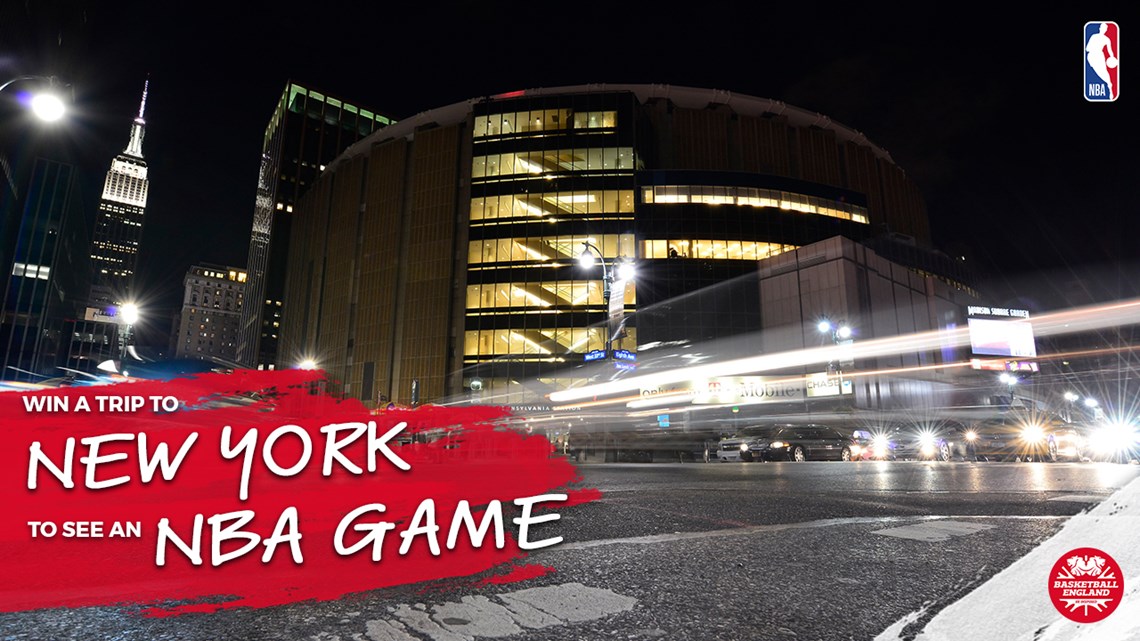 Join Basketball England for free and win a trip to New York City, courtesy of the NBA.
Whether you have a Supporter Account as a fan, follower, enthusiast or advocate, or a Full Account and have paid for a licence to play, coach or officiate in competition, you can enter our prize draw.
Basketball has the power to change lives. Our #GameTime campaign aims to raise awareness of the positive impact that basketball can have on people no matter who they are or where they are from.
.
.