Chris, the All-Star organiser, content producer, YouTube host and producer, commentator and social media observer, had four games to look over before Hemel won the National Cup on Sunday, singling out his Player and Team of the Week selections from D1M play.
Have your say on this week's choices and give a shout-out to the players you think deserve one using the hashtag #NBL2223 and #ReboundTOTW. Don't forget to tag us!    
Twitter:  @NBLengland / @Rebound__  
Facebook:  @NBLengland  / @ReboundNBL  
Instagram:  @nblengland / @reboundnbl  
How it works 
Chris will pick a Player of the Week and four other selections to round out his Team of the Week, paying attention to the following criteria:
Efficiency  
Stats  
Team and opposition strength  
Periods of influence in the game 
Being on a winning team (exceptional performances from players on losing teams will be considered for TOTW)
Other players will also receive a shout out as honourable mentions at the bottom of the piece.
The Rebound Team of the Week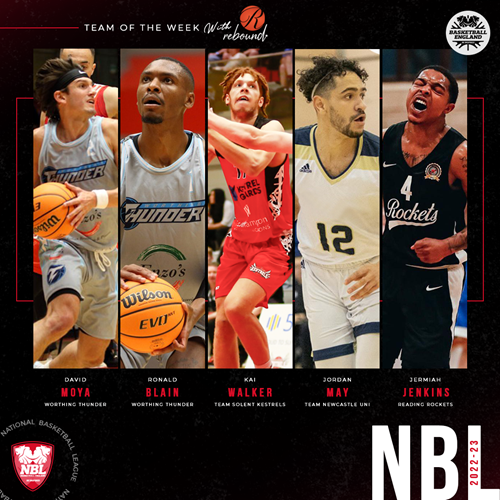 PLAYER OF THE WEEK 
David Moya – Worthing Thunder, guard
13PTS/8REB/8AST/0TO/7STL/29EFF  
Moya posted an incredible stat-line, flirting with a quadruple-double in a two-way masterclass during the 93-84 win against Loughborough. 
He had no turnovers while making things happen offensively and disrupting the Riders' momentum in equal measure. 
The US import is a worthy winner of this week's honours, putting in a pivotal performance in a win that sends Thunder to the top of the league, as the remaining top-three sides were in National Cup final action. 
-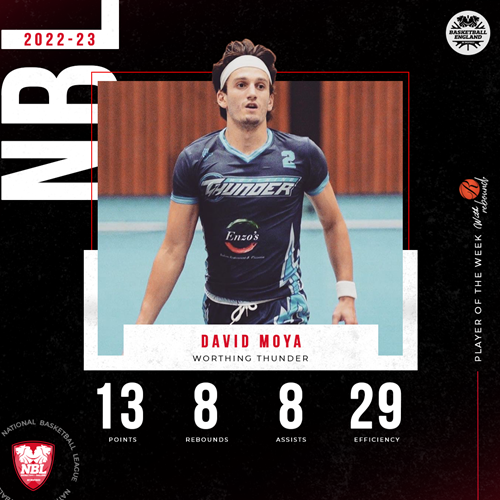 Ronald Blain – Worthing Thunder, forward 
11PTS/9REB/8AST/1STL/1BLK/17EFF 
Blain was a constant problem for the Loughborough defence, especially in a third quarter that Worthing won 29-18. 
The former Team Newcastle University star was just short of a triple-double and as he served up dimes for his team-mates, while the Riders were forced to send the regular-season MVP candidate to the line 10 times. 
Kai Walker – Team Solent Kestrels, guard/forward 
14PTS/18REB(8 OREB)/2AST/2STL/2BLK/24EFF  
Walker set the tone during a dominant first quarter in which Solent bossed the paint and got up and down the court quickly and aggressively to crash the glass at both ends. 
Walker's knack for being in the right place at both ends saw his rebound tally evenly spread and as the game went on, relishing the physical battle against his former Westminster team-mates. 
Jordan May – Team Newcastle University, guard 
34PTS/5REB/4AST/28EFF  
Off the back of a tough personal and team performance last weekend, May put on a shooting masterclass that further heightens his reputation and returned his side to winning ways.  
May's elite shooting, with seven from 11 from beyond the arc, was vital in the 85-79 road win against Bradford. 
In a close game, Newcastle relied on the sharp-shooting May to carry them to a win as the only Newcastle player to net more than 10 points. He was also top of the class for efficiency compared to any player with two or more field goal attempts. 
Jermiah Jenkins – Reading Rockets, guard 
26PTS/5REB/4AST/27EFF  
Jenkins records back-to-back 'Team of the Week' honours with another strong shooting performance.  
He is 52% (10-19 3PM) from downtown from the last two games, accounting for half of the threes made by Reading Rockets in that same period.   
A fourth-quarter display against Nottingham provided the rocket fuel to ensure his side fired up another win, as he contributed eight points down the stretch alongside vital rebounding and playmaking to stretch a narrow two-point lead into a 19-point win. 
Team basketball 
ROCKETS FLYING 
Reading are finding their feet and tapping into their strengths as they limited themselves to just eight turnovers against Nottingham.  
It was their offensive output that really caught the eye though, with four players scoring in double digits as they also managed to take a slender advantage from the 15 Nottingham turnovers. 
Strong performances from Reis Pinnock and Troy Cracknell as part of a starting five which all shot reasonably efficiently are also worthy of honourable mentions. 
WORTHING'S HIGH FIVE 
It was a team performance from Worthing but the starting five shot efficiently and in volume, combining for 80 of Thunder's 93 points in the close, high-scoring game against a strong Loughborough side. 
Worthing are a side that lives and dies by cardio, and they dominated on the fast break and in transition generally, forcing Loughborough to turn over the ball 20 times while displaying elite playmaking with 27 team assists to make scoring that much easier. 
Honourable mentions
Orlan Jackman (WOR) – 23P/7R/3A/1S/1B/25EFF 
Reis Pinnock (REA) – 8P/5R/6A/2S/14EFF  
Justin Bessard (TSK) – 25P/5R/3A/0TO/22EFF
Ricky Fetske (BRA) – 15P/16R/2S/28EFF  
Elijah Bailey (LOU) - 23P/6R/3A/3TO/1S/22E
.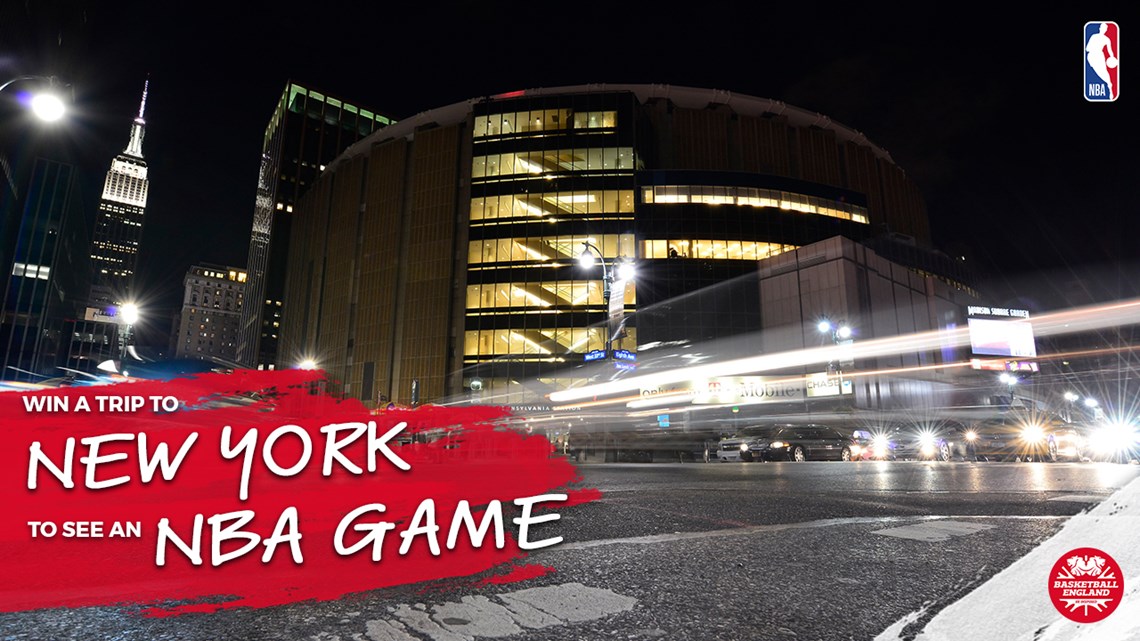 Join Basketball England for free and win a trip to New York City, courtesy of the NBA.
Whether you have a Supporter Account as a fan, follower, enthusiast or advocate, or a Full Account and have paid for a licence to play, coach or officiate in competition, you can enter our prize draw.
Basketball has the power to change lives. Our #GameTime campaign aims to raise awareness of the positive impact that basketball can have on people no matter who they are or where they are from.
.
.