Rebound's Chris Hughes doesn't miss a beat, marching on to pick yet another worthy Player of the Week plus four others to make up the Team of the Week as well.
Chris, the All-Star organiser, content producer, YouTube host and producer, commentator and social media observer, had nine games to look over across the weekend, and with so many games to choose from, he didn't have a shortage of worthy candidates.
Have your say on this week's choices and give a shout-out to the players you think deserve one using the hashtag #NBL2223 and #ReboundTOTW. Don't forget to tag us!    
Twitter:  @NBLengland / @Rebound__  
Facebook:  @NBLengland  / @ReboundNBL  
Instagram:  @nblengland / @reboundnbl  
How it works 
Chris will pick a Player of the Week and four other selections to round out his Team of the Week, paying attention to the following criteria:
Efficiency  
Stats  
Team and opposition strength  
Periods of influence in the game 
Being on a winning team (exceptional performances from players on losing teams will be considered for TOTW)
Other players will also receive a shout out as honourable mentions at the bottom of the piece.
The Rebound Team of the Week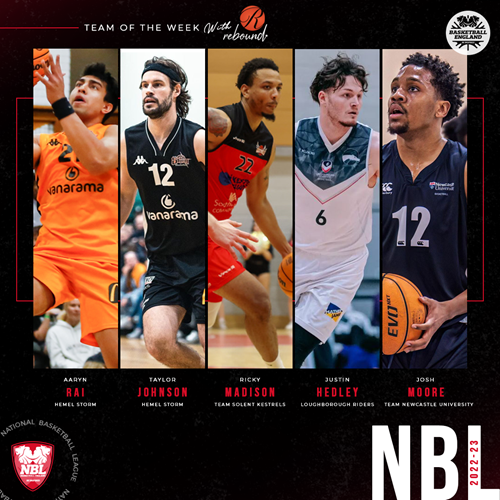 PLAYER OF THE WEEK 
Aaryn Rai – Hemel Storm, forward
34pts/14reb/7ast/2stl/47eff vs der
32PTS/12reb/7ast/1stl/1blk/44eff @ tsk
For three weeks running, Aaryn Rai has been doing everything he can to make my Player Of The Week award a locked-in certainty.
This weekend the former Dartmouth Ivy League star put in two almost identical 40+ efficiency games, while flirting with a triple-double on both occasions.
In Sunday's clash with Solent, Rai was the catalyst down the stretch with six points, a board and two assists in clutch style to secure the four-point win.
In both games, the Dartmouth duo of Rai and Taylor Johnson combined for 68 of Hemel's point tally of 110 and 97 respectively, showing just how good the pair were this weekend, though it's Rai who earns the honours.
Taylor Johnson – Hemel Storm, guard 
34pts/9reb/5ast/3stl/1blk/39eff vs der
36PTS/9reb/1ast/2stl/35eff @ TSK
It doesn't matter how you try and slow down Johnson, but send him to the line at your peril as the two-time All-Star captain nailed 17 of his 19 trips to the stripe this weekend.
Johnson's reliable shooting beyond the arc was the difference against Solent in what could have been a big upset on Sunday night, with the American going 3/5 from deep (Rai went 1/2) to pull up Hemel's shooting clip back to 28%.
A vital four-point play down the stretch helped bring the win home in the end, pushing Hemel to 20-0 this regular season.
Ricky Madison – Team Solent Kestrels, forward 
32pts/13reb/3ast/4stl/42eff vs ESS
14pts/6reb/2ast/1stl/14eff vs hem
For six quarters over the double header weekend, it felt like the Ricky Madison show. The show abruptly ended in the second half of Sunday's game against Hemel however as the American picked up a pair of unsportsmanlike fouls and as he departed, so did Solent's lead.
At the interval Madison was leading the Kestrels' charge on 14 points and the hosts were up 43-35, with the South coast side eventually falling to a 97-93 defeat.
Madison is Solent's post-man and delivers lots of points and rebounds in the paint, making him a tough assignment to guard and stop.
In Saturday's win the forward contributed just under half of Solent's points as he put in one of the most efficient performances this weekend.
It wasn't a one-off but a continuation from a rich vein of form, and heading into Sunday's game Madison was tying Rai on 27.5PPG across the last four games.
Justin Hedley – Loughborough Riders, guard
30pts/2reb/10ast/5stl/26eff
When the chips are down, it often feels like things aren't going your way and seeing an in-form Justin Hedley come to town wasn't what the Warriors needed this weekend. 
The Londoners didn't have an answer as Hedley went off for a career-high night with a 30-piece and no matter how Westminster tried to stop him - Hedley was frequently sent to the line and made a double digit tally from the charity stripe - it didn't work.
The pass-first guard produced a point and assist double-double in a game in which he and his team limited themselves to just eight turnovers.
Josh Moore – Team Newcastle University, wing
25PTS/7REB/2AST/35EFF
Josh Moore put on a shooting masterclass in the third quarter against Thames Valley this weekend.
With his side trailing by 15, the former Essex star went on a personal 12-0 run from a lights out 4/5 FGM, including an and-one play to turn the game on its head.
In a contest that strengthens Newcastle's top-four and play-off aspirations, the rising star put in a leading role to get the 97-90 dub.
Team basketball 
Loughborough protect the rock against a stubborn warriors side
Loughborough put on a passing masterclass on Saturday, keeping themselves to under 10 turnovers in the 98-77 win over Westminster, even with the visitors slightly edging the shooting battle.
The Warriors had an overall superior 56/39/88 stat-line compared to Loughborough's 58/21/81 as perimeter shooting almost cost the Riders their win.
The catalyst in the victory was the contrast in ball handling and Loughborough's ability to exploit Westminster's turnovers to maximum affect, while ensuring they did not give the visitors much to work with on the fast break or in transition.
Reading up to fourth after double-header boost
In both their games this weekend, every Reading player that registered more than one shot attempt got on the scoreboard, with the bench averaging around 20 points as Reading recorded a pair of useful wins over London and Westminster.
The leading scorers were shared across the weekend and in both games three players contributed 17 or more points.
Honourable mentions go to Jermiah Jenkins and Troy Cracknell, who were consistently impressive throughout. Combining for 39 points on Saturday and 43 more on Sunday, it was quite the weekend for the American pair.
Honourable mentions
Ryan Bruggeman (DER) – 20P/7R/10A/2S/27EFF
Hafeez Abdul (WOR) – 30P/13R/2A/3S/26EFF  
Reis Pinnock (REA) – 7P/4R/5A/1S/15EFF @ LL2 & 17P/7R/4A/2S/1B/29EFF @ WES  
Troy Cracknell (REA) – 19P/3R/1A/22EFF @ LL2 & 22P/5R/3A/3S/15EFF @ WES  
Ronald Blain (WOR) - 14P/8R/6A/1S/24EFF
.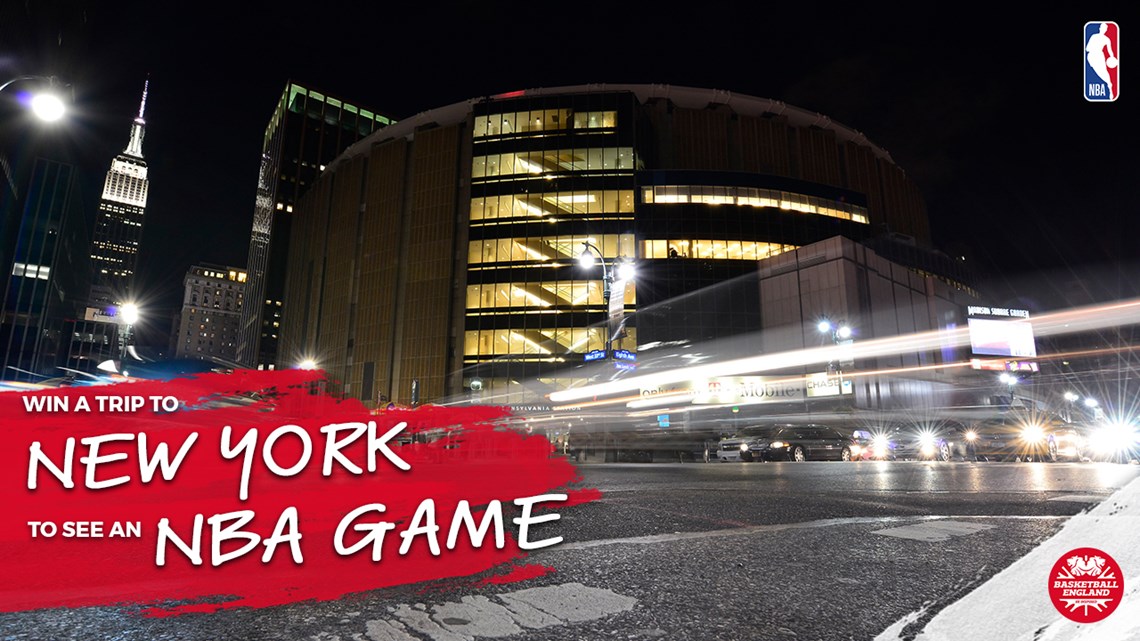 Join Basketball England for free and win a trip to New York City, courtesy of the NBA.
Whether you have a Supporter Account as a fan, follower, enthusiast or advocate, or a Full Account and have paid for a licence to play, coach or officiate in competition, you can enter our prize draw.
Basketball has the power to change lives. Our #GameTime campaign aims to raise awareness of the positive impact that basketball can have on people no matter who they are or where they are from.
.
.