Rebound's Chris Hughes is back once again, presenting one of the strongest Player and Team of the Week line ups we've had for quite some time.
Chris, the All-Star organiser, content producer, YouTube host and producer, commentator and social media observer, had incredible performances wherever he looked this weekend, with four games decided by four points or less and six 100+ point team outputs.
Have your say on this week's choices and give a shout-out to the players you think deserve one using the hashtag #NBL2223 and #ReboundTOTW. Don't forget to tag us!    
Twitter:  @NBLengland / @Rebound__  
Facebook:  @NBLengland  / @ReboundNBL  
Instagram:  @nblengland / @reboundnbl  
How it works 
Chris will pick a Player of the Week and four other selections to round out his Team of the Week, paying attention to the following criteria:
Efficiency  
Stats  
Team and opposition strength  
Periods of influence in the game 
Being on a winning team (exceptional performances from players on losing teams will be considered for TOTW)
Other players will also receive a shout out as honourable mentions at the bottom of the piece.
The Rebound Team of the Week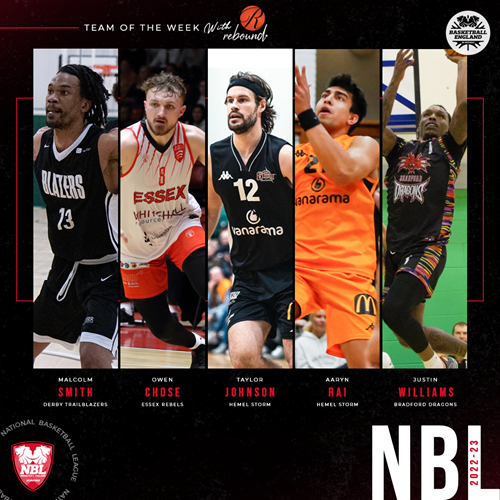 PLAYER OF THE WEEK 
Malcolm Smith – Derby Trailblazers, forward
46PTS/13REB/1AST/48eff
Whilst a Live Stats issue may have robbed many from seeing Smith at work this weekend, Derby have manually recorded the stats from their 114-113 victory against Thames Valley from Saturday, and wow, we're glad they did!
In a week with multiple 40+ efficient games, Smith stood tallest to put in a performance that earns him bragging rights as Rebound's Player of The Week.
Smith dropped an astronomical 46 points from 26 attempts, battling some tight defensive pressure that was highlighted by his 13 trips to the foul line.
13 is Smith's jersey number, and it was an unlucky number for the Cavaliers as the American not only posted an amazing efficient double-double, he also netted the winning 'and-one' play to seal Derby's 12th win of the season.
Owen Chose – Essex Rebels, guard 
44PTS/8REB/1AST/0TO/44EFF 
Steph Curry's most threes in a game is 13 (17 3PA) and his high for most threes from 15 attempts is 11.
Chose was close to beating both of those epic records this weekend, going 10/15 as part of a stunning outing.
To say he narrowly misses out on Player Of The Week really doesn't really do his performance justice, especially considering that this masterclass helped beat #4 seeds Nottingham on the road in the four-point win.
Taylor Johnson – Hemel Storm, forward 
32PTS/6REB/3AST/30EFF vs REA

26PTS/3REB/7AST/4stl/35EFF vs LL2
Johnson put in two amazing performances this weekend, which on another occasion would likely have put the American in the mix for Player of the Week.
Firstly, a 12-point second-quarter masterclass on Saturday extinguished the Rockets' hopes of an upset, erasing their early first-quarter advantage which at one stage saw them leading by seven points.
Twenty four hours later the Rebound All-Star and recent National Cup MVP posted a lights out performance, netting 10 from 12 as part of a 26-point performance, tacking on a strong seven assists and four steals to see off London Lions II.
Aaryn Rai – Hemel Storm, forward
27PTS/8REB/6AST/34EFF vs REA

21PTS/11REB/9AST/30EFF vs LL2
Rai put in two great performances this weekend as he averaged a cool 24 points, 10 boards and 7.5 assists, flirting with a triple-double average across wins over Reading and London Lions II,
The forward is consistently putting performances of the highest calibre, only netting five points less than Taylor Johnson in both games this weekend.
Alongside his scoring efforts, the American also dominated the boards and demonstrated elite ball handling, passing and playmaking skills.
Justin Williams – Bradford Dragons, guard
32PTS/7REB/4AST/33EFF vs WW
31PTS/12REB/2AST/34EFF @ not
Williams put in two ultra-efficient 30-point performances, highlighting his accuracy from anywhere within the half-court to ensuring a winning double header was on the cards for Bradford.
The US import is settling in well since moving to Yorkshire last December, with the 23-year-old putting in the kind of performances needed to fire this Dragons side into contention for a top four spots.
Team basketball 
Is 2023 the year of the Dragon?
Bradford Dragons started February with two wins to put them into the mix for a top-four spots.
Coach Mellor's side are currently on a 3-0 run after starting the year with an 0-3 record against Hemel, Worthing and Newcastle, though two of those defeats were very close games.
Ricky Fetske, Jordan Whelan and Justin Williams are a potent big three from the Dragons and they were a nightmare for Nottingham as the trio combined for 73 of Bradford's 90 points on Sunday, with the rest of Bradford's roster also contributing when called upon.
Storm average 122 points to blow their opponents away
Hemel were once again too strong for their opponents this weekend and made their wins look easy when in truth, both Reading and London put up more of a fight then the score lines suggest.
The two win weekend takes Hemel to 15-0 in the league, as the National Cup winners are dominating and remain unbeaten in all competitions.
Honourable mentions should go to Jack Burnell and Tayo Oyefusi, who contributed off the bench and added to the spacing on court, allowing the Storm offence to thrive as the leaders tallied 57 bench points over the two days.
Honourable mentions
Josh Moore (NEW) – 30P
Ricky Madison (TSK) – 20P/10R/4A/2S/18EFF  
Taiga Forster (LL2) – 12P/6R/7A/3S/16EFF
Ricky Fetske (BRA) – 21P/7R/2A/20EFF  
Hakeem Sylla (HEM) - 18P/10R/2A/2S/25EFF
.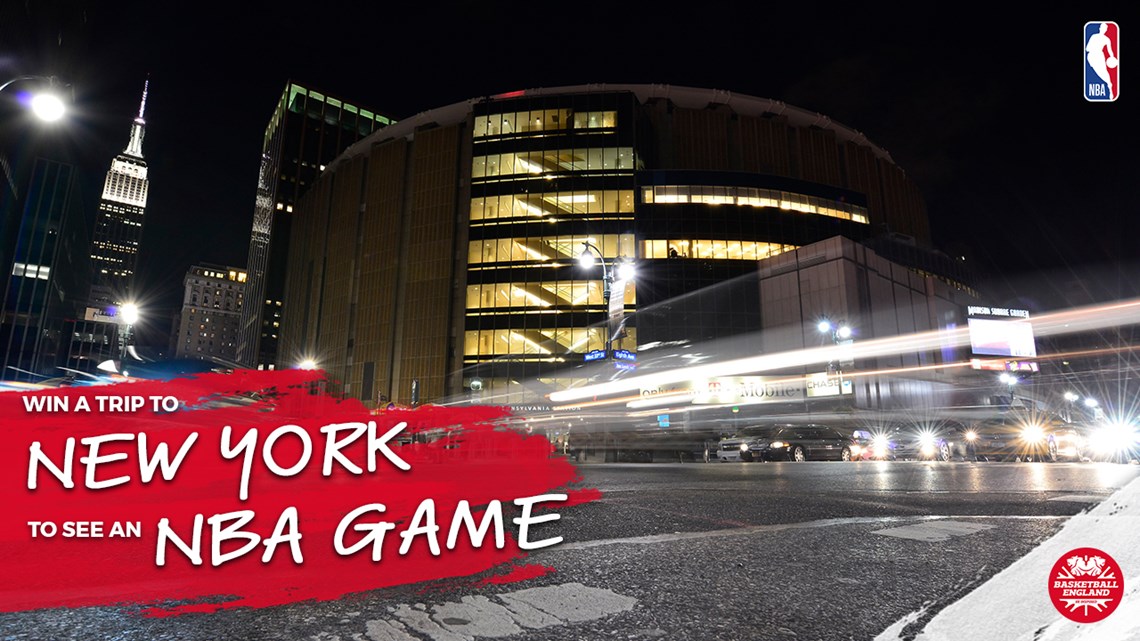 Join Basketball England for free and win a trip to New York City, courtesy of the NBA.
Whether you have a Supporter Account as a fan, follower, enthusiast or advocate, or a Full Account and have paid for a licence to play, coach or officiate in competition, you can enter our prize draw.
Basketball has the power to change lives. Our #GameTime campaign aims to raise awareness of the positive impact that basketball can have on people no matter who they are or where they are from.
.
.
Main image credit - Lauren Newham