Chris Hughes set aside the sparklers and fireworks to take in the best of this weekend's D1M action.
Hughes, the All-Star organiser, content producer, YouTube host and producer, commentator and social media observer, had five games to get his teeth into, picking a Player and Team of the Week in the process.
Have your say on this week's choices and give a shout-out to the players you think deserve one using the hashtag #NBL2324 and #ReboundTOTW. Don't forget to tag us!    
X:  @NBLengland / @Rebound__  
Facebook:  @NBLengland  / @ReboundNBL  
Instagram:  @nblengland / @reboundnbl  
How it works 
Chris will pick a Player of the Week and four other selections to round out his Team of the Week, paying attention to the following criteria:
Efficiency  
Stats  
Team and opposition strength  
Periods of influence in the game 
Being on a winning team (exceptional performances from players on losing teams will be considered for TOTW)
Other players will also receive a shout out as honourable mentions at the bottom of the piece.
The Rebound Team of the Week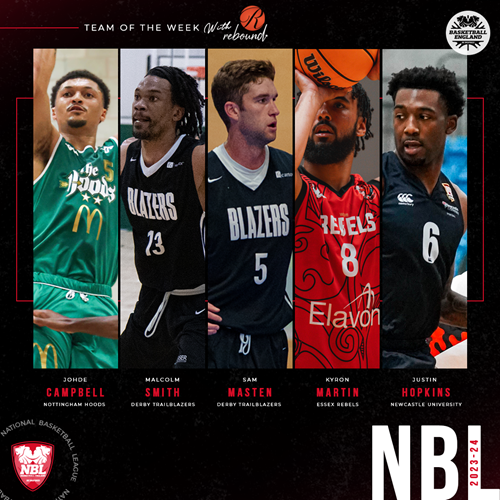 PLAYER OF THE WEEK 
Johde Campbell - Nottingham Hoods, guard
31pts/6reb/4ast/7stl/1blk/35eff
Campbell provided his own fireworks on Saturday, showcasing great hesi footwork, clever passing and Robin Hood-esque pickpocket skills.
His four steals in the first quarter helped the Hoods to a nine-point lead, ensuring the Cavaliers were left to do the chasing for the remainder of the game.
It all combined to make this young star worthy of my NBL Player Of The Week award.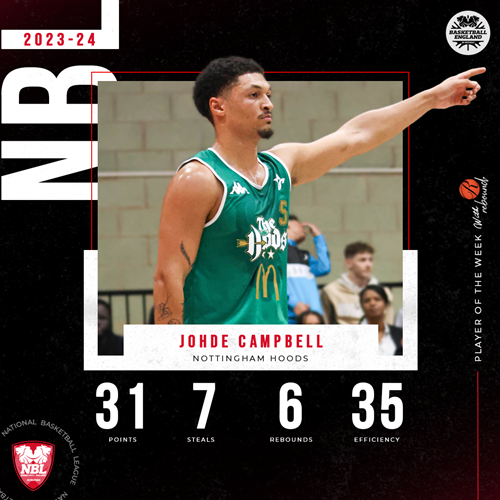 Malcolm Smith – Derby Trailblazers, forward
31pts/14reb/4ast/40eff

Smith put in a shift this weekend as his coach needed him for all but 38 seconds in the 10-point road trip dub against Newcastle.
The Blazers forward is very unfortunate not to pick up this week's top honour following a 31-point, 14-rebound double-double masterclass.
Smith showed MVP-calibre play as one of the toughest players to guard in the paint, and to add to the misery for Newcastle, he made every free shot at the line afforded to him for good measure.
Sam Masten - Derby Trailblazers, guard
33pts/4reb/1ast/1stl/27eff
Masten showcased his range of shooting in a 33-point winning performance on the road, evenly splitting his shots either side of the arc, with a respectable 40% from downtown.
The reliable guard puts in performance after performance week-in, week-out and it is no surprise that he leads the league in scoring and efficiency, especially after his third 30-point plus performance from five league games.
Kyron Martin – Essex Rebels, guard
24pts/6-103pt/1reb/19eff
Martin went into his bag to get Essex the dub with back-to-back-to-back triples, never missing a beat down the stretch to extend the Rebels' lead late on.
The performance, with 6-10 3pt shooting, rises in stock further considering that the Rebels' guard did it all in a sub-24-minute cameo from the bench.
Justin Hopkins - Team Newcastle, guard
29pts/7reb/1ast/1stl/25eff
Hopkins' seven points down the stretch gave Newcastle hope against probably the best team in the league right now, but unfortunately it wasn't enough to get the win on this occasion.
The formerly Texas Southern University man took responsibility on the offensive end, recording around half of his team's rebounds against a tough Derby outfit who lead the league for defensive boards.
That output helped Newcastle, the second worst D1M for offensive rebounding going into the weekend, to trump Derby by three for second-chance points.
Team basketball 
Bradford beat Hemel, but rebels conquer the dragons
As a team, Essex shot 64% from inside, 50% from beyond the arc and 72% from the line in the 107-100 win over Bradford, with the bench, led by the impressive Kyron Martin, contributing 48 points.
As a team they were dominant and never let Bradford have more than a two-point lead.
An honourable mention goes to Elias Poorman, who as part of a team performance, put on a two-way show by shooting efficiently (5/6FGM & 4/5FTM) whilst also leading his team in steals (two).
Honourable mentions 
Elijah Bailey (LOU) - 26P/4R/4A/1S/26EFF 
Zion Tordoff (BRA) - 18P/11R/3A/27EFF vs ESS & 10P/8R/3A/16EFF vs HEM 
Justin Williams (BRA) - 18P/2R/1A/2S/8EFF vs ESS & 33P/4R/2A/29EFF vs HEM 
Hakeem Sylla (HEM) - 21P/4R/1A/2S/2B/23EFF vs BAR & 15P/15R/2A/3B/23EFF @ BRA
Raheem May-Thompson (DTB) - 14P/6R/5A/21EFF 
.
.

Main image credit - Ivan Grotsev