The College Basketball League (CBL) returns for its second season in its revamped format.
MK5D Shenley Brook End will defend the title they won in Manchester in March. 
The league, formerly the ABL, caters for 16-19-year-olds, providing the second and third tiers for the age-group under the tier-one outfits of the Elite Academy Basketball League (EABL) and Women's Elite Academy Basketball League (WEABL). 
It provides a competitive outlet for educational-based basketball programmes, such as sixth form and further education colleges. 
Teams have now been confirmed for both tiers ahead of the 2023/24 season, with full lists available below: 
The CBL season will start on Wednesday 4 October with fixtures released shortly.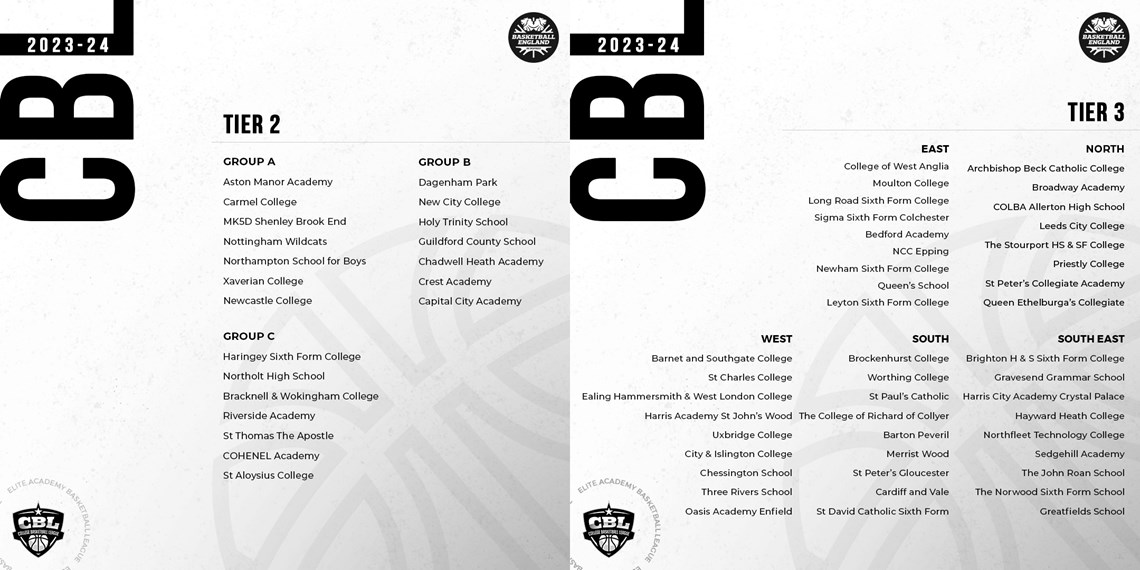 Delivery standards 
The five delivery standards that will govern the CBL are as follows: 
Athlete Recruitment – safe, ethical, and responsible recruitment activity that provides the appropriate level of information and guidance to help the athlete thrive.
Educational Partnership – the school/college is committed to elite sport and supports the programme in all their endeavours.
Quality Leadership, Coaching and Athlete Support – linked to the qualifications, experience, and knowledge of the Academy staff
Facilities and Equipment – linked to the quality and level of facilities and equipment provided by the Academy
Athlete Welfare Provision – demonstrates the academic and athletic support on offer, including policies and process to support the basketball athlete
Category two and category three programmes 
The CBL is divided into two levels based on the standards above. Entrants can apply to become a category two or category three programme and will compete against teams in their own tier. 
By separating educational-based programmes via quality standards, the aim is to increase the level of on-court competition and move to a greater degree of parity between the programmes who enter each season. 
For more information on the CBL, plus its tiers and requirements, please contact Sam Messam, [email protected] 
.

Join Basketball England for free. Whether you have a Supporter Account as a fan, follower, enthusiast or advocate, or a Full Account and have paid for a licence to play, coach or officiate in competition, you can be part of the basketball family.
Basketball has the power to change lives. Our #GameTime campaign aims to raise awareness of the positive impact that basketball can have on people no matter who they are or where they are from.
.