The British Basketball Federation (BBF) has confirmed the appointments of Marc Steutel and Dan Clark to the roles of Great Britain men's team head coach and general manager respectively.
British basketball fans will be well-versed in the considerable talents of both Steutel and Clark given the former's success in various coaching roles throughout the GB pathway over the years, and the latter's record-breaking career of 119 senior caps for GB, first joining the junior programme as a 13-year-old.
The appointments were confirmed after a collaborative recruitment process including representatives from the BBF and the Home Country Associations.
Steutel, also the Head Coach for the British Basketball League's most successful franchise Newcastle Eagles, has been at the centre of some of GB Men's most famous victories in recent years, most notably against Germany, Greece, France and Montenegro in EuroBasket 2021 and World Cup 2023 Qualifying.
In addition to his record-breaking haul of caps for the senior men's team, Clark's name is etched all over the history books of the men's national team, ranking first in caps, points, rebounds and blocked shots after making his senior debut for the team in 2009 against Poland.
Both Steutel and Clark already have a history of success when working together, with Clark having played under Steutel in the latter stages of his GB career and both having worked together in the early stages of Clark's transition to the front office post-retirement.
"I am absolutely thrilled and delighted to be appointed the permanent Head Coach of the Great Britain Senior Men's Team." Marc Steutel said.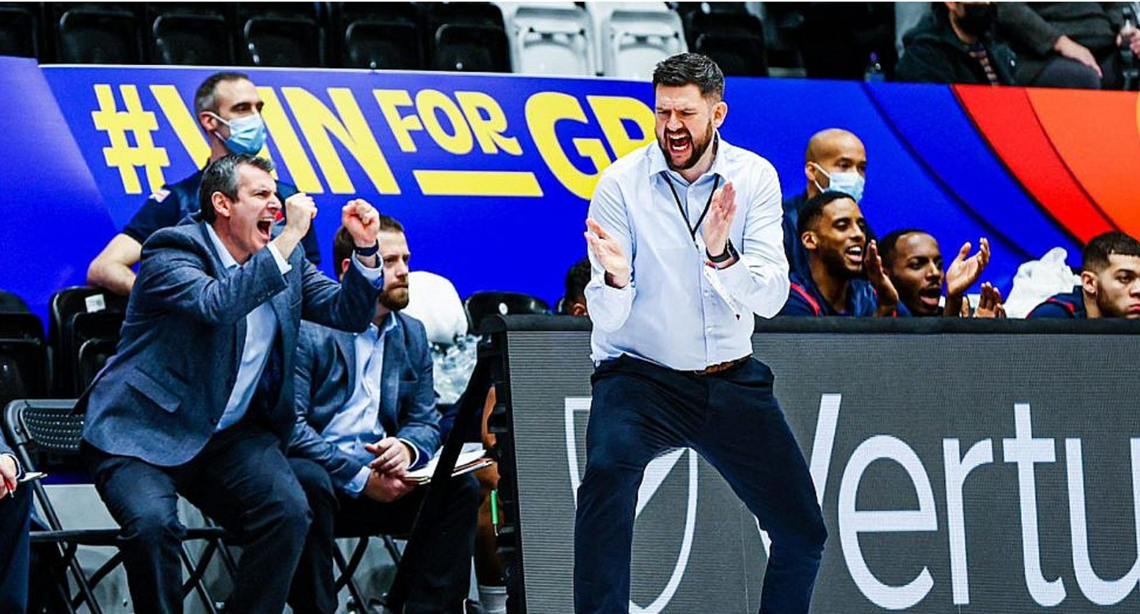 Marc Steutel said:
"Since I've been involved in National Team programmes from the Under-16s to the Seniors, I've always taken pride in serving Great Britain and ensuring I try to leave the programme in a better place each time I have some involvement.
"I've been so fortunate to work with some exceptional people, both players and staff alike, and I'm exceptionally excited to continue to work with people who represent the National Team in the right way, who care about British Basketball, and who believe in the ability within our game.
"I'm really excited to continue that journey and thankful I've been trusted with this position, which comes with great responsibility, and it is something that I am welcoming the challenge to try and build towards our future with a great group of players and staff."
Dan Clark said:
"I'm extremely happy to have been appointed to this role. Having been part of the Great Britain programme as a player from the age of 13 all the way through my professional career, including this last year on the 'other side of the line', these have been the most enjoyable times of my career.
"I have no doubt that the next cycle until EuroBasket 2025 will continue in that manner. Playing for GB and being a part of the programme has always been one of the proudest parts of my career, so to be a part of it again moving forward, planning and building something for the future to leave GB in a better place, that's very exciting and the main goal for me.
"Our first target is to qualify for and be successful at EuroBasket 2025, but beyond that we also want to build a culture and structure that is sustainable and beneficial for everyone involved, from players to staff to management. I'm sure the next two years will bring a lot of joy and excitement to British Basketball as a whole."
BBF Performance Lead Fiona Pimblett said:
"We're delighted to have appointed Marc Steutel and Dan Clark as Head Coach and General Manager of the Senior Men's National Team. Marc and Dan have both given a huge amount to the programme, so to now formally have them in these roles is a really exciting step for the Federation.
"They share an exciting vision for the team and are committed to ensuring that we can align the senior team more closely with our Junior National Teams and Home Country Associations.
"Marc and Dan already have a strong working relationship and regular communication in place with current and future Senior Men's players. As a Federation we are now in a better place to be able to give our teams consistent planning and support, and with Dan and Marc at the reins the Federation is confident that great things can happen under their leadership."
Attention will now turn to appointing the remainder of the coaching and performance staff.
.

Join Basketball England for free. Whether you have a Supporter Account as a fan, follower, enthusiast or advocate, or a Full Account and have paid for a licence to play, coach or officiate in competition, you can be part of the basketball family.
Basketball has the power to change lives. Our #GameTime campaign aims to raise awareness of the positive impact that basketball can have on people no matter who they are or where they are from.
.