FocusHoops' Darren Paul spent his weekend watching a thrilling end to the WNBL regular-season, lining up some more worthy players for his Team of the Week.
As a writer, commentator, podcaster and more, Darren saw BA London Lions II and Thames Valley sneak into the playoff picture as the #7 and #8 seeds as Ipswich, CoLA and Loughborough rounded out the top three. Below is a message from the man himself, Darren Paul:
"For the final time this season, FocusHoops selects its Team of the Week and as always, we've had some tough omissions. On behalf of FocusHoops, we'd like to congratulate all players and teams throughout the league season for giving us all something to look forward to every Saturday and Sunday and being a part of a very compelling and enjoyable WNBL season!"
Have a look over this week's choices and give a shout-out to the players you think deserve one using the hashtag #NBL2021. Don't forget to tag us!  
Twitter: @NBLengland / @FocusHoops  
Facebook: @NBLengland  / @FocusHoops  
Instagram: @nblengland / @focushoops  
How it works  
The Basketball England WNBL Player of the Week goes straight into the starting line-up.  
The other four players are picked with the following factors in mind:  
Efficiency 

 

Stats 

 

Team and opposition strength 

 

Periods of influence in the game 

 
The FocusHoops team of the week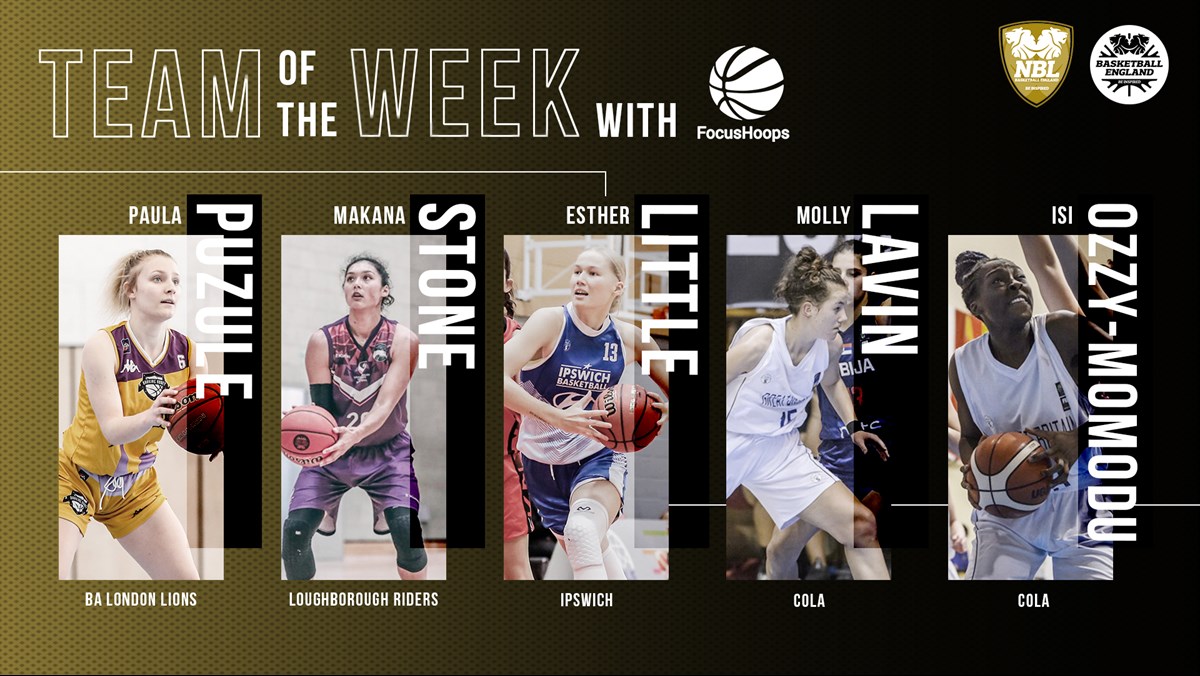 Paula Pazule - BA London Lions II, guard
21pts, 5reb, 2ast, 2stl, 7/10 3pt, 25eff
The final regular-season Player of the Week award goes to Paula Puzule, who came up huge for BA London Lions II in a must win matchup with the Worcester Wolves.
With a place in the playoffs at stake, Puzule lit it up from outside, going a remarkable 7/10 from beyond the arc on her way to 21 points, complemented by five rebounds, two assists and a pair of steals.
She also impressed was her efficiency, the starting guard committed just one foul and one turnover in a standout game for her and her basketball team as the victory would ultimately secure them the seventh seed and avoid a first round matchup with Ipswich next weekend.
If Puzule is able to rekindle this form again against CoLA Southwark Pride in the playoffs, we may just have an upset on our hands.
Makana Stone - Loughborough Riders, forward
20pts, 14reb, 3ast, 1stl, 20eff
Makana Stone once again features in the FocusHoops WNBL Team of the Week following another dominant performance from the American forward as Loughborough squeaked past a tough Nottingham Trent by 2 points on Saturday.
Stone was her usual dominant self inside, scoring 20 points off 63% shooting from inside the arc, and going 6-7 from the line, sinking the game clinching free throws in the process.
Stone also battled on the glass, leading all rebounders with 14 boards, six of which were on the offensive end and generated second chance opportunities. The Riders' star also made three assists and swiped a steal in another all around impressive performance.
With Robyn Ainge and Katie Januszewska by her side again, who knows what the playoffs have in store for Stone and the Loughborough Riders as they get ready for a home tie with Reading this weekend.
Esther Little - Ipswich, wing
12pts, 17reb, 4ast, 6blk 30efF
Another double-double from Esther Little sees her awarded Team of the Week honours after Ipswich's huge 41 point victory over Reading Rockets on Saturday.
Little was her dominant self on the boards, pulling down 17 rebounds in total, including five on offence to complement her 12 points on 50% shooting, including a made triple.
The performance allowed Ipswich to enter the playoffs reminding the league that they are the number one seed for a reason.
As we witness week in, week out, Little is more than just a rebounder and a scorer. The talented wing assisted on four made buckets and had six blocks, whilst not committing a single foul in her 33 minutes of play.
Molly Lavin - CoLA Southwark Pride, forward
16pts, 9reb, 3ast, 5stl, 26eff (sun v WW)
Molly Lavin returns to the Team of the Week thanks to her excellent performance on Sunday in a 33 point victory over the Worcester Wolves.
The win allowed CoLA to secure second place in the standings and a potential home tie in the semi final, should the London club make it that far.
Lavin was the pick of the bunch, despite playing just 17 minutes off the bench as Jackson Gibbons once again heavily rotated the Pride roster.
That didn't stop Lavin leading her team in scoring with 16 points from 53% shooting, going 7-11 from inside the arc in the process. Unsurprisingly, the forward's work really stood out on the offensive glass as she pulled down a joint-high six offensive rebounds on her way to nine total.
The GB age group selection also contributed with a trio of assists and five steals as CoLA head into the playoffs on a high.
Isi Ozzy-Momodu - CoLA Southwark Pride, forward
22pts, 14reb, 2ast, 1stl, 32eff (sat v tsk)

 
Isi Ozzy-Momodu, one of the standout performers of the season, once again makes the Team of the Week here thanks to a great double-double performance over playoff bound Team Solent Kestrels.
Ozzy-Momodu bagged herself 22 points on 76% shooting and pulled down 14 rebounds, with three coming on the offensive end in addition to her two assists and a steal. 
CoLA will want to make waves in the playoffs, just like they have in their tremendous regular-season campaign. To do that they'll need more efficient, dominant performances from Ozzy-Momodu, the likes of which we've seen from her all season long.
Team Basketball
CoLA Southwark Pride are the team performers of the week for the final time in this regular-season. Picking up the pair of wins they needed to secure the #2 seed, CoLA defeated a Worcester Wolves side fighting for their playoff lives as well as Team Solent Kestrels, who could cause teams trouble in the playoffs as a top four outfit.
Isi Ozzy-Momodu was their performer of the weekend, pulling down nine offensive boards over the two games and being a huge driving force in the success they enjoyed this weekend and across the season as a whole.
A hat tip also goes to Thames Valley Cavaliers who did what they needed to do this weekend as they defeated Cardiff Met Archers in back-to-back games to clinch their spot in the playoffs, at the expense of the Worcester Wolves.
TVC looked in control of both contests, putting together some solid team basketball to make the playoffs at the first time of asking.
Honourable mentions
Ezekiela Lisk (TVC) - 15P/9R/1A/22EFF
Isobel Bunyah (CAR) - 19P/12R/28EFF
Carys Roy (CAR) - 13P/14R/27EFF
Leia Edwards (BAR) - 19P/5R/4A/28EFF
.