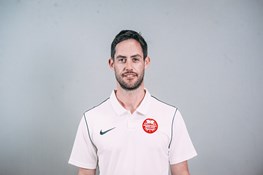 ANDY HOWSE
Head of physiotherapy and sports science
Andy Howse graduated from Manchester University in 2005 and since then has been a Chartered Musculoskeletal Physiotherapist. After 4 years of working in the NHS in Salford and Bolton, Andy travelled for 6 months around South America before settling in Wellington, New Zealand. He was in New Zealand for two years playing hockey and working in a Sports Medicine Clinic. Since returning home to the UK, Andy has moved to Bristol and achieves his Master's Degress in Sport and Exercise Medicine from Cardiff Metropolitan University.
Since 2012 Andy has worked in basketball, firstly as the Physiotherapist for the GB U20s Women's Team and then as Lead Physiotherapist for the GB Senior Women's Team. He became Head of Sports Science and Medicine for the BBF in October 2018 and Head of Physiotherapy and Sports Science for Basketball England that same year. Prior to this, Andy spent 3 seasons at Gloucester Rugby Club. Andy is now co-owner of Bristol Physio, with four clinics serving the Bristol area.
Outside work, Andy has played elite level hockey for 15 years playing in the National League in both the UK and New Zealand. As well as spending time with his two young sons, Andy also enjoys playing and watching all sport, cycling, sailing and travelling, when he has the time.