NBL Division One

 Reading Rockets vs Derby Trailblazers 

Saturday 6 October 2018 - 5.00pm
The NBL Division One campaign for 2018/19 will get underway with Derby Trailblazers travelling to face the Reading Rockets. Reading will head into the game high on confidence after their 68-83 victory on the road last weekend as they visited Thames Valley in the National Trophy. New signing AJ Carr was the star of the show last weekend as he poured in 27 points for the Rockets, while club captain Danny Carter was also clinical as he added 19.
Meanwhile, the Blazers continue their run of road games, after two trips in the Trophy last weekend, coming up with two key wins in Pool B. Derby will await the winner of the rescheduled Leicester-Loughborough match-up to decide their fate in the competition. Coach Matt Shaw will hope the strong play of Malcolm Smith continues, after the forward poured in 59 points across their two games last weekend. Derby veteran Matthew Ward-Hibbert will also be crucial, as the swingman added 48 points last weekend. 
Coach Shaw spoke ahead the game, "One of the challenges we will have deal with against Reading is their size advantage, but that might be a re-occurring theme for us this season. It was highlighted further last weekend when Oli [Stanley] and Jake [Chilver] were out injured, but I thought we did a decent job in similar circumstances against Loughborough and Leicester."
Coach Shaw continued, "We will be looking to reproduce the type of basketball we played in spells last weekend. Like most teams, we are still finding our feet a little at this stage, but the signs are positive and we are improving with each game and every practice."
 Essex Leopards vs Barking Abbey Crusaders 

Saturday 6 October 2018 - 6.00pm
The Big Cats' return to NBL Division One sees their first regular season action of the season take place in their new home at the Essex Sport Arena. A 114-105 loss in the Trophy against fellow newcomers Thames Valley Cavaliers was not the start they would have hoped for on their return to the top tier of the NBL, but Coach Thomas Baker will be buoyed by some good individual performances. Luke Mascall-Wright impressed with 33 points and 11 assists, while new big man Lee Hodges added 24 points and five rebounds down in the paint. 
The young Barking Abbey Crusaders side are coming off a tough loss on the road at Team Solent Kestrels, as last year's regular season runners-up showed they will again pack a punch this season. A bright spark in the loss for Barking was the play of point guard Ade Adebayo who led the cause with 19 points, while Nathaniel Powell was a spark off the bench with nine points and seven rebounds. 
 Bradford Dragons vs Nottingham McDonald's Hoods 

Saturday 6 October 2018 - 6.15pm
Bradford Dragons head into this match-up full of confidence after getting their season off to a great start in the Trophy. The West Yorkshire side progressed from Pool A after comfortable victories over Newcastle and Manchester, as they held off both challenges in their back-to-back. The routine win over Newcastle saw the Dragons rotate their bench and get everyone comfortable, as multiple players kept the scorers busy. Ricky Fetske was the high-point man on Saturday with 18 points, while Sunday's match-up with the Magic saw the back-court takeover with Jermayne Laing and Drexler Clark scoring 23 and 22, respectively.
The visitors on Saturday will be the Nottingham McDonald's Hoods, who are coming off a very mixed weekend which sees their status in the Trophy hang in the balance. A blow-out win last Saturday saw the Hoods easily take care off Leicester, behind a balanced attack that was lead by Kieran Wright (21 points). Sunday saw a real change in the Hoods' fortunes however, as Lougborough were able to take them out of their game in the second half. David Watts' 15 points to lead the Hoods was the only bright spark in the loss. 

 Hemel Storm vs Worthing Thunder 

Saturday 6 October 2018 - 7.00pm
Coming into this game fresh off a weekend off, Hemel Storm will be raring to go in this rematch of the 2018 NBL Division One Playoff Final. Hoping for better fortunes than back in April up in Manchester, the Storm have already been battled tested this year, with a single point victory over Thames Valley two weeks ago. Hemel captain Bode Adeluola was clinical against the Cavs, dropping an eye-catching 36 points. His partners in the back-court, Levi Noel and Blayne Freckleton, had crucial contributions as they were the only other players to join Adeluola in double figures.
The visiting Worthing Thunder will be full of confidence after booking their place in the Trophy semi-finals with a win over Team Solent Kestrels last Sunday. Thunder guard Nick Lewis made a statement to the rest of the NBL with a 35 point outing which saw him named NBL Player of the Week. Meanwhile, Zaire Taylor continued his impressive start to the season with a stat-line of 11 points, eight rebounds and six assists. 

 Team Newcastle vs Loughborough Riders 

Saturday 6 October 2018 - 7.00pm
After their dramatic overtime win against the Magic two weeks ago, Team Newcastle put themselves in a good position to progress out of Pool A of the National Trophy. Unfortunately, it wasn't to be for the North East side, as their short-handed effort fell short against the visiting Dragons. With a chance now to refocus on the regular season campaign, they could really be no tougher start. Reigning NBL Division One champions Loughborough Riders are in town, and they will be looking to get their season started the right way after splitting their Trophy games last weekend. 
US import guard Eric Stafford has been the star so far for Newcastle, well backed up by Eagles Academy product Tosan Evbuomwan. Meanwhile, a hot start to the season for the Riders back-court will see perimeter defence be the priority for Coach Ian Hewitt. With guards Lucien Christofis, Reis Pinnock and Niall Harris all having strong displays so far for the Riders, it seems Coach Mark Jarram has no scarcity of threats who can attack off the dribble.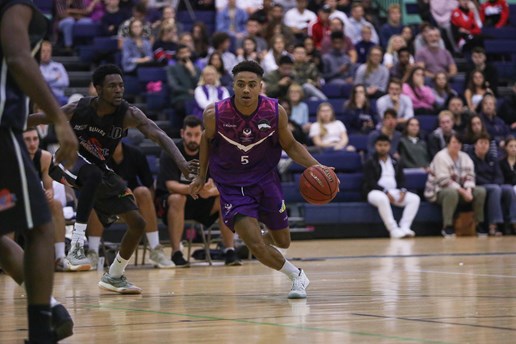 Riders' guard Reis Pinnock attacking off the dribble - Joe Pinchin

 Team Solent Kestrels vs Thames Valley Cavaliers

Saturday 6 October 2018 - 8.00pm
Wrapping up Saturday's action is the late game down on the South coast, as the Team Solent Kestrels host Thames Valley Cavaliers. Having both been involved in back-to-back's last weekend, these two sides with have to battle the fatigue of a gruelling Trophy pool stage campaign to get their regular season underway.
Solent will likely be disappointed with their exit from the Trophy, having seen off Barking last Saturday, they just couldn't quite get the job done against Worthing; which saw the Thunder progress out of Pool D. Jon Averkamp has shown he will be a solid replacement for the departed Joe Tagarelli, as he poured in 45 points across the Kestrels two weekend contests. Herm Senor II will again be one of the players to watch this season, as he added 36 points over the two games.
With plenty of action to come in Pool C of the National Trophy (due to Essex Leopards late addition to the top flight), Thames Valley's status hangs in the balance. However, as they will likely depart the competition at the pool stage, after losses to Hemel and Reading, the Cavs can now refocus on their first campaign in the top tier of the NBL. Coach Robert Banks has weapons galore at his disposal this season, with reigning NBL Division Two MVP Martelle McLemore sharing the lime light with Elliott Defreitas, Andre Baptiste and Abdoulaye Sylla putting in some big performances to start the season.

Leicester Warriors vs Manchester Magic

Sunday 7 October 2018 - 4.30pm
The weekend of NBL Division One action concludes with a Sunday afternoon match-up between two sides whose National Trophy campaigns did not go as planned. The Warriors have picked up two losses at the hands of the Hoods and the Blazers, while their match-up with the Riders was abandoned and will need to be replayed. Despite the losses, US import swingman Brian Orr has been a bright spark, as he had a solid 20 point outing on his debut, which was followed up by 14 points in the loss to Derby. Back-court partner Pak Chingombe has also been a big factor for Leicester, after his cross-county move from the Riders, as he lead his team with 19 points against the Blazers.
Perennial powerhouse Manchester Magic's new-look young side struggled in the Trophy pool stage, picking up an overtime loss against Newcastle, then travelling to the Dragons Den and struggling in the second half against Bradford. Coach Aurimas [Ollie] Verbukas will be buoyed by the early play of two newcomers to the Magic side, as Daniel Pilkington and Josh Houghton have had their turns leading the team in scoring thus far. US import centre Jonathan Barnes and recent signing Loick Pouale and Richard Bell gives Coach Ollie some depth in the front-court as the Magic look to get their regular season off to a winning start.
WNBL Division One

 Oxford Brookes University vs Team Birmingham Elite 

Saturday 6 October 2018 - 1.30pm
The new-look Oxford Brookes side are coming off a tough defeat to WNBL Division One newcomers Ipswich, whose returning core will likely see them continue their hot form from a season ago. In what could be a difficult period of learning and development for Coach Zach Meekings' side, he can be pleased with the early play of Tessa O'Connor, who led the way last weekend with 14 points and six rebounds, while Marta Artiles Perez showed her worth as she added 11 points, four rebounds and four steals. 
Meanwhile, Team Birmingham Elite will be frustrated to have not got their campaign off to a winning start, after a good first half performance was undone by a poor third quarter. Elite never gave up a week ago against Southwark, so Coach Robin Hall will hope for more of the same as his team travels down to Oxford. Rebecca Brindley and Jessica Cooper led with 13 points apiece last week, so Coach Hall will hope for more of the same, with increased contributions up and down the Birmingham roster.

Bristol Academy Flyers vs Sevenoaks Suns II

Saturday 6 October 2018 - 2.15pm
This match-up sees a battle between two sides whose regular season campaigns started with narrow losses last weekend. Bristol travelled into London to face Barking Abbey and came away with a four point loss, while Sevenoaks played host to Team Solent Kestrels who took the contest by a single point.
Bristol and Barking went back-and-forth throughout the first half of their match-up last weekend; a tied game at the half. The East London squad's stifling defence in the third quarter was what swung the tie in their favour, as the Flyers challenged in the fourth but couldn't close the gap. Bristol's new signing, Flo Ward, lead the way with 12 points, supported by eight points apiece from the returning pairing of Hannah Wallace and Rebecca Cantin. 
Meanwhile, an exciting match-up down in Kent last weekend saw Sevenoaks come up short against Solent, with Kenisha Whyte missing the chance at a game-winner with only seconds left to play. Whyte was impressive on the day, as she had 11 points and four rebounds, while Great Britain junior international Katie Bennett led her squad with a 17 point outing. Joining them in double figures was fellow international Olivia Partridge who added a double-double of 10 points and 10 rebounds.

 Reading Rockets vs Barking Abbey 

Saturday 6 October 2018 - 2.30pm
Still an unknown quantity after having not yet graced the floor in WNBL Division One this season, the Reading Rockets will have the element of surprise over the travelling Barking Abbey squad. Coach David De La Torre Sanchez has the returning talents of Maria Valdeolmillos Gomez at his disposal, alongside numerous talented John Madejski Academy student-athletes; the Rockets will be looking to get off to a strong start in this one.
After a tough campaign a year ago, Barking Abbey will be delighted to have grabbed their first win of the season at the first time of asking last weekend against Bristol. They came out of the half-time break with a focused energy that limited the Flyers to just nine points in the third as the East London squad took control of the contest. Jolicia Cadogan had a good start to the season as she led her side with 17 points, while Sade Orija joined her in double figures with 10 points. 

Team Solent Kestrels vs Ipswich

Saturday 6 October 2018 - 3.00pm
Team Solent Kestrels will be relieved to have got their campaign off to a winning start, grabbing victory by a single point on the road at Sevenoaks last weekend. With countless lead changes throughout the game, either team could have taken the spoils, but clutch play down the stretch from Melanie Curson and Geena Gomez sealed in for the Hampshire-based squad. Coach CJ Lee will hope for Gomez' impressive play to continue, as she led all scorers last weekend with 19 points. Fellow new signing also Krisztina Velkey also added 15 points for the south coast side.
It was an entirely different story for Ipswich last weekend, who cruised to victory against a new-look Oxford squad. Returning a solid core from last seasons dominant campaign, Coach Nick Drane must have been pleased with his side's debut performance in the top flight. Harriet Welham continued her fine form from a season ago, showing she is one of the elite scorers in the WNBL, as she dropped 25 points. Cameron Taylor-Willis and Amy Linton added 19 and 17 points, respectively. A vast arsenal of weapons for Coach Drane could see this game go the way of the visitors, but the Kestrels will likely have something to say about that!

 Southwark Pride vs Loughborough Riders 

Saturday 6 October 2018 - 3.30pm
Southwark Pride came into this season as last year's WNBL Division One runners-up, with a returning core of young talent bound to want to make a mark on this league once again. The London side did just that in their season opener, taking a close on one the road at Team Birmingham Elite, behind a 30 point explosion in the third quarter. Maya Hyacienth had 12 points and four rebounds to lead her squad, back up by Division One newcomers Jade Guidolin Duncan and Amelia Sandie. 
Another unknown quantity in the WNBL is the Loughborough Riders, who are yet to take to the floor. Coach Krumesh Patel's young side has a returning core of talent that will be hoping to improve on their eighth place finish last season, with the squad bolstered by a number of key additions. Watch out for Emma Cheetham and Alex Baker, who are likely to make their NBL debuts for the Riders, after making moves from Lancashire Spinners and Sevenoaks Suns, respectively. In a match-up that will include plenty of players from WEABL institutions Charnwood College and City of London Academy, this one should be a free-flowing affair with the best young British talent on show!
Patrons Cup

Myerscough College vs Liverpool 

Saturday 6 October 2018 - 3.30pm
With a number of Patrons Cup pool stage games still to be played, the NBL Division Two regular season will get underway for most teams next weekend. In this first match-up of the weekend, the Patrons Cup Pool A has become a winner-takes-all match-up between Myerscough College and Liverpool, following the withdrawal of Lancashire Spinners. 
With neither side having taken to the floor yet in the NBL, this is set to be an exciting season opener for both sides. Myerscough are coming off the back of an impressive campaign at NBL Division Three level where they took home the treble of the North league, the National Shield and the Division Three Playoffs. Meanwhile, Liverpool had an impressive regular season a year ago, finishing third in Division Two before being offered a spot in Division One following Team Northumbria's withdrawal.
Myerscough will be led by returning back-court Mate Okros and Callan Low, while also having added depth in the front-court with the arrivals of Sanmi Fajana, Sam Keita and Amari Williams. The visiting Liverpool side will look to the returning duo of Jack Hudson and David Ulph, while they have added Mark Rangeley and Reiss Haggith who make moves from Manchester Giants and Lancashire Spinners, respectively. 

Sussex Bears vs London Greenhouse Pioneers
Saturday 6 October 2018 - 5.00pm
Having had a weekend off, following their withdrawal from the National Cup, Sussex Bears should be fresh heading into this home match-up with London Greenhouse Pioneers. A win would secure progression to the knockout stages for the Bears, after they defeated Greenwich Titans in their season opener. The star of the show that day was Jack Sunderland, who exploded for 32 points, including five-from-seven from behind the three-point arc, en route to being named NBL Division Two Player of the Week.
London Greenhouse Pioneers are yet to get their season underway in the Patrons Cup, with their only action so far coming in the National Cup. Their road game against NBL Division Four opposition, Newcastle Eagles U23, was a tighter affair than the travelling side would have likely hoped for. A hot third quarter from the Eagles tied the game up, but the Pioneers controlled the fourth to eventually take home the win and progress. The Londoners will likely need a better performance today as the make the trip to the south coast, where a win would them up with a crucial tie with Greenwich that would decide the pool.

Ipswich vs East London All Stars

Saturday 6 October 2018 - 5.30pm
Pool B of the Patrons Cup wraps up tomorrow as Ipswich and East London All Stars do battle to determine who will progress. With Ipswich having defeated Derbyshire 72-98 two weeks ago, and East London also defeating the Arrows 91-75, this could be a close decider. 
In their contest, Ipswich were led by captain Colin Dockrell and young star Cameron Hawes who had 22 points apiece, while young forward Ethan Price added 21. Meanwhile, in the All Stars' encounter last weekend, they were led by their young back-court of Aaron Badibo and Jonathan James, who scored 20 and 17, respectively.

 Westminster Warriors vs London Westside 

Saturday 6 October 2018 - 5.30pm
Pool D also comes to its conclusion this weekend, as London Westside makes the short cross-capital trip to face Westminster Warriors. Two weeks ago, Westminster survived a scare against London United, after a late run of scores made the contest closer than they would have liked down the stretch. Player/coach Jon Johnson continued his fine form from a season ago, as he led his side with 26 points on an efficient shooting display. Johnathon Lashley was also critical in the Warriors' narrow win as he added 23 points and eight rebounds. 
On the other side, London Westside will need a big performance to reverse their fortunes thus far in the Patrons Cup. A blow-out loss against London United last week doesn't bode well for their fortunes today, but its for certain that Westside will do all they can. Stefan Campbell and Kadeem Crabbe had good displays last weekend, so they will hope they can continue their solid start to the campaign. A win here for Westminster would secure their place in the semi-finals, while it would require a big win for Westside to make things interesting. 
NBL Division Two

 East London All Stars vs London United

Sunday 7 October 2018 - 5.00pm
East London will return home to UEL Sportsdock on Sunday evening to get their NBL Division Two regular season campaign underway in the back end of their weekend back-to-back. With a pool deciding game the night before, and their season opener in front of their home fans, this will be a very busy weekend for the All Stars!
While London United's Patrons Cup fate hangs in the balance, they will welcome the opportunity to get their regular season underway as they travel across the capital for this one. A week ago, in United's win over London Westside, Modestas Krasauskas was clinical from the field, en route to an efficient 22 points and the NBL Division Two Player of the Week award. Afra Khalil and Marius Talijunas have also had solid starts to the season, giving coach Daniel Szatkowski enough weapons to potentially take advantage of the All Stars having played the night before. 
Around the NBL
NBL Division Three
Entering just the second week of play, our Division Three sides will still be feeling out the new season. This weekend's action is highlighted by the South match-up between Team Solent Kestrels II and Bristol UWE Flyers II, who both won their opening games last week. Meanwhile their is a battle of the newcomers in the North as Sheffield Sabres host Calderdale Explorers.
WNBL Division Two
Having had to wait a couple of weeks to get their season started, our WNBL Division Two South teams will see their first action this weekend. Newcomers the University of Hertfordshire Wolves head across the border to face Cardiff Met Archers II, while fellow new side London 'South Bank' Thunder will travel to face Team Solent Kestrels II.
NBL Division Four
With a lot of lower-tier teams having been in National Cup action last week, this weekend sees a return to regular season play for the Midlands and South West leagues, while the North and South East divisions take to the floor for the first time.
Click the link below for full scores and schedules to follow this weekend's games: