NBL Division One

 Reading Rockets 84 v 94 Derby Trailblazers 

Saturday 6 October 2018 - 5.00pm
Reading Rockets got their season underway on Saturday as they dropped their opener to the visiting Derby Trailblazers. The Blazers were able to edge ahead in the early going, then capitalised on their momentum with an explosive second quarter performance. With the visitors leading by 15 points at the half, it was clear that Coach Alan Keane's side needed a spark after the half-time interval.
The Rockets would go on to narrowly win both of the quarters in the second half, but it wasn't enough to trim the Derby lead, who ran out as double digit winners. Trae Pemberton was impressive in the loss for Reading as he led all scorers with 30 points. Pemberton didn't get much support however, as there was a much quieter outing this week for AJ Carr who had 11, while Danny Carter was limited to just 10 points. Malcolm Smith continued his excellent run of form as he led the Blazers with 26 points, supported by 13 from Oli Stanley in his return from injury. Young academy forward Luke Ptak also had 13 points for the visitors.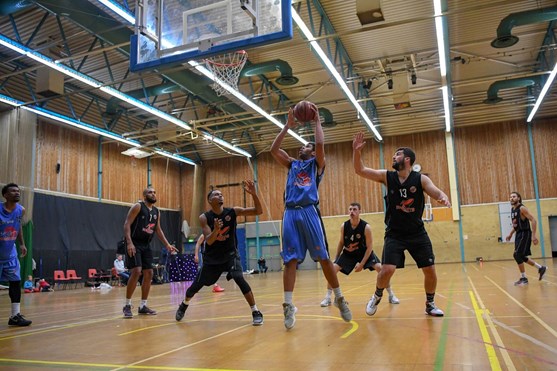 Oli Stanley finishes at the basket on his return to the Blazers squad after injury - Alan Mousley
Rockets' top scorer Trae Pemberton reviewed the game, "It was a rough game for us. In the first half, we didn't come out to play; they really brought it to us and built a 15-point lead at half time. That lit a fire under us for the second half and we performed better and made some shots. In the end, it was too much of a deficit but we've got to move from here." 
Talking about his time at Reading Rockets so far, Pemberton added: "It has been an unbelievable experience for me so far. It's a pretty young team, which is different for me but I love it. The town is great, the team and the atmosphere is incredible with a family feel; I fit right in."  
Derby Coach Matt Shaw was pleased to get the campaign off to a good start, "It was great to start the league campaign with a win, especially against a team like Reading on the road. I thought it was an impressive team win with lots of strong performances, but having Oli [Stanley] back from injury and playing so well was a huge bonus. I thought he defended the basket very well indeed."
Coach Shaw continued, "We managed to get some good scores in transition in the first half. Later in the game, Reading did a good job slowing us down. Maybe we played the scoreboard a little too much in the second half but still found ways to get it done down the stretch."
 Essex Leopards 77 v 84 Barking Abbey Crusaders 

Saturday 6 October 2018 - 6.00pm
The Leopards' return to NBL Division One didn't go quite as planned in their season opener, as they dropped this one to an impressive performance from a young Barking Abbey Crusaders side who shot 56% from behind the arc. A cagey start to the game saw the Big Cats and Crusaders trading leads, before the visitors took control late in the first period. The Barking lead would grow to 20 points midway through the third, but a late challenge from Essex was looming. The home side were able to tie the game up with around 4:00 minutes to play, but Barking had a second wind as they held on to take a narrow victory. 
The star of the show for the travelling side was point guard Ade Adebayo, as he dropped 35 points on 55% shooting, including going 4-5 from three-point range. In addition to his impressive scoring scoring output, Adebayo also added six rebounds. The only Barking player to join their floor general in double figures was back-court partner Chris Feeney, who contributed 10 points, five rebounds and three assists. Barking also had a spark off the bench as recent EABL Player of the Week, Nathaniel Powell, added nine points and two rebounds.
Essex were led by 18 points from Sam Newman, in an effort that included four makes from behind the arc, as he also added five rebounds and four steals. Chuck Duru was also a factor for the Big Cats in the loss, as he added 15 points and five rebounds, while there was a double-double performance from big man Lee Hodges who chipped in 12 points, 11 rebounds and two blocks. Luke Mascall-Wright also added 12 points to round out the Leopards scoring, while adding nine rebounds and six assists.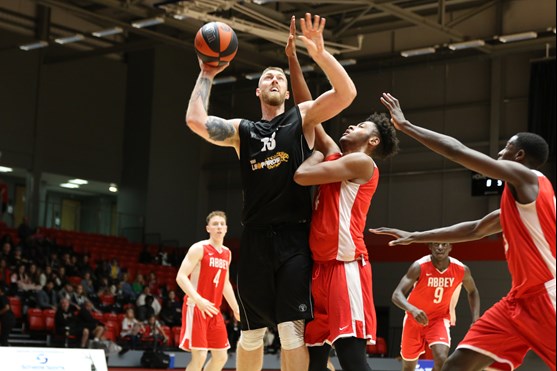 Leopards' big man Lee Hodges goes up against Nathaniel Powell in the post - Nick Winter
 Bradford Dragons 103 v 91 Nottingham McDonald's Hoods 

Saturday 6 October 2018 - 6.15pm
Bradford Dragons took the spoils in their season opener on Saturday night as they continued to prove that they will be a tough team to handle on the offensive end, putting up their first triple digit game of the early season after hitting the 94 point mark against Manchester last weekend. An early scare by the Hoods had them holding a narrow lead after the opening exchanges, but the Dragons settled into the contest and were in control by the end of the first quarter, leading 26-16. The West Yorkshire side would continue to control the game, behind strong play in the second period from big man Ricky Fetske, as their lead never dropped into single digits. That was until a run to end the third by the Hoods which cut the lead to just two points, behind an offensive explosion of a 32-point quarter. However, Coach Mellor's side rallied and were able to close this one out, extending their lead back out to double figures as Drexler Clark had his way on the offensive end. 
Nottingham were led by new signing Cole Welle, who paced his side with 21 points and seven rebounds in the loss. Meanwhile, guard Luke Mitchell added 20 points and eight assists, while there was a 13 point outing from David Watts before his exit from the game due to injury. For the Dragons, the one-two punch of Drexler Clark and Ricky Fetske was tough to handle, as they combined for 62 points. Clark was highly efficient as he shot 14-18 from the field en route to 33 points, also adding seven assists, while Fetske shot 10-15 as he had 29 points and five rebounds. Rihards Sulcs also scored well in the Dragons' effort, chipping in 19 points on 8-13 shooting, to go along with five rebounds, five assists and two steals.
Hoods' Coach Ryan Westley commented, "We were made to pay for some bad offence by a strong team, allowing them too many fast break points. Plenty of positives to take from the game though, Welle fitted in nicely for his first run and we showed signs of what we can do when we click. Tintin (David Watts) will need a couple of days off, but hopefully he'll be back for next week."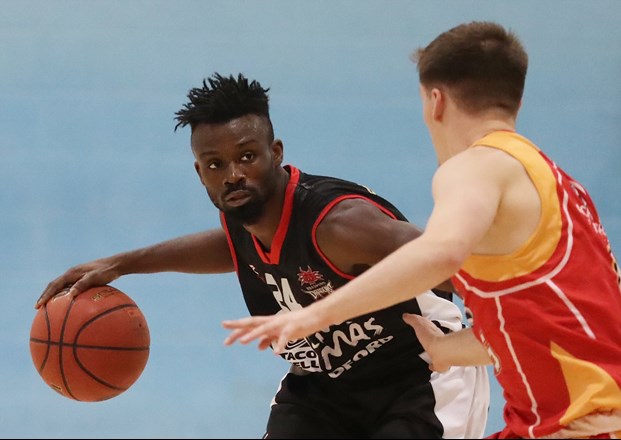 Drexler Clark surveys the court en route to 33 points for Bradford - Alex Daniel Photography

 Hemel Storm 102 v 105 Worthing Thunder 

Saturday 6 October 2018 - 7.00pm
Another offensive showcase took place on Saturday night as the scorers will have struggled to keep up with the rapid pace of this match-up! A rematch of the exciting NBL Division One Playoff Final from last campaign, Worthing again took the spoils, leading for most of the contest despite numerous runs from the home side. A high tempo start to the game saw the lead exchanged, before Worthing were able to hold a narrow lead. A 28-31 first quarter showed that offense was the flavour of the day, as Zaire Taylor controlled proceedings early on. The Thunder would lead for the rest of the half, until the home side stole the lead as the buzzer sounded for the half-time break.
The visitors would come out of the dressing room with a renewed focus on the defensive end, limiting Hemel to just 14 points in the quarter, grabbing a double digit lead heading into the final ten minutes. A number of efforts to get back into the contest down the stretch weren't enough for the home side, as they even had a chance to send it to overtime, but Jack Burnell couldn't connect from behind the arc. 
An impressive offensive display for both sides kept the scorers table busy, with some impressive stat-lines to mention as the Thunder's Zaire Taylor and Alex Owumi led all scorers with 28 points apiece. Taylor added nine rebounds, six assists and five steals; while Owumi pulled down five boards to go with his scoring effort. Forward Tom Ward played a full 40 minutes in the high tempo contest, as he added 19 points and four rebounds, while there was a spark off the bench from Kevin Moyo who chipped in 14 points. 
Blayne Freckleton was the high point man for Hemel in the loss, knocking down three triples on his way to 20 points, eight rebounds and six assists. Both Leome Francis and Levi Noel flirted with double-double numbers, as Francis contributed 19 points and seven rebounds, while Noel had 17 points, nine rebounds and five assists. Captain Bode Adeluola was another who kept the scoreboard ticking over, adding 18 points, three assists and two steals.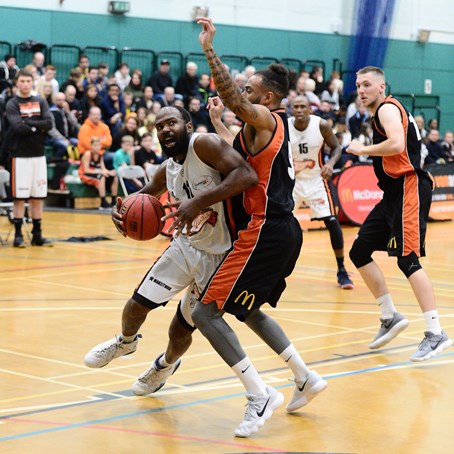 Zaire Taylor gets to the basket in Worthing's win over Hemel Storm - Graham Hodges

 Team Newcastle 66 v 72 Loughborough Riders 

Saturday 6 October 2018 - 7.00pm
NBL Division One champions from a season ago, Loughborough Riders had a scare on the road in their regular season opener, as a late run from Team Newcastle nearly stole the game. The hosts led in the early going, behind strong starts from Ben Seipt and Eric Stafford, however they couldn't sustain it as the Riders crept ahead after the first ten minutes. The Riders lead would continue to grow throughout the second and third quarter, with the visiting side holding Newcastle to just nine points in the third period. Newcastle would flip the script in the fourth, as an early layup from David Forsyth and two free throws from Alex Roberts was all the visitors could muster in the final stanza. However, the visiting Riders managed to just hold on in this one, taking home a win that will leave Coach Mark Jarram wondering what happened to his side down the stretch. 
Eric Stafford continued his hot start to the season, as the US guard knocked down four from behind the arc on his way to 21 points, while stuffing the stat-sheet with 10 rebounds, two assists, two steals and two blocks. David Hanson came off the bench to add 20 points, four rebounds, four assists and two steals for Newcastle. Alex Roberts led the visitors with 14 points despite struggling from the perimeter, while Riders newcomer Giannis Panaretakis added 12 points and six rebounds off the bench.

 Team Solent Kestrels 71 v 69 Thames Valley Cavaliers

Saturday 6 October 2018 - 8.00pm
The final game on Saturday night that wrapped up the day's NBL Division One action was a battle on the south coast between last campaign's NBL Division One runners-up and the newly promoted Thames Valley Cavaliers. The game really went back-and-forth, with the Cavs in command for much of the contest, as the game eventually came down to the final possession. The Kestrels edged ahead early, as Elliott Dadds started the game well for the hosts. However, the travelling Thames Valley side would rally in the second behind scoring from Abdoulaye Sylla and Martelle McLemore - only for Solent to regain the lead heading into the half. The Kestrels would then lead for much of the second half, fending off runs by the Cavs, until Thames Valley were able to take the lead with 3:10 to play as Prince Lartey knocked down a jumper. The lead would go back-and-forth throughout the final couple of minutes, until Andre Baptiste tied it at 69 apiece 1:36 to play. The man to step up to the moment was none other than Herm Senor II, as the Kestrels guard shook off his defender to knock down the game winner. McLemore had a chance to win it, but his three-point attempt was off the mark, as the Cavs headed home in defeat.
Take a look at Herm Senor II's game-winner below, courtesy of Team Solent Kestrels on twitter:
McLemore was impressive throughout the contest, pacing all scorers with 27 points, while adding seven rebounds. Baptiste would join him in double figures, contributing 13 points and five rebounds in the loss. The man of the moment, Herm Senor II, led his squad with 23 points, six rebounds, nine assists and two steals, while Jon Averkamp was again critical with 16 points, eight rebounds and three assists. Elliott Dadds' started hot in the game, as he also got into double figures with 12 points, four rebounds and six assists. 

Leicester Warriors 72 v 68 Manchester Magic

Sunday 7 October 2018 - 4.30pm
The final game of the first weekend of NBL Division One action saw Manchester Magic travel to Gateway College to face the Leicester Warriors. A sluggish start to the game saw the visitors fall behind, as Warriors' US guard Brian Orr had his way early on. An eight point first period by the travelling Magic was not what Coach Aurimas Verbukas would have wanted, as he lit a fire under his side headed into the second quarter. Manchester erupted for 27 points in the quarter, as they dug themselves out of their hole to take the lead at the half-time interval. 
The Magic would continue their solid offensive output coming out of the half, and would lead by 17 midway through the third, with all things looking like the game would go their way. It wasn't to be however, as little by little Coach Karl Brown's Warriors side battled their way back into the contest, chipping away at the Magic lead - primarily at the foul line as Manchester struggled with foul trouble.
Daniel Pilkington would give the Magic a 65-67 lead with 1:10 to play as he split a pair at the line, before Loick Pouale fouled Martyn Gayle behind the arc to foul out of the contest with 35 seconds to play. The frustration boiled over for Pouale, who was awarded a technical foul, so Gayle stepped up the foul line to attempt four free throws. After making the first three, to give Leicester a 68-67 lead, the final free throw would rim out and Joshua Pollock would swoop in to grab the offensive board for Leicester. Pollock found Orr who was quickly fouled by Josh Houghton, as the Magic shooting guard also fouled out of the game, and the US guard stepped to the line and split the foul shots.
With Leicester leading 69-67, Coach Verbukas used his final timeout to draw up a play. The play wasn't needed as Kaphel Ulett-Waul gathered the inbounds pass, only to be fouled by an over zealous Martyn Gayle who was looking for a deflection. Ulett-Waul stepped to the line with a chance to tie the game, but split the pair, leaving the Magic chasing the game. Orr and Pakadashe Chingombe would hold their nerve at the line down the stretch, as the Warriors held on to take the contest. 
You can watch the exciting end to the contest below, courtesy of Leicester Warriors' twitter feed:
Manchester were lead by 14 points and four rebounds off the bench from Loick Pouale, while Magic skipper Daniel Pilkington added 13 points and 10 rebounds. Andre Gayle was effective going the rim as he added 12 points and five rebounds, while Josh Houghton had 11 points and six rebounds, but struggled looking after the ball as Leicester forced him into eight turnovers. US import big man Jonathan Barnes would add eight points and 11 rebounds for the visitors.
Brian Orr was effective throughout the game for the Warriors, leading all scorers with 27 points and adding eight rebounds, two assists and two blocks. Martyn Gayle added 12 points and five rebounds, while Pakadashe Chingombe struggled from the floor but made the Magic pay at the foul line en route to 11 points, five rebounds and five assists. 
WNBL Division One

 Oxford Brookes University 47 v 78 Team Birmingham Elite 

Saturday 6 October 2018 - 1.30pm
It has not been a warm welcome to life in WNBL Division One for the new-look Oxford Brookes University squad, who dropped their second game of the early season to the visiting Team Birmingham Elite. A good start for the West Midlands side saw them take an early lead, but a more competitive second quarter will have given Coach Zach Meekings side hope in the contest. However, Team Birmingham would turn the screw in the second half, narrowly winning the third quarter, then limiting Oxford to just seven points in the final ten minutes as they ran away with the game. 
Hannah Todd led OBU with 11 points in the loss, while Marta Artiles Perez and Alba Maria Cedillo-Anether would add nine points apiece. Lucy Buxton her Birmingham squad with an impressive 21 point performance, and was well backed up by Sandra Hewakowksa who added 16 points, while Jessica Cooper chipped in 13.

Bristol Academy Flyers 69 v 42 Sevenoaks Suns II

Saturday 6 October 2018 - 2.15pm
With both sides heading into this one coming off narrow losses last weekend, the Flyers and Suns were looking to pick up their first wins and get their WNBL Division One campaigns going. However, the home side wanted no repeat of their disappointing result last weekend, as they led from tip to buzzer in this one to even out their record at 1-1. 
The Flyers had an impressive first half, with multiple players getting on the scoresheet as they found their rhythm as a team. With Bristol holding a double digit lead at the half, the game wasn't quite out of reach for the Suns, but Coach Gareth Till's side locked in defensively to hold Sevenoaks to just 17 second half points and put an end to the contest. 
Katie Bennett was impressive in the loss for the Suns, pouring in 21 points on 7-11 shooting, while adding four rebounds, two assists and two steals. With not a lot of scoring coming off the bench or from Bennett's supporting cast, the next highest tally was nine points from Ellie Hutchinson, who also added two rebounds and an assist. Cristina Bigica came off the bench for the Flyers to lead her side with 17 points, six rebounds, two assists and two steals, while Hannah Wallace and Flo Ward chipped in 12 points apiece.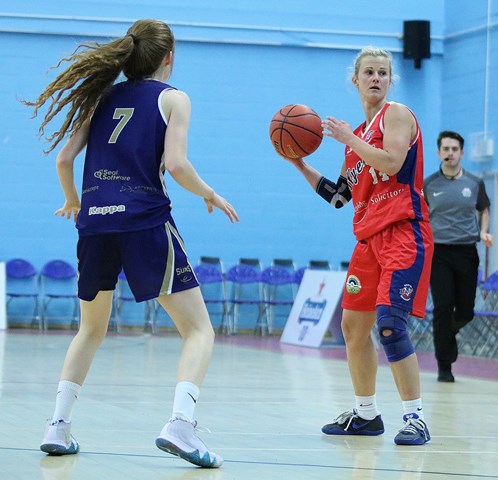 Liisa Juul picks out a pass for the Flyers while guarded by Katie Bennett - B.East Photography

 Reading Rockets 77 v 44 Barking Abbey 

Saturday 6 October 2018 - 2.30pm
After having grabbed a clutch win over Bristol to get their WNBL Division One campaign off to a good start, Barking Abbey travelled to Reading for their first road game of the season. The Rockets put an end to this contest early on, behind a 25-7 first quarter that will have left the East London side reeling. Barking would bounce back to be much more competitive in the second and third periods, but Reading then found their groove again down the stretch, sending the young squad back to the capital with a 19-3 final quarter. 
Coach David De La Torre Sanchez got an impressive 21 point contribution from academy stand-out Paula Romero Tarrega, while Monica Herranz De Antonio added 15 points. Maria Angeles Valdeolmillos continued her form as a scoring threat in WNBL Division One from a season ago, as she added 14 points in the Rockets win. Sade Orija had another good performance for Barking as she led her team with 14 points, supported by 10 points from Brenda Kipewu - who was seeing the first action against her former club. Karla Powlesland also added nine points for the visitors. 
Rockets' captain Maike Delow summarised the game, "Our performance was a good start to the season, and we can be proud of the game we played. There is still a lot of potential to improve. We will enjoy this moment but will put in another week of hard practice to be even better next weekend."

Team Solent Kestrels 79 v 84 Ipswich

Saturday 6 October 2018 - 3.00pm
After a single point victory on the road at Sevenoaks Suns II last weekend, Team Solent Kestrels returned home for a match-up with Ipswich who had gotten off to a hot start against Oxford. In a game where the two sides combined to shoot just 15% from behind the arc, this was a game decided in the paint and at the foul line. Ipswich would be relentless in attacking the Solent basket, drawing contact en route to 31 trips to the line throughout the contest. 
The game went back-and-forth as Solent led early on, only for Ipswich to end the first quarter on a hot streak as they poured in 28 points. The Kestrels would then refocus defensively and limit Ipswich to just 11 second quarter points, as they took a five point lead into the half-time interval. The home side would lead the contest for the entirety of the third, until a run to start the fourth gave the visitors an advantage that they would not relinquish. Limiting the Kestrels to 10 points in the final stanza did the trick for Ipswich, as they got the stops they needed to take the game.
The home side were led by 22 points from Geena Gomez, who added three rebounds, five assists and two steals. Meanwhile, Earleesha Jackson and Andrea Kurkowski also played their part in the losing effort for Solent, scoring 17 and 14 respectively, while grabbing six rebounds apiece. Jodi Jerram made her season debut for the Kestrels off the bench, as she chipped in 11 points and two assists.
Harriet Welham continued her offensive onslaught for Ipswich as she dropped 31 points in the victory, despite going 0-11 from behind the arc, adding 13 rebounds, three assists and three steals. Esther Little contributed 17 points and eight rebounds, while fellow academy stand-outs Charlotte Redhead and Cameron Taylor-Willis had 12 and 11, respectively. Danielle Cazey played the full 40 minutes of the contest and had 13 points, two rebounds and two assists.
Kestrels' Coach CJ Lee remarked after the game, "It's frustrating to lose a game when we played so well in three out of four quarters. However, allowing Ipswich to score 28 first quarter points and letting Harriet Welham to get 31 points makes winning any game hard work. We need to close out games with the same level of confidence and patience that got us the lead. Nevertheless, we're still learning. There was definitely more positives than negatives, and we'll bounce back very quickly."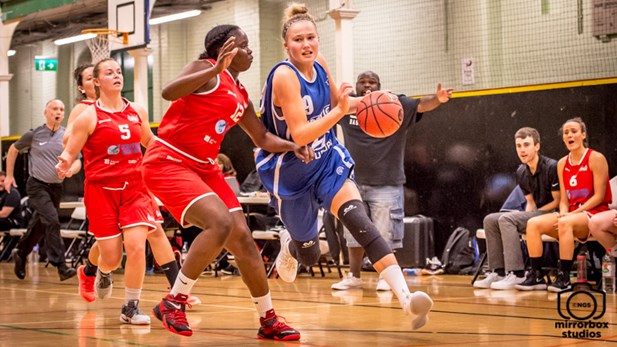 Esther Little goes to the basket for Ipswich - Mirror Box Studios

 Southwark Pride 51 v 54 Loughborough Riders 

Saturday 6 October 2018 - 3.30pm
In the final game of WNBL Division One action, Loughborough Riders travelled down to London to face Southwark Pride, with many players matching up again after facing off in the NBL Under 18 Women Playoff Final back in May. A game of runs saw Riders take an early lead by limiting Southwark to just eight first quarter points, then building on their advantage in a much more free-flowing second period. Coach Jackson Gibbons side came out with a renewed defensive energy out of the half, restricting Loughborough to just four points in the third stanza. The Riders would find their rhythm again, just in time, as a better offensive output in the fourth led them to victory, as the game came down to the wire. 
Maya Hycienth and Holly Davies each paced their sides with 17 points, as Hyacienth was backed up by nine points from Amelia Watkins for the Pride, as Esther Oluade added seven. Davies' effort would be supported by her fellow Riders' guards, as Hannah Dawson contributed nine points and Imogen Cook chipped in with six. 
Patrons Cup

Myerscough College 75 v 86 Liverpool 

Saturday 6 October 2018 - 3.30pm
Live Stats (incomplete)
A winner-takes-all encounter in Pool A of the Patrons Cup took place at Myerscough College on Sunday afternoon, as the newcomers to NBL Division Two faced off with Liverpool. Following the withdrawal of Lancashire Spinners, Pool A became a head-to-head between the two remaining North West sides, with a semi-final place reserved for the victor. 
A high tempo first quarter saw both teams come out of the gates with confidence on the offensive end, as the young hosts took the opening period , 27-25. Coach Delme Herriman's side would then clamp down defensively to limit Myerscough to 13 in the second quarter as they built a five point half-time lead. Out of the half-time break, Coach Neal Hopkins' side allowed Liverpool to continue their momentum as they built on their lead heading into the final period. A strong final stanza from Myerscough couldn't close the gap, as Liverpool maintained their double digit cushion and booked their place in the Patrons Cup semi-finals.
David Ulph led all scorers with his 28 point outing for Liverpool, while Mark Rangeley added 22 points and Kenny Ogunneye chipped in 13. Scottish Commonwealth Games international Callan Low led the effort for Myerscough, with 19 points, as David Walsh contributed 17 and Mate Okros added 13. 
 📺 | Watch back all 6⃣ of @CalLow11's 3-pointers from his 19-point performance against Liverpool. #MySco pic.twitter.com/ppdzj7yGqE

Sussex Bears 70 v 74 London Greenhouse Pioneers
Saturday 6 October 2018 - 5.00pm
Sussex Bears moved to 1-1 in Pool C of the Patrons Cup on Saturday, as London Greenhouse Pioneers made the trip to the south coast and stole this one on the road at Sir Robert Woodard Academy. The home side got the better of the early exchanges, but an early scoring outburst was matched by the Pioneers who tied it up at the end of the first. A dominant second quarter saw Sussex take a commanding double digit lead into the half, behind strong play from Joe Carter & Tomas Seduikis. A strong message from Predreg Krneta at half-time got the Pioneers fired up to deliver a blow in the third, as they began to cut into the Sussex lead.
The lead then went back-and-forth throughout the final stanza, as Milos Sefcic tied things up at 70 apiece with 2:19 on the clock. Francesco Rinaldi followed this up on the next possession to give Pioneers a 70-72 lead, as Sussex would struggle to score down the stretch. Rinaldi hit another one to extend the lead to four, as the Bears went scoreless in the final 2:44 of play to give the game away. Pool C will now be decided when Greenwich Titans travel to City Sport to face the Pioneers, a game that is awaiting a rescheduled date at the time of writing.
Tomas Seduikis led the Bears with 21 points and 11 rebounds, while James Felstead added 10 points, 10 rebounds and five blocks. Joe Carter also added 11 points and four assists in the Sussex loss. Meanwhile, Francesco Rinaldi had the crucial baskets to win the game for the Pioneers, as he was effective all game long - playing the full 40 minutes and leading all scorers with 25 points, seven rebounds and five assists. Kyle Diaz added 12 points, five rebounds, four assists and four steals; while Max Hufschlag had a double-double performance of 10 points, 10 rebounds, three assists and two blocks. Milos Sefcic was also a spark off the bench as he chipped in 11 points, five rebounds, four assists and four steals.

Ipswich 77 v 66 East London All Stars

Saturday 6 October 2018 - 5.30pm
Ipswich booked their place in the Patrons Cup semi-finals as they went 2-0 in Pool B with victory over East London All Stars. The Suffolk side led from tip to buzzer as they controlled the matchup, despite numerous runs made by East London. A 28-12 first quarter gave Ipswich a lead they would never relinquish, and they extended the margin to 17 at one point in the second period. The lead then fluctuated throughout the contest, with the All Stars cutting it to just five with six minutes to play, but a couple of crucial baskets from captain Colin Dockrell was enough for Ipswich to hold them off.
Dylan Whitbread came off the bench for Coach Dave Greenaway's side to lead his squad with 17 points, seven rebounds, three assists and five steals; while the young back-court pairing of Aaron Badibo and Jonathan James again had crucial impacts. James led the starters with 16 points and seven rebounds, despite struggling with 11 turnovers, with Badaibo adding 12 points, three rebounds and two steals. 
Meanwhile, Ipswich were led by 18 points from Eivydas Aleksa, who also added seven rebounds, three assists and two steals. Captain Colin Dockrell supported well with 15 points, including four three-pointers, chipped in seven rebounds and two steals. The production from the younger end of the roster included 14 points from Ben Winter, while Veron Eze contributed 11 points, four rebounds, two assists and three steals. Ethan Price was a monster on the boards, as his 13 rebounds went along with nine points and two steals.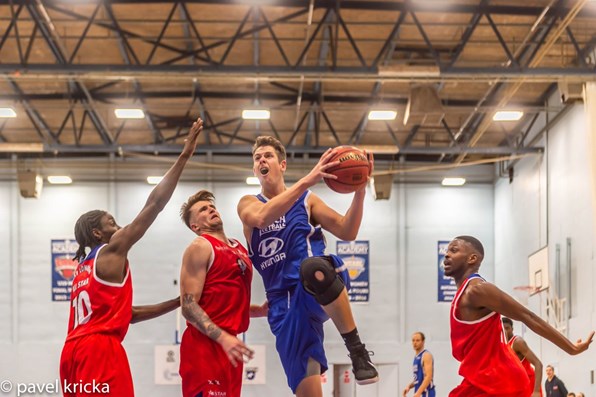 Ipswich captain Colin Dockrell attacking the basket - Pavel Kricka

 Westminster Warriors 88 v 73 London Westside 

Saturday 6 October 2018 - 5.30pm
Live Stats (incomplete)
Pool D of the Patrons Cup also came to a conclusion this weekend, as reigning Patrons Cup champions Westminster Warriors got the victory they needed to book their place in the semi-finals. London Westside needed a big performance to reverse their fortunes and keep their hopes of progressing alive, and they started the better of these two sides. A narrow lead after quarter one for the visitors was extended in the second as they headed into the half-time break up seven points. Coach Jon Johnson had words with his side, whose renewed focus on defense got them back into the contest, holding Westside to just 11 points in the third. A strong scoring output in the fourth gave Coach Johnson's squad a double digit lead as they took this one going away from Westside. 
Westminster were led by 12 points from Philip Lartey, while Jon Johnson and Justin Hitchman added 11 and 10, respectively. Theo Deleligne had 22 points for Westside to lead all scorers, while Ayodeji Jegede added nine and Stefan Campbell had eight. 
NBL Division Two

 East London All Stars 71 v 90 London United

Sunday 7 October 2018 - 5.00pm
A disappointing loss on the road at Ipswich on Saturday night had the East London All Stars return home in search of better fortunes in their NBL Division Two league opener. The All Stars would shake off the fatigue from their back-to-back and started well in this one, leading early on and competing well with a strong London United side. A flurry of scores from United midway through the second quarter, led by player-coach Daniel Szatkowski, gave the visitors the momentum and a lead at the half. Despite efforts to cut the deficit, United kept East London at arms reach, and a solid run to start the fourth ended all hopes of a comeback, as United took the spoils. 
Jonathan James was again in good form for the hosts, as his 18 points led the All Stars' charge. He was well supported by Seun Bashua-Olaofe who added 16 points, seven rebounds and two blocks, while going perfect from the field. Dylan Whitbread and Aaron Badibo also chipped in nine points apiece for the home side.
Meanwhile, it was player-coach Daniel Szatkowski who led his side in the win, with 18 points as he went a perfect 7-7 from the floor. Szatkowski's scoring output was matched by Dovydas Rudik, who also added two steals. Modestas Krasauskas contributed 16 points, while Afra Khalil and Marius Talijunas added 11 and 10, respectively. 
Around the NBL
NBL Division Three
Team Solent Kestrels II improved to 2-0 in Division Three South with their 94-53 win over Bristol UWE Flyers II, behind 31 points from Itchen College star Matt Hughes. Meanwhile, Luke had 23 points for Sheffield Sabres as they defeated Calderdale Explorers 88-60 in a battle of the newcomers to Division Three North. 
WNBL Division Two
WNBL Division Two saw its first action of the season this weekend, as the South division got underway. University of Hertfordshire Wolves, newcomers to the WNBL, won a close one on the road at Cardiff Met Archers II, as Naomi Turner led the way with 27 points in the 77-83 win. Fellow new side London 'South Bank' Thunder also got their WNBL off to a good start with a 59-75 win on the road at Team Solent Kestrels II, led by 16 points apiece from Elisha Moore, Vanessa Akra and Latisha Powell.
NBL Division Four
The Division Four regular season got underway in the North division, as Doncaster Danum Eagles won a thriller 91-90 against Stockport Falcons, spurred to victory by Oliver Hylands' 28 points.
Click the link below for full scores from this weekend's games: