Tributes have been paid to popular coach
 and player
 Joe Grainger, who sadly passed away last week.
Colleagues and friends have been honouring the Gloucester Saxons man, who died aged 49 after a long battle with illness. 
Former Manchester Giants stars have also been remembering Grainger from his time as a player and assistant coach with the club during the 1990s, when his brother Panji starred for the BBL team. 
Joe played for Gloster Jets and Swindon Sonics and progressed as a junior England international before focusing on coaching and volunteering.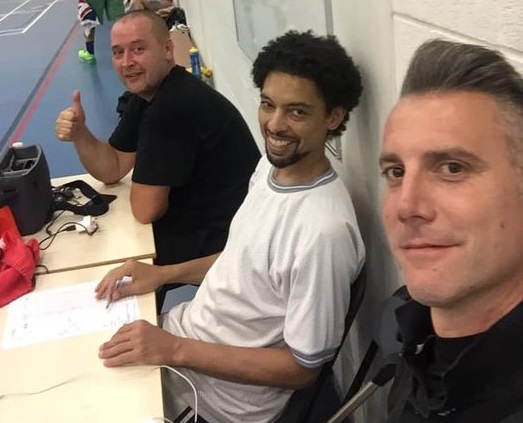 Joe Grainger (centre) was a popular member of the Gloucester Saxons club
Panji said yesterday: "My brother Joe Grainger passed away this afternoon. Joe had been battling leukemia for a while and had recently succumbed to Covid-19. As a family we are taking our time coming to terms with today's sad event. 
"Given the restrictions on travel and movement it makes this ever more challenging, but we will find a way to remember the positives and continue to move forward. Joe was and will always be remembered as a character that left a memorable footprint on everyone.  
"Anyone that met Joe will always have a fun story to tell." 
Unique and widely loved
Gloucester Saxons chairman Darren Cooke said: "This week we lost a unique and widely loved member of our basketball family. 
"Joe Grainger most recently served the game as chairman of Gloucester Saxons.  Not only that but Joe co-ordinated Glozball, training of officials and coaches, matches for multiple junior age group teams and so enabled thousands of court hours for players from Gloucester and beyond. 
"We will celebrate all that Joe brought to our lives properly very soon. In the meantime, our thoughts go out to Joe's family, close friends and every life he touched. 
"Rest easy Joe, we've got this." 
Saxons clubmate Danny James said: "He was the most inclusive coach and person I've ever worked alongside, at the outdoor court he would encourage onlookers to get involved, and would create teams to involve everybody. As a coach he would engage with everybody from those just picking up a ball to those on the player pathway. 
"Joe was an inspiration to many and was always willing and ready to chat about the game he loved so much," 
He led by example
Former Gloster mentor Paul Christensen added: "Despite attending a school where no basketball was played, Joe was an outstanding member of the Gloster Jets teams for a number of years, and captained the team in what was then the National Junior League in 1978-9.  He was always determined to make the very most of his ability.   
"His university place took him to the North West, playing his final junior year at Ellesmere Port, then moving on to Bury and Manchester as player and assistant coach. He led by example on court and had the highest expectations of himself and others, whilst having a very dry sense of humour." 
Friend and Basketball England director Graham Biggs said: "Joe was a friend, a baller and a legend that kept going through adversities. Even when floored by illness, Joe would still be opening up and making it possible for the next generation of ballers to show up in Glozball Central Venue Leagues all weekend.  
"His taunting of my practicing free shots with 'he's a netball player' still echoes. 
"All at Basketball England extend our condolences to Joe's family and friends."