To recognise the stand-out players and performances each week, NBL observer Chris Hughes from basketball website Rebound picks his team of the week.
Chris, also a YouTube host and commentator, will once again casts his eye over the latest batch of performances in D1M and the L Lynch Trophy before picking out his top five players from across the league.
You can also check out the WNBL Team of the Week, put together as always by FocusHoops' Darren Paul!
Have your say on this week's choices and give a shout-out to the players you think deserve one using the hashtag #NBL2021. Don't forget to tag us!
Twitter: @NBLengland / @Rebound__
Facebook: @NBLengland  / @ReboundNBL
Instagram: @nblengland / @reboundnbl
How it works
The Basketball England NBL Player of the Week goes straight into the starting line-up.
The other four players are picked with the following factors in mind:
Efficiency
Stats
Team and opposition strength
Periods of influence in the game
The Rebound team of the week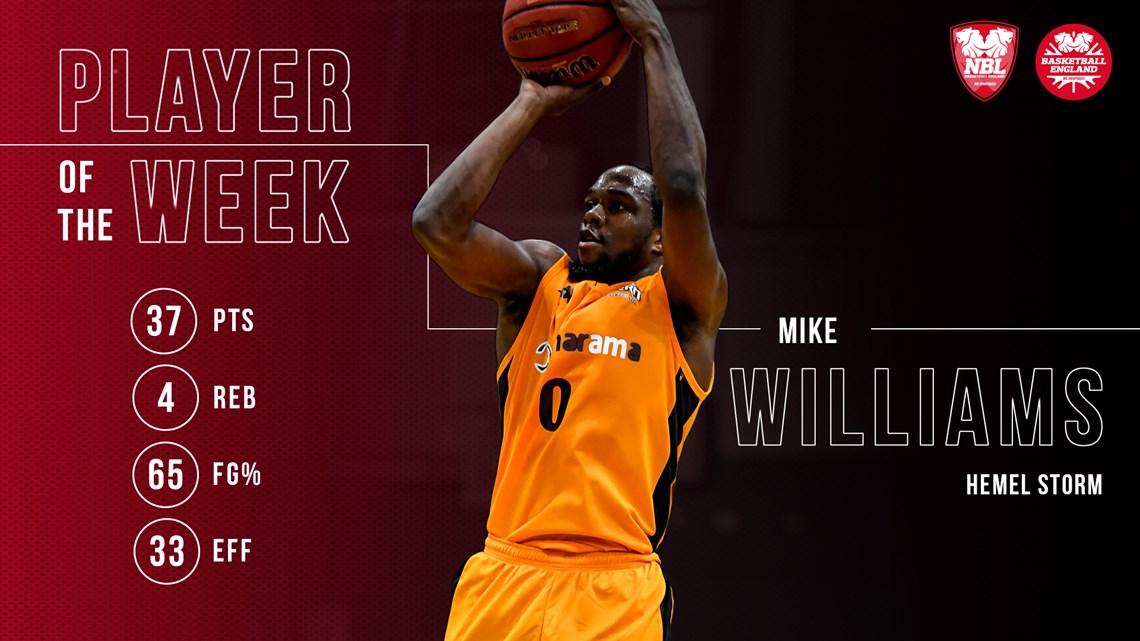 Mike Williams Jr – Hemel Storm, forward
37 POINTS, 4 REBOUNDS, 2 ASSISTs, 33 EFFICIENCY
Mike Williams Jr was going for a number of his own NBL records this weekend with an impressive performance against Reading.
The American tied his single game point high with 37, almost matched an impressive mark for three-pointers made, whilst still producing his 2nd best ever FG% in a NBL D1 game.
Last season against Reading, Williams made a season best eight triples with an impressive 72 3pt%. This weekend the same opponent got off lightly by comparison, though the talented guard still nailed five triples and shot 66 3P%.
The former Rutgers' graduate showing that he means business throughout Hemel's opener, putting on a master class in shooting that resulted in a 21-point Storm lead by half time.
Reading did produce a 33-19 third quarter to close things up but it wouldn't be enough to overturn the advantage built by Williams and co. The Player of the Week's shots and assists accounted for 12 of those 19 third period points to keep Hemel in front.
Reis Pinnock – Reading Rockets, guard
29 POINTS, 7 REBOUNDS, 13 ASSISTS, 1 STEAL, 35 EFFICIENCY
With the greatest respect to Reading Rockets, they were always going to be in for a tough afternoon when last week's Team of Week star O'Showen Williams hobbled off injured in the opening minutes against Hemel.
Aside from the experience of Leome Francis and Chuck Duru, a young but albeit talented Rockets team had already slipped to a 21 point deficit by the half.
That left an opportunity for someone to step up for coach Keane's side and during the Rockets' 33 point outburst in the third quarter, guard Reis Pinnock was in team takeover mode.
Posting seven points and six assists in 10 minutes, Pinnock's efforts contributed 21 of the 33 points Reading scored as he missed just a single field goal throughout the second half.
A fourth quarter stat line of 12p/2r/3a/1s was also an impressive effort, especially for a guy that played every minute of the game.
Kyle Jimenez – Loughborough Riders, guard
13 POINTS, 10 REBOUNDS, 14 ASSISTS, 1 STEAL, 1 block, 29 EFFICIENCY v Leicester (L Lynch trophy)
I had to specify the game here as this weekend Kyle Jimenez knocked down his second triple-double of the week!
It was tough to decide which performance to add to the starting five but the midweek performance just about trumps this weekend's effort due to better all-round shooting and a block to start a highlight play.
The block came at a pivotal time for Loughborough as it was a two point game at the time and both teams had been trading buckets. Following the block, Jimenez then raced down the court to assist an Mayowa Oloke dunk. The basket would kick start a 6-0 run up to half time, the second biggest streak for the Riders in the game.
The fourth quarter saw Loughborough's biggest run (7-0), and Jimenez was once again heavily involved. With two points, a rebound and a pair of assists, that output gave the hosts an eight point advantage with just over four minutes on the clock. That was big production in a tight contest. 
Ronald Blain – Team Newcastle University, forward
24 POINTS, 13 REBOUNDS, 1 ASSIST, 5 STEALs, 1 BLOCK, 31 EFFICIENCY
Ronald Blain came off the bench for Newcastle this weekend but played so well he hardly went back, clocking up just over 32 minutes of court time in a close win over Leicester.
As the Warriors moved into a narrow lead late in the final quarter, Newcastle needed to dig deep and find a way back. Trailing by four at 76-72, a 12-0 run by the Knights sealed the 84-76 victory.
Blain contributed six points and a pair of boards down the stretch to help his side get the W and move to 2-0. If he keeps impressing off the bench, he may well get a start sooner rather than later.
Through two games this season, Blain is pretty much averaging a double-double with stats of 21p/9.5r/1.5a/1b. It's early days but he is already proving that he is likely to be a dominant forward at both ends of the court for coach Elderkin's side, and potentially a name we will see on the D1M stat leader boards for points, rebounds and blocks.
Greg Poleon – Hemel Storm, forward
20 POINTS, 10 REBOUNDS, 5 ASSISTS, 2 STEALs, 28 EFFICIENCY
On Saturday, the former Pace University man enjoyed an impressive performance to kick start his second year in the NBL.
Poleon was an impressive force in his debut campaign of 2019/20 and it shouldn't have been a surprise to see him get another double-double against Reading. In eight of his previous 10 D1M games prior to this weekend, Poleon has put up a double-double.
What also impressed me from Saturday's performance was the forward's ability to create for his teammates, matching last season's high of five assists. He did that whilst still still shooting a solid 64% from the floor. Quite the all round performance from the big man.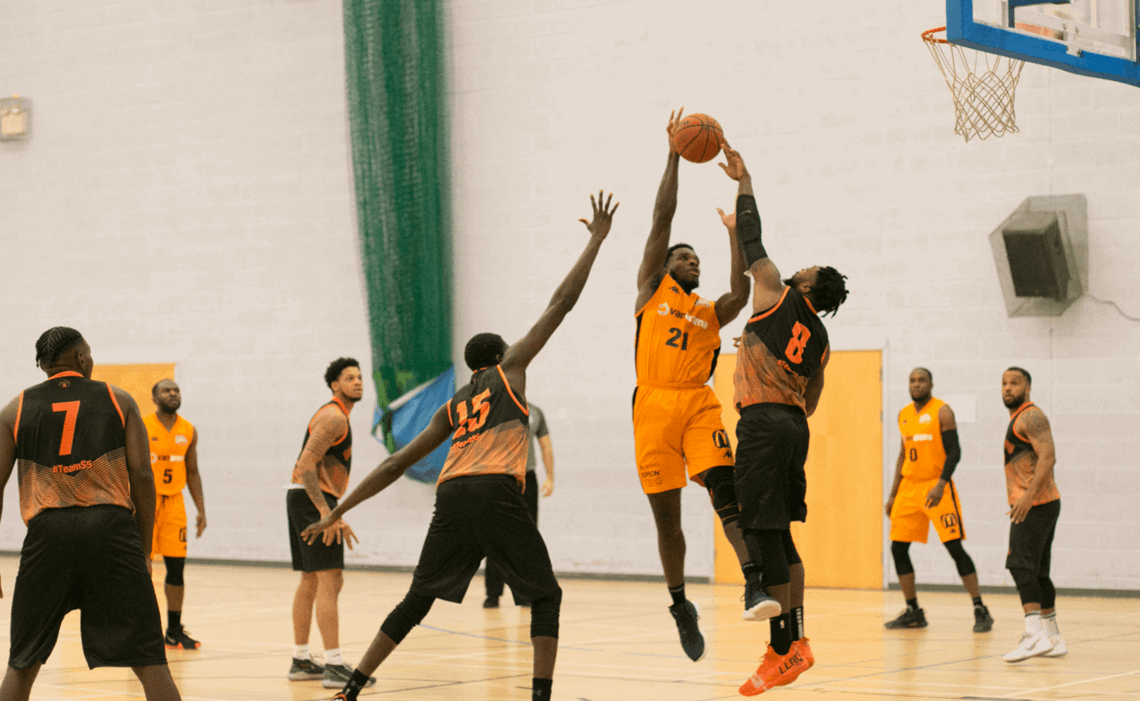 Team basketball
Raining threes in Reading!
Jack Burnell is unfortunate not to make the Team of the Week after going 6-8 from 3-point range this weekend. He wasn't the only one firing for Hemel though, Mike Williams went 5-8 and Levi Noel went 2-5  in their win over Reading.
As far back as Basketball England's stat database goes, Burnell has only ever had one previous game with six triples, that was at the start of last season against Liverpool when he went 6-10. An impressive effort from the talented shooter!
Clutch performance from Newcastle
We warned you last week, and I quote, "US import Ronald Blain looks like one to watch, provided 18 points off the bench whilst adding athleticism and flair to a side that averaged over 20 fast break points this weekend."
Newcastle once again enjoyed over 20 fast break points in their win against Leicester this weekend, continuing their streak. As recognition for that effort, honourable mentions need to go to David Moya, Charles Smith, Emmanuel Kagbenle and Brandon Federici who all contributed to varying degrees at both ends of the court.
After two games, Newcastle are currently joint-first in the standings with Solent and one of just four remaining unbeaten teams in D1M. Not many people would have predicted that at the start of the season!
Who's next up for Newcastle I hear you ask? None other than the Kestrels of course, the back-to-back defending champions. Still, could Newcastle go 3-0?
Honourable mentions
Charlie Brown (DTB) – 6P/7R/16A/3S/29EFF
Jack Burnell (HEM) – 20P/2R/4A/2S/25EFF
Harrison Gamble (LOU) – 24P/11R/1A/27EFF
Sam Grant (REA) – 24p/2R/1A/2S/22EFF
Leome Francis (REA) – 27P/5R/30EFF
Main image credit - Joanne Charles