To recognise the stand-out players and performances each week,
 

FocusHoops' Darren Paul picks his WNBL team of the week.

As a writer, commentator, podcaster and more, Darren has taken a closer look over the latest batch of performances in D1W before selecting his top five players from across the league.

Chris Hughes from Rebound has also had his say on the NBL Team of the Week, which is well worth a look!

Have your say on this week's choices and give a shout-out to the players you think deserve one using the hashtag #NBL2021. Don't forget to tag us!

Twitter: @NBLengland / @FocusHoops
Facebook: @NBLengland  / @FocusHoops
Instagram: @nblengland / @focushoops
How it works
The Basketball England WNBL Player of the Week goes straight into the starting line-up.
The other four players are picked with the following factors in mind:
Efficiency
Stats
Team and opposition strength
Periods of influence in the game
The FocusHoops team of the week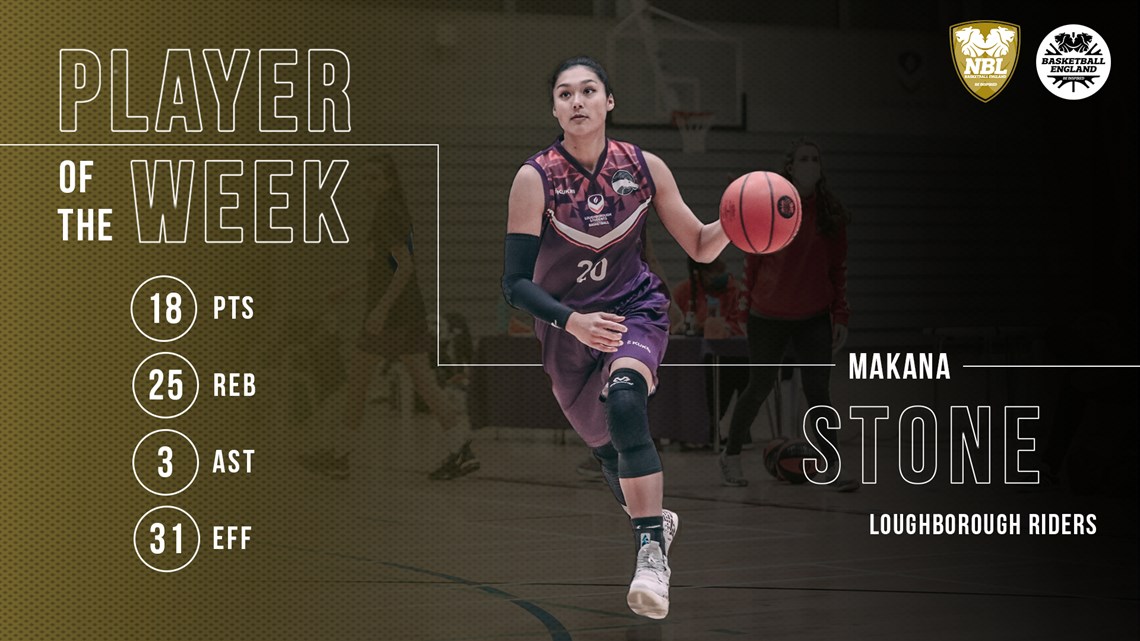 Makana Stone - Loughborough Riders, forward
18 points, 25 rebounds, 3 assists, 3 steals, 1 block, 31 efficiency
Former Whitman College star Makana Stone put in as dominant performance on her way to 18 points and 25 rebounds in the win over a spirited Reading Rockets on Saturday.
The American forward pulled down an incredible 11 offensive boards, without which, it's hard to see the Riders winning this game. The Collegiate All-American played as advertised as she willed her team to their first win of the 2020/21 season, with a huge block in the first quarter and three steals across the ball game.
Stone certainly did a lot of everything this week, leading her team to an important W. She's one to keep an eye on going forward.
Harriet Welham - Ipswich, guard
34 points, 10 rebounds, 3 assists, 4 steals, 28 efficiency
As she does every week, Welham stacked the stat sheet with a phenomenal 34 points and 10 boards as her side notched another win, moving to 4-0 in the process.
The reigning D1W MVP did have some troubles with turnovers, but more than made up for them with steals, offensive boards and the scoring load she carried.
Welham excelled in the first half in particular as she set the table for her side to grab victory following a period of OT. The Ipswich captain also made timely buckets in the ball game, combing well with team mates Charlotte Redhead and Esther Little to great effect.
Isi Ozzy-Momodu - COLA Southwark Pride, forward
23 points, 10 rebounds, 6 on offence, 3 steals, 1 block, 27 efficiency
Isi Ozzy-Momodu continues her excellent start to the 2020/21 season with a dominant double-double that helped her side push Ipswich to the wire.
The former GB U16 forward has been a problem for defences all season, and she showed why this weekend. With a huge contribution in scoring, using her size and skill but just as crucially grabbing a sensational 6 offensive rebounds, plus adding 6 points in the fourth, Ozzy-Momodu played a major role in sending this game to OT.
The Southwark star not only contributed offensively, but also erased mistakes with a block and 3 steals as she helped to keep things tight against the league leaders.
Molly Lavin - COLA Southwark Pride, wing
12 points, 9 rebounds, 2 assists, 4 steals, 2 blocks, 16 efficiency
Lavin is no stranger to the Team of the Week as she continues to impress in the early going this season. The talented wing did it all for COLA in their narrow loss to Ipswich, putting up numbers across the stat sheet.
With nine boards, including four on offence, Lavin not only imposed herself at the defensive end but created second chance opportunities, always vital against tough opposition such as Ipswich.
Lavin continues to play a mature game and works well in Jackson Gibbons' system as COLA will look to push for a high playoff berth.
Esther Little - Ipswich, wing
16 points, 10 rebounds, 5 assists, 3 blocks, 60 FG%, 26 efficiency
Esther Little has been a standout star in the 2020/21 season and this weekend was no exception as she willed her team to victory in South East London.
Little was slow out of the blocks in the scoring department against COLA, but once she found her form she was a major force in the game.
The Ipswich wing contributed on both ends of the floor with no fewer than 5 blocks and 2 steals, as well as scoring five of her side's seven points in the OT period to secure another win on the road.
System.NullReferenceException: Object reference not set to an instance of an object.
   at Umbraco.Web.PublishedContentExtensions.Value[T](IPublishedContent content, String alias, String culture, String segment, Fallback fallback, T defaultValue) in D:\a\1\s\src\Umbraco.Web\PublishedContentExtensions.cs:line 165
   at ASP._Page_Views_Partials_grid_editors_mosquito_Media_cshtml.Execute() in E:\webs\basketballengland.co.uk\htdocs\Views\Partials\grid\editors\mosquito\Media.cshtml:line 7
   at System.Web.WebPages.WebPageBase.ExecutePageHierarchy()
   at System.Web.Mvc.WebViewPage.ExecutePageHierarchy()
   at System.Web.WebPages.WebPageBase.ExecutePageHierarchy(WebPageContext pageContext, TextWriter writer, WebPageRenderingBase startPage)
   at Umbraco.Web.Mvc.ProfilingView.Render(ViewContext viewContext, TextWriter writer) in D:\a\1\s\src\Umbraco.Web\Mvc\ProfilingView.cs:line 25
   at System.Web.Mvc.Html.PartialExtensions.Partial(HtmlHelper htmlHelper, String partialViewName, Object model, ViewDataDictionary viewData)
   at ASP._Page_Views_Partials_grid_editors_mosquito_Base_cshtml.Execute() in E:\webs\basketballengland.co.uk\htdocs\Views\Partials\grid\editors\mosquito\Base.cshtml:line 19
Team basketball
Respect for COLA despite the loss
Although it can seem a little strange to recognise teams that lost on a given weekend, but for COLA to take D1W table toppers Ipswich to OT and go blow-to-blow with the runaway top side in the country is a massive feat.
Southwark played sensible but offensive minded basketball and were able to keep pace with the Suffolk side. The hosts also kept it clean, limiting fouls and turnovers for the most part whilst dominating the offensive glass.
Southwark are a team very much on the rise and have performed well in every game they've played this season, win or lose. It will be exciting to watch how they grow and improve as the season progresses.
Worcester keep on rolling
The Worcester Wolves also deserve praise for their fantastic team performance over Barking Abbey.
Securing a 47 point margin of victory and having 6 players in double figures whilst limited the opposition scoring to single digits in three out of four quarters is an impressive feat no matter who you play.
The Wolves continue to be one of the most intriguing teams in D1W following a couple of early season contests.
Honourable mentions
Candela Hermida Nunez (REA) - 17P/6R/4A/5S/19EFF
Emilie Black (CSP) - 14P/4R/3A/4S/14EFF
Charlotte Redhead (IPS) - 12P/4R/2A/1S/12EFF
Gaila Comesana (REA) - 14P/13R/1A/1S/1B/16EFF
Imogen Youd (WOR) - 13P/8R/1A/4S/17EFF
Main image credit - Loughborough basketball