Three games remain in the NBL for 2020 as we hit the mid-season break following this weekend.
There's still time to squeeze a trio of games in however, as Leicester host Bradford to get the day under way, with Worthing's trip to Oaklands coming shortly after.
Saturday's final game is in the Midlands as Team Newcastle make the trip to play Nottingham Hoods.
We take a look at all three of this weekend's games below, with links to live stats at the bottom of the page.
Oaklands Wolves (0-4) v Worthing Thunder (1-3)
With just one win between these two sides so far, tomorrow's contest between Oaklands and Worthing carries a fair amount of importance.
With both sides currently occupying a place in the bottom four, a win to end the year would go a long way towards setting either side up with some optimism come January.
Oaklands have used the current season to give experience to some of the youth on their roster and despite a number of promising performances, the Wolves haven't been able to translate those positives into wins. 
Last time out coach Baker's side lost a close one against Bradford, going down 89-85, showing this side might not be too far from turning a corner.
Worthing have also had their share of struggles but a look at their fixtures to date shows a common trend. With losses to D1M's first and second place sides in Derby and Solent, the Thunder have also split a pair of games with last season's NBL National Cup finalists Reading.
Quite the run to start the season, no doubt the South coast side will also be looking for an uptick in form sooner rather than later.
.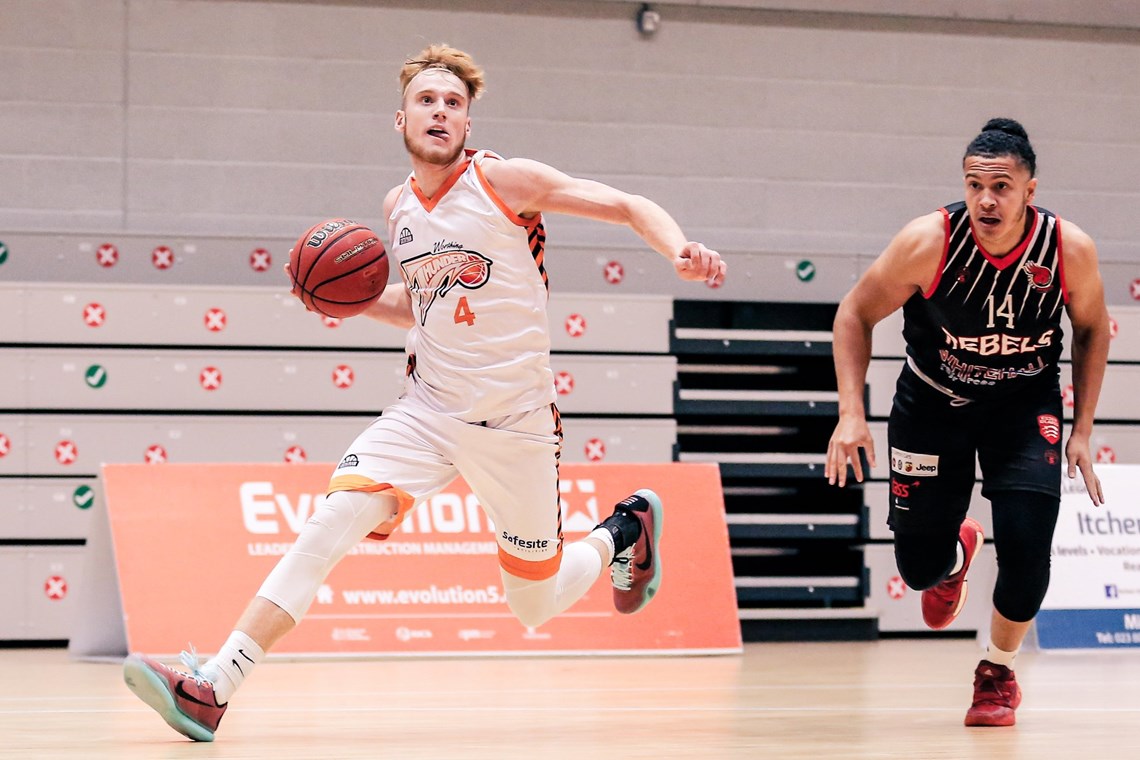 Nottingham Hoods (2-3) v Team Newcastle University (3-2)
Reigning player of the week David Moya and Team Newcastle hit the road to end 2020 as they head to Nottingham on Saturday evening.
The final game to tip off, the exciting contest between two evenly matched sides should provide a fitting way to close the year.
After winning their opening two fixtures, Newcastle then dropped two in a row before a gutsy 77-74 victory over Loughborough last weekend.
The Knights would love a win here to further strengthen their record, especially as they are scheduled to play three straight road games in Hemel, Derby and Loughborough once 2021 begins.
Complimenting Moya, Ronald Blain (third for efficiency, seventh for points per game) has been enjoying a strong season to date and will try to keep that rolling to end the year.
Nottingham have match winners of their own of course, with Victor Olarerin making the Rebound Team of the Week for his performance against Bradford.
The talented shooter currently ranks a D1M forth for efficiency and sixth for points scored, it'll be interesting to see how coach Elderkin's side game plan to slow the Nottingham star down.
Leicester Warriors (0-4) v Bradford Dragons (2-1)
After being the last side to begin their D1M season, Bradford have picked up some positive results to date and will look to pile on the misery for winless Leicester tomorrow.
The Warriors have lost all four of their games in 2020/21, with some quite contrasting results. Single digit defeats to Newcastle and Loughborough have been mixed in with heavier losses against Thames Valley and last weekend's 88-48 L against Derby.
With such a spread, it's difficult to know what kind of performance Leicester will produce tomorrow.
After a pair of wins to open the season, Bradford were brought back down to earth by Nottingham last weekend as the Hoods triumphed 80-62.
The Dragons will be hoping that the Midlands provide to be a happier hunting ground this weekend as coach Mellor's side look to continue their push up the table.
This weekend's fixtures:
Saturday 19 December
3pm - Leicester Warriors v Bradford Dragons - LIVE STATS
3:45pm - Oaklands Wolves v Worthing Thunder - LIVE STATS
6:30pm - Nottingham Hoods v Team Newcastle University - LIVE STATS
Main image credit - Alex Daniel Photography