We once again catch up with Rebound's Chris Hughes as he looks over last weekend's D1M and the L Lynch Trophy games before picking out his top five players for the Team of the Week.
Chris, also a YouTube host and commentator, had plenty of action to choose from after a bumper slate of games saw five D1M contests and an L Lynch Trophy game all take place.
You can also check out the WNBL Team of the Week, undertaken by FocusHoops Darren Paul.
Have your say on this week's choices and give a shout-out to the players you think deserve one using the hashtag #NBL2021. Don't forget to tag us!
Twitter: @NBLengland / @Rebound__
Facebook: @NBLengland  / @ReboundNBL
Instagram: @nblengland / @reboundnbl
How it works
The Basketball England NBL Player of the Week goes straight into the starting line-up.
The other four players are picked with the following factors in mind:
Efficiency
Stats
Team and opposition strength
Periods of influence in the game
The Rebound team of the week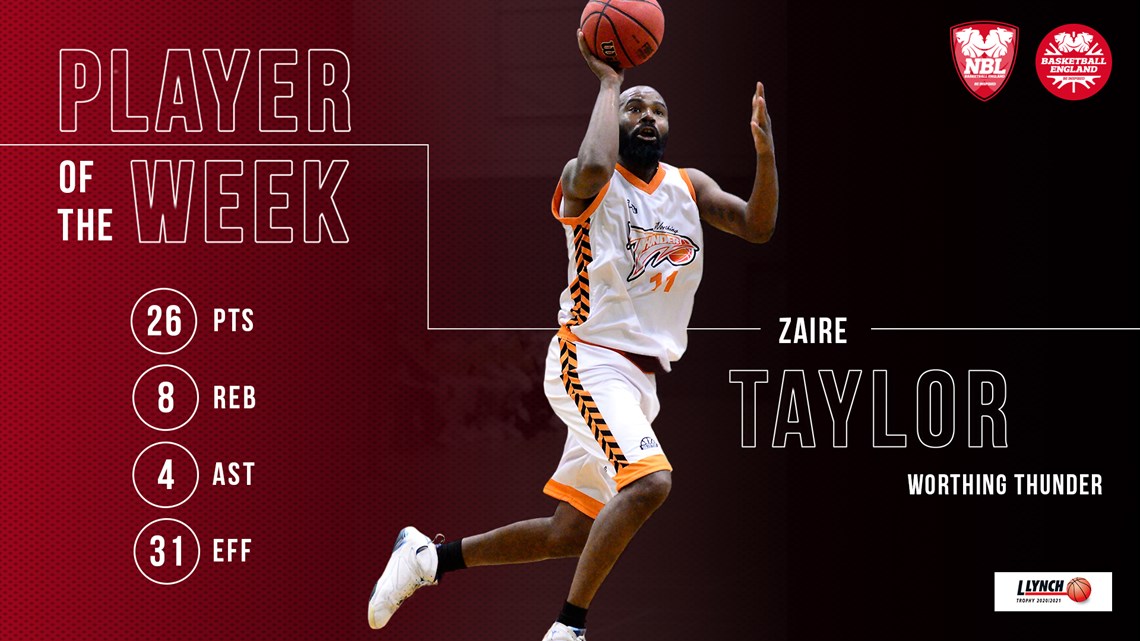 Zaire Taylor – Worthing Thunder, forward
26 POINTS, 8 REBOUNDS, 4 ASSISTS, 3 STEALS, 30 EFFICIENCY
What a game between BA London Lions and Worthing Thunder! A last ditch buzzer beater three by the hosts couldn't prevent Zaire and co. from coming away with the narrow win.
It was tough sailing for the Thunder at times, especially in the third quarter, which they lost lost 22-11 as young star Cameron Hildreth fouled out. Howard Crawford would also foul out late in the fourth but neither would be a problem for Worthing as Taylor took over down the stretch.
With 3:53 left on the clock, the former BBL man began to get hot as Taylor converted a layup to tie the game before the Lions would enjoy a 5-0 run as the veteran forward took a breather on the bench.
The brief paused worked well for Worthing as Taylor went off with back-to-back jumpers, one of which was a triple, wrestling the game back in the visitor's favour. A 75 FT% from four attempts helped to ice the game, and with it, a spot in the quarter finals of the L Lynch Trophy..
Jonas Dieterich – Loughborough Riders, forward
25 POINTS, 6 REBOUNDS, 4 ASSISTS, 2 STEALS, 29 EFFICIENCY
Loughborough were looking to bounce back following their loss in Barking last weekend and had to fight hard to get the road win against Nottingham. Jonas Dieterich was influential in making that happen, especially in the first quarter.
After Loughborough's opening basket, Dieterich was involved in all six of the Riders' ensuing field goals. Taking responsibility for getting points on the board, the forward provided seven points without missing a shot, finding returns on three straight possessions without a miss.
He carried that form on throughout the quarter to clock up 10 points and two assists as Loughborough closed the first quarter up by a point.
The highly efficient shooting performance continued throughout the game, missing only three shots per half to go 10-16 as Loughborough returned to winning ways.
Tayo Oyefusi – Hemel Storm, forward
15 POINTS, 8 REBOUNDS, 1 ASSIST, 2 STEALs, 25 EFFICIENCY
I felt Tayo Oyefusi's inclusion was almost a no brainer, though some stat lines from the Hemel game certainly catch the eye before Oyefusi's. If you didn't watch the NBL live game, hear me out!
As a very effective defender and a selfless team player, Oyefusi will rarely catch fire and shoot the lights out. That is more related to his desire to put the team first and make smart decisions with the ball than his ability as a shooter, it must be said.
Those team first qualities were ever present at his former club Team Solent Kestrels, and typified their pass first philosophy to find the best shooting option.
This weekend, Oyefusi happened to find himself as one of those best options and rose to the occasion with a solid offensive performance.
The former Kestrel had the opportunity to make not one but two four-point plays. He nailed them both, padding an already impressive afternoon's work.
The former Barnet Bulldogs' junior also continued his elite efforts on the defensive end with eight rebounds and two steals, contributing across the board in an emphatic win.
Greg Poleon– Hemel Storm, forward
27 POINTS, 4 REBOUNDS, 1 ASSIST, 23 EFFICIENCY
Every week, Greg Poleon looks a scoring threat that is too hot to handle. The American forward has the skill set to overcome whatever a defence tries, regardless of the situation.
The talented forward also impressed by showing off his three-point range with a 50 3P% this weekend. Poleon is proving to be one of the league's premier shooters this season, adding to his already impressive array of talents.
The Hemel man managed all that output while only playing 22 minutes on the floor. The next fewest minutes required to get 20+ points this weekend was Blayne Freckleton (23 points in 26 minutes).
Hakeem Sylla – Thames Valley Cavaliers, forward
23 POINTS, 17 REBOUNDS, 3 ASSISTs, 2 STEALS, 1 BLOCK, 35 EFFICIENCY
"Mr Double-Double" is relishing wearing the #1 jersey and with Taylor Johnson out injured, Sylla jointly led his side in scoring this weekend. The former D1M Player of the Week was in the top three in pretty much every major category as he exerted his dominance in the road win against Leicester.
The 23-point Cavs win was largely due to the 28-18 in the final quarter where Sylla was prolific. Posting 6p/4r/1s 100 FG% return in that frame alone, the talented forward didn't even need to play the full period before being subbed out. By that point, he'd already helped his team to go on a late 19-5 run.
System.NullReferenceException: Object reference not set to an instance of an object.
   at Umbraco.Web.PublishedContentExtensions.Value[T](IPublishedContent content, String alias, String culture, String segment, Fallback fallback, T defaultValue) in D:\a\1\s\src\Umbraco.Web\PublishedContentExtensions.cs:line 165
   at ASP._Page_Views_Partials_grid_editors_mosquito_Media_cshtml.Execute() in E:\webs\basketballengland.co.uk\htdocs\Views\Partials\grid\editors\mosquito\Media.cshtml:line 7
   at System.Web.WebPages.WebPageBase.ExecutePageHierarchy()
   at System.Web.Mvc.WebViewPage.ExecutePageHierarchy()
   at System.Web.WebPages.WebPageBase.ExecutePageHierarchy(WebPageContext pageContext, TextWriter writer, WebPageRenderingBase startPage)
   at Umbraco.Web.Mvc.ProfilingView.Render(ViewContext viewContext, TextWriter writer) in D:\a\1\s\src\Umbraco.Web\Mvc\ProfilingView.cs:line 25
   at System.Web.Mvc.Html.PartialExtensions.Partial(HtmlHelper htmlHelper, String partialViewName, Object model, ViewDataDictionary viewData)
   at ASP._Page_Views_Partials_grid_editors_mosquito_Base_cshtml.Execute() in E:\webs\basketballengland.co.uk\htdocs\Views\Partials\grid\editors\mosquito\Base.cshtml:line 19
Team basketball
STORM too strong for Oaklands
It was another impressive performance from Hemel Storm this weekend as they made light work of Oaklands Wolves in front of the NBL Live cameras.
What impressed me the most was the shooting from the starters and the cameos off the bench.
One player unfortunate not to make Team of the Week is Mike Williams. The American produced his 2nd best ever FG% in a NBL D1 game last time out, this weekend he went one better, producing his best ever performance(72 FG%). He may have not have taken aim from range all that often but he still went 2-3 from beyond the arc.
The bench supported the starters with a solid defensive effort and an energy boost, while Shaquille Lewis enjoyed a highlight play that you can enjoy below.
Hemel are looking like a real threat to leaders Team Solent Kestrels. The proof in the pudding will be when these teams face each other twice next month.
SOLENT win TO GO 6-0 IN ALL COMPETITIONS
Team Newcastle University came into this game unbeaten in the league but Team Solent Kestrels were not going to let that bother them as they pulled out a 31 point win.
Solent shared their minutes around as usual, this weekend it was between their 11-deep game day squad. Only the reigning MVP Ian Smith and team captain Elliot Dadds went over 23 minutes though uncharacteristically, only three players shot over 50 FG%.
Defensively the Kestrels executed a solid defensive game plan, limiting Newcastle to 7 points from Solent's turnovers. The hosts also restricted Newcastle's fast break points and prevented the Knights from leading at any stage, or enjoying a scoring run greater than five points.
It was a complete performance from the league leaders.
Honourable mentions
O'Showen Williams (REA) – 34P/3R/7A/8S/35EFF
Malcolm Smith (DTB) – 25P/5R/3A/1S/25EFF
Johnathan Lashley (TSK) – 19P/6R/3S/20EFF
Mike Williams (HEM)– 18P/8R/2A/1B/25EFF
Jase Harrison (BAR) – 26P/5R/3A/2S/30EFF