Another exciting week of action is now behind us in NBL1, with some big wins for a number of teams.
Hemel secured a solid victory in the first NBL Live game of the season, whilst Thames Valley began their season with a win.
Derby, Solent and Loughborough all triumphed, and Worthing wrapped up the weekend with a close win in the L Lynch Trophy on Sunday.
We have a recap of the games below, and each result is also clickable if you wish to view the live stats.
Derby edge past old rivals Reading
Twenty five points from American Malcolm Brown were enough to help Derby secure their second win of the season, beating Reading 91-85.
Brown helped the Trailblazers jump out to a 27-17 lead after the opening quarter, marking the second game in a row that the Rockets have fallen behind early and had to play catch up.
Reading guard O'Showen Williams (34pts, 3reb, 7ast, 8stl) was on fine form and helped the visitors reduce their deficit to just five points in both the third and fourth quarters, but Derby wouldn't be denied.
Live success for Storm
In the first NBL Live game of the season, Hemel were more than a match for Oaklands as they secured a comfortable 95-63 win.
Leading 26-16 after one and 56-30 by the half, the Storm were able to control the game the rest of the way and finish off a blowout victory.
Reigning NBL Player of the Week Mike Williams (18pts, 8reb), Greg Poleon (27pts, 4reb) and Tayo Oyefusi (15pts, 8reb) all played well for the visitors, with Jordan Santiago (24pts, 9reb. 5 stl) the only player to make double-digit scoring for the Wolves.
"It was great being back out on the floor with the guys, another step on the journey that this new programme is going on," said Oaklands coach Tom Baker.
"Credit to Hemel, we knew they would be tough and they proved their quality throughout the game. I was extremely impressed with a number of the college guys, they stepped up and demonstrated what it means to be part of this team."
Elsewhere this weekend
A 23-point, 17-rebound double-double from Thames Valley's Hakeem Sylla helped the Cavs start their season with a win as they defeated Leicester 90-67.
The visitors led the game for all but the first few moments, with Sylla and Co easily overpowering their opponents. A 28-18 final quarter further extended the TVC lead, padding an already lopsided score.
There was an entertaining contest in the Midlands as Jonas Dieterich and the Loughborough Riders narrowly saw off local rivals Nottingham Hoods 77-74.
The talented forward finished with 25 points, six rebounds, four assists and two steals in a do-it-all performance that helped Coach Jarram's side erase a seven-point deficit with just over 10 minutes remaining. Nottingham were led by another strong performance from Victor Olarerin, who had 20 points and seven rebounds.
In the battle of the undefeated teams, there could only be one winner and that turned out to be Solent as they saw off Team Newcastle 95-64.
Despite their impressive form to start the season, facing the Kestrels on their own court was a step too far for the Knights as they trailed for the whole 40 minutes.
Coach Guymon was able to rotate well during the win, with Johnathan Lashley impressing off the bench with 19 points and six boards. Newcastle's Ronald Blain continued his recent good form as the American scorer finished with a 20 point, 13 rebound double-double despite the heavy defeat.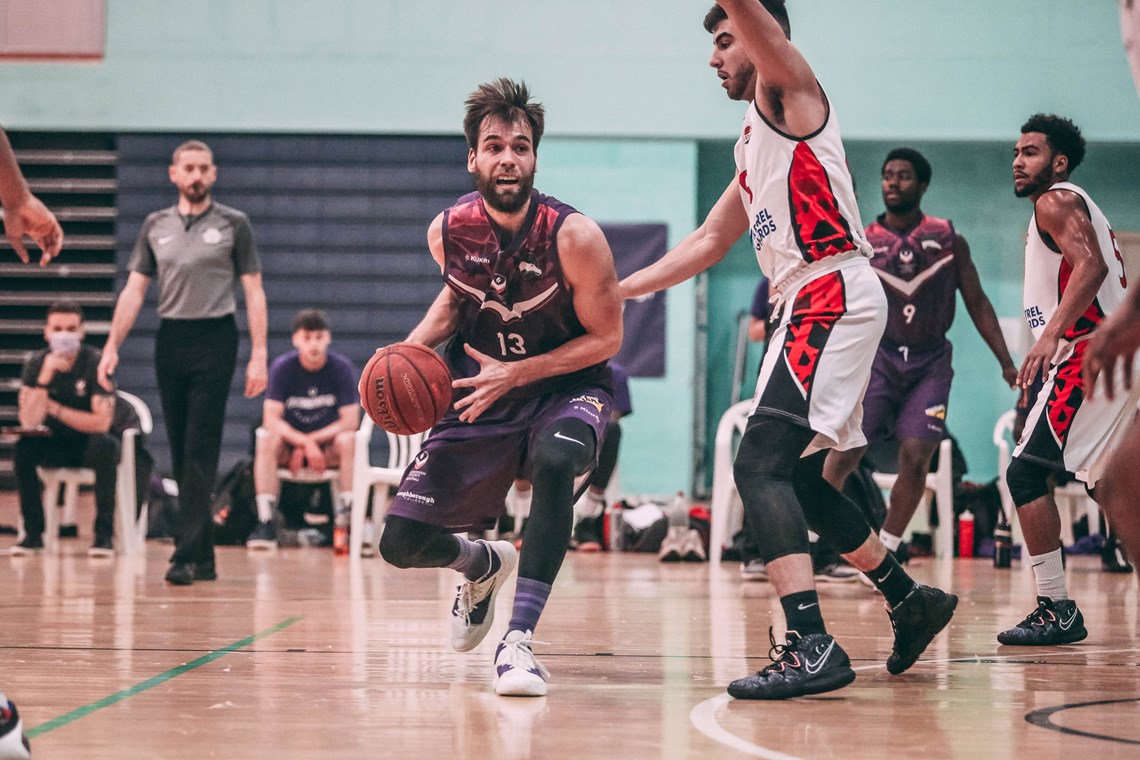 L Lynch Trophy
Following last week's quarter-final draw for the L Lynch Trophy, both these teams went into Sunday's match-up looking to secure their spot in the next round. After a thrilling game, it was the Thunder who managed to pull out a win, beating the Lions 83-81.
The game did seem to be comfortably heading Worthing's way as they built a double-digit lead as half-time loomed. The hosts refused to go quietly though, limiting their opponents to just 11 third-quarter points as 22 of their own swung the tie back in Barking's favour.
Eight points from Worthing's Zaire Taylor (26pts, 8reb, 4ast, 3stl) over the game's final 64 seconds helped push the visitors back into the lead though, a clutch performance from the former BBL man.
Jase Harrison was a standout for BA, he finished with a team high 26 points to go with five rebounds, three assists and a pair of steals.
This weekend's results:
Saturday 21 November
2pm - Derby Trailblazers 91-85 Reading Rockets - LIVE STATS/LIVE STREAM
3pm - Leicester Warriors 67-90 Thames Valley Cavaliers - LIVE STATS
3:30pm - Team Solent Kestrels 95-64 Team Newcastle University - LIVE STATS/LIVE STREAM
4:30pm - Oaklands Wolves 63-95 Hemel Storm - LIVE STATS/LIVE STREAM
6pm - Nottingham Hoods 74-77 Loughborough Riders - LIVE STATS
Sunday 22 November
2pm - L Lynch Trophy - BA London Lions 81-83 Worthing Thunder - LIVE STATS
Main image credit - Lauren Newman
.