To recognise the stand-out players and performances each week,
 

FocusHoops' Darren Paul picks his WNBL team of the week.

As a writer, commentator, podcaster and more, Darren gives his view based on games from week four of the WNBL season.

As part of our regular coverage, you can also check out Rebound's Chris Hughes and his take on the NBL1 team of the week!

Have your say on this week's choices and give a shout-out to the players you think deserve one using the hashtag #NBL2021. Don't forget to tag us!

Twitter: @NBLengland / @FocusHoops
Facebook: @NBLengland  / @FocusHoops
Instagram: @nblengland / @focushoops
How it works
The Basketball England WNBL Player of the Week goes straight into the starting line-up.
The other four players are picked with the following factors in mind:
Efficiency
Stats
Team and opposition strength
Periods of influence in the game
The FocusHoops team of the week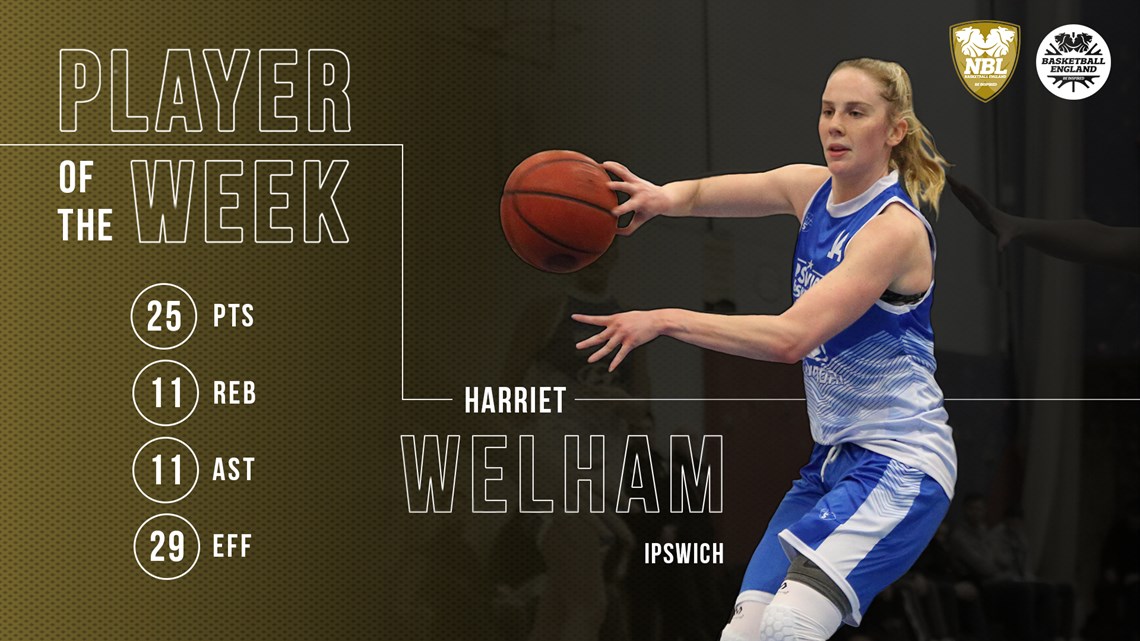 Harriet Welham - Ipswich, guard
25 points, 11 rebounds, 11 assists, 50 FG%, 29 Efficiency
In arguably the biggest matchup of the weekend, Harriet Welham came up with the first triple-double of the WNBL season, a rare feat in the WNBL and FIBA basketball more generally.
Welham scored with great efficiency from inside the arc, and fed the rock for her teammates to the tune of 32 points. Welham did a bit of everything to help Ipswich stay composed and completed the victory on the road against a dangerous NTU team.
It was an all-around excellent performance from the reigning league MVP, demonstrating the many ways in which she can impose her will on a game.
You can enjoy her Player of the Week performance below!
Simona Henshaw - COLA Southwark Pride, wing
20 points, 5 rebounds, 2 assists, 77 FG%, 100 2P%, 5-7 3P, +35, 23 Efficiency
Not for the first time this year, Florida Atlantic University commit Simona Henshaw put in a dominant performance in just under 20 minutes. Henshaw was incredibly efficient in her scoring, going a perfect 2-2 from two-points and hitting an incredible 5-7 from beyond the arc.
Henshaw's excellent season continues as she leads her team by example, with CoLA looking to achieve a strong playoff position in her final season before departing for the States.
Erin Hikin - Loughborough Riders, guard
26 points, 6 rebounds, 4 assists, 3-5 3P, 7-8 FT, 24 efficiency
Despite a tough loss for the Riders, Erin Hikin put in a captain's performance to lead the way with a game-high 26 points and six rebounds.
Hikin scored with good efficiency from inside but her 3-5 from beyond the arc stands out as well as her 7-8 shooting from the foul line.
The talented guard will no doubt be looked to all season long by her teammates in the tough moments and this performance showed that she is able to respond when needed.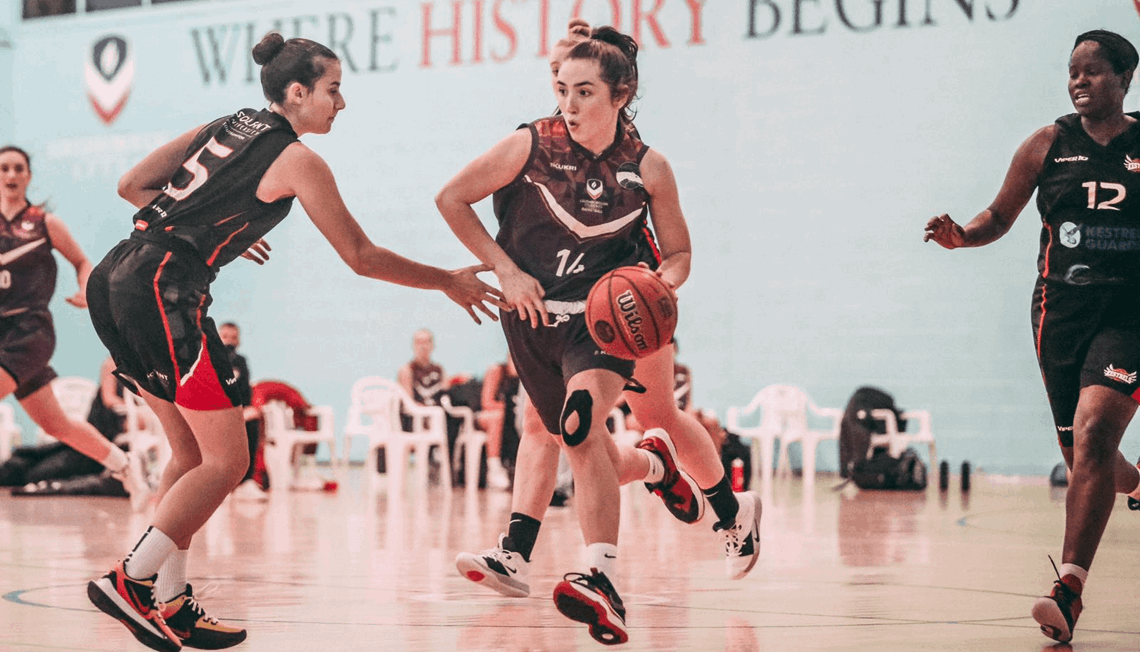 Krisztina Velkey - Team Solent Kestrels, guard
23 points, 5 rebounds, 12 assists, 66 FG%, 33 efficiency
Another huge performance from Krisztina Velkey set the table for a Solent Kestrels victory on the road in Loughborough.
Velkey has started 2020/21 as she finished last season, as one of the dominant players in the league. The do-it-all guard shot with incredible efficiency, going 66% from both two and three-point range, whilst contributing a huge 12 assists.
Velkey makes Solent tick and will be leaned upon as they continue to make waves in WNBL1 this season.
Esther Little - Ipswich, wing
17 points, 23 rebounds, 4 assists,  1 steal, 2 blocks, 33 efficiency
Another Team of the Week selection for Esther Little who added an incredible 23 rebounds including 6 offensive boards to her four assists and 17 points in an injury-shortened outing over Nottingham Trent University.
Once again, Little was the catalyst for success along with Player of the Week Harriet Welham and Cameron Taylor-Willis against a tough NTU. 
The Gonzaga commit was the second most efficient scorer this weekend just behind her teammate Taylor-Willis but was able to contribute on the other end, erasing mistakes with two blocks and a steal in another all-around performance from Ipswich's young star.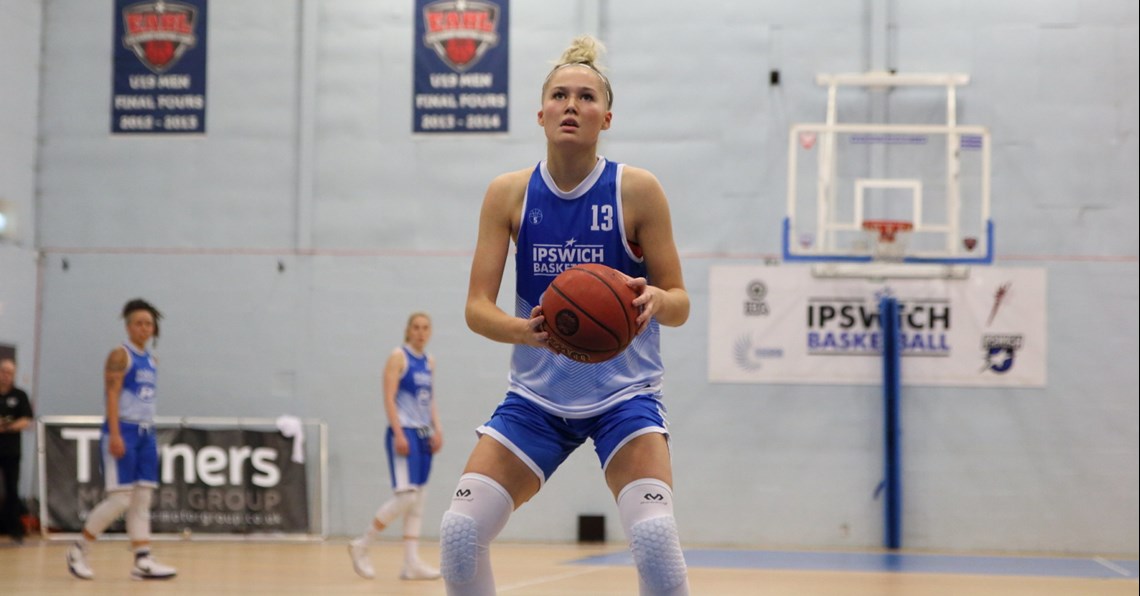 Team basketball
Ipswich once again were the standout performers this week. Going away to an NTU side looking to build on their great start and challenge for trophies this season, Ipswich were able to pull out a fairly comfortable victory and do it despite losing Little to injury down the stretch.
The Suffolk side remains the team to beat in the WNBL and will be feeling good with a 3-0 record which has seen them already win two tough road games in Nottingham and Solent.
Honourable mention this week must go to the Kestrels, who needed a mature performance in the fourth quarter as their lead diminished to a single point before rallying and re-established their advantage to complete a 15-point victory over Loughborough.
Honourable mentions
Cameron Taylor-Willis (IPS) - 28P/7R/2A/68 FG%/31EFF 
Isabel Bueriberi (NTU) - 13P/2R/17EFF
Isi Ozzy-Momodu(SWP) - 10P/9R/1A/3S/3B/20EFF
Andrea Kurkowski (TSK) - 13P/4R/5A/17EFF
Faye Endean (TSK) - 14P/9R/3A/17EFF