With the news this week that the WNBL can continue throughout the current UK lockdown, there are three D1W games scheduled for this weekend for basketball fans to enjoy.
Ipswich put their unbeaten starts to the season on the line in Nottingham, Loughborough get their season under way against Solent and there's a London derby between Southwark and Barking scheduled in as well.
To mark Remembrance Sunday this weekend, Basketball England will allow members the opportunity to pay respects to those who served and sacrificed to defend our nation.
To commemorate those people, we will observe one minute's silence across all NBL, WNBL and L Lynch Trophy games that take place on the weekend of 7/8 November 2020.
For more information on this, please click the button below.
Nottingham Trent University (1-0) v Ipswich (2-0)
It's a battle of the unbeatens in the Midlands tomorrow as defending champs Ipswich hit the road for a third straight week, looking to topple NTU.
Getting their season underway last weekend, Nottingham easily saw off BA London Lions II with an impressive performance at both ends of the court.
Captain Vicky Gray and forward Isabel Buriberi were both included in the FocusHoops' Team of the Week and no doubt they and the rest of the Trent roster will be looking forward to the test of playing the reigning D1W winners.
In terms of accolades, Ipswich have plenty of their own right now. In reigning league MVP Harriet Welham, the Suffolk side have a player who averages 26ppg, 10.5rpg and 5.5apg on the young season.
Still, Welham is yet to win WNBL Player of the Week honours as team mate Esther Little (19ppg, 18.5rpg, 7apg) has taken both of those awards so far this season and is playing at an impressively high level.
Throw in Ipswich's other weapons, including Team of the Week inclusion Charlotte Redhead and the expected return of Ella Pearson, Coach Drane's team are a formidable opponent for anyone right now, home or away.
"It has been a very emotional week," confessed NTU coach Louise Waghorn. "After a great start on Saturday to then hear the announcement that evening of a national lockdown, it definitely took some wind out of it.
"We are extremely happy that again we can carry on playing. This is going to be a true test of our character going up against last year's league winners.
"I am expecting a very fast paced and exciting game with both teams wanting to make their mark."
.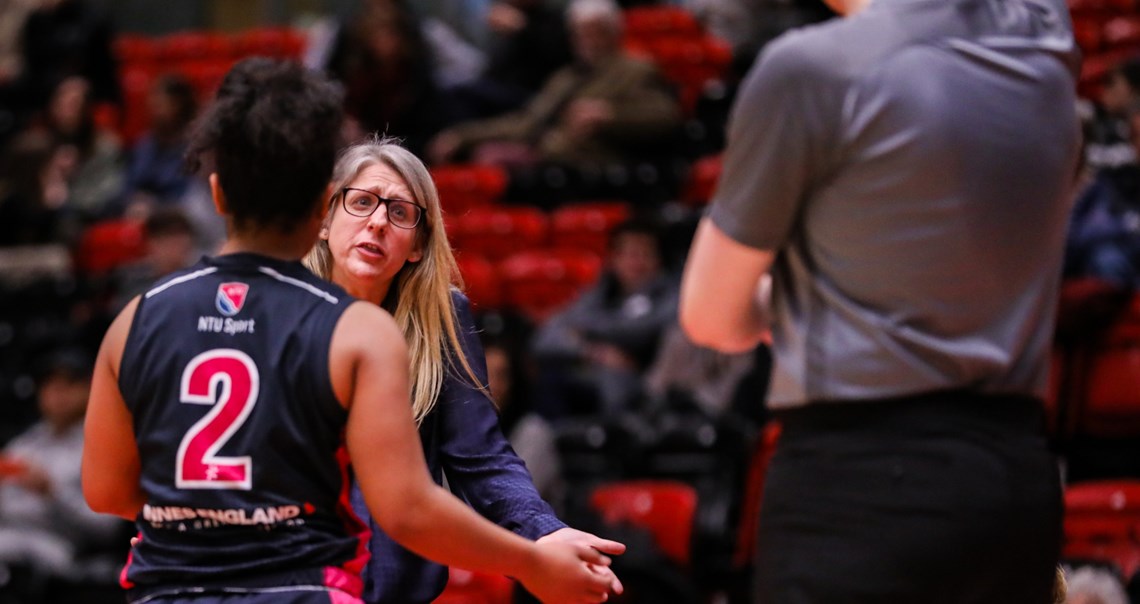 Loughborough Riders (0-0) v Team Solent Kestrels (1-1)
Loughborough begin their season tomorrow as Coach Antonio Quintero Cano's side face off against an opponent with two games already under their belt.
Solent split those contests, beating Bristol on the road before falling to Ipswich last weekend, and they'll look to get back to winning ways here against a team they beat by more than 20 points on both occasions last year.
Krisztina Velkey has continued her role as a catalyst for this Kestrels team, averaging a double-double of 16ppg and 11.5rpg to go with 3.5spg for good measure. Don't sleep on youngster Faye Endean either, she's started the season brightly to score a total of 35 points across Solent's two games.
For Loughborough, they could lean on newly acquired American forward Makana Stone in this one. The Coupeville, Washington native averaged 15.1ppg and 8.3rpg for NCAA D3 side Whitman College last season, where she also played alongside NTU's new signing Mady Burdett.
Former GB U16 Katie Januszewska has moved over from Derby and should also see plenty of minutes for the Riders, with Molly James, Hannah Bird, Lauren Dabbs and Sasha Lecuyar all returning from a year ago.
"We are very keen to finally play after practising a lot in this long and uncommon preseason, losing the opportunity to also play preseason games," said Quintero Cano.
"This one will be our first game together and we know that it will be challenging for us. Also, we know that we are facing a solid team that has already played some games. Because of that, they might be in good shape to compete against any team in the league.
"We will have to do our best and stay focused during the whole game to be competitive and to be able to fight for the result we want."


COLA Southwark Pride (1-1) v BA London Lions II (0-2)
Home advantage should be with Southwark on Sunday as they welcome winless BA London Lions II for a London derby.
After opening their season with a solid victory against Reading, the Pride couldn't overcome Anglia Ruskin on the road last time out. This weekend's match up presents a perfect opportunity to bounce back though, with Coach Gibbons' side no doubt also casting one eye to next week's clash with Ipswich.
Isi Ozzy-Momodu has started the year well for Southwark, averaging eight points and as many rebounds per game. Her 10 point, 10 rebound double-double to start the season against the Rockets appears to have served as a springboard for some early good form.
It goes without saying that the Lions will be desperate for a win. After grabbing just three victories last season during a tough campaign, Barking have now gone winless in both of their opening two fixtures in 2020/21. With an average margin of defeat of 37 points, BA need to right the ship before they head into a break next weekend.
If BA are able to get back on track, look to Kian Omer-Jones (10.5ppg, 10.5rpg) and Leia Edwards (12ppg, 9rpg) to both play a key role.
"Genuinely, we are just so happy and feel blessed to be able to continue playing at this time," said Southwark head coach Jackson Gibbons. "It wouldn't matter who we are playing, but we expect a good game against the Lions this weekend."
This weekend's fixtures:
Saturday 7th November
4:00pm - Nottingham Trent University v Ipswich - LIVE STATS
6:45pm - Loughborough Riders v Team Solent Kestrels - LIVE STATS
Sunday 8th November
2:00pm - COLA Southwark Pride v BA London Lions II - LIVE STATS
Main image credit - Luke Simcock