FocusHoops' Darren Paul picks his Team of the Week following another busy weekend in WNBL1.
As a writer, commentator, podcaster and more, Darren had an impressive six games to look over as he put together a starting five and some worthy mentions.
Have a look over this week's choices and give a shout-out to the players you think deserve one using the hashtag #NBL2021. Don't forget to tag us!  
Twitter: @NBLengland / @FocusHoops  
Facebook: @NBLengland  / @FocusHoops  
Instagram: @nblengland / @focushoops  
How it works  
The Basketball England WNBL Player of the Week goes straight into the starting line-up.  
The other four players are picked with the following factors in mind:  
Efficiency 

 

Stats 

 

Team and opposition strength 

 

Periods of influence in the game 

 
The FocusHoops team of the week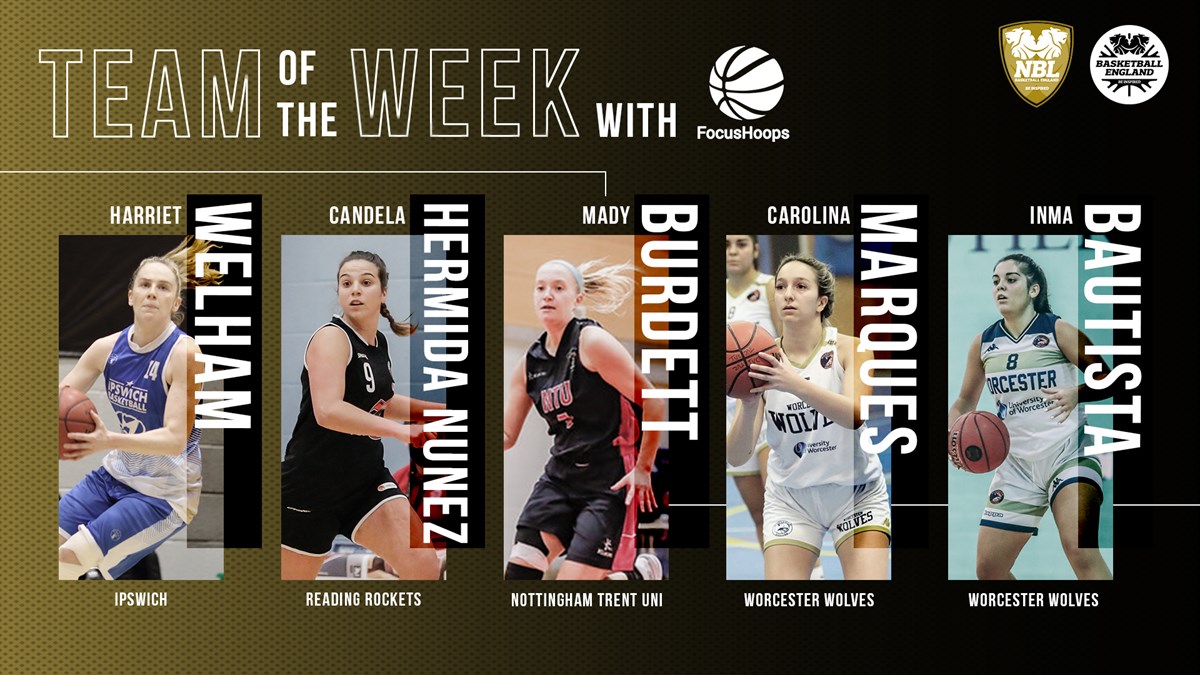 Harriet Welham - Ipswich, guard
41pts, 11reb, 8ast, 7stl, 1blk, 12 fouls on, +/- +39, 49eff
This week's Player of the week needs no explanation.
41 points. 11 rebounds. Eight assists. Seven steals. One block. Fouled 12 times. Committed just one foul.
Video game numbers from Harriet Welham as one of the best scorers in the league had an incredibly efficient performance in Ipswich's 50 point victory over Cardiff on Sunday.
Welham shot well inside the arc, hitting 11-23 and made 4-9 from deep but it was at the line where Welham excelled, making Cardiff pay to the tune of 15 makes from 18 attempts.
Add in five offensive rebounds, six defensive boards and an excellent day picking passing lanes, Welham had a weekend to remember with one of the most dominant performances in recent years.
Candela Hermida Nunez - Reading Rockets, wing
18pts, 7reb, 5ast, 22eff
In a game with potentially massive ramifications in the playoff race, Candela Hermida Nunez shone with her 18 points, seven rebounds and five assists in Reading Rockets' narrow point victory over BA London Lions II on Sunday.
The Rockets captain led by example during her 38 minutes on the court, shooting an efficient 50% from the floor and 56% from inside the arc, whilst picking up a trio of offensive rebounds and four defensive boards.
Hermida Nunez was no slouch on defence either as she finished the fiercely contested matchup with three steals.
Mady Burdett - Nottingham Trent University, guard
27pts (67% 3FG), 7reb, 31efF
Mady Burdett had a red-hot shooting performance this weekend as she shot the lights out for Nottingham Trent University in their 81-69 victory at BA London Lions II on Saturday afternoon.
Burdett, who platoons with former Player of the Week Shekinah Bimpa, made 7/ 11 shots from beyond the arc, hitting at an incredible 63% on her way to a 27 point day across 30 minutes of action.
Burdett also went perfect at the line, pulled down seven defensive boards, snagged a steal and two blocks as the American showed she's more than just one of the league's purest shooters.
Carolina Marques - Worcester Wolves, guard
29pts, 8reb, 5ast, 4stl, 28eff
Carolina Marques has been one of the standout performers of the 2020/21 WNBL season and this weekend was no exception as she drained a clutch basket to send Worcester's clash with Cardiff to overtime on Saturday.
Marques was tireless throughout the contest, playing 43 minutes and putting up 29 points at a fantastic 54% from the field and 57% from two-point-land.
Marques pulled down eight rebounds, dished five dimes and picked off four steals in an all-action performance that set her Wolves back on winning ways as they continue to chase a playoff spot.
Inma Bautista - Worcester Wolves, guard
22pts, 8reb, 4ast, 26eff
In a weekend of clutch free throws clinching big games across the world of women's basketball, Inma Bautista joined the party as her free throws with just seconds remaining in overtime claimed a hard-fought victory for Worcester Wolves over Cardiff Met Archers.
Bautista led by example, bagging 22 points on 53% shooting, hitting four three points and going 4-5 from inside the arc.
Adding eight rebounds, four assists and two steals, the Worcester captain did a little bit of everything to secure a huge win for the Wolves.
Team Basketball
Reading at the double
Team performance of the week goes to Reading who went perfect over their double-header weekend, including a huge win over Loughborough to put a sizable dent in the Riders' title aspirations. The victories also kept the Rockets in the hunt for a home playoff berth with the post-season fast approaching.
Credit also goes to CoLA Southwark Pride who are enjoying some brilliant form to maintain their own push up the standings. Team-oriented victories over Cardiff and Thames Valley Cavaliers set the London side up to seizing third position, just reward for coach Gibbons' side.
Honourable mentions
Carys Roy (CAR) - 11P/13R/4A/2S/1B/26EFF
Isobel Bunyan (CAR) - 13P/9R/5A/2S/5B/22EFF 
Isi Ozzy-Momodu (COLA) - 10P/16R/2A/20EFF
Gaila Comesana (REA) - 18P/11R/2A/18EFF
Sitota Gines Espinosa (REA) - 17P/10R/3A/20EFF
.