FocusHoops
' Darren Paul looks
over week 17 of the WNBL to select another Team of the Week.
As a writer, commentator, podcaster and more, Darren had just two games to pick from this past weekend but both provided some top performances. 
Have a look over this week's choices and give a shout-out to the players you think deserve one using the hashtag #NBL2021. Don't forget to tag us! 
Twitter: @NBLengland / @FocusHoops 
Facebook: @NBLengland  / @FocusHoops 
Instagram: @nblengland / @focushoops 
How it works 
The Basketball England WNBL Player of the Week goes straight into the starting line-up. 
The other four players are picked with the following factors in mind: 
Efficiency

 

Stats

 

Team and opposition strength

 

Periods of influence in the game

 
The FocusHoops team of the week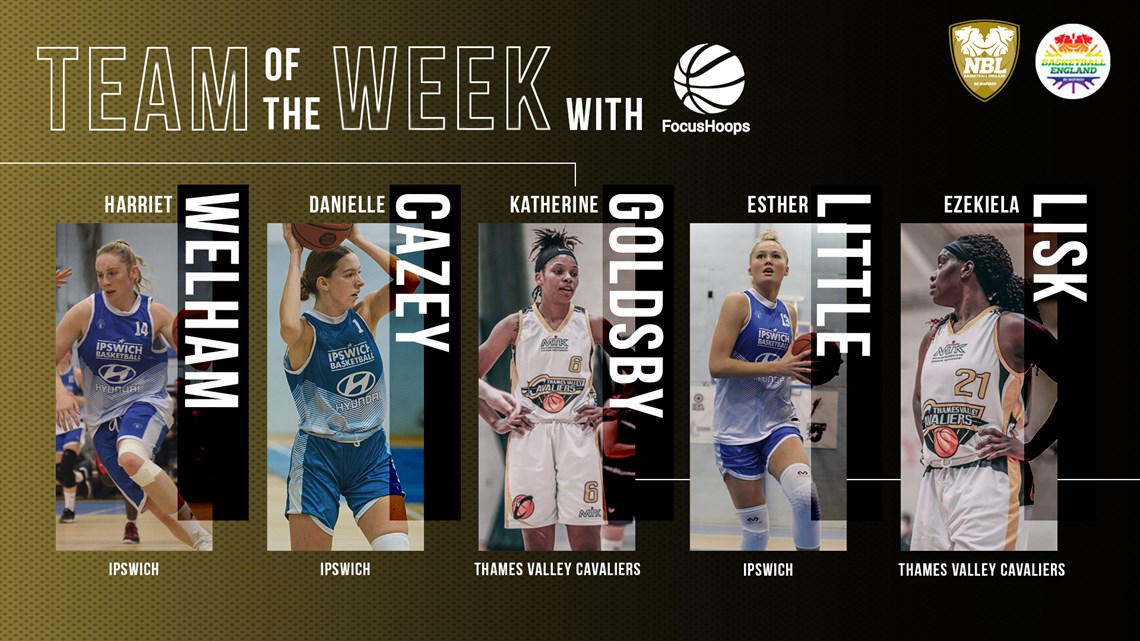 Harriet Welham - Ipswich 
POINTS 29, REBOUNDS 10, ASSISTS 10, 5 STEALS, +41, 5 EFFICIENCY 
Harriet Welham continues her incredible campaign of terror on the WNBL D1 with a stunning triple-double performance that included 5 steals, an eye-watering +41 and an index of 35. Simply put, Barking Abbey couldn't contain the reigning League MVP as Welham showed off once again, why she one of the most talked-about stars in our league.  
Welham's play, as it often is, was efficient shooting at 57% from inside the arc and nailing 5 of 6 at the line all whilst generating scoring chances for others and second-chance opportunities with her offensive rebounding.  
Esther Little - Ipswich 
4 POINTS,22 REBOUNDS 6, 4 BLOCKS, 28 EFFICIENCY 
Esther Little returns to the team of the week this week after a tremendous, selfless performance on the boards and 4 rejections for Ipswich in their win over Barking Abbey. The Gonzaga bound star pulled down 22 rebounds, 5 off the offensive glass on her way to dishing out 6 dimes in the ball game.  
Little didn't score much but facilitated fantastically well for Cazey and Welham in particular, demonstrating her flexibility to do what is needed of her by the team.  
Danielle Cazey - Ipswich 
27 POINTS,4 -1 +42 22 Index 
Danielle Cazey starts 2021 with back-to-back team of the week berths thanks to an outstanding scoring display, finishing with 27 points, shot at 52%. Cazey is a known threat from outside and this week was no different as she drained five triples on her way to a +42 points difference.  
In possession Cazey was safe, giving up just two turnovers, and pulled down four rebounds, two at both ends of the floor. Cazey showed the league again this weekend that she is a force to be reckoned with and will go off on teams given the opportunity.  
Katherine Goldsby - Thames Valley Cavaliers 
24 POINTS, 19 REBOUNDS, 35 EFFICIENCY 
The Thames Valley Cavaliers captain makes her 2021 debut in Team of the Week on the back of an enormous 24-19 double-double in their win over Nottingham Trent University. Goldsby shot an impressive 69% from inside the arc and made six of six free throws, on her way to her impressive points haul.  
Goldsby will be an important piece for TVC as they push to make the playoffs come the end of the season, and continue to be a force to be reckoned with.  
Ezekiela Lisk - Thames Valley Cavaliers 
8 POINTS,15 REBOUNDS, 1 ASSIST, 19 EFFICIENCY 
A debut Team of the Week appearance for Ezekiela Lisk off the back of a terrific 8-15 performance for Thames Valley in their defeat of Nottingham Trent University. Lisk shot well from inside the arc hitting 4-7, but the work she did on the offensive glass is what shone. 
Lisk pulled down an incredible 9 offensive rebounds, generating a huge amount of second chance opportunities for her team and playing a vital role in another impressive victory. Lisk will no doubt be looking to replicate this form when TVC host Ipswich next weekend.  
Honourable Mentions
Mady Burdett - 13PTS,10RBS, 2AST, 15EFF
Isabel Bueriberi - 11PTS, 4 RBS, 1AST, 12EFF 
Deborah Semoye  - 9PTS, 10RBS, 3STLS,12EFF 
Cameron Taylor-Willis - 11PTS, 10RBS, 10EFF 
.