Rebound's Chris Hughes picks his NBL Team of the Week and highlights some honourable mentions and team performances.   
Chris, a content producer, YouTube host and commentator, casts his eye over the seven games involving NBL Division One teams from Week 17, including Essex Rebels' double-header weekend. 
Have your say on this week's choices and give a shout-out to the players you think deserve one using the hashtag #NBL2021. Don't forget to tag us!    
Twitter:  @NBLengland / @Rebound__  
Facebook:  @NBLengland  / @ReboundNBL  
Instagram:  @nblengland / @reboundnbl  
How it works  
The Basketball England NBL Player of the Week goes straight into the starting line-up.    
The other four players are picked with the following factors in mind:    
Efficiency 

 

Stats 

 

Team and opposition strength 

 

Periods of influence in the game 

 
The Rebound team of the week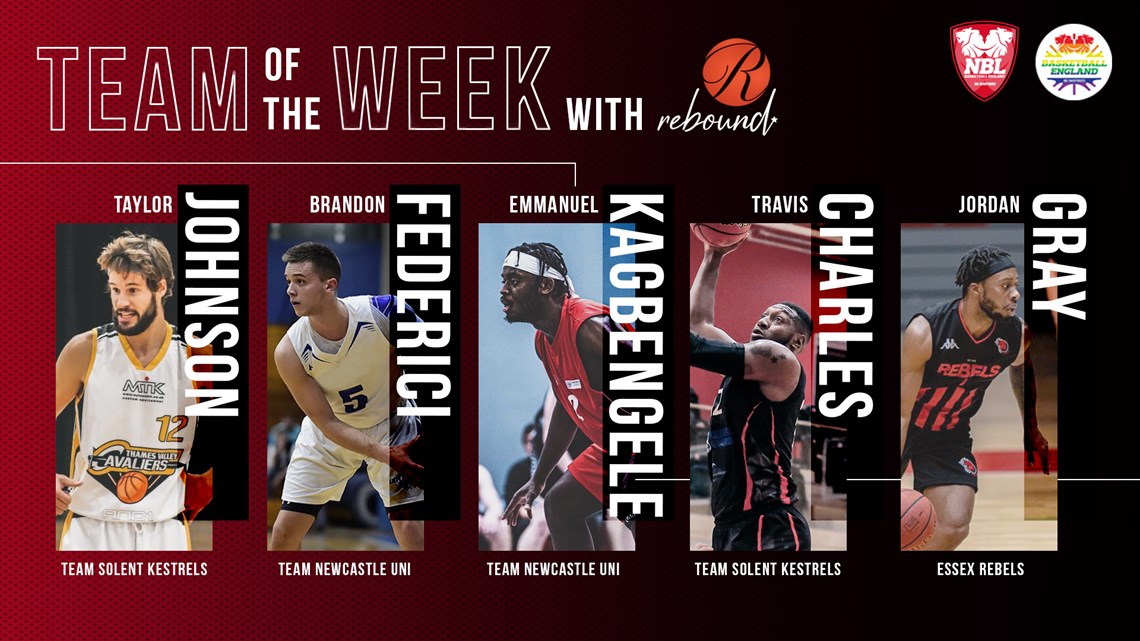 Taylor Johnson – Thames Valley Cavaliers, guard   
30 POINTS, 10 REBOUNDS, 3 ASSISTS, 3 STEALS, 1 BLOCK, 39 EFFICIENCY    
In the Saturday night game the former Dartmouth guard was on fire and was too hot to handle, shooting the lights out from beyond the perimeter going 5-6. 
Taylor Johnson also had success from inside, using his pace to glide past the defence for the easy two-pointer. Derby really struggled to contain him in the 25-point blowout win. 
Johnson and co raced to an early 10-point lead in the first quarter with the Cavaliers guard having an electric start with 11p/1r/2a/1s from the first quarter. 
Brandon Federici – Team Newcastle University, guard    
31 POINTS, 4 REBOUNDS, 9 ASSISTS, 1 STEAL, 40 EFFICIENCY 
It was a day for three-point shooting in the NBL with Brandon leading all players over the weekend with 6-10 trey balls. 
It was a shooting clinic that was required, as Saturday's opposition Essex Rebels tends to live and die by the three; Essex can quite easily outscore teams. Newcastle shot 9-24 (37%) on threes versus Essex's 12-31 (38%).  
Federici and co are proving week in and week out that they are more than just dark horses. Underestimate them at your peril. 
Emmanuel Kagbengele – Team Newcastle University, forward    
25 POINTS, 6 REBOUNDS, 1ASSIST, 1 STEAL, 1 BLOCK, 33 EFFICIENCY 
Kagbengele decided he wasn't going to miss a shot as he showed that you don't need to shoot threes to be effective, going 11-11 inside. Kagbengele went to work mainly in the paint and around the elbow. 
It was a weekend of personal bests for the former Northumbria University forward registering a personal NBL D1 best in points, Field goals made and Field goal percentage. 
Emmanuel incredibly racked up that box score in around 22 minutes of play. 
Travis Charles – Team Solent Kestrels, forward    
22 POINTS, 8 REBOUNDS, 26 EFFICIENCY 
It may have not been a weekend they were expecting, losing in the BBL Trophy and a ground out a win in the capital, compared to their high expectations. However Solent move on with a 51-0 record in all NBL competitions. 
Travis Charles was one of the standout players in Saturday's 16-point win versus BA London Lions. Going 8-9 from the field, the walking bucket led all players with 22 points. 
The former University of Albany forward is currently averaging 19.2p/7r/1.3a/0.2s/0.2b in his third season with Team Solent Kestrels shooting an impressive average of 66.7 FG%/85.3 FT% 
 Jordan Gray – Essex Rebels, guard 
21 POINTS, 10 REBOUNDS, 3 ASSISTS, 2 STEALS, 23 EFFICIENCY  
Bouncebackability is key and in doing so Jordan Gray has helped Essex Rebels with their play off aspirations. The newly promoted side are 10th two points off the play-offs with six of their next seven games are against teams around them in the table.  
The Rebels guard was key in Sunday's win, getting things started with the first bucket. Essex raced to a 16-point first-quarter lead. Gray contributed 12p/4r/1a/1s in the 1st quarter. 
Team basketball    
CAVALIERS BEAT TRAILBLAZERS TO AVENGE LAST SEASON'S OT 122-133 LOSS 
Thames Valley Cavaliers got a 25-point win versus top-four rivals Derby Trailblazers. Compared to last season, it shows us how far this Cavaliers side has come.  
This season they have added a bit of defensive steel which can be seen in the points per game tally. This season they are giving opponents an average of 88.9PPG vs 117.9 from last season. 
Honourable mention to Blayne Freckleton with an all-round performance - he was key in the Saturday night win! 
IT WAS RAINING THREES AS WORTHING GET AN IMPRESIVE WIN AT BRADFORD 
It was an impressive performance from the South Coast side as four of the five starts shot well beyond the arc. Ishmael Fontaine (3-7), Jack Sunderland (4-6), Zaire (4-8) and Tom Ward (4-4) were pivotal in the 14-point win. 
Since Cameron Hildreth departed for Surrey his former side have found some form with the likes of Taylor, Howard Crawford and co all stepping up as the Thunder adapt their style of play. Since 'Killa Cam' has left, Worthing have won two with only an OT game versus Hemel in the L column. 
Honourable mentions    
AJ Roberts (OAK) – 22P/15R/2A/1S/2B/33EFF 
Greg Wild (LOU) 18:10 – 21P/2R/2A/2S/18EFF 
Jonas Dieterich (LOU) – 21P/11R/3S/24EFF 
Tayo Oyefusi (HEM) – 13P/15R/2A/26EFF 
Blayne Freckleton (THA) – 15P/6R/5A/2S/20EFF 
.