FocusHoops' Darren Paul watched over the weekend's WNBL playoff Semi-Finals, highlighting the players that caught the eye as we found out our finalists that will be heading to Nottingham.
As a writer, commentator, podcaster and more, Darren watched wins for regular season champions Ipswich and CoLA Southwark Pride who will now contest for the playoff crown at Nottingham Wildcats Arena on May 29.
Have a look over this week's choices and give a shout-out to the players you think deserve one using the hashtag #NBL2021. Don't forget to tag us!  
Twitter: @NBLengland / @FocusHoops  
Facebook: @NBLengland  / @FocusHoops  
Instagram: @nblengland / @focushoops  
How it works  
The Basketball England WNBL Player of the Week goes straight into the starting line-up.  
The other four players are picked with the following factors in mind:  
Efficiency 

 

Stats 

 

Team and opposition strength 

 

Periods of influence in the game 

 
The FocusHoops team of the week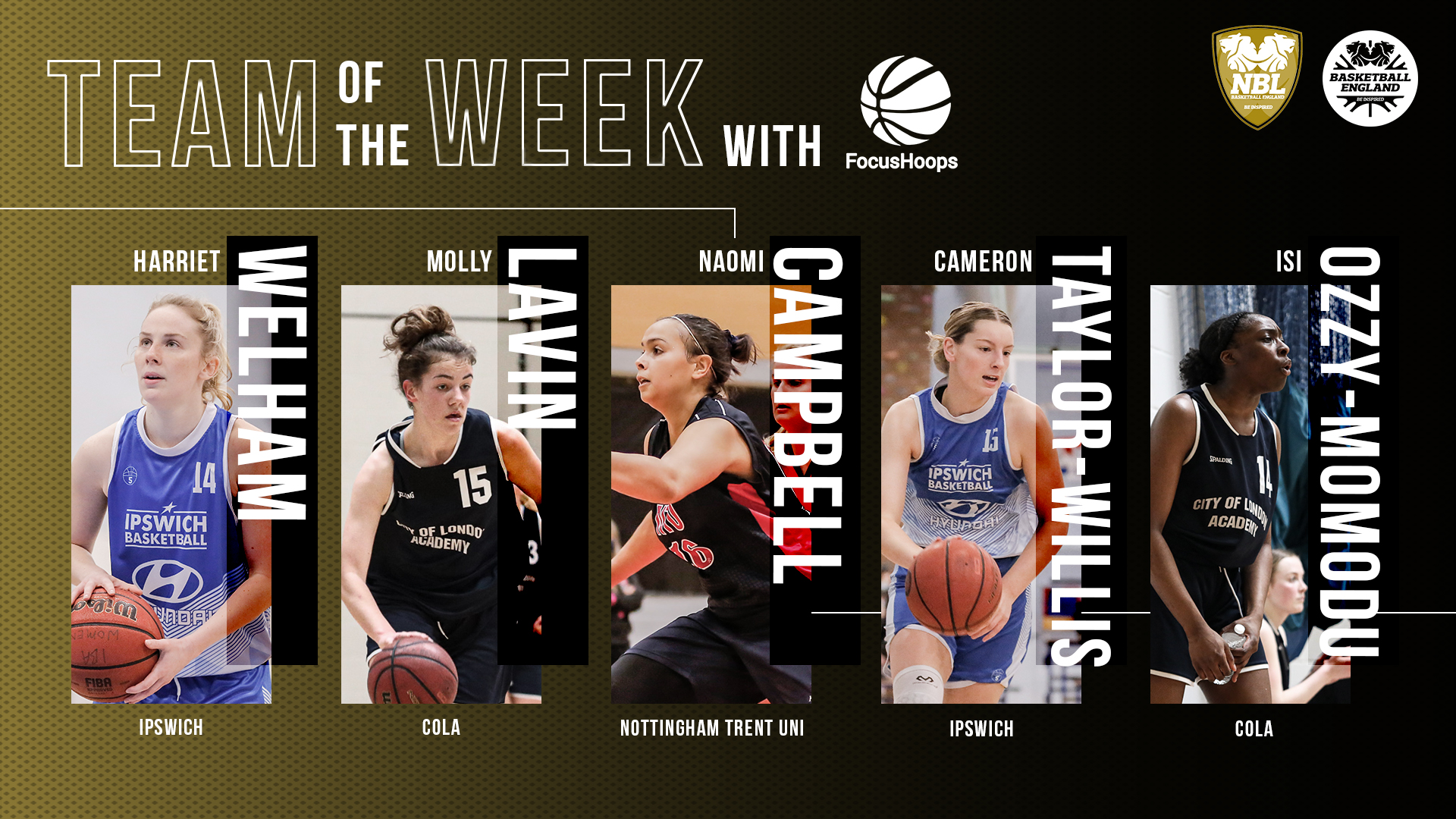 Harriet Welham - Ipswich, guard
27PTS, 8REB, 7AST, 2STL, 29 EFF
Harriet Welham has turned up in a big way to the 2021 WNBL Playoffs, with another game changing performance for Ipswich as they squealed by Nottingham Trent University by three points.
Welham's three-point shooting has improved as we've moved to the business end of the season and Saturday was no exception as she went 4-8 from beyond the arc in addition to her 60% scoring inside.
Welham did a lot of everything as she has done all season pulling down eight rebounds, three offensive and dished seven dimes in an efficient performance that clinched Ipswich's spot in the final.
Molly Lavin - CoLA Southwark Pride, forward
14PTS, 14REB, 2STL, 21EFF
Molly Lavin was the key performer during CoLA Southwark Pride's 64-50 victory over Loughborough Riders where she finished with a 14-14 double-double to clinch Pride's spot in the final.
Lavin has been a consistently excellent presence for Pride all season and seeing her shine in the postseason is great to see. Lavin shot efficiently, hit 6 of 9 shots, all from inside the paint, and pulled down 14 rebounds, including 3 offensive boards.
Lavin also dished 3 dimes and swiped 2 steals, as Southwark's great season continues into the final weekend and Lavin has been a major part of that.
Naomi Campbell -
Nottingham Trent University, forward
15PTS, 7REB, 1STL, 1BLK, 21EFF
Naomi Campbell came up with a huge performance for her Nottingham Trent University as they just fell short of a finals appearance in their 3 point loss to Ipswich on Saturday.
Campbell, celebrating her 30th birthday on gameday, was a key contributor as the experienced former England youth international finished with 15 points and 7 rebounds.  Efficiency was the name of the game for Campbell, as she shot a stellar 6-9 from inside the arc and sank her only attempt from three as Trent battled hard to the last.
Campbell, who was a big name signing at the start of the season for Trent has been a fantastic presence for Trent this season helping to guide Nottingham to a great semi-final run.
Cameron Taylor-Willis - Ipswich, forward
21PTS, 11REB, 3AST, 1BLK, 24EFF
Cameron Taylor-Willis came up with a big double-double to help clinch Ipswich's three-point semi-final victory over Nottingham Trent University on Saturday.
Taylor-Willis shot well inside the arc making 8-12 attempts and scored a triple on her way to 21 points and led her team in rebounding, an impressive feat with Esther Little on the floor. The forward pulled down nine defensive boards and two offensive and made three assists and a block in an all-round excellent performance that sees Ipswich face up with CoLA Southwark Pride next weekend in the final.
Taylor-Willis has been one of the big three for Ipswich this year and they will need one more big performance from her as they go for victory next weekend.
Isi Ozzy-Momodu - CoLA Southwark Pride, forward
8pts, 14reb, 1STL, 1BLK, 15eff
Isi Ozzy-Momodu has been another stand-out performer all season long in the WNBL D1, as she put in a strong performance in CoLA Southwark Pride's 64-50 semi-final victory over Loughborough Riders.
The forward contributed eight points on 60% shooting in her 20 minutes of action, but made her presence known on the glass, particularly on the defensive end pulling down 14 boards, 12 under her basket.
Ozzy-Momodu also snagged one steal and sent a shot back as she helped Pride into the playoff finals, and Jackson Gibbons will be needing another strong performance from one of the breakout stars of the season this weekend as they chase the championship against Ipswich.
Team Basketball
CoLA Southwark Pride looked comfortable as they booked their place in the WNBL Playoff Final after their 14 point victory over Loughborough Riders on Saturday.
As always, they spread the minutes and the points as Molly Lavin and Beeban Jikiemi-Pearson both top scored with 14 points and Emilie Black also contributed with 10 points.
The fifth seed Nottingham Trent University deserve a lot of credit this weekend as they pushed Ipswich to the absolute limit, and were within striking distance of making the final, thanks to the big scoring performance of Evie Dekker and all-around game of Naomi Campbell.
Honourable mentions
Evie Dekker - 27PTS/2REB/2AST/17EFF
Robyn Ainge - 14PTS/6REB/2AST/14EFF
.