FocusHoops' Darren Paul is back after a minor delay to select his latest Player and Team of the Week from across the WNBL.
As a writer, commentator, podcaster and more, Darren had a quartet of games to mull over, but that didn't provide a shortage of quality performances to choose from.
Have your say on this week's choices and give a shout-out to the players you think deserve one using the hashtag #NBL2122. Don't forget to tag us!    
Twitter: @NBLengland / @FocusHoops  
Facebook: @NBLengland  / @FocusHoops  
Instagram: @nblengland / @focushoops  
How it works  
Darren will pick a Player of the Week and four other selections to round out his Team of the Week, paying attention to the following criteria:
Efficiency 

 

Stats 

 

Team and opposition strength 

 

Periods of influence in the game 

Being on a winning team (exceptional performances from players on losing teams will be considered for TOTW)
Other players will also receive a shout out as honourable mentions at the bottom of the piece.
The FocusHoops team of the week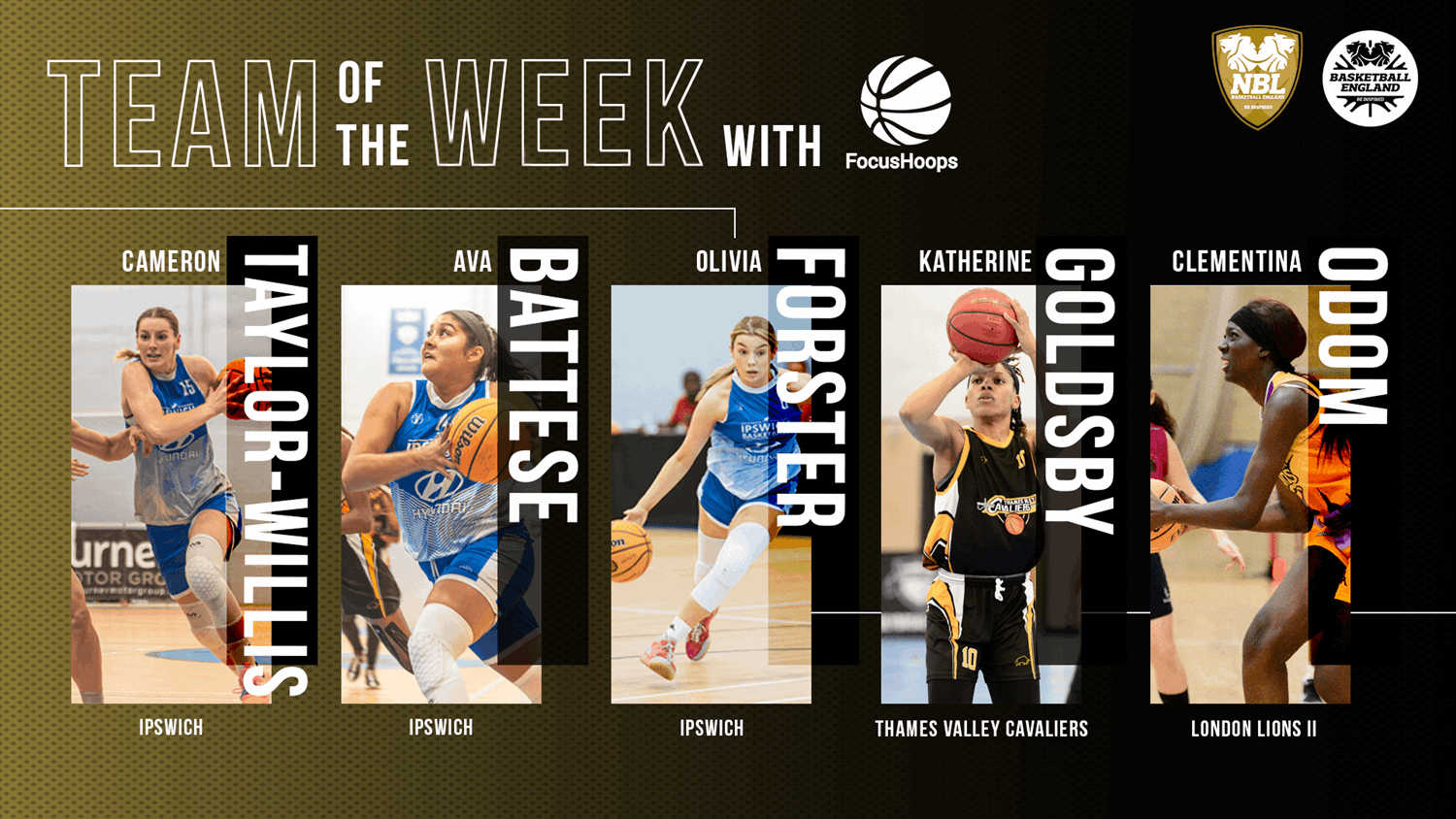 PLAYER OF THE WEEK
Cameron Taylor-Willis - Ipswich, forward
22pts, 22reb, 8ast, 4stl, 2blk, 43eff
Cameron Taylor-Willis is my Player of the Week for her massive 22 point, 22 rebound double-double in Ipswich's 66 point home victory over Cardiff Met Archers II.
The Ipswich captain put in a stunning performance, playing the full 40 and shooting well to make Cardiff's life a misery, also going to the line 12 times, making nine shots.
CTW, as she did on a number of occasions last season, had a hugely effective game and her career high for rebounds and assists makes the forward an easy choice for Player of the Week.
Olivia Forster - Ipswich, guard
28pts, 3reb, 2ast, 6stl, 24eff
Former Manchester Mystics player Olivia Forster had a great scoring performance for Ipswich on Sunday, finishing with 28 points in their win over Cardiff.
Forster shot 55% from the floor and bagged six triples as she caught fire from outside in the lopsided contest. The talented young guard also contributed on defence, finishing with six steals to compliment her trio of rebounds and two dimes across 31 minutes of action.
Forster has been performing well during her debut season in Suffolk and this week she put it all together to be an easy Team of the Week selection.
Ava Battese, Ipswich - guard
17pts, 12reb, 3ast, 27eff
Ava Battese finished with a 17-12 double-double to clinch her spot in the Team of the Week, making it a trio of Ipswich performers.
Having the hot shooting hand from outside against Cardiff Met Archers II, Battese shot an efficient 60% from the floor, including sinking five triples as coach Drane's side easily overmatched their Welsh opponents.
Battese was also the second best rebounder in the contest, pulling down nine defensive boards and three on offensive, a valuable contribution in a game full of them.
If Ipswich want to repeat as champions and build on the success of season's past, they will need more days like this from Battese.
Katherine Goldsby - Thames Valley Cavaliers, guard
18pts, 8reb, 1ast, 5stl, 17eff
Thames Valley Cavaliers' Katherine Goldsby makes her first Team of the Week of 2021/22 thanks to a tough offensive performance in the 9 point victory over Bristol Flyers on Saturday afternoon.
Goldsby finished with 18 points at 42% from the floor, plus a timely triple in the ballgame to boot.
The American was hard to stop, drawing nine fouls whilst pulling down eight boards, snagging 5 steals and sending one shot back as she led her side to victory.
Clementina Odom - London Lions II, forward
4pts, 13reb, 2stl, 7blk, 22eff
Clementina Odom did not have a great scoring day for London, but more than contributed with 13 rebounds, two steals and a stunning seven blocks. She also finished with a +5 despite her team's one point loss to Worcester.
Odom's play helped to set the table for her teammates to take up the scoring load, especially Fatmata Janneh who bagged 31 points in the contest.
London did a great job of staying in the game against a tough opponent, battling back to erase a deficit twice in the final period. Odom was undoubtedly a factor in that, something the Lions will be hoping to see more of as they look to make a playoff push this season.
Team Basketball
Worcester Wolves snatch victory at the death
Worcester Wolves took a hard fought road contest this weekend, clinching the W in the dying moments thanks to a clutch free-throw from Carolina Marques.
Worcester were led in scoring by captain Shanice Turner and Chandre Nunez, both with 12 points in the contest, in what can be seen as another example of a collective effort from the West Midlands outfit.
The win has Worcester now sitting at a .500 record of 3-3 and sixth in the table. If they continue to collect victories over the teams below them and battle hard against those expected to challenge for the title then the Wolves will be a lock for a playoff place in just their second season in D1W.
Thames Valley burst Bristol's bubble to go 3-2
Thames Valley Cavaliers brought Bristol Flyers back down to earth with a bump this week, following Bristol's triumph last week on NBL Live. TVC played four quarters of consistent basketball and, buoyed by a great first half, weathered the Bristol fightback in the third to leave with a 9 point victory.
TVC were led by Katherine Goldsby who once again demonstrated her excellent scoring ability, finishing with 18 points in the contest, but she didn't do it alone. Chinwe Iwunze and Ezekiela Lisk both contributed with double-digit scoring and battled hard on the glass to help the Cavs move up to fifth in the standings.
Honourable mentions
Chinwe Iwunze (TVC) - 15P/6R/1A/15EFF
Fatmata Janneh (LL2) - 31P/8R/3A/21EFF
Ezekila Lisk (TVC) - 17P/3R/7A/15EFF
.