It's time once again for FocusHoops' Darren Paul to select some standout performances, this time picking from week 3 of the WNBL slate.
As a writer, commentator, podcaster and more, Darren had five games to choose from, including Anglia Ruskin's first win of the season and a narrow 64-61 win for Worcester against Reading Rockets.
Have your say on this week's choices and give a shout-out to the players you think deserve one using the hashtag #NBL2122. Don't forget to tag us!    
Twitter: @NBLengland / @FocusHoops  
Facebook: @NBLengland  / @FocusHoops  
Instagram: @nblengland / @focushoops  
How it works  
Darren will pick a Player of the Week and four other selections to round out his Team of the Week, paying attention to the following criteria:
Efficiency 

 

Stats 

 

Team and opposition strength 

 

Periods of influence in the game 

Being on a winning team (exceptional performances from players on losing teams will be considered for TOTW)
Other players will also receive a shout out as honourable mentions at the bottom of the piece.
The FocusHoops team of the week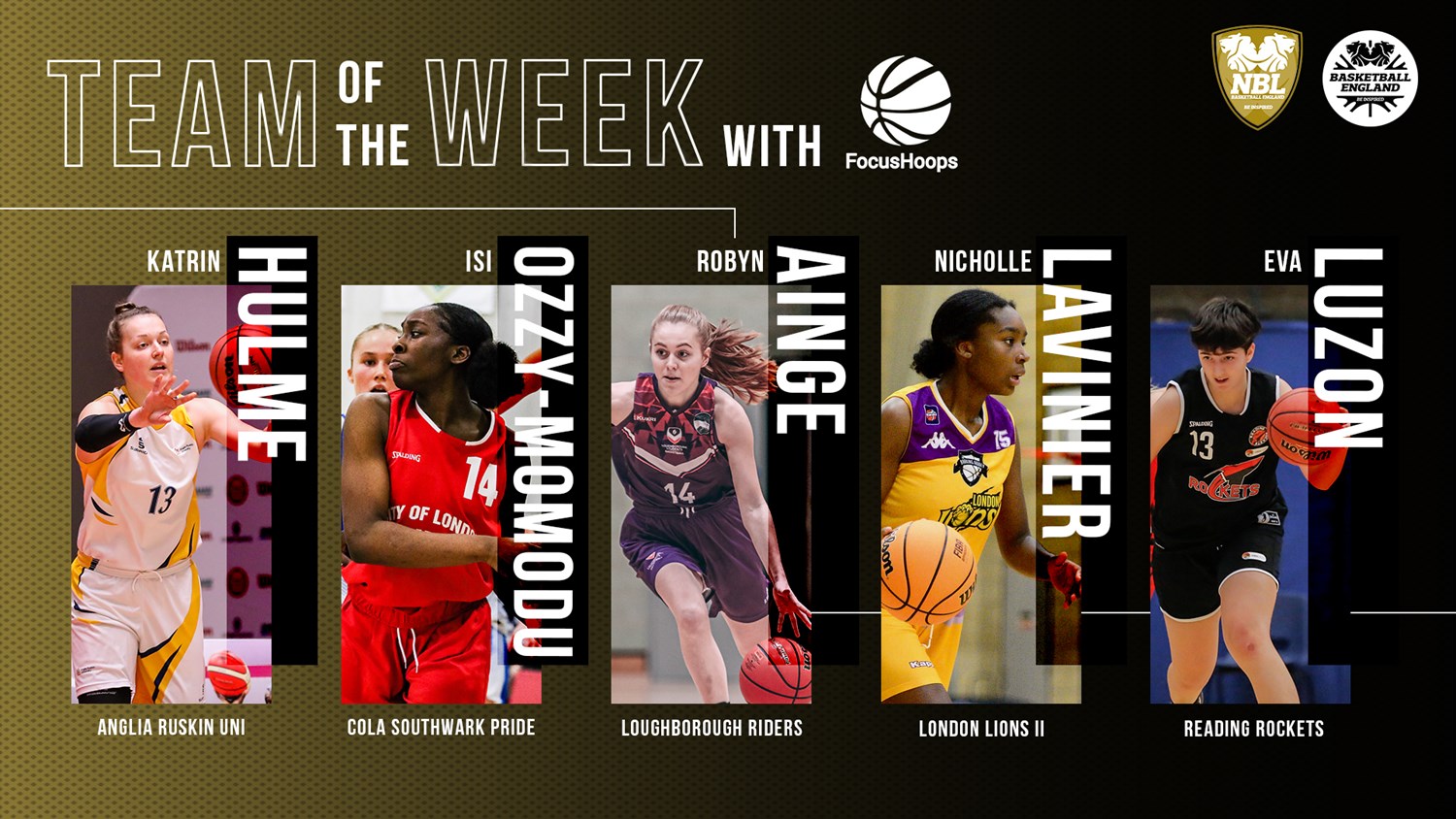 PLAYER OF THE WEEK
Katrin Hulme – Anglia Ruskin University, forward
16pts, 11reb, 7ast, 5STL, 26eff
Katrin Hulme led Anglia Ruskin with a captain's performance as she claimed my Player of the Week honours in the WNBL.
Hulme, known fittingly as The General, had a hand in everything ARU did on Sunday with 16 points, including 4-5 from the stripe, plus 11 rebounds, seven assists and five steals.
Hulme was also fouled five times whilst committing just three fouls herself, helping ARU bounced back after their defeat to CoLA to begin the season.
Isi Ozzy-Momodu - CoLA Southwark Pride, forward
11pts, 17reb, 3ast, 27eff
Isi Ozzy-Momodu shut down the internet this weekend with her historic lay-up line dunk and took over for CoLA Southwark Pride, cleaning up on the glass in the nail-biting victory over Thames Valley.
Ozzy-Momodu shot well from the floor and finished with 11 points despite struggling at the line (1-6), whilst controlling the boards with 17 rebounds.
The talented young forward also held up well on the defensive end of the floor with a steal and three blocks, the last of which prevented a score with just seconds to go in the ball game.
Robyn Ainge - Loughborough Riders, guard
15pts, 5reb, 3ast, 5stl, 15eff
With 15 points, five rebounds and three assists, Robyn Ainge made a fine contribution to Loughborough as their winning streak to start the WNBL season continued.
Ainge shot the ball well on a day when Loughborough as a team struggled, but it was the captain's contributions defensively that stood out for me. Her five steals and stingy defence helped form the foundations for a solid team win over Bristol.
Nicholle Lavinier - London Lions II, forward
19pts, 8reb, 1ast, 1stl, 19eff
Nicholle Lavinier was unstoppable from outside this weekend as she rained in six three-pointers in the Lions' first victory of the season.
Lavinier's shooting helped the Londoners clinch a 12-point win over Nottingham Trent, with the young forward finishing the game as the top scorer on 19 points. She also led her side in rebounds, pulling down eight boards, being topped only by NTU's Lilly Annim on nine.
Lavinier did a good job securing the basketball as well, committing just one turnover in addition to dishing an assist and nabbing a steal. She also finished with an enormous +19 points differential, a number that goes some way to showing her impact this weekend.
Eva Luzon – Reading Rockets, forward
17pts, 6reb, 1ast, 2stl, 4blk, 26eff
Eva Luzon was a stand-out performer on Sunday, despite Reading Rockets' three-point loss to the Worcester Wolves.
Coming off the bench, Luzon was perfect from the floor as she shot 100% (8-8) on her way to leading her side in both points and rebounds. She also contributed defensively, with two steals and four rejections, including two in the dying minutes as Reading tried to mount a fightback against the odds.
Whilst it wasn't enough to get the W for her side on this occasion, with more games like this from Luzon, Reading will be in amongst the wins again before too long.
Team Basketball
Loughborough top the WNBL thanks to first-half defensive stand
Loughborough Riders stayed perfect atop the WNBL D1 with another victory predicated on team basketball.
Robyn Ainge was the leading scorer in the contest, with all but one player contributing at least a point and Katie Januszewska, who is also playing up in the WBBL, leading all players with 11 rebounds.
The Riders did not have their best shooting performance but held Bristol to just 16 points in the first half. That built the platform for victory as Ainge and co. were able to weather a second half storm.
Wolves notch first win on the road
Worcester Wolves clinched their first victory of the season thanks to an excellent team performance, edging an Eva Luzon inspired Reading Rockets by just three points on Sunday.
Worcester relied on contributions from everybody in the victory, with the scoring of Chandre Nunez and Carolina Marques, who finished with 22 and 14 points respectively, particularly important. Kacey Cox and Estella Maloney-Danvers put in the work on the glass to seal the deal, leaving Worcester to kick on after this hard-fought road victory.
Their aim will no doubt be to get back into the playoffs, which they were so cruelly denied entry to last season.
Honourable mentions
Chandre Nunez (WOR) - 22pts, 22reb, 1stl, 13eff
Carolina Marques (WOR) - 14pts, 2reb, 1ast, 2stl, 12eff
Ilaria Zaffaroni (ARU) - 20pts, 8reb, 2ast, 4stl, 15eff
Carys Roy (CAR) - 1pts, 13reb, 2ast, 1 stl, 2 blk, 21eff
Fatmata Janneh (LL2) - 16pts, 6reb, 6ast, 1stl, 15eff
Lilly Annim (NTU) - 14pts, 9reb, 1ast, 15eff
.