Newham All Star Sports Academy (NASSA) has been recognised for its outstanding work in supporting young people through the Covid-19 pandemic with a plaque on one of London's Docklands Light Railway trains.
The plaque is a tribute to NASSA's mentoring team for its dedication to the mental wellbeing of around 500 vulnerable local young people during the Covid-19 lockdowns and beyond. 
NASSA was named as the outstanding team in the Covid Heroes Awards organised by Keolis Amey Docklands, the company which runs the DLR network.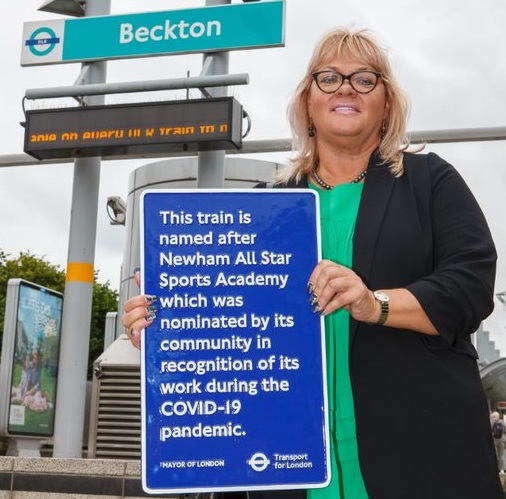 'I couldn't be more proud'
"This is such an honour to see NASSA's name on a DLR train. I couldn't be more proud," said NASSA Founder and Chief Executive Natasha Hart MBE. 
"Many of the young people NASSA supports have troubled home lives. Because of Covid, they couldn't attend their regular NASSA sessions and many of them lost focus, the motivation to do schoolwork or to look after their personal hygiene and ambition for the future. 
"Most tragically of all, in the first wave of the virus, six NASSA participants lost a parent to Covid-19. Five of the parents were in their 40s, the other was in his 50s. All were from the BAME community. 
"These deaths impacted not only on teenagers who, without warning, suddenly had to contemplate life without one of their parents, but also on their friends and fellow NASSA participants. 
"The young people asked for help with their mental health. The coaches mentored them on an individual basis either via Facetime or a phone call. Each young person was given as much time as he or she wanted. Some spoke to a coach every day for as much as an hour. Others, a few times per week for 10 or 20 minutes.  
"Each NASSA coach was spending 20-30 hours of their week mentoring young people remotely. They weren't getting paid for it because with basketball sessions stopped, much of NASSA's income was suspended, yet they carried on talking to the young people anyway because they knew how much they were needed."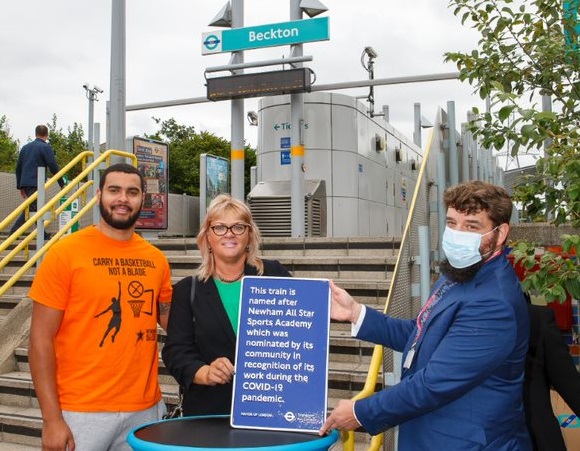 No subject was off limits in the confidential conversations – boredom, anger, hopelessness, drugs, alcohol, smoking, gang activity, even suicide.  
The NASSA mentoring team consisted of NASSA coaches and staff members, Great Britain international and former NASSA player Teddy Okereafor and even four NASSA participants who began mentoring their friends. 
The full team recognised in the Covid Heroes Awards is comprised of: 
Donnie Cabrera – NASSA Head Coach / Mentor

 

Framaz Dar – NASSA coach / Mentor

 

Stephanie Facey – NASSA participant / Peer mentor

 

Hamza Nadeem – NASSA participant / Peer mentor

 

Joe Norster – NASSA coach / Mentor

 

Anthony Okereafor – NASSA coach / CABNAB creator / Mentor

 

Teddy Okereafor - Team GB international / Former NASSA player / Mentor

 

Reece Quinland – NASSA participant / Peer mentor

 

Luis Sanchez – NASSA coach / Mentor

 

Dan Sharp – NASSA participant / Peer mentor.

 
As well as offering mental health support, the NASSA mentors spent their time sourcing free short Open University learning courses to encourage extra learning within the young people.  
Natasha Hart added: "I am always proud of the NASSA family, but I have never witnessed the depth of connection between the NASSA team and the young people we help as I have during the Covid-19 pandemic.  
"This plaque is a tribute to all of them and a fitting reminder whenever they take the DLR to attend NASSA sessions."