Week two of the NBL season is upon us, with seven games planned for this weekend.
Teams will be hopeful of stringing wins together or correcting their course after a loss on opening weekend, providing plenty of intrigue in the early season.
There's a headline contest between two of last season's top three as Thames Valley make the trip to Hemel, and defending champs Solent travel to 2020/21 #4 seeds Derby.
Fans can also enjoy the first of this season's L Lynch Trophy quarter-finals as Worthing head to Newcastle on Sunday afternoon.
We take a look at all the weekend's games below, with links to live stats and live streams at the bottom of the page.
Hemel Storm (1-0) v Thames Valley Cavaliers (1-0)
All eyes will be on the match up between two D1M heavyweights tomorrow evening as Thames Valley battle local rivals Hemel.
Storm came up short in both league meetings between these two sides a year ago before eventually enjoying the last laugh as they progressed to the playoff final, whilst the Cavs lost to Worthing in their first and only playoff game.
The Uxbridge side kept up their recent run of results against Hemel last month, defeating the Hertfordshire side 82-74 in the group stage of the L Lynch Trophy. Hakeem Sylla (22pts) and Jakobi Bonner (21pts) were both in fine form in that one and will no doubt be a factor again here.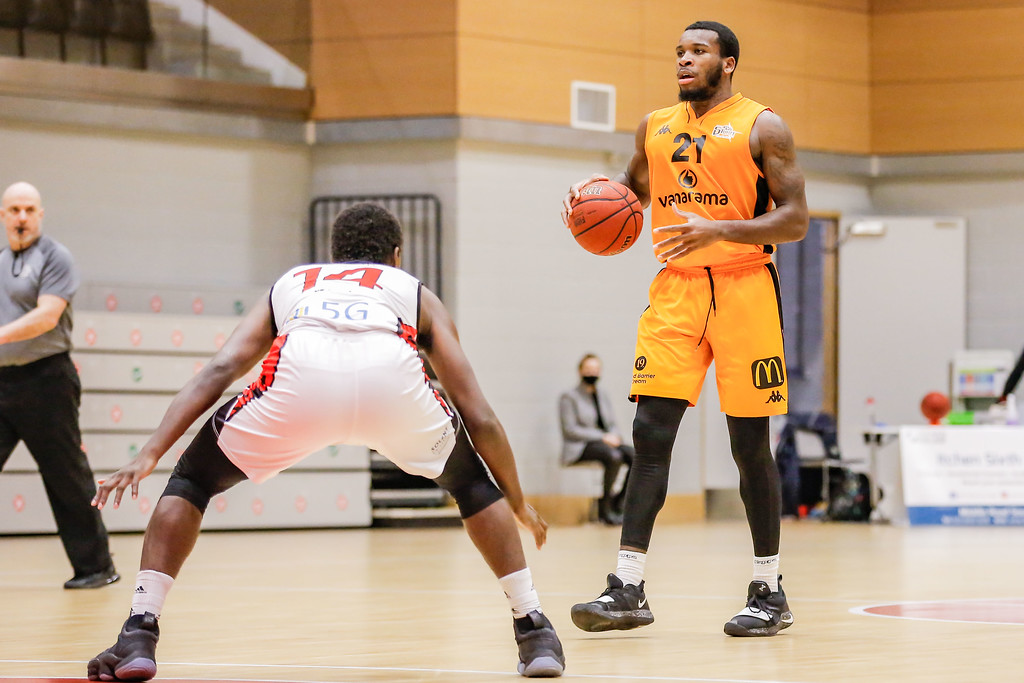 Hemel head into tomorrow's contest in good form, knocking off Oaklands 117-55 to open the season before winning 81-78 on the road against Reading in the L Lynch Trophy.
Former Cavs man Taylor Johnson impressed in both those games, scoring 59 points combined across the weekend to earn a place in the Rebound NBL Team of the Week.
Given Solent's form in recent years, both these teams will know that a title challenge in D1M has a very slim margin for error. That's sure to make for a stunning local derby that NBL fans won't want to miss.
.
Elsewhere this weekend
Six other games remain, starting with Team Solent Kestrels' (1-0) trip to Derby Trailblazers (0-1).
Solent got their title defence up and running last weekend with a 69-64 win at home to Reading, whilst Derby dropped a tough contest away to Thames Valley.
Essex Rebels (0-1) are the latest team to take on in-form Nottingham Hoods (1-0). The Midlands side are yet to lose this season across the L Lynch Trophy and regular season, including last weekend's 92-66 win over Loughborough.
Bradford Dragons (0-1) have their home opener lined up after an away loss in Newcastle last weekend. A home tilt against Worthing Thunder (1-0) won't be easy for the Yorkshire side though.
Team Newcastle University (1-0) will need to put in the miles if they're to grab their second win of the season. The Knights embark on a trip to East London to face London Lions II (0-1), who also triumphed last time out as they beat Leicester.
Sunday has two games that are live for NBL fans to enjoy, starting with Reading Rockets (0-1) hosting Leicester Warriors (0-1).
That game is set to tip at 5pm, with Meshack Lufile looking to continue his good start to life in the NBL with Reading.
That leaves two winless clubs to face off to close the weekend, as Loughborough Riders (0-1) are at home to Oaklands Wolves (0-1). Both teams looked off the pace last time out, with Loughborough falling by 26 and Oaklands coming up short by 62. Both will look to improve their fortunes by Sunday evening.
L Lynch Trophy
The first of this season's L Lynch quarter-finals takes place on Sunday as Worthing take a trip the length of the country to face Team Newcastle.
Cushioning the blow of a lengthy road trip by stopping off the play Bradford in D1M on Saturday, it'll still make for a lengthy weekend for Thunder as they make a bid for their second semi-final in as many years.
For Newcastle, they have their own logistics to overcome, playing in London on Saturday before heading back home. That unlikely to slow down Ronald Blain, Brandon Federici, David Moya and co. in what should be an hard-fought contest in the North East.
This weekend's fixtures:
Saturday 9 October
4:30pm - London Lions II v Team Newcastle University - LIVE STATS/LIVE STREAM
5pm - Essex Rebels v Nottingham Hoods - LIVE STATS
6:15pm - Bradford Dragons v Worthing Thunder - LIVE STATS
7pm - Derby Trailblazers v Team Solent Kestrels - LIVE STATS
7pm - Hemel Storm v Thames Valley Cavaliers - LIVE STATS
Sunday 10 October
5pm - Reading Rockets v Leicester Warriors - LIVE STATS/LIVE STREAM
6:30pm - Loughborough Riders v Oaklands Wolves - LIVE STATS/LIVE STREAM