It's been a hectic start to the season, with three weeks already in books.
Some teams have started well, others still need to up their game. Four unbeaten teams remain and the quartet are all in action this weekend, with some tricky fixtures to navigate.
There's also another L Lynch Trophy quarter-final to enjoy on Sunday, with a repeat of last season's final as Solent and Thames Valley go head to head.
We take a look at all the weekend's games below, with links to live stats and live streams at the bottom of the page.
Newcastle take on one of their longest road trips of the year tomorrow as they head South to face Team Solent Kestrels.
The North East side haven't travelled well this season, losing both of their road games to date. That included an entertaining contest against Hemel last weekend, which finished 117-104, plus an opening day defeat to London Lions II.
Despite their early season struggles, there's still plenty of reason for optimism. The side have already booked a spot in the L Lynch Trophy semi-finals after beating Worthing, and Ronald Blain is enjoying 31.3ppg through three D1M games.
Blain's combination with Brandon Federici (22ppg) is a double act that will cause most teams problems this season, with Martyn Gayle and David Moya also starting the new campaign well.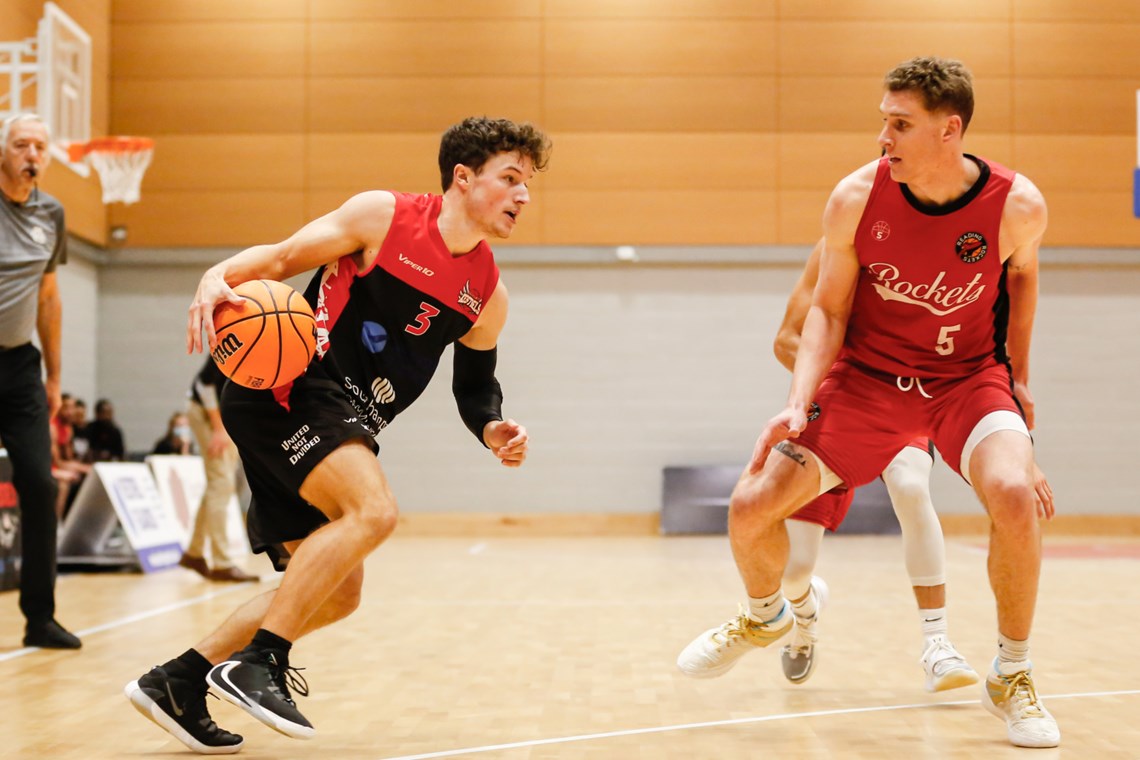 A look at the league table shows it's business as usual for three-peat champs Solent, but delving deeper into recent results paints a different picture.
The Kestrels opened the season with a pair of five point wins, beating Reading 69-64 before sneaking past Derby 109-104 in OT. Both performances showed a lack of dominance most D1M fans have become accustomed to, but it didn't take Coach Guymon's side long to regain that killer instinct.
Last weekend's 105-38 mauling of Essex suggests Solent may be back to their best, with Cole Gentry (22pts) and Luke Busumbru (17pts, 6reb, 4ast) both playing well in the win. That victory also came without Travis Charles and Brendan Okoronkwo, who were both unavailable due to injury.
Most would put money on Solent here, given their track record at home, but as Newcastle showed last week in Hemel the Knight's have the firepower on offence to keep teams on their toes.
.
Elsewhere this weekend
Six other games remain this weekend, including another unbeaten South coast team in Worthing Thunder (3-0) travelling to winless Leicester Warriors (0-3).
Losing last time out against local rivals Loughborough, it's been a less than stellar start to the new year for the Warriors, whilst Worthing have had no problem knocking off Oaklands, Bradford and Essex.
Oaklands Wolves (1-2) go up against a familiar opponent in London Lions II (2-1), with a 5:45pm tip.
As two established EABL programmes, these teams will be well versed on what to expect from each other in what should be an entertaining match up. Both teams are also coming off a loss last weekend, so there will be some extra impetus to bounce back here.
Hemel Storm (3-0) will look to continue building on their three-win streak as they take a trip to Loughborough Riders (1-2).
Storm will no doubt have missed reigning Player of the Season Greg Poleon, who is yet to suit up this season though former Thames Valley man Taylor Johnson is already causing as stir in Hemel, claiming a second consecutive Player of the Week award this week for his efforts in the impressive win over Team Newcastle.
How long the American forward Poleon will be out for remains to be seen, but the Riders and Justin Hedley will try to take advantage. Hedley combined for an impressive 35 points,  27 rebounds and 14 assists across two games last weekend, the talented guard is one to watch.
Title hopefuls Thames Valley Cavaliers (1-2) have shipped back-to-back losses against Hemel and Nottingham recently, leaving the Uxbridge outfit with work to do.
They'll look to get their challenge back on track at home against Bradford Dragons (0-3), who are yet to taste victory this season.
After their thumping by Solent, Essex Rebels (0-3) will be hoping for a better outcome as they welcome Derby Trailblazers (1-2).
Derby's Malcolm Smith has scored nearly 60 points across the Trailblazers' last two contests and will surely be a tough matchup for the Rebels, especially given the host's defensive woes a week ago.
Finally, all eyes this weekend could be on Reading Rockets (2-1) as the latest team to try and slow down Nottingham Hoods (3-0).
Hoods beat Thames Valley 89-78 last time out for a statement win, and given the early season form this could be a battle between two eventual top four outfits. Can the Rockets derail Nottingham's perfect start, or will this unexpected title challenge keep on rolling?
L Lynch Trophy
Two quarter-finals are now completed, with Reading and Team Newcastle both moving on to the semi-finals. Team Solent Kestrels or Thames Valley can progress as well tomorrow in a repeat of last year's showpiece final.
Solent were triumphant that day, capping an 87-78 win thanks to an MVP performance from Andre Arissol. The teams did split their regular season contests however, with both teams claiming a win on their own court.
Jakobi Bonner has picked up the baton from now departed Taylor Johnson as the primary option on offence for TVC, and his battle with Solent's collection of guards should be well worth a watch.
It will also be interesting to see how the Kestrels go about covering Hakeem Sylla, who is yet to really go off this season. If Travis Charles is unavailable, that assignment could fall to Kemel Archer, Max Richardson, Elliott Sentance or Orlan Jackman.
This weekend's fixtures:
Saturday 23 October
3pm - Leicester Warriors v Worthing Thunder - LIVE STATS
4pm - Loughborough Riders v Hemel Storm - LIVE STATS/LIVE STREAM
5pm - Reading Rockets v Nottingham Hoods - LIVE STATS/LIVE STREAM
5:45pm - Oaklands Wolves v London Lions II - LIVE STATS
6pm - Team Solent Kestrels v Team Newcastle University - LIVE STATS/LIVE STREAM
6:30pm - Thames Valley Cavaliers v Bradford Dragons - LIVE STATS
7pm - Essex Rebels v Derby Trailblazers - LIVE STATS
Sunday 24 October
3pm - Team Solent Kestrels v Thames Valley Cavaliers - LIVE STATS/LIVE STREAM
Main image credit - Luke Simcock