There's a little over a month to go until D1M's mid-season break in December, with teams wanting to make a push in the coming weeks to set themselves up for the second half of the campaign.
With the latest round of the National Cup also scheduled for this weekend, some teams will be looking for a pair of wins to keep their aspirations on track.
We take a look at all the weekend's D1M games below, with links to live stats and live streams at the bottom of the page.
All eyes will be on the North East tomorrow as Thames Valley take a long trip up the country to play Team Newcastle University.
The Cavs made some history last weekend as they ended Solent's lengthy home winning streak, coming out on top 83-78.
That result handed TVC and the rest of the D1M some hope in an already tight title race. The Kestrels have lost just six games across their three regular season title winning campaigns, showing just how narrow the margins for error can be when mounting a challenge for the D1M crown.
Despite their recent win on the South coast, maintaining momentum won't be easy for TVC here with Newcastle representing a tough opponent for any visiting team.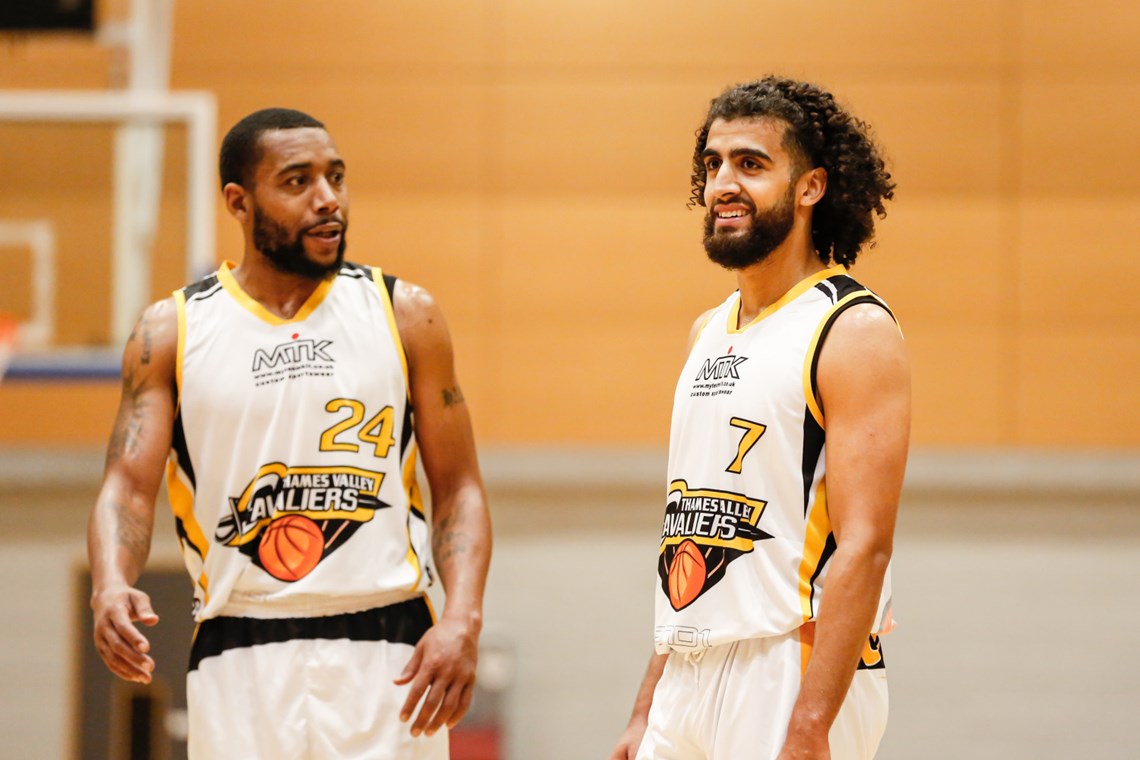 The Cavs matched Solent's 17-2 record last season, losing out on a head-to-head tiebreaker and having to settle for second place. One of TVC's losses a year ago was an 88-86 defeat in the North East, a costly mistake the visitors won't want to repeat.
That's easier said than done, however. Ronald Blain is the reigning Rebound NBL Player of the Week and his form has been impressive across the Knight's opening seven games.
Blain was joined by David Moya in the most recent Team of the Week and adding in the likes of Brandon Federici and Martin Gayle, this is a Newcastle roster that can cause anyone problems.
After a slow start to the season, Newcastle have now won three in a row. Thames Valley have already lost as many games as they dropped in the whole of 2020/21. Something has to give tomorrow, though.
.
Elsewhere this weekend
Five other games fill the week seven schedule, starting with Nottingham Hoods (4-1) taking on London Lions II (4-3).
After a solid start to the season, the Lions have now dropped back-to-back games with Worthing and Loughborough. Stopping that trend will be a tough ask against a Hoods side with table-topping aspirations.
Team Solent Kestrels (6-1) managed to bounce back from their first loss of the season with a Sunday W against Loughborough, they'll look to keep that momentum going as they welcome twelfth place Leicester Warriors (1-6).
Two of the bottom four meet in Yorkshire as Oaklands Wolves (1-5) go up against Bradford Dragons (1-4).
Both teams have endured a slow start to the season but have the opportunity to get back on track here. The Dragons play three of the division's bottom five teams in the coming weeks, whilst Oaklands play Derby, Solent and Reading. Contrasting schedules, but both teams will still be battling hard for a W here regardless.
Third-placed Hemel Storm (5-2) entertain second place Worthing Thunder (6-1) tomorrow in a much-anticipated tie, with both teams enjoying the opportunity to claim a statement win in the early season title scrap.
Finally, there's an all Midlands clash as Loughborough Riders (2-5) host local rivals Derby Trailblazers (3-4).
After back-to-back losses to top four rivals Newcastle and Worthing, Derby will be hoping for a return to to winning ways. Against a Riders team that have gone 1-4 in their last five, that could be the possibility.
This weekend's fixtures:
Saturday 13 November
4pm - London Lions II v Nottingham Hoods - LIVE STATS/LIVE STREAM
4pm - Loughborough Riders v Derby Trailblazers - LIVE STATS/LIVE STREAM
5pm - Team Newcastle University v Thames Valley Cavaliers - LIVE STATS/LIVE STREAM
6pm - Team Solent Kestrels v Leicester Warriors - LIVE STATS/LIVE STREAM
6:15pm - Bradford Dragons v Oaklands Wolves - LIVE STATS
7pm - Hemel Storm v Worthing Thunder - LIVE STATS
Main image credit - Luke Simcock