Another season begins with the first weekend of the L Lynch Trophy, and Rebound's Chris Hughes is back once again to pick out five worthy selections for the first Rebound Team of the Week of the new campaign.
Chris, a content producer, YouTube host and commentator, casts his eye over ten games from group play of the L Lynch Trophy, keeping a close watch on which players are already in regular season form.
Have your say on this week's choices and give a shout-out to the players you think deserve one using the hashtag #NBL2122. Don't forget to tag us!    
Twitter:  @NBLengland / @Rebound__  
Facebook:  @NBLengland  / @ReboundNBL  
Instagram:  @nblengland / @reboundnbl  
How it works 
Chris will pick a Player of the Week and four other selections to round out his Team of the Week using the following criteria:
Efficiency 

 

Stats 

 

Team and opposition strength 

 

Periods of influence in the game 

 
Other players will also receive a shout out as honourable mentions at the bottom of the piece.
The Rebound team of the week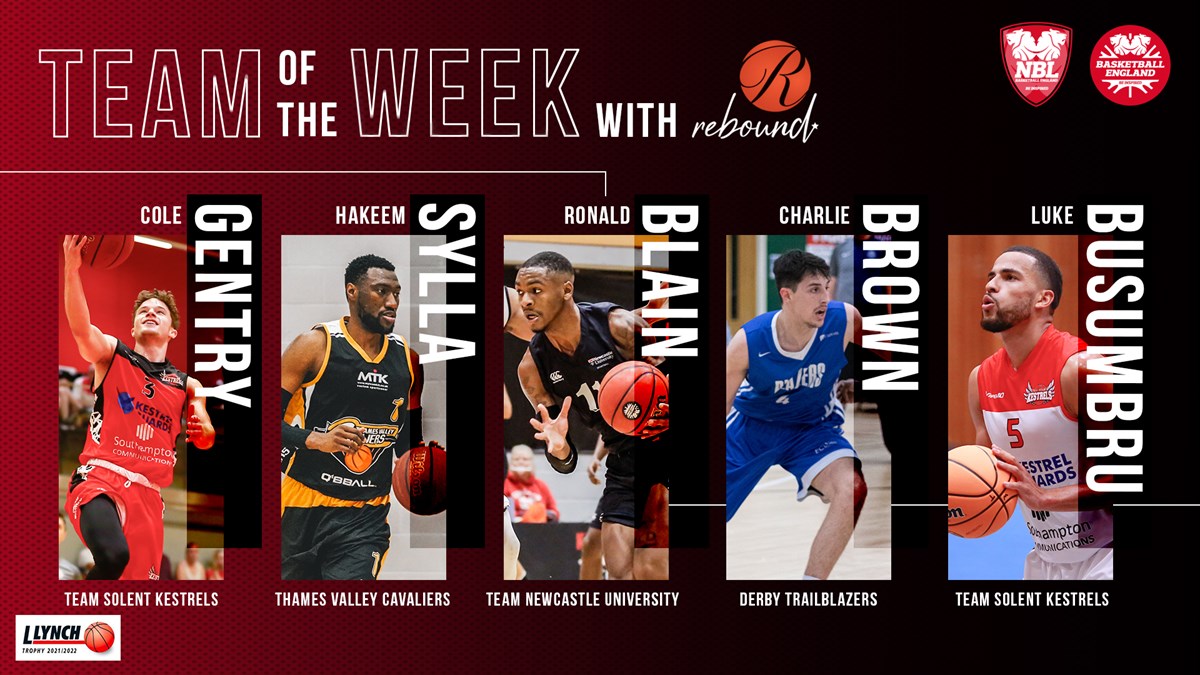 PLAYER OF THE WEEK
Hakeem Sylla - Thames Valley Cavaliers, forward
22pts, 11reb, 1ast, 2STL, 32eff
Hakeem Sylla returned to action this week following a successful spell of international duty with Guinea. Against Hemel, Sylla shot the ball incredibly efficiently, missing just a single field goal attempt (10/11 FGM). The forward was also fouled as many times as the rest of his starting team mates combined (6).
In a close game between two well-matched sides, the third quarter proved to be key. With the Cavaliers trailing by six points at half time, Sylla went on a personal 9-4 scoring run to cut TVC's deficit to just a single point.
The big man was pivotal in the frame as his team finished the third quarter with a 12 point lead.
Charlie Brown - Derby Trailblazers, guard
6pts, 10reb, 13ast, 2STL, 30eff
Charlie Brown will have his eyes on the assist king crown following an amazing 13 dimes in Derby's L Lynch opener against Bradford.
The talented young guard led his team in defensive rebounds and was part of a team effort by coach Shaw's side to limit the Dragons' ability to get second chance points.
Bradford were held to 12 offensive rebounds and just six second chance points as the hosts ran out comfortable winners.
Cole Gentry - Team Solent Kestrels, guard
26pts, 5reb, 6ast, 2STL, 30eff
The Kestrels' floor general was on point in Sunday's L Lynch Trophy contest, knocking down triples with ease. The sharp shooter was 6/8 3PM by the end of the third quarter alone!
What really impressed me about the American's debut was his pace at both ends of the court and his commitment on defence, diving for multiple lose balls. With his defensive intensity alone, his +/- of 44 came as no surprise.
Whilst commentating on the game, many observers' first look at the 5'11" former Wright State University alum had them labelling Gentry as a "cheat code" and a "beast". It certainly was a good game for Solent's #3 in the 49-point blowout win.
Ronald Blain - Team Newcastle University, forward
28pts, 8reb, 2ast, 3STL, 33eff
Following on from an impressive debut campaign in D1M, year two is looking like another good one for Blain and co.
The former Hawaii Pacific Sharks forward shot the lights out from the get-go this weekend, notching up 22 points in the first quarter alone as Newcastle finished the opening frame with a 33-18 lead.
During a 23 minute salvo, the US import took care of business. As well as heavily impacting the first quarter, Blain made his mark in the third at both ends as he flashed his ability on defence as well.
With opponents Myerscough looking for a way back into the game after the half time break, Blain contributed in a variety of ways across multiple possessions. That had Myerscough calling for a breather as Newcastle started the quarter with a 13-5 lead before moving on to eventually seal the win.
Luke Busumbru - Team Solent Kestrels, guard
23pts, 5reb, 6ast, 1STL, 1BLK, 28eff (SAT @WORTHING)
Busumbru played like a man with a chip on his shoulder in the South coast derby on Saturday.
In a 26-minute cameo from the bench, the fast-break speedster was the difference between the two sides, coasting past Worthing's defence at will as he hit 10/13 from the field.
In a game where both teams made life tough for one another, the Solent guard shot the best field goal percentage of any volume shooter (10+ attempts). Not only that, he contributed in other ways as he notched six assists, five rebounds and a 28 efficiency rating.
The injury-prone star looks healthy after some recent struggles and D1 defences should be on high alert, especially as he was able to turn it on again less than twenty four hours later.
In 16-minutes against Essex on Sunday, Busumbru stayed hot to post even better shooting percentages (4-5 FGM, 4-4 FTM), closing on 12 points, five rebounds, two assists and a steal.
Team Basketball
Elite defence wins games
Team Solent Kestrels made sure they were locked in on the defensive end as they steam rolled Essex Rebels 110-61 less than twenty four hours after a tough away win vs Worthing Thunder.
Solent held their opponents to just two second chance points and for most of contest limited the Rebels to a biggest scoring run of four points.
At the other end the defending champs had no such issues, shooting a nice 51 FG% / 44 3P% / 90 FT% to get the job done.
Nottingham coast past their opponents twice in one week
Last season's D1M basement side are generating some momentum after a 95-55 midweek win against Loughborough was followed up this past weekend with a 113-61 road win over a well-coached Leicester side.
The Hoods go into 2021/22 with a talented roster that seems to have gelled plenty already despite a number of additions during the off-season.
In both their L Lynch games to date, the lion's share of responsibility for scoring has been shared pretty evenly between five different players, meaning the Midlands side can ride the hot hand when needed.
Honourable mentions
Johde Cambell (NOT) – 19P/2R/1A/1S/22EFF @LEI & 19PTS VS LOU
Tom Ward (WOR) – 22P/9R/4A/2S/32EFF @LL2
Hafeez Abdul (WOR) – 20P/15R/2A/2S/21EFF VS SOL & 14P/13R/4A/1S/14EFF @LL2
Sol Rolls-Tyson (DER) 22P/12R/6A/1B/29EFF
.