The final weekend of the L Lynch Trophy group stage gave Rebound's Chris Hughes plenty of tough calls for this week's NBL accolades.
Chris, a content producer, YouTube host and commentator, had the chance to pour over 10 contests from the past weekend to try and identify his Player of the Week and four other standouts to form the Rebound Team of the Week as well.
Have your say on this week's choices and give a shout-out to the players you think deserve one using the hashtag #NBL2122. Don't forget to tag us!    
Twitter:  @NBLengland / @Rebound__  
Facebook:  @NBLengland  / @ReboundNBL  
Instagram:  @nblengland / @reboundnbl  
How it works 
Chris will pick a Player of the Week and four other selections to round out his Team of the Week, paying attention to the following criteria:
Efficiency 

 

Stats 

 

Team and opposition strength 

 

Periods of influence in the game 

Being on a winning team (exceptional performances from players on losing teams will be considered for TOTW)
Other players will also receive a shout out as honourable mentions at the bottom of the piece.
The Rebound team of the week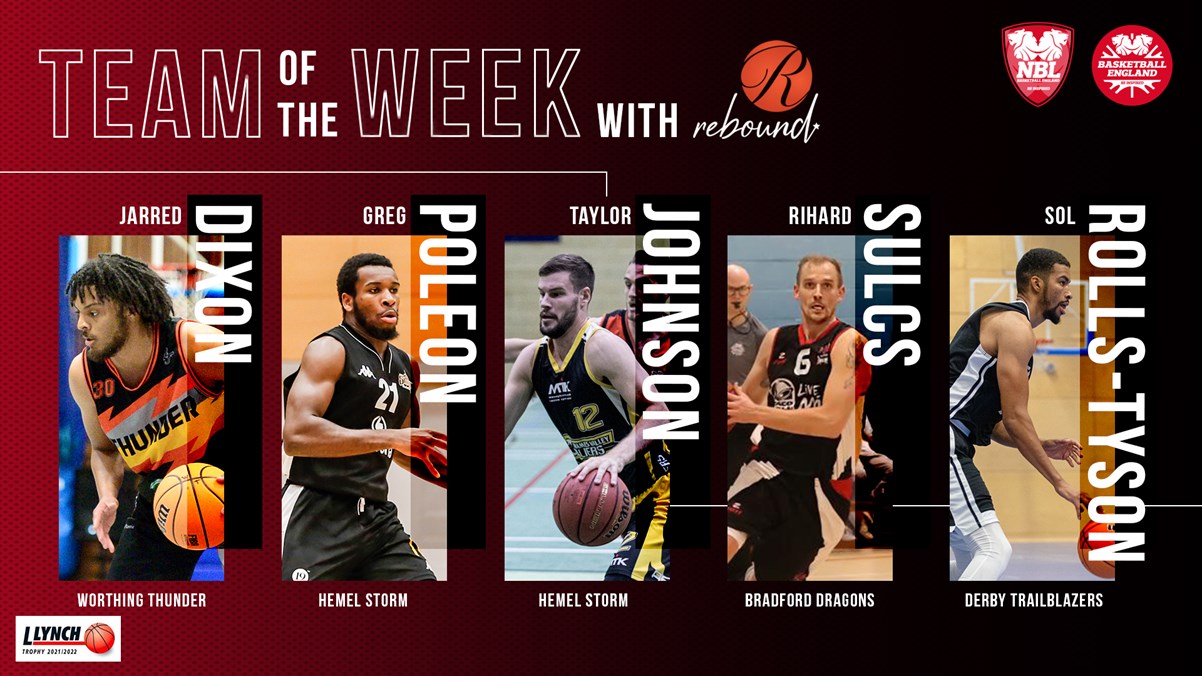 PLAYER OF THE WEEK
Jarred Dixon - Worthing Thunder, guard
33PTS, 7REB, 3AST, 2STL, 37EFF
In the road trip game versus Essex Rebels to secure a quarter final berth, Jarred Dixon's scoring and rebounding threat was key in getting the dub.
The former Missouri State alum used his skill set well to really exert his dominance when getting to the rim. Dixon shot an efficient 63 FG%, whilst helping to provide the spacing for his team to shoot a nice 51 FG% as a group.
Dixon led all scorers with 34 points, 14-22 FGM, 4-7 3PM and was part of a four-man crew who made all 11 free throw attempts for Worthing Thunder.
Rihard Sulcs - Bradford Dragons, forward
24PTS, 20REB, 5AST, 5STL, 3blk, 44 EFF
Sulcs put in an awe-inspiring individual performance versus a talented Team Newcastle University to force overtime, and I've no doubt that if the Dragons had held on for the win he would have been my Player of the Week.
Heading into the fourth quarter, the Dragons were trailing by six points but Sulcs' scoring was vital in forcing overtime as the forward helped himself to 13 points, including a converted and-one play. The Latvian recorded a final quarter stat line of 13p/5r/1a.
Always a reliable rebounder of the ball, he limited Newcastle's second chance opportunities while also frequently giving his side second chance looks of their own to cut down the lead.
The veteran forward's performance was even more impressive considering Newcastle is consistently a team that finishes games strong themselves.
Roughly 24 hours later Sulcs also contributed in the 10-point win versus Myerscough, with 5-6 FGM before being fouled out.
Greg Poleon - Hemel Storm, forward
34PTS, 7REB, 3AST, 2STL, 38EFF
Greg Poleon's influence was pretty evenly spread through the game as Hemel beat Oaklands this weekend. Poleon did start the second half with a 15-6 run for the hosts as he knocked down back-to-back-to-back buckets to ensure a Wolves' comeback was out of the question.
Last season's regular season MVP was part of a side that was not messing around this weekend and the victory never seemed in doubt as the hosts ran out to a 55-point win, mainly thanks to Hemel's 'Big 3' of Poleon, Johnathan Lashley and Taylor Johnson.
The trio combined for 89 of Hemel's 123 points though Brooklyn native Poleon was particular potent from 3-point range (2-2) as well as the free throw line (6-6).
Taylor Johnson - Hemel Storm, guard
34PTS, 6REB, 2AST, 7STL, 1blk, 34EFF
Like Poleon, running mate Taylor Johnson was a threat at both ends in Hemel's 55 point win. The guard made his mark amongst all players in points, 3PM, FTM and blocks (tied 1st for all), steals (1st) and was the most fouled player (7).
The former Thames Valley man's seven steals made up almost a third of his side's takeaways. Forcing turnovers ended up being a big catalyst to the lopsided final score in this one, with Hemel netting a whopping 50 points from 31 Oaklands' turnovers.
The American guard enjoyed 8p/1r/1a/4s in the first quarter alone as the hosts leapt out to commanding 36-13 lead, and the first frame was also the most open quarter. That was something the high IQ guard consistently exploited as he got to the basket at will.
Sol Rolls-Tyson – Derby Trailblazers, forward
37PTS, 8REB, 1AST, 2STL, 35EFF
The former BBL forward is enjoying life in NBL D1 and produced another strong performance in the L Lynch Trophy versus D2 side Myerscough.
A perfect 5-5 3PM really stood out, Rolls-Tyson also shot efficiently from across the floor to finish with 15-18 FGM.
It wasn't all positive for the forward this weekend as he finished with a 33 FT%, got into foul trouble and coughed up a team-high of six turnovers. Nevertheless, the Derby star is becoming a stat leader in the league and one to watch out for this year.
Team Basketball
Lions scorch surrey in BBL CUP
Whilst not strictly an NBL competition, it was impossible to ignore the exploits of the London Lions this past weekend.
With the young Lions II NBL roster needing to step into for the BBL side, a team performance from Coach Vear's roster upset the odds with the road trip W against Surrey.
Jase Harrison was the stand-out star with what would have been a POTW stat line in the BBL Cup, closing with 22pts, 7reb, 10ast, 7stl, and a 32 efficiency. Hats off, the NBL side stood in for their BBL parent club and got the underdog win,
Zamoku Welche also had another good game, the talented youngster was a relentless on D with a game-high of four blocks. The Lions man also had the mental strength to sink two free throws in the last second to turn a potential L into a famous win.
a 23-point run tames the young lions
It wasn't all good news for London this past weekend though. Team Solent Kestrels' second quarter run of 23 points really handed the momentum to the reigning champions who started shaky in the first quarter but turned things around to win 103-53.
Solent shot efficiently in the second frame and for the majority of the game as a whole (57 FG%). I was also really impressed with how efficiently the Kestrels used the ball, adding to their tally with seemingly every possession, only needing one second chance opportunity.
Even then the miss still resulted in Kemel Archer using his height to nail an impressive put back, something the Solent's man tends to excel at!
Honourable mentions
Martyn Gayle (TNU) – 17P/13R/3A/7S/1B/30EFF
Victor Olarerin (NOT) – 28P/5R/1A/7S/30EFF
Andrew Vickers (NOT) – 14P/11R/2A/3S/2B/27EFF
Hafeez Abdul (WOR) 31P/10R/3A/2S/1B/31EFF
Jonathan Lashley (HEM) 21P/11R/3A/3S/29EFF
.