The Government has announced that the country will move to Step 3 of their roadmap to ease COVID-19 restrictions from Monday 17 May.
Basketball England has liaised with Sport England and the department of Media, Culture and Sport and can confirm the approach for basketball outlined below in line with the organisation's established Return to Play protocols. 
Our updated roadmap will see all levels of organised basketball move to Level 1 which permits outdoor and indoor training with a max of 30 people per court.
Competitive basketball is also permitted following our Game Day Guidance and spectators will be allowed to return, dependent on gaining approval from the venue and within agreed capacity limits.
All the dates listed are the earliest these conditions will be allowed and are conditional on Government clearance. 
What is permitted from 17 May?
Organised basketball
Defined as any level (elite, youth and senior) of basketball undertaken by Basketball England affiliated clubs and registered members at Return To Play Level 1:
Organised outdoor and indoor organised basketball permitted - maximum 30 people per court
Competitive basketball in outdoor and indoor settings - see Game Day Guidance for roles and maximum numbers
Spectators are allowed indoors, but the total number of all in attendance - participants, coaches, officials and spectators - must be agreed by and aligned to the capacity permitted by the venue. See Game Day Guidance

 
Basketball within education
Basketball training permitted as part of educational delivery under Return To Play Level 1 conditions
Informal basketball - following Government guidelines
People will be allowed to meet outside in groups of up to 30
People will be allowed to meet indoor in groups of six or in a larger group of any size from up to two households (and their support bubbles, if eligible). See here
From 21 June at the earliest  
All social distancing and Return to Play measures removed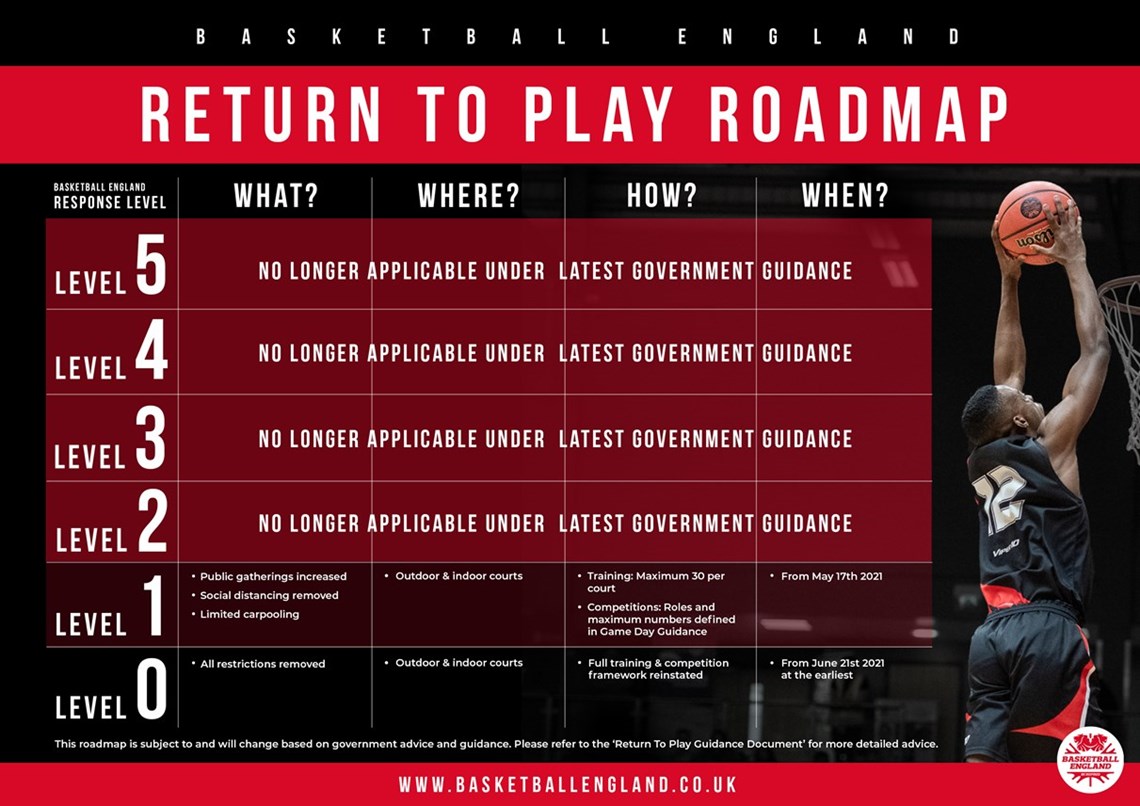 Basketball England CEO Stewart Kellett said:
"After months of inactivity it is great to welcome senior participants back to the sport and indoor activities. Step 3 of the Government's roadmap also allows us to lift the '15 max bubble' rule which will allow for a return to competitive basketball across all levels of the game.
"Although it appears that the sport has now returned to normal, we must remember COVID-19 is still present and all of the mitigations detailed in our guidance, such as screening, hygiene considerations and social distancing when not playing, must be observed by everyone.
"We would also encourage a slow and measured return to activity for those that haven't played for a considerable amount of time. To aid with this, we have devised a six-week return to activity plan which aims to reduce injuries."
Webinars
We are staging two training webinars which we encourage clubs, league and providers to attend.
Topic: RTP Level 1 Update 
Date/time: 18 May, 4:30pm
Join Zoom meeting HERE
Meeting ID: 933 7269 9502
Passcode: 597837
If you have any questions on any of the above content, you can get in touch with us using the the button below.