Just two game weeks remain of the 2020/21 WNBL regular season, with Ipswich potentially sealing the league title on Saturday.
The leaders' home tie against second-place Loughborough highlights a seven-game weekend, with Worcester, Thames Valley, Solent and Cardiff all in double-header action.
Basketball England will be joining our sporting colleagues across football, cricket, rugby and other sports in the #EnoughIsEnough social media boycott this weekend.  For more information, please click HERE.
We take a look at all the action below, with links to live stats and live streams at the bottom of the page.
Ipswich (14-2) v Loughborough Riders (11-4)
Ipswich can claim a second consecutive WNBL league title this weekend if they can beat second-place Loughborough Riders.
The Midlands' side are one of only two teams to beat Ipswich this season, claiming a thrilling 77-76 victory back in December.
The Suffolk outfit have been locked in since that loss, dropping just one of their last nine games as they now sit just a single victory away from glory.
Coach Drane's side could lose tomorrow and still top the standings, either by beating Reading on the road next weekend or if Loughborough drop points elsewhere before the end of the season.
No doubt Ipswich will want to claim the title in style and on their court tomorrow though.
.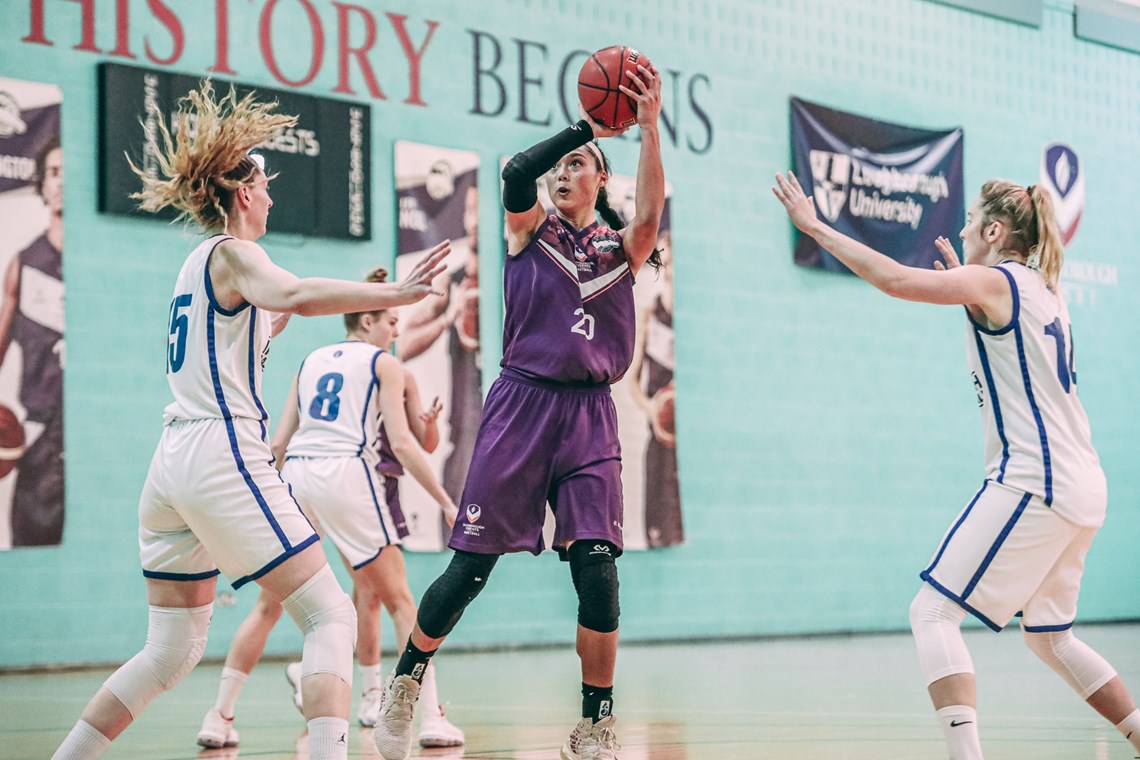 Elsewhere this weekend
The weekend begins with Thames Valley Cavaliers (3-11) trying to secure a playoff spot against BA London Lions II (4-12).
Just two points separate TVC in ninth and BA in the eighth and final post-season place, and with the valuable head-to-head tiebreaker between the sides to be decided as well, TVC will be hoping to win by four or more after a 70-67 loss in East London.
Worcester Wolves (6-8) begin their double-header weekend with a home tie against Team Solent Kestrels (9-6) tomorrow.
The Wolves still have ties against BA and Thames Valley to play, so a win hear could help the Wolves finish strong as they try to climb back up the standings following a recent slump.
Solent are locked in a heated battle over fourth spot with Nottingham Trent, so no doubt they will go all out to avoid losing ground this weekend.
If Nottingham Trent University (9-7) are going to gain an advantage over Solent though, they will have to overcome a tough opponent in CoLA Southwark Pride (10-4).
Before last weekend's defeat against leaders Ipswich, CoLA had won eight in a row and have some undoubted quality on their roster. Ipswich are also the only team to win in Southwark this season, with the London side going 5-1 on their own patch in 2020/21. That makes a tough match up for NTU that little bit harder.
Cardiff Met Archers (1-13) remain on the foot of the D1W table, and their weekend begins with a visit from Reading Rockets (8-8).
The Rockets are coming off a 60-46 victory over Thames Valley last weekend, a solid performance they would like to build on with the an outside chance still remaining of catching Solent and Nottingham.
Moving into Sunday, Worcester and Thames Valley complete their double-headers, as do Team Solent Kestrels and Cardiff.
Thames Valley could do the double over Worcester this season, having already beaten the Wolves 59-52 back in February. That win came courtesy of 16 points from Ellie Bishop, who'll be looking for more of the same here.
Cardiff still only have one win to their name this season but lost by single digits in Nottingham last time out and if they can get Amber Deane back from injury, the Welsh side can still cause Solent plenty of problems.
This weekend's fixtures:
Saturday 1 May
1pm - Cardiff Met Archers v Reading Rockets - LIVE STATS
2pm - CoLA Southwark Pride v Nottingham Trent University - LIVE STATS
2pm - Ipswich v Loughborough Riders - LIVE STATS/LIVE STREAM LOCATION
2pm - Worcester Wolves v Team Solent Kestrels - LIVE STATS
3pm - Thames Valley Cavaliers v BA London Lions II - LIVE STATS/LIVE STREAM
Sunday 2 May
2pm - Worcester Wolves v Thames Valley Cavaliers - LIVE STATS
2pm - Team Solent Kestrels v Cardiff Met Archers - LIVE STATS/LIVE STREAM
Main image credit - Nick Winter