Top seeds Solent and Thames Valley enter the mix this week as the D1M playoffs reach the quarter-final stage.
The regular-season's leading duo join six others in the race for the 2020/21 playoff title, with another four games set for this weekend.
Basketball England will be joining our sporting colleagues across football, cricket, rugby and other sports in the #EnoughIsEnough social media boycott this weekend.  For more information, please click HERE.
We take a look at the four match-ups below, with each heading clickable for live stats, plus links to live stats and live streams at the bottom of the page.
Solent will attempt to turn regular-season success into playoff glory, beginning with a home tie against Loughborough tomorrow.
There is some shared history - both these sides were promoted to D1M in 2016/17 and are the last two teams to win the league title since Team Northumbria in 2016/17.
The Riders were unable to convert their league title into a playoff crown in 2017/18, though Solent have had no such problems, converting in two of the last three seasons, with only COVID stopping that three-peat in 2019/20 as the playoffs were cancelled.
The Kestrels took a trip to the Midlands way back in November for the only meeting between the two sides this year, with Solent securing a comfortable 109-67 victory.
Travis Charles enjoyed 27 points that day in the early stages of what could be a Player of the Year winning campaign, though both teams have evolved significantly since the season began.
Loughborough will be looking to convert the momentum of last weekend's 75-68 victory over #9 seeds Reading into further success here, but that's still a big ask against a formidable opponent.
Thames Valley will be itching to get another shot at rivals Solent in the post-season but still have a couple of tricky games to navigate before that becomes a reality.
Thames Valley head coach Robert Banks said this week that his side were looking to some redemption in the playoffs, but some outstanding teams stood in their way of that goal.
First up on that journey are Worthing, who knocked off #10 BA London Lions 89-83 in round one, adding another W to their current win streak. That run has now stretched to six games, suggesting the Thunder are a side brimming with confidence.
The Cavs will need to keep a lid on Max Richardson, who took last week's Player of the Week honours, though as the league's third best defence during the regular season (78.8PPG conceded), this is a TVC side that plays hard at both ends of the court.
Look for both Hakeem Sylla and Taylor Johnson to be factors offensively for the hosts, both finished the regular season in the top eight for points per game for a reason.
Bradford were the only team to cause an upset last weekend, knocking off #6 seed Essex to set up a trip to Hemel.
The Dragons' Andreas Lycoudis hit a clutch triple with 47 seconds remaining to top the Rebels, with Jermayne Laing and Rihards Sulcs both impressing for the Yorkshire side.
They'll need more of the same to beat the hosts here, with Storm taking the only meeting between the sides this term 86-67. 
Hemel had no problem brushing aside Nottingham in round one, handing the #14 seeds a 101-68 defeat as Greg Poleon and Mike Williams both continued their impressive regular-season form.
Can the Dragons spring another upset on the road, or will Hemel book a semi-final place against Thames Valley or Worthing?
In what could be one of the most evenly matched ties of the weekend, Newcastle take a trip to Derby as #4 plays #5.
The regular-season series went the way of the home side on both occasions in 2020/21, with the Knight's claiming an 83-73 victory in the North East and Derby winning 75-69 in the return leg.
Newcastle's Ronald Blain, David Moya and Brandon Federici have all featured across the league's Team of the Week this season, and likewise, Derby bring plenty of star power to the table for what should be an exciting contest. 
University of Missouri Kansas City commit Blake Bowman is always a great prospect to watch and Jacob Conway, Malcolm Smith and Josh Guddemi all excelled last weekend in DTB's 105-77 win over Oaklands.
Home advantage probably tips this one in Derby's favour based on previous meetings, but Newcastle are too good to rule out based on that factor alone. Expect a great battle in Sunday's only NBL fixture.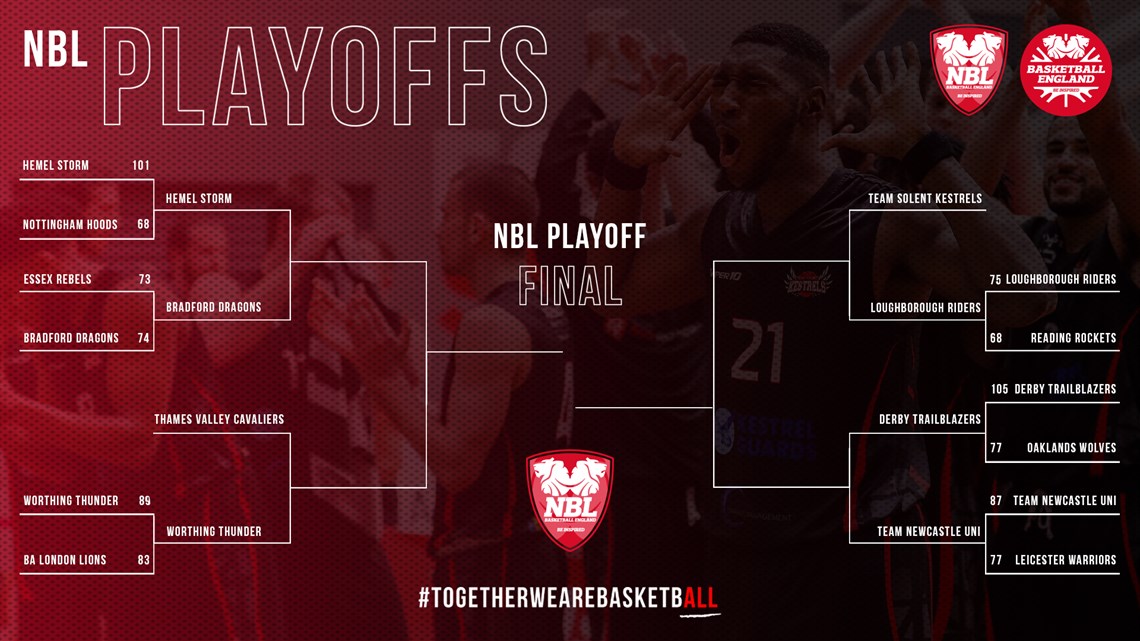 This weekend's fixtures:
Saturday 24 April
3:30pm - #1 Team Solent Kestrels v #8 Loughborough Riders - LIVE STATS/LIVE STREAM
5pm - #3 Hemel Storm v #11 Bradford Dragons - LIVE STATS/LIVE STREAM LOCATION
6:30pm - #2 Thames Valley Cavaliers v #7 Worthing Thunder - LIVE STREAM/LIVE STREAM
Sunday 25 April
2pm - #4 Derby Trailblazers v #5 Team Newcastle University - LIVE STATS/LIVE STREAM