Further information regarding the Aspire Programme for 2022/23 has now been released.
After the recent announcement of the provisional talent calendar for the upcoming season, the process for nominating players to take part in the Aspire Programme has now also gone live.
Club coaches are now able to nominate age-appropriate players (2008-2011 born) for the Aspire Programme, though parental/guardian consent must be sought before this process takes place. Eligible players from the 2021-22 programme will be automatically invited to the 2022-23 programme.
The Aspire Programme is aimed at talented 11-15-year-olds and utilises a 'super-region' model in order to deliver primarily camp-based activity throughout the year.
The objective of the programme is to provide quality coaching to potential Talent Pathway players, reinforcing Basketball England's Player Development Framework and the Aspire curriculum.
To nominate a player or view more information on the Basketball England Player Development Framework, please use the buttons below.
The windows for nominations are as follows:
Tuesday 9 Aug 2022 - Friday 30 Sept 2022
Monday 31 Oct 2022 - Friday 11 Nov 2022
Monday 28 Nov 2022 - Friday 2 Dec 2022
Tuesday 3 Jan 2023 - Friday 13 Jan 2023
Monday 30 Jan 2023 - Friday 3 Feb 2023
Monday 20 Feb 2023 - Friday 17 Mar 2023
.
For the 2022/23 season, the following windows of activity have already been provisionally confirmed: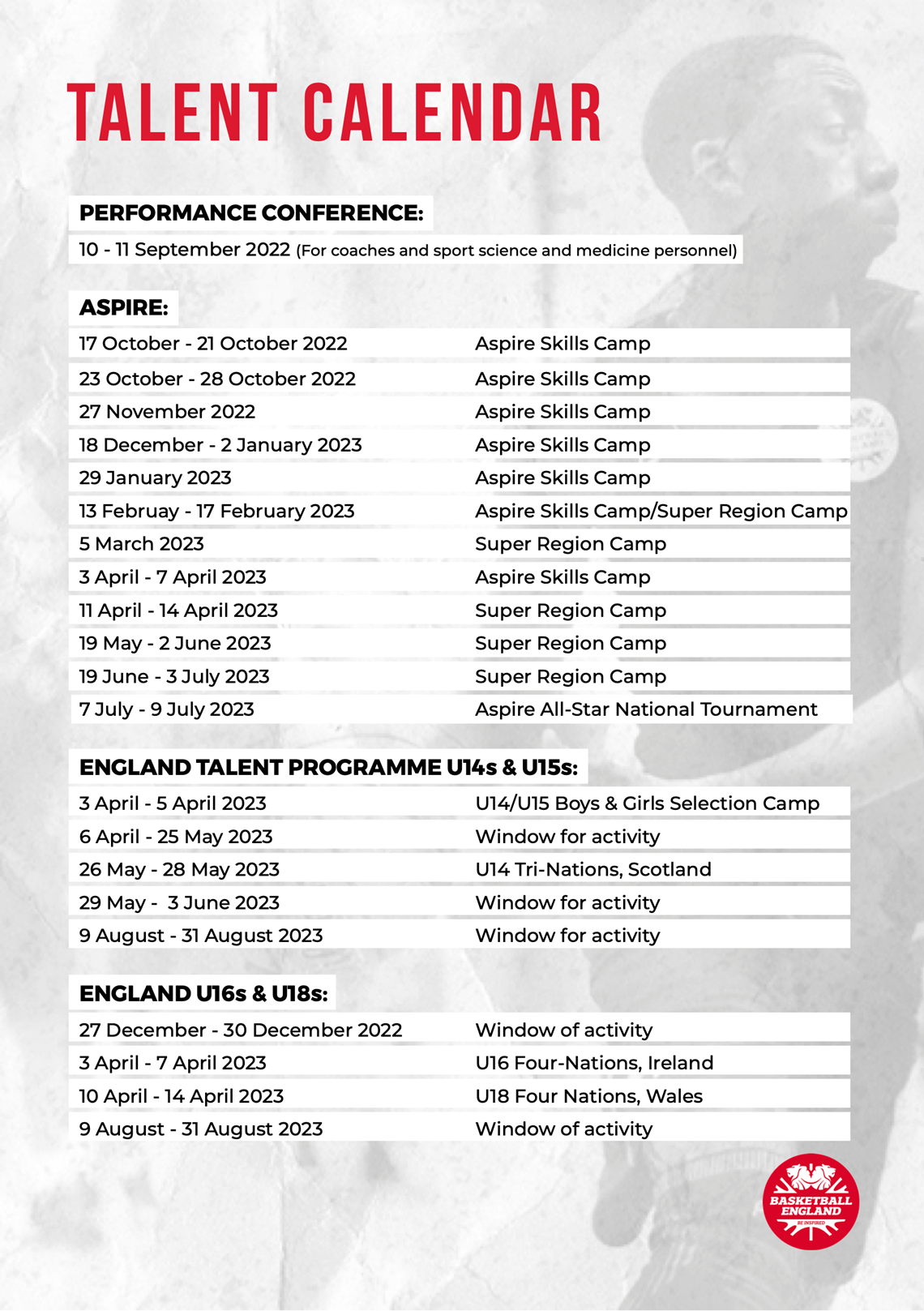 Across the season, 11 contact days of Skills Camps and six contact days of Super Region Camps are to be delivered.
The wider windows are offered as a means of providing flexibility to each programme and final dates will be confirmed by each region and super region as each window approaches.
It is also worth noting that where there is a window scheduled it doesn't necessarily mean activity will take place. Each window will be utilised where required, allowing further flexibility to each programme as to how they operate across the year.
More information on workforce recruitment will be announced in the coming weeks.
To find out more about the Talent Pathway, please use the button below.