The 2021/22 Aspire Programme is set to take another step along the road to the summer's All Star Tournament.
Following two rounds of Aspire Skills Camps across the 10 Basketball England regions, players have been selected for the next stage - the Super Region Camps. 
Three rounds of two-day camps will take place in the North, South, Central and London Super Regions before players are selected to take part in the Aspire All Star National Tournament in Manchester between Friday 17 June and Sunday 19 June. 
Following the Super Region Camps, teams of 12 will be chosen to represent each of the four Super Regions at U13 girls and boys and U15 girls and boys in the showpiece culmination of the season's Aspire activities at the National Basketball Performance Centre. 
Staff have been appointed for the three rounds of Super Region Camps, with dates and venues, in the main, confirmed.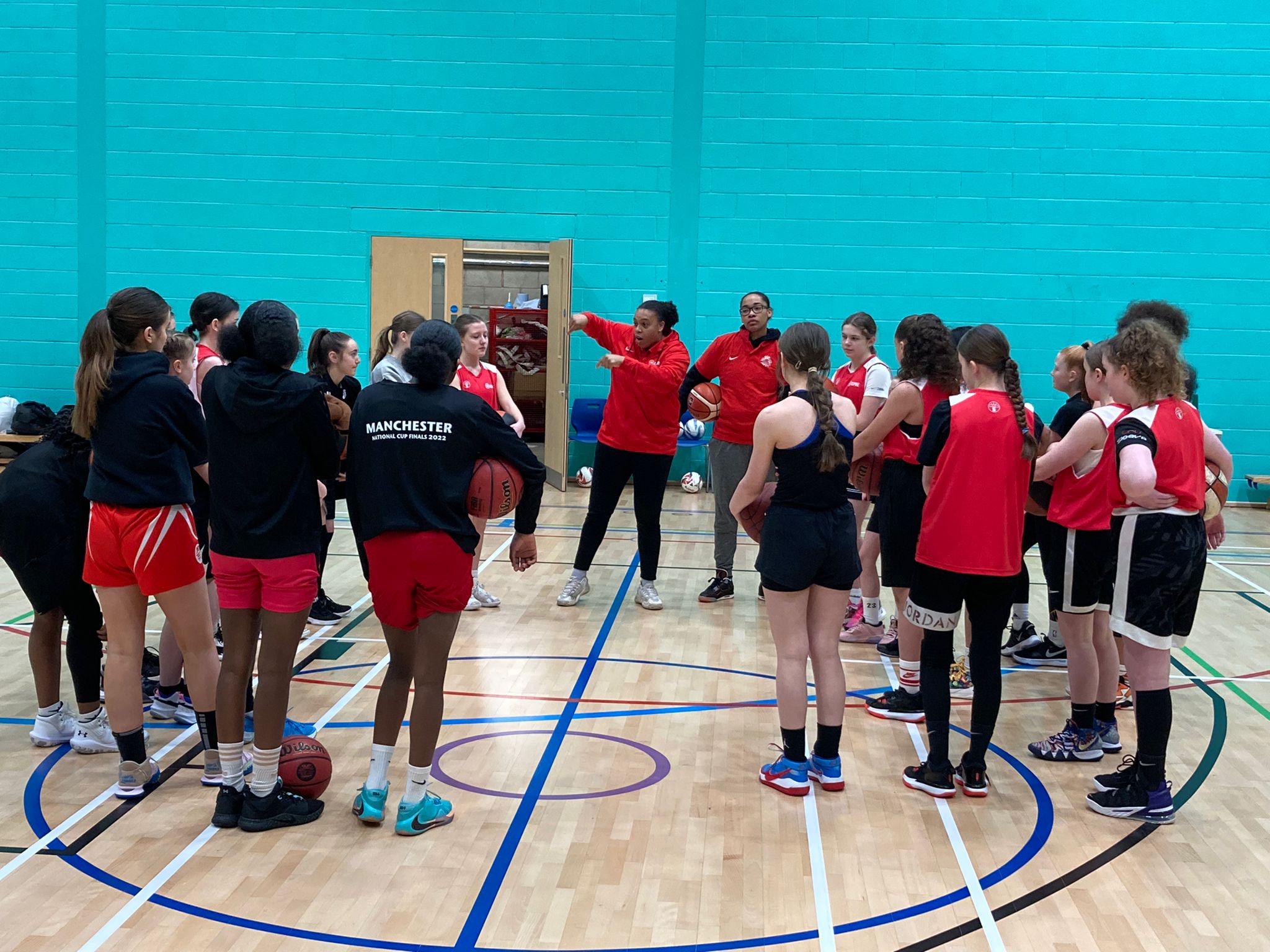 Aspire Skills Camps

 
Meanwhile, the third round of Aspire Skills Camps will take place for those not progressing to the Super Region stage, as well as new nominees, in each of the 10 BE regions between 9 April and 15 April.  
If a club wishes to nominate age-appropriate players (calendar year 2007-2011) for the Aspire Aspire Skills Camps, they can do so until noon, 25 March using the form below.
Basketball England Head of Talent and Performance Steve Bucknall said:
"We have had some fantastic sessions around the regions so far and we are looking forward to one more and the progression of the programme to the next stage with the Super Region camps. 
"I'd encourage all the players selected to listen to their coaches and learn as much as possible, work hard and aim to make it to the next level with the All Star game in Manchester. It should be a really exciting end to the Aspire programme for the season." 
Aspire Super Regions Camps schedule
Aspire Super Regions Camps #1 
North: 13 April - 14 April at Leeds Beckett Uni 
South: 14 April - 15 April at Oaklands College 
Central: 18 April - 19 April at Doug Ellis Sports Centre 
London: 6 April - 8 April at Crest Academy 
Aspire Super Regions Camps #2 
North: TBC 
South: 30 May - 31 May at Oaklands College 
Central: 2 June & 4 June at Doug Ellis Sports Centre 
London: 31 May - 1 June at UEL 
Aspire Super Regions Camps #3 
North: TBC 
South: 4 June - 5 June at Oaklands College 
Central: 12 June at Doug Ellis Sports Centre 
London: 11 June at Crest Academy 
North staff 
Boys Head Coach: Matt Newby 
Boys Assistant Coach: Robert Park 
Boys Assistant Coach: Anthony Reed 
Girls Head Coach: Vanessa Ellis 
Girls Assistant Coach: Rheanne Bailey 
Girls Assistant Coach: TBC 
Camp Director: Tina Campbell 
South staff 
Boys Head Coach: Adam Davies 
Boys Assistant Coach: Rhys Davies 
Boys Assistant Coach: Phil Russell 
Girls Head Coach: Barney Blake 
Girls Assistant Coach: Claire Harper 
Girls Assistant Coach: Kiely Reed 
Camp Director: James Long 
Central staff 
U15 Boys Head Coach: Stephen Barnes 
U15 Boys Assistant Coach: Christian Hill 
U13 Boys Head Coach: Dan Watts 
U13 Boys Assistant Coach: Emanuel Jr. Bradshaw 
U15 Girls Head Coach: Gemma Salmon 
U15 Girls Assistant Coach: Caitlyn Riley 
U13 Girls Head Coach: Maialen Zilbeti 
U13 Girls Assistant Coach: Cormac O'Callaghan 
Camp Director: Becky O'Neill 
Assistant Camp Director: Steve Mroso 
London staff 
Boys Head Coach: Lucio Semedo  
Assistant Coach: Charles Vuong  
Assistant Coach: Mauro Di Nunzio  
Assistant Coach: Aurimas Sakalauskas  
Girls Head Coach: Alex Ducasse  
Assistant Coach: Noah Godwin  
Assistant Coach: Doreen St Marthe 
Assistant Coach: Cheng San (Sonia) Lei 
Camp Director: Patricia Fairclough OBE 
Assistant Camp Director: Nikki Sealy